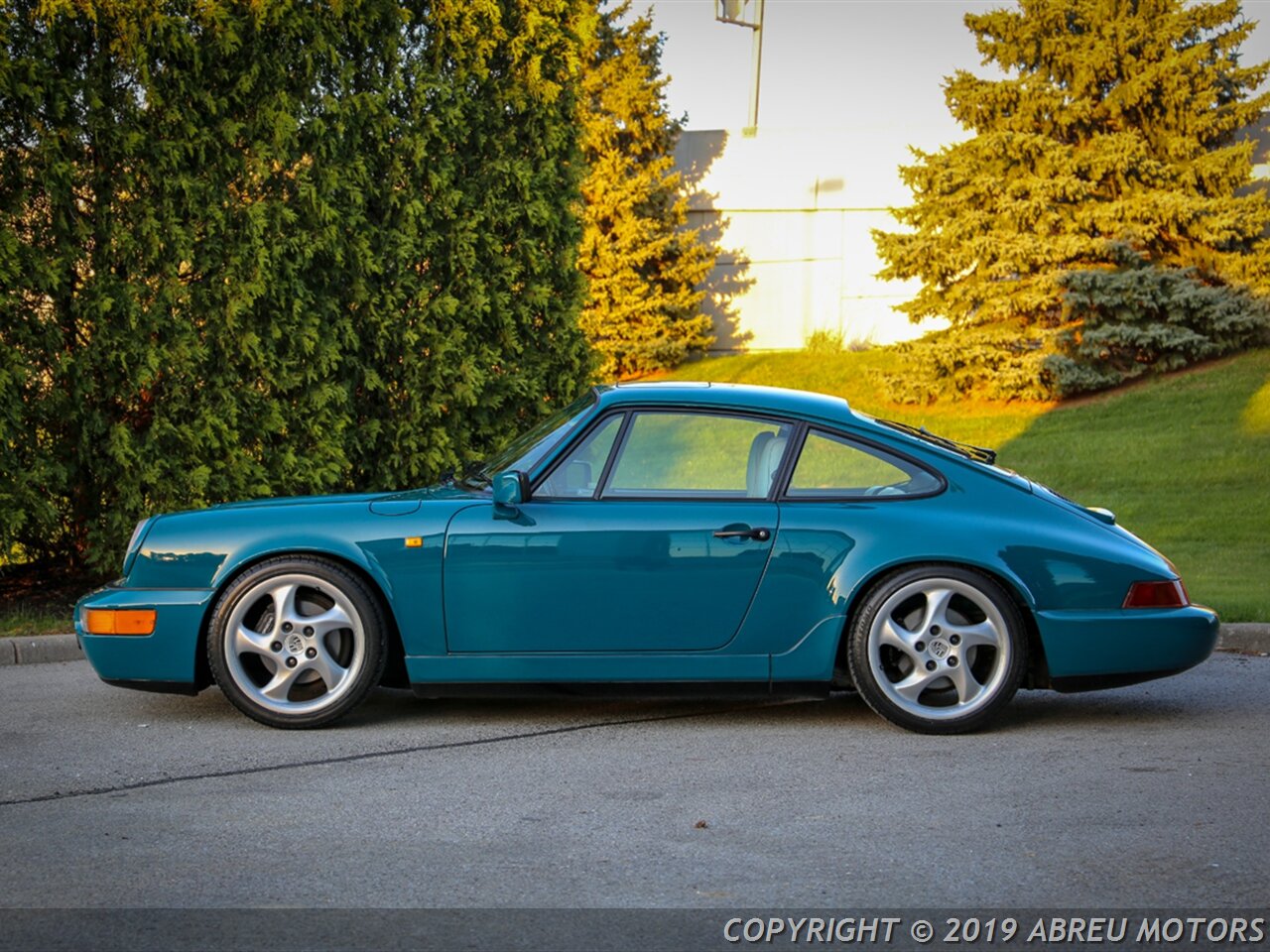 For some time, the 964 design was relegated to the "least favorite" column for many in the 911 world. Regarded as little more than a bridge between the classic 911 design of the 3.2 Carrera and the sophisticated modern beauty of the 993, appreciation for the clean lines and steadfast simplicity of the 964 has grown. It hasn't hurt that the cars around it have rocketed up in value, either. So today let's take a look at a prime example; a ROW 1991 911 Carrera 2 in Paint-to-Sample in Murano Green.
Unlike earlier cars, changes between the ROW 964s and North American cars were relatively minor (minus the special production cars, like the Carrera RS). Power from the 3.6 air-cooled flat-6 was effectively the same as its North American counterpart. The bumperettes were missing on ROW cars, and of course for Euro plates the center rear bumper section was slightly different. Without the 5 mph mandate, ROW cars didn't have the heavier crash bars behind their bumpers either, nor do they have the collision bars in the doors. As you'd expect, the headlights and tailights are different, and Euro cars had sidelights that were missing on NA cars. Those headlights were adjustable in cockpit via an adjuster next to the key. Foglights were standard on ROW cars and they also had no third brakelight. ROW cars had larger fuel tanks, lower suspension, and a few other minor tweaks. Reading all of that would probably lead you to believe the ROW cars were lighter, and they are – somewhere around 50 lbs or so.
But here it's not the missing 5-year-old's weight you're excited for – it's just got to be the color: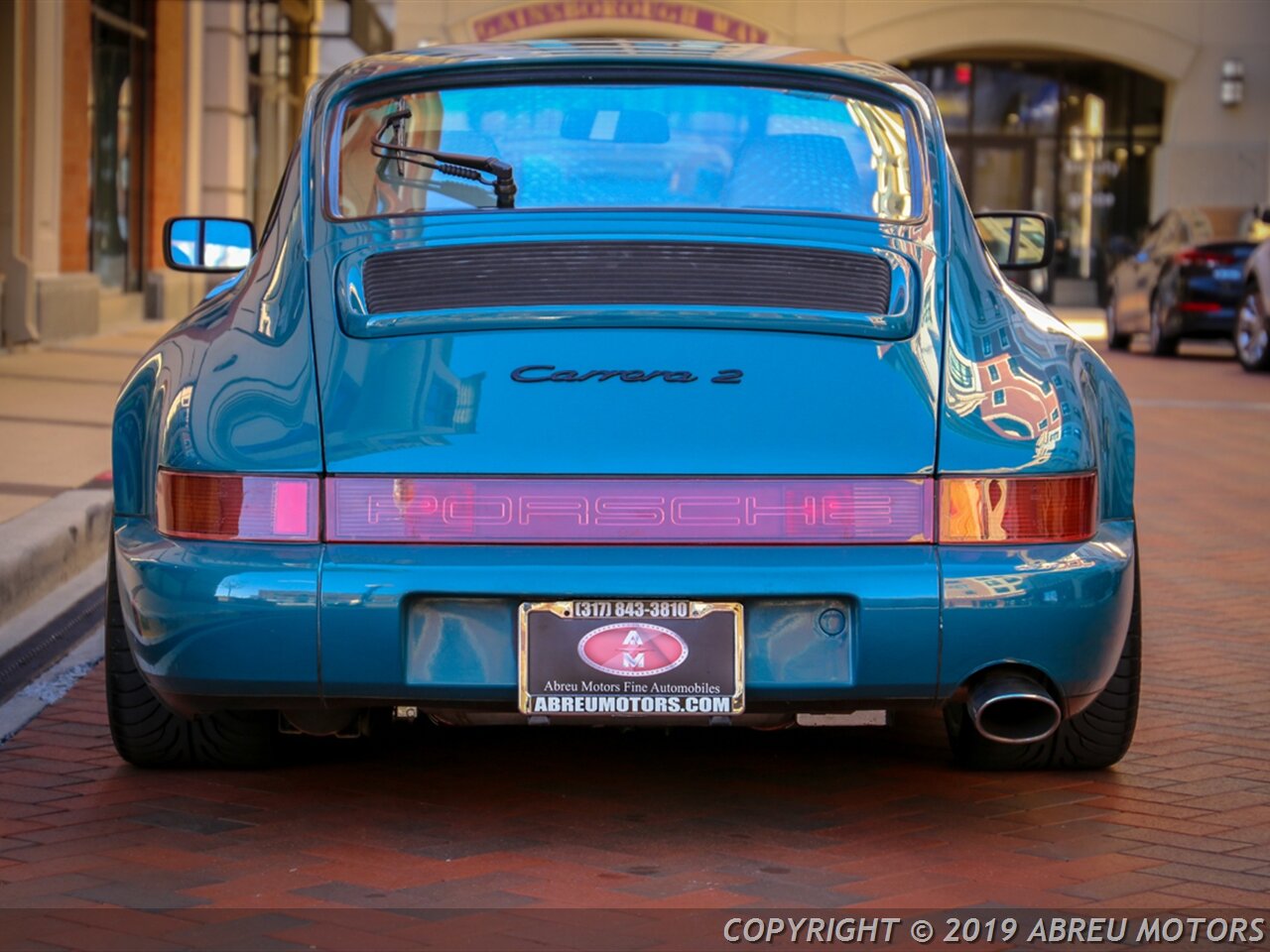 Year: 1991
Model: 911 Carrera 2 ROW
VIN: WP0ZZZ96ZMS400903
Engine: 3.6 liter flat-6
Transmission: 5-speed manual
Mileage: 78,735 mi
Price: Reserve Auction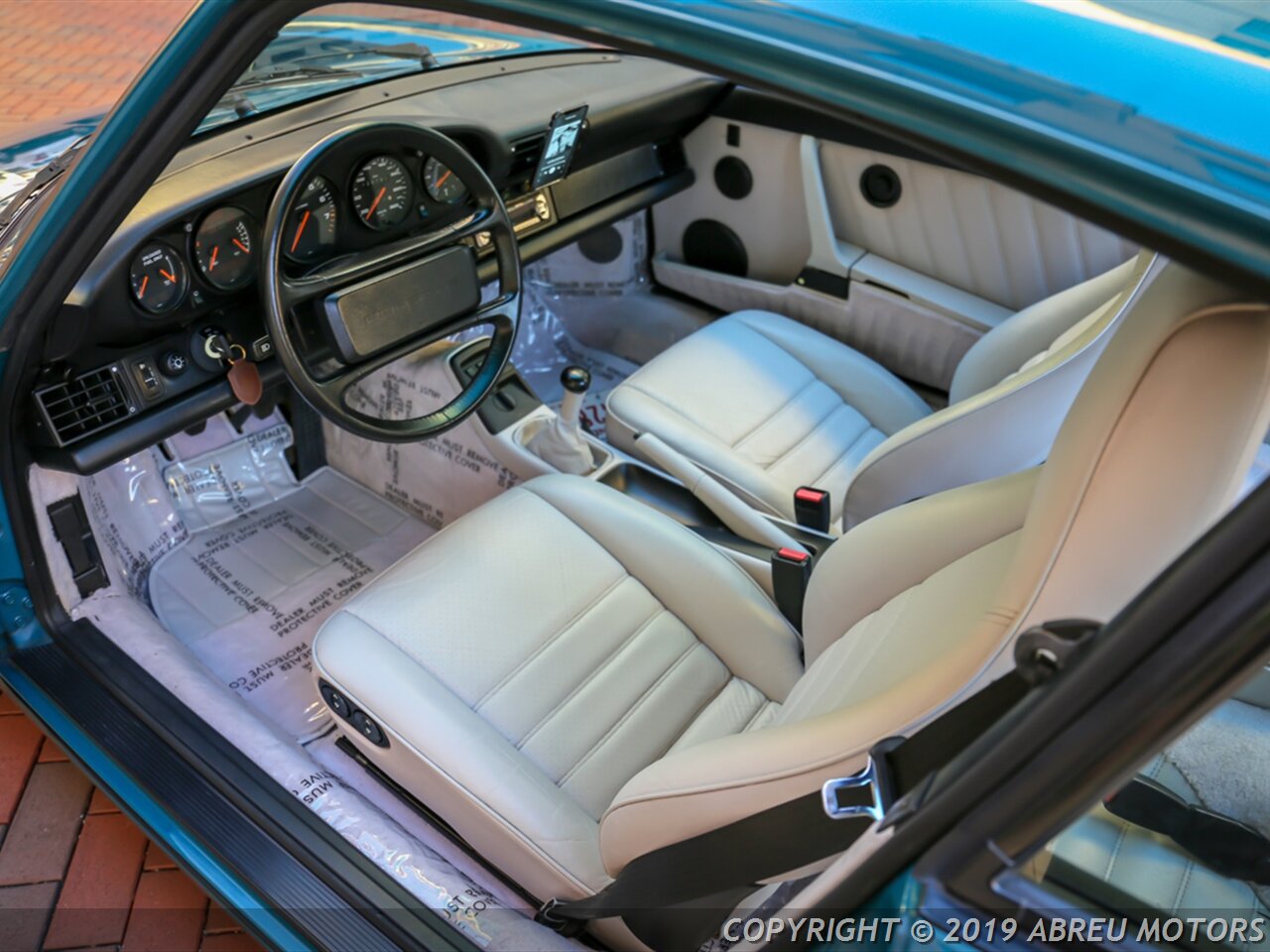 Featured here is an absolutely stunning Paint to Sample 964 C2, with a clean history and 78,735 miles. VIN: WP0ZZZ96ZMS400903.

At purchase, per our paint meter, the vehicle read as original paint (5's) with the exception of the front cowl and passenger front panel, which received a light coat for a small scratch, now reading at 7.5.

While in our possession, we professionally repainted the front bumper due to the significant number of blemishes. Please refer to paint meter photos.

The result is a gorgeous 1991 964 that is gorgeous both inside and out, with a gorgeous Linen interior reconditioned to a fantastic condition. A/C, sunroof, electrical, and all other systems work precisely as they should.

The exterior finish has been lightly polished with foam pads, bringing the Murano Green to a sheen of pure brilliance. The original Linen leather interior and linen carpet were gently cleaned throughout, and show exceptionally clean.

Mechanically, this vehicle is in great condition – the engine was thoroughly cleaned, with brake pads replaced, new cv joint rubbers, complete fluid change, and steering rack rebuild. The car drives and performs very well.

Restored 18″ Turbo twist wheels and H&R adjustable suspension was added to created a stance to complete the visual aesthetic and performance we all value in the iconic 964.

Weight has been removed by deleting the center and side muffler and replacing it with a Fab Speed exhaust creating just the right amount of growl.

In addition, we have replaced the windshield due to rock chips.

Complete with books, 2 keys, recent service, clean Auto Check and a brand new Certificate of Authenticity.

For additional information please feel free to contact me directly at 317-603-7131.

This vehicle is covered by our 5-day Money Back Guarantee. We always encourage buyers to have a pre-purchase inspection performed prior to purchase.

Woodside Credit Online Application

Classic Car & Collector Car Loans with the Lowest Monthly Payments.
click here to launch the application form

Abreu Motors LLC – 921 N. Rangeline Rd, Carmel IN 46032 – P: 317-8433810 – Info@abreumotors.com Text 317-603-7131

*All Sales Incur a $199.00 Document Fee which covers Title Processing, Temporary Plates, and Document Shipping Fees. This is a non-negotiable fee. In addition, the customer is responsible for paying shipping costs when applicable.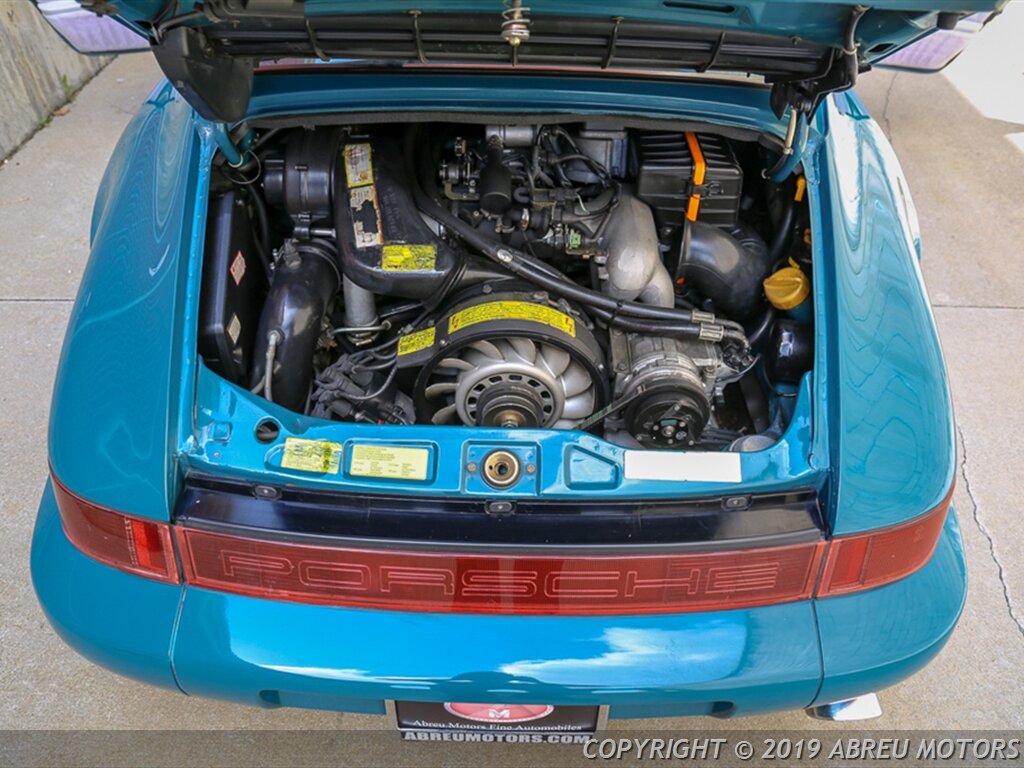 I struggled for a bit trying to figure out what color this looked like, and I finally decided on BMW's Laguna Seca Blue. This is odd since the color is most definitely called "Green" and indeed, I can see how the shade is a more green-toned than LSB, but between the filters that they're running it through and the low light level it's hard to unsee it. I'd guess if you parked a M3 next to this they'd look night and day. This one is lowered which is fine but I have to say I'm not a fan of the Turbo Twist forward-date wheels. Stick some Speedlines on there and I think the story would be completely different. The Linen interior is a nice match and overall this car is well presented; the seller definitely tidied the car up a bit, but they do come up short of proclaiming the 3.6 leak-free.
This seller has a penchant for slick photography and not listing their prices, probably so that they can remain fluid in the changing air-cooled market. But ultimately if you're getting into this market you're probably not looking for a bargain, nor are you jumping in without a PPI. What's the current market on PTS 964s? Conveniently, one just went through Bring a Trailer and bidding stalled at $40,000. This Murano Green example is certainly more pretty, but that Linen Metallic C2 had half the mileage of today's car. Actual sale prices of 964s vary wildly. Some fall short of $50,000, while others have hit $85,000. With the mileage on this car between those two examples, but accepting the ROW and PTS status, I'd wager this seller is looking to fetch close to the top number to trade hands.
-Carter