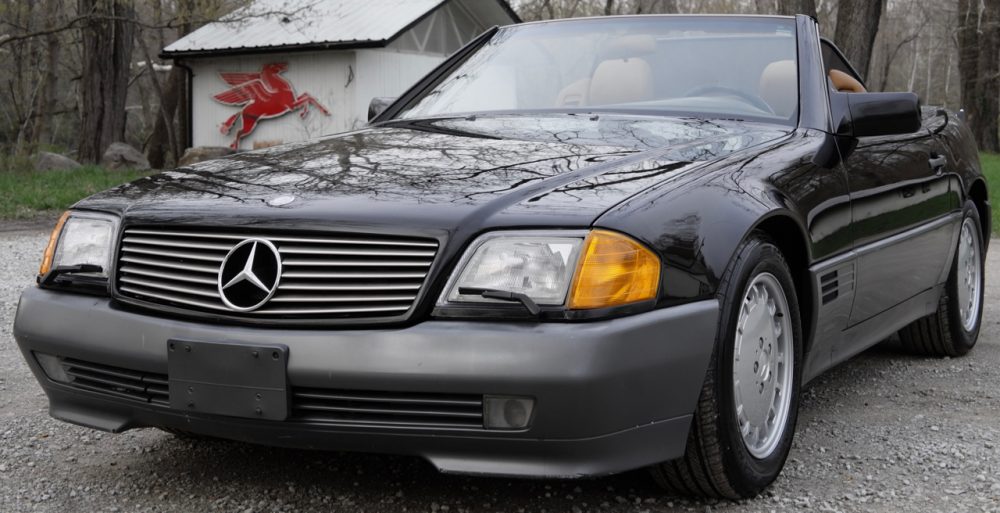 Fresh off last weeks bit of random Mercedes-Benz facts about the 1990 300E that came in both a 2.8 and 3.2 liter, I'm back again with some information that might be useful every once in a blue moon. From 1990 to 1993, you could purchase a 300SL with a dogleg 5-speed manual gearbox. Yes, the same dogleg from the 190E 2.3-16v cars. You might think this is the best news ever, but not so fast. This gearbox in this car has often be described as sloppy at best and really isn't an enjoyable experience. The throws are long and vague, with any hope of fast gear changes being wishful at best. Rumor has it that there were only 166 examples of these 5-speed cars bought to North America which make this a pretty rare car to say the least. But if no one wants it, does this make it valuable?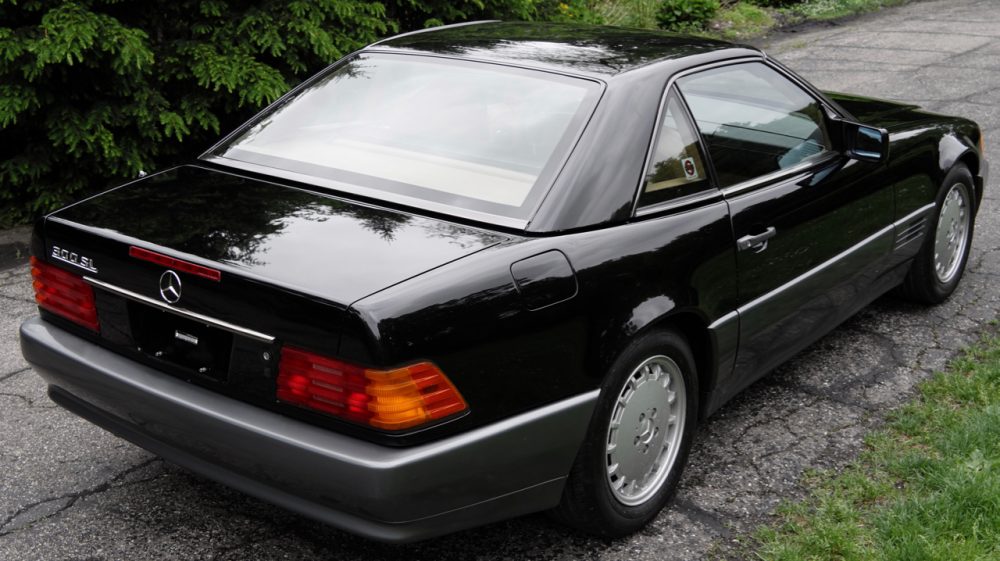 Year: 1991
Model: 300SL
Engine: 3.0 liter inline-6
Transmission: 5-speed manual
Mileage: 63,845 mi
Price: Reserve Auction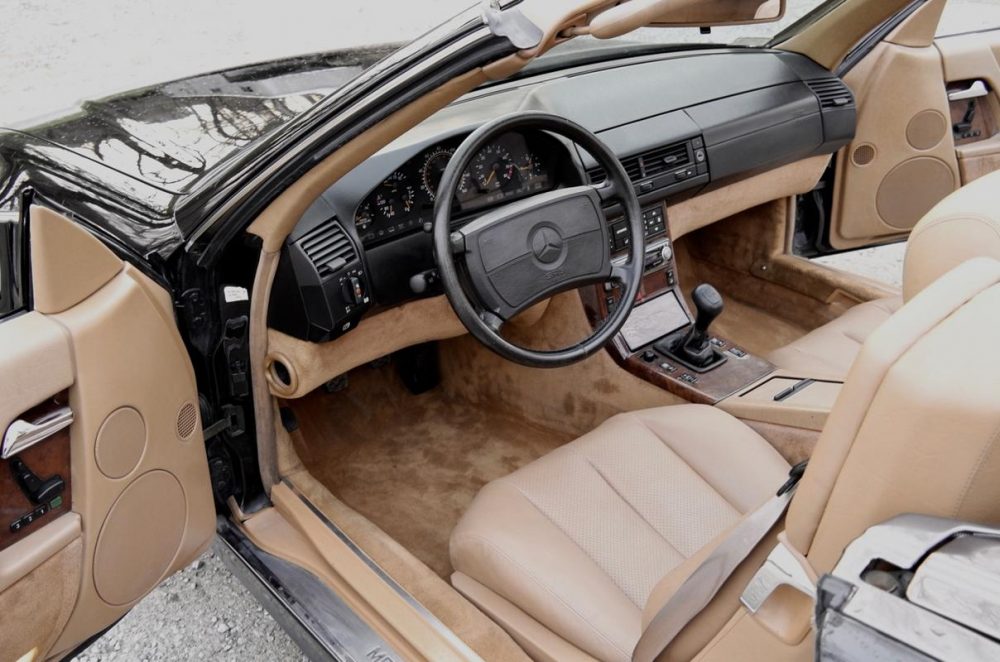 This rare 5-speed manual r129 chassis 300SL is in excellent condition inside and out. This low mile, two-owner car was always garaged and pampered and it is evident. The r129 chassis SL was produced from 1990-2002. In 1990 and 1991, Mercedes offered the 300SL with a 5-speed Getrag transmission. It is said that less than 200 cars were produced in this configuration, making it highly rare and desirable. This car has been extremely well preserved. The 040 Black exterior is in very good condition and paint is bright and shiny. The tan leather interior is also in very good condition. The leather is soft and supple. The carpets are in good shape. They don't make them like this anymore. Everything operates as intended with no issues whatsoever. The power top hydraulics have been rebuilt with correct polyurethane bushings, so she is ready for many years of issue free enjoyment. The original black soft top is in excellent condition. The car runs out strong and smooth with plenty of power. Manual shifts are tight and smooth. The engine bay is extremely clean and well kept. These engines are known to be strong and reliable. This 300SL sports its original 16×8 EVO I wheels in excellent condition with Michelin's mounted in the correct size. The car has no rust or corrosion whatsoever and is bone dry underneath. Original spare is untouched. Comes with original books and tools. Comes with factory wind net and trunk cover.

Drive home anywhere with confidence.

Enjoy it while it appreciates!!

Car is also advertised locally, Seller reserves right to end auction early if sold.

Call with any questions: 614-332-3796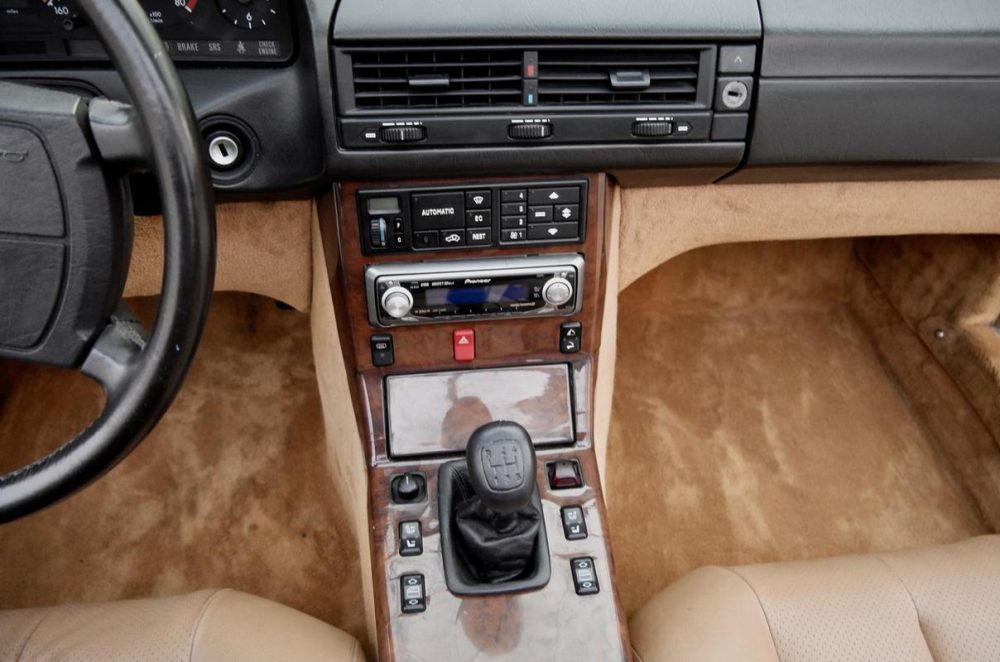 Even with only 63,800 miles, this car looks to be in the same condition as a lot of early R129s. The front lip has some battle scars, both bumpers have some marks and the wood is all cracked with the lamination peeling away. The good thing is the seats look really fresh and the rest of car doesn't look too bad. I'm curious as to why there are no shots of the engine as I'm always skeptical when a seller just conveniently forgets to take one photo when they take piles of photos of everything else. The Pioneer headunit is awfully dated but as long as the harness is hacked up, it can be returned to a factory radio without much fuss. One major plus for this car is that it has the heated seats which is very rare for 300SLs of the vintage.
I honestly think the $30,000 starting price for this auction might be a mistake. Maybe they meant $3,000? Right now, it's tough to give away a 300SL, let alone get a premium price. I don't know where that $30,000 figure came from because even the nicest of these cars with the 5-speed are selling for about half this price. Will these be be worth something down the line? I think so. But right now these just kind of float out there for sale in a sea of other Mercedes roadsters that are all overpriced.
– Andrew