Every now and then I present pieces of information that relate to Mercedes-Benz history that is somewhat significant, but mostly just stuff that might be useful for one specific moment in what might be years worth of time. One of those pieces of information has to do with the 1993 300E. Conventional thinking would lead you to believe that this car came with the 3.0 inline-6 that Mercedes has been putting in these cars and other models for years. Not the case for the 1993 300E. This car, badged the 300E, could be bought with either a M104 2.8 liter inline-6 or a M104 3.2 liter inline-6. Why they offered two different engines just for this year, I don't know. In 1994, the model changed to the E320 and all of those cars got the 3.2 liter while the 2.8 liter moved to the then-new W202 C280. How can you tell if a car is a 2.8 or 3.2? Well, if memorizing VINs isn't your thing, the trunk should have a 2.8 badge on the opposite side of 300E badge. Of course, some people removed those badges for a cleaner look or just didn't want people to know you didn't spring the extra cash for the 3.2. Another tell is that that all 3.2 liter cars have headlight wipers but only some 2.8 liter cars had them too. You can conclude that if a car is missing the headlight wipers it is a 2.8 liter so at least that is one sure fire way. Today, I actually have a 1993 300E with the 2.8 liter and immediately you wouldn't you know as it doesn't have the 2.8 badge. Luckily, this car's tell is missing those headlight wipers so we can conclude it is in fact a 2.8 liter example. Isn't all this useless information wonderful?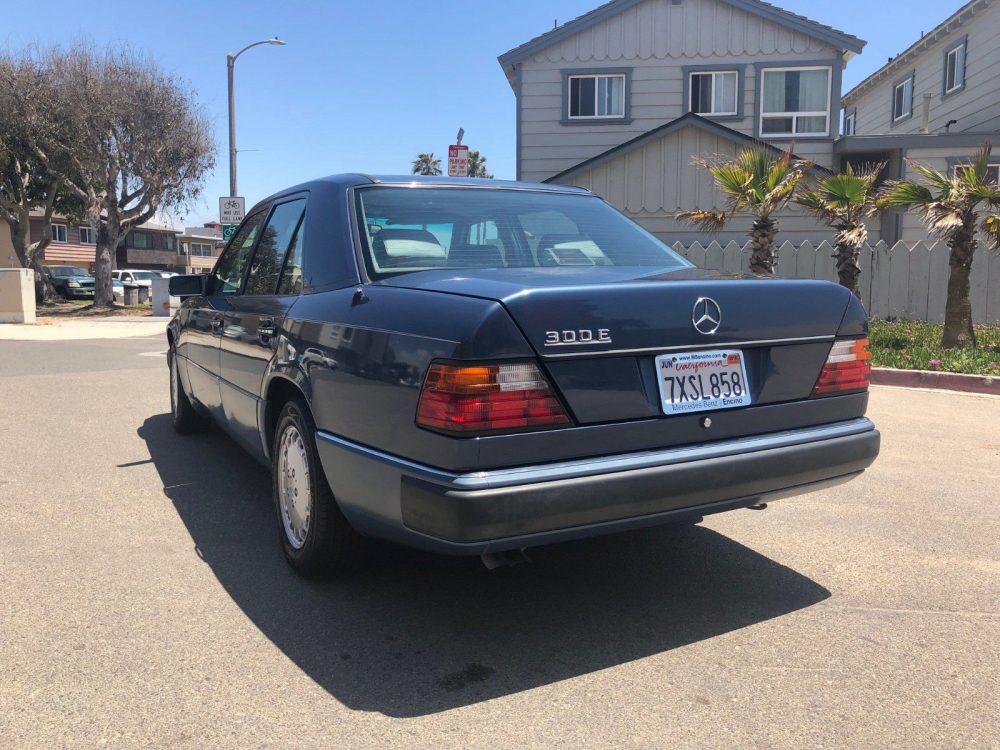 Year: 1993
Model: 300E
Engine: 2.8 liter inline-6
Transmission: 4-speed automatic
Mileage: 107,531 mi
Price: $3,895 Buy It Now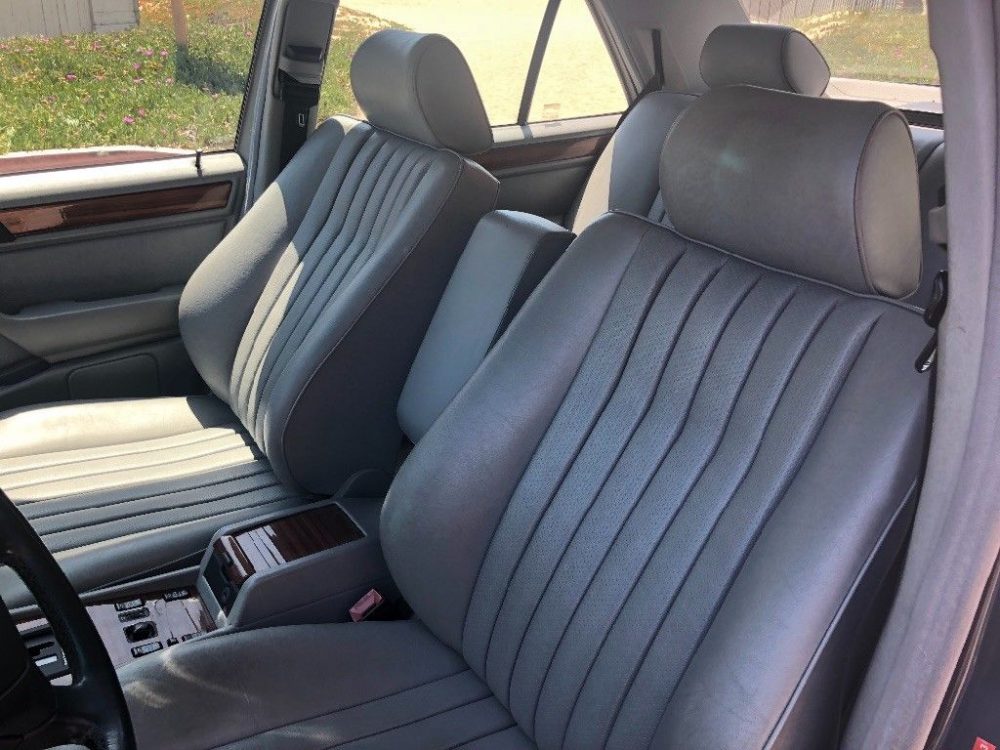 For sale is my 1993 300e. Runs great, cold AC, great interior, no rips, clean title in hand. Its a real tank and will run for a long time. Needs nothing. No accidents. California car

All windows, door locks, sunroof work. Inline 6 cylinder. Drives very smooth. New tires, 3 original keys and booklets all in hand

Buyer pays for shipping. Vehicle is located in Seal Beach, CA 90740. Will do my best to help with shipping arrangements.

Feel free to ask any questions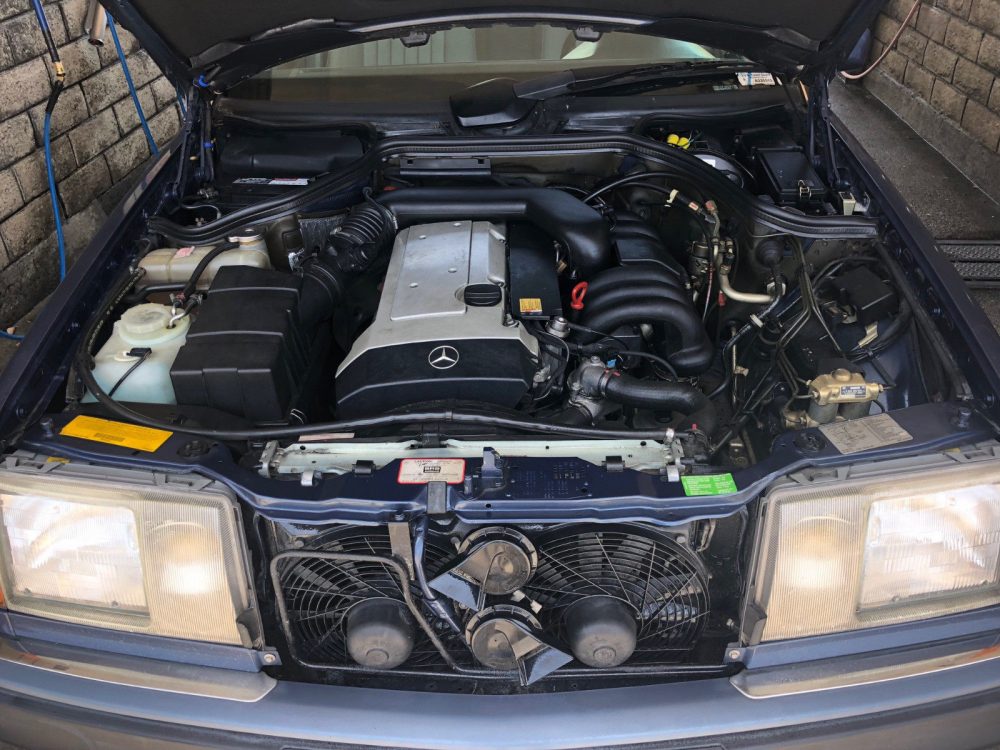 As you can see, the California sun has not been kind to this car even with only having 107,000 miles. At first I thought that was the only thing that was off about this car, but some other little things caught my eye. In one of the photos you can see that both of the sun visors are totally missing the clips that attached them to the headliner. This is a pretty common thing for them to break and Mercedes charges a ridiculous amount ($22 a piece) for a small piece of plastic, but on this car the base is missing on both of them to left the visors dangle free. I've never see that before. Another thing that bothers me a little are the Linglong tires. 15 inch tires are very cheap, even for good ones, so I don't know why someone would select one of the cheapest brands possible. Aside from that, this W124 seems pretty honest.
I think the price of $3,900 is a little optimistic given the paint situation and location where you can literally find a used Mercedes for sale on every corner. The faded paint is going to scare a lot of buyers away because even the most hardcore Mercedes enthusiasts aren't going to waste time and money painting a run-of-the-mill 300E. I think closer to $3,000 would have good spot for this car for someone to pick up as a daily driver or even as a spare car, but for $4,000, I'm buying the 400E I looked at last week.
– Andrew