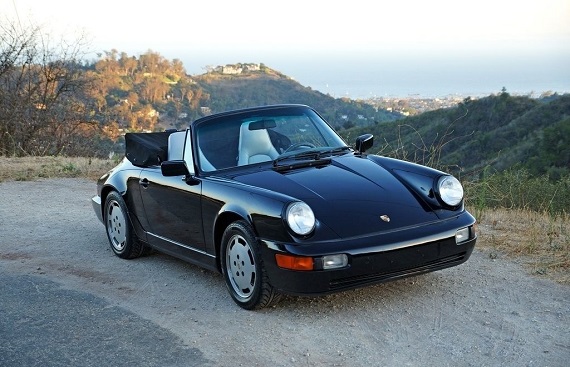 It's been hot. But as we slip past the mid-point of August cooler temperatures are on the way and some of the best days for open-top motoring are on the horizon. So why not begin investigating those options? Cars like the 911, with their strong sporting pedigree, aren't always the most likely choices for convertibles, but that open-top experience has been a part of the Porsche lineup since nearly the beginning. And why feel like you have to drive something boring just because you want the wind in your hair and sun on your face? The first 911 Cabriolet was released in 1983 and they've been a consistent presence in the lineup ever since. The one we see here also combined some new technology in the guise of Porsche's all-wheel drive system. This certainly wouldn't be your most sporting 911 available, but its 911 DNA will insure in makes for a captivating drive. Here we have a Black 1991 Porsche 911 Carrera 4 Cabriolet, located in California, with Grey leather interior and 71,610 miles on it.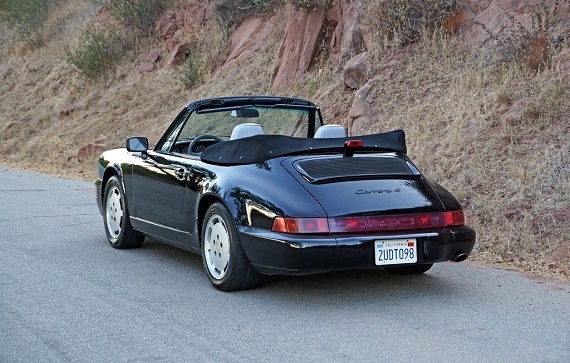 Year: 1991
Model: 911 Carrera 4 Cabriolet
Engine: 3.6 liter flat-6
Transmission: 5-speed manual
Mileage: 71,610 mi
Price: Reserve Auction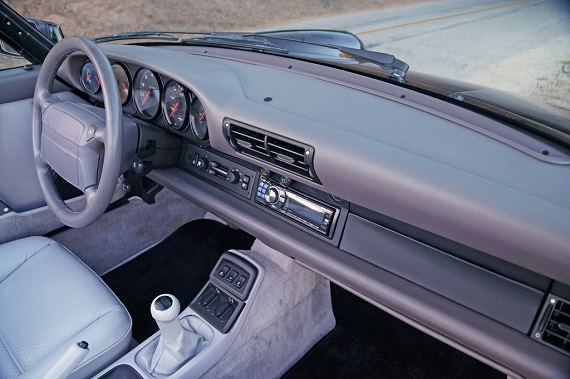 Offered for sale is an absolutely stunning, 71k original mile, mechanically strong 1991 Porsche 911 Carrera 4 Cabriolet (964) finished in desirable and factory correct Black paint over a Classic Grey leather interior, a particularly appealing and surprisingly uncommon livery. As mechanically tight and sound as it is beautiful, this example has always been well cared for and comes with a number of recent service receipts, its owner's manual and service booklet and an entirely clean CARFAX report. Sold new by Beverly Hills Porsche to its original Los Angeles area owner, he would keep the car until 2013, at which point it was sold to its second owner, also of Southern California. In 2014, the car made its way to Houston, TX, where it's been garaged and used sparingly until we acquired it earlier this month.

The factory correct Black (Schwarz, L700) finish is in excellent condition throughout, cloaking an entirely straight body with correct and consistent panel fits and gaps throughout. The body and finish is marred only by minor imperfections, none of which are significant enough to appear in any of the pictures or detract from the car's considerable overall appeal. The glass and rubber is in excellent original condition, and the 16×7 front and 16×8 rear Fuchs "Manhole" wheels look sharp, wrapped in Michelin Pilot Sport tires with plenty of remaining tread.

The car's interior is equally as clean, the Classic Grey leather seats, carpets and interior panels all showing only minimal wear. The dash is free of cracks or warping and the original radio has been replaced with a high quality Alpine unit and custom sound system. The soft top has been replaced with a sleeker 993 German canvas top that shows only typical wear, and the original boot cover is in excellent condition.

The car is mechanically excellent, the original 3.6L engine idling consistently and pulling strongly and smoothly through each of the 5-speed transmission's gears. The car received a comprehensive service 3k miles ago and everything that needed sorting was addressed. The compression is excellent across all cylinders, the car drives and brakes straight and true and its road manners are fantastic. It's entirely comfortable cruising down the highway or tooling around town, but the AWD handling also becomes abundantly clear when pushing the car through back-road corners. Everything works as it should, including the power spoiler, power soft top, power seats and power windows, making this an example that needs nothing to be enjoyed but an appreciative new owner.

Over the last ten years the 964 model reached the bottom of its depreciation curve and has been quickly appreciating, having recently joined its predecessors in the ranks of timeless Porsche classics. This should come as no surprise, considering that between 1989 ½ and 1994 (the 964's production run), the U.S. economy was dealing with a recession, yielding considerably lower production numbers compared to its 3.2L predecessor and 3.4L successor.

Further, the 964 is exceptionally comfortable compared to earlier 911s, yet it still retains that visceral, grin-inducing Porsche ride quality and air-cooled engine tone. There will inevitably come a time when enthusiasts will wish that they'd acquired a 964 at 2016 prices, making this an excellent opportunity to acquire a low mileage, mechanically strong, cosmetically beautiful example finished in a desirable livery.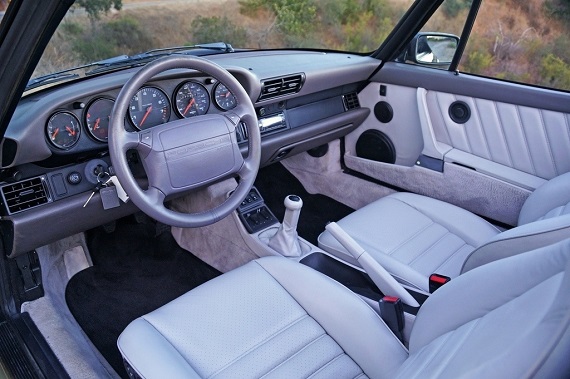 While we are always on the lookout for interesting and unique cars to feature, sometimes it is a fairly basic car that deserves our attention just as much. This can be especially true in the Porsche world as prices can escalate quite rapidly once we check off a couple rarity boxes. This 964 presents as just such a good-looking, yet standard, 911. It presents well in and out, shows in a nice color combination, and the mileage is reasonable. It doesn't sound like it comes with much historical documentation so a PPI and a review of the stated recent receipts will serve you well. But there isn't much here that throws up red flags beyond the basic age of the car. Bidding remains quite reasonable as well at $30,153. We'll have to see where it ultimately sells, but right now this is looking like a nice option for experiencing those open-top thrills.
-Rob