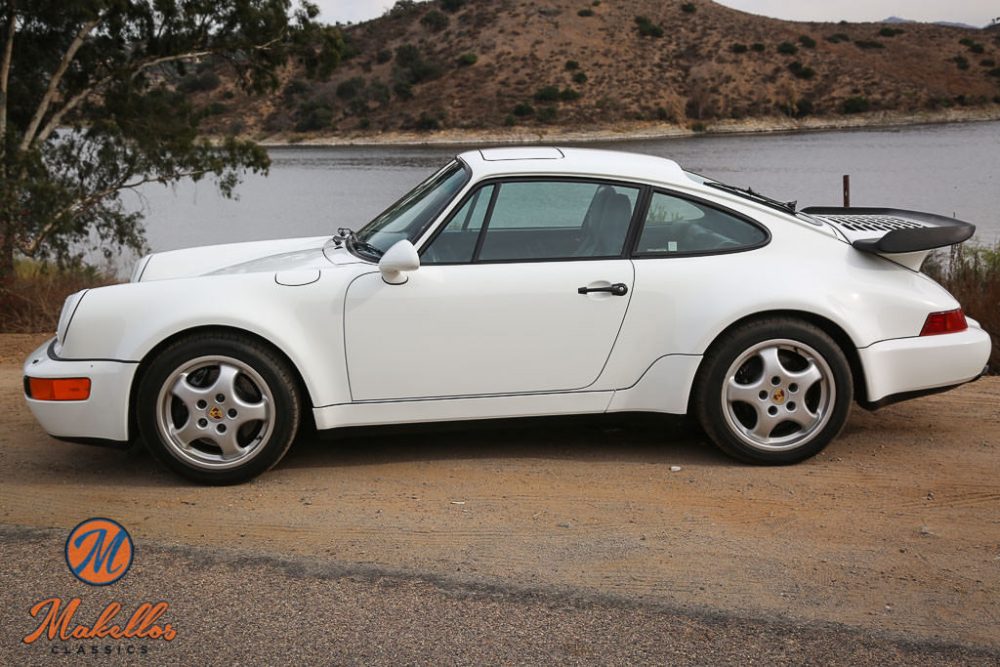 The other day I was discussing the appeal of the Porsche 930. Let's now jump to its successor, the different but also similar 964 Turbo. The 930 appeals for its general lack of smoothness. Its lines are a series of angles balanced by wide curves with the 911's distinctive round forward pointing headlights leading the way. The 964 carried on that tradition, even if it was an almost entirely new design. The engine too was a refined version of the 930's 3.3 liter flat-six mated to a 5-speed manual transmission. There would be engine changes in its final production years, but in '91 and '92 there was certainly a lot of familiarity to be found under that new skin.
This has placed those turbos in a somewhat odd space. They are surely desirable, but I'm not sure we give them nearly the consideration we do with the 930. The same is true when we compare the early 964 Turbo with the later 3.6 liter models. Their relative appeal is understandable: the increased performance and relative rarity of the 3.6 models makes them increasingly desirable. The desire for the 993TT – the last of the air-cooled Turbos – remains higher still. So what do we do with these less frequently recognized Turbos? I guess we might as well take a look at one: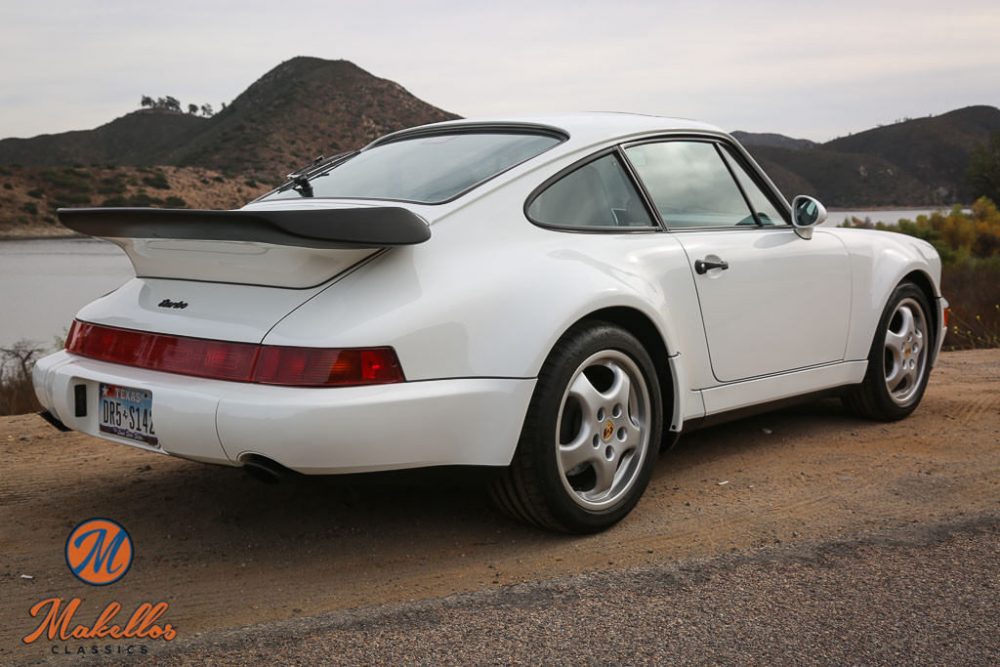 Year: 1991
Model: 911 Turbo
Engine: 3.3 liter turbocharged flat-6
Transmission: 5-speed manual
Mileage: 29,500 mi
Price: $150,000 Buy It Now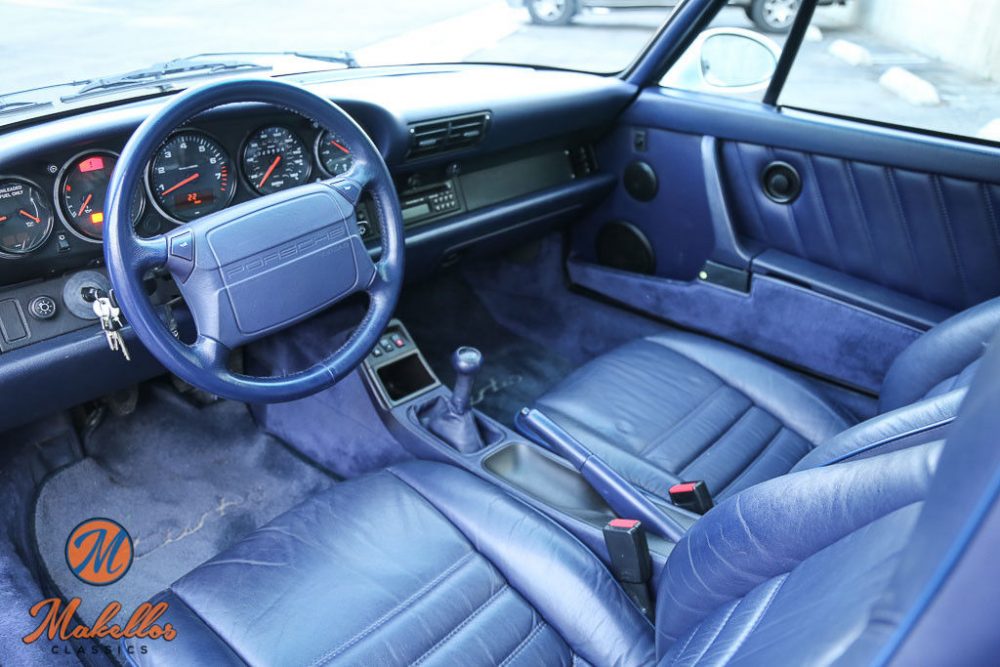 This stunning 1991 Porsche Turbo is a vision in Grand Prix White over blue leather interior. The aggressive fender flares give the Turbo its distinct and impactful stance. This low mile, 29k, example has been extremely well cared for by its first two owners. We have service records to support the maintenance and mileage.

On the road this Turbo is smooth as silk. The ride is compliant and comfortable. The factory exhaust keeps the cabin quite for long journeys. The brakes are sharp and the stopping power is excellent. The steering is light and crisp. The combination of power and performance make this Turbo the ultimate grand touring sports car for the road.

Since arriving at the Makellos Classics the car has been gone through by our Porsche factory trained technicians. The car has been given a through detail and it is exceptional. All of our cars receive a full service before delivery to the new owner.
For more information and Photos visit: http://makellosclassics.com/sales/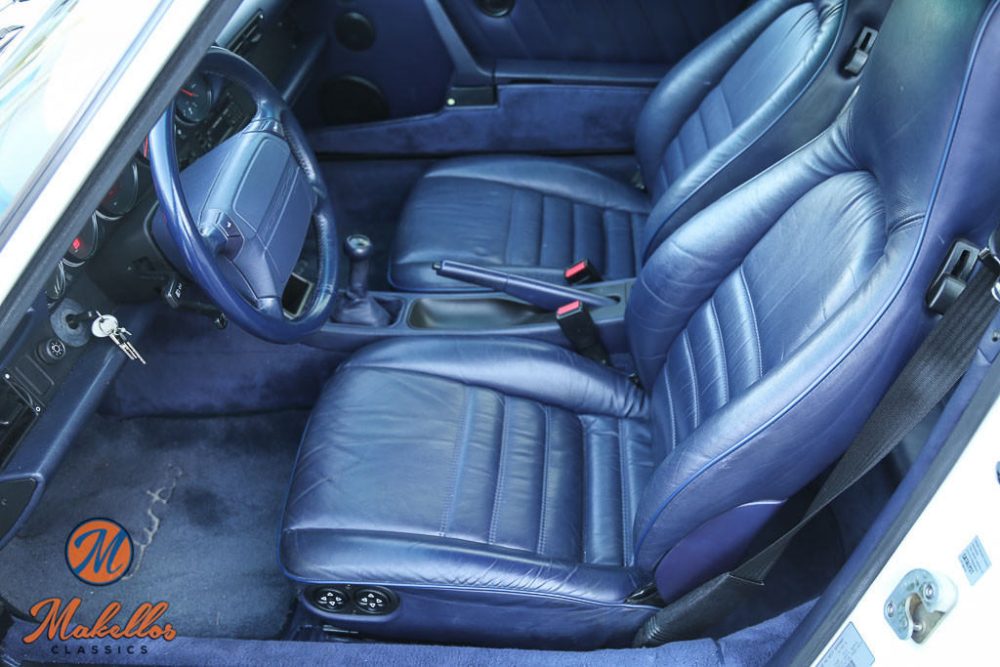 I do sort of understand how we view these Turbos relative to both their predecessors and successors. I also understand why they remain quite desirable nonetheless. The early 964 Turbo is basically a more refined final-year 930, a quite capable and highly sought-after car in its own right. If the sometimes high collector-driven prices for that final-year 930 prevent you from ever considering one, then the 964 can make a lot of sense. That doesn't mean they're cheap, but in most cases comparable condition and spec tends to yield lower prices for the 964.
This one, even though definitely high priced, fits that bill. It's pretty low mileage having traveled fewer than 30K miles in its life. The Grand Prix White exterior looks really good on the 964's lines and its condition here looks quite good. We'd hope such a lower mileage 911 would show in such condition and it's nice not to be disappointed. The exterior is contrasted by a blue interior, which is a combination that I like quite a lot. It makes for a very icy, almost glacier-like, combination. It's also not terribly common. Here, like with the exterior, it looks in very nice shape. Service records are said to be available to support maintenance and mileage. I'm not sure whether that means its records are complete, but I'd at least think it suggests there aren't significant gaps. All told this looks like a nice Turbo.
At $150K the price here is quite high and I'm not sure that it's going to sell for this price. But it's hard to find these 964's with this sort of mileage and the condition does look good. If the color combination suits you, then I think it's definitely worthy of further investigation.
-Rob