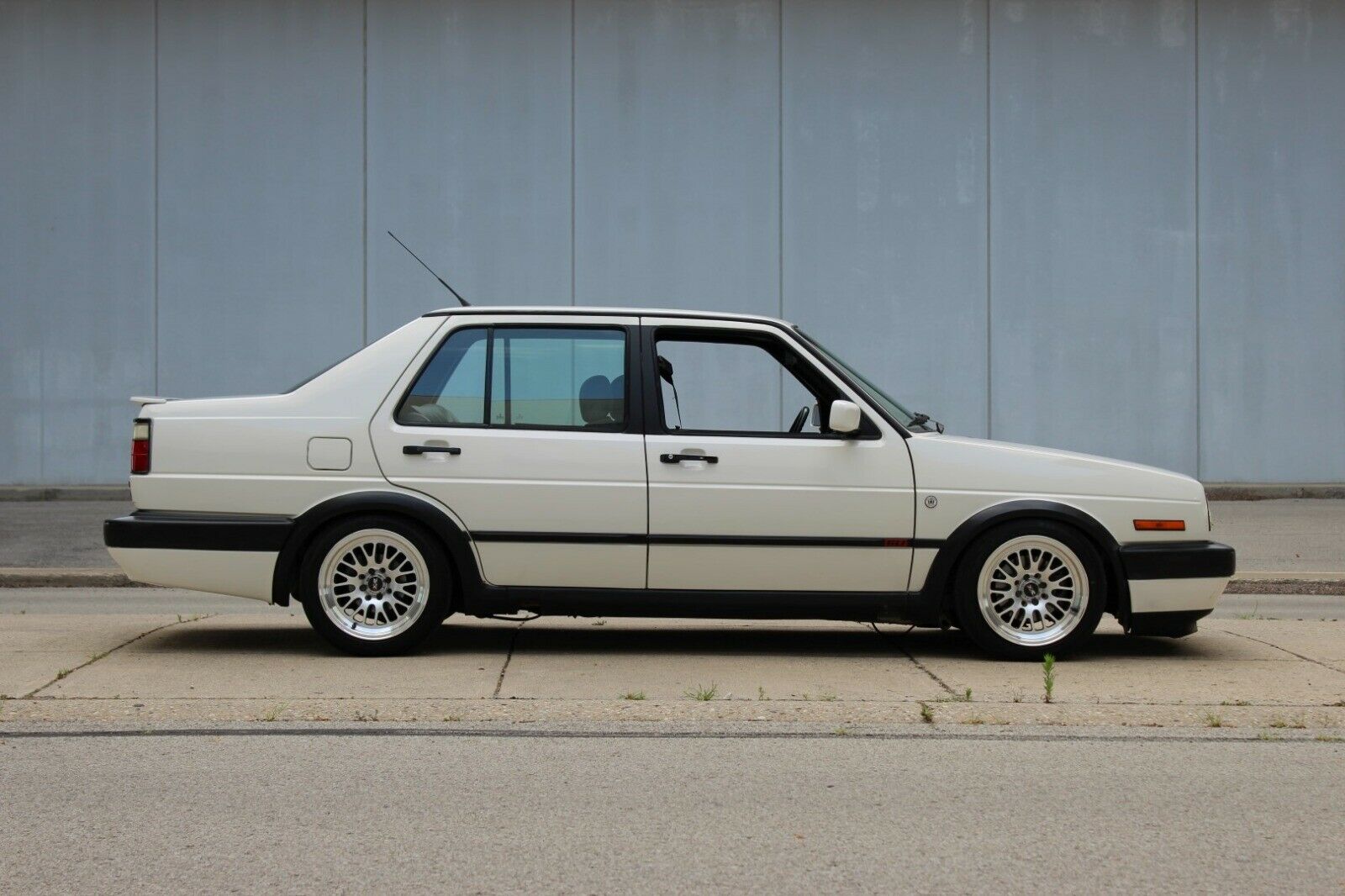 Update 7/21/19: This Jetta GLI 16V sold for $2,750.
Volkswagen of America's new 'Fahrvergnügen' sales campaign in the early 1990s was, while a marketing ploy and a totally made up neologism, underscoring sporty changes at Volkswagen. The more serious 2.0 16V GTI I've already covered recently, but the same motor was available in the more fun-to-drive Passat here, too. Then there was the Corrado, which while it only had 8 valves sported a supercharger. You could that that G60 in the Passat in Europe, too.
Volkswagen's popular smaller sedan had a healthy dose of upgrades though, too. In '89, the Jetta GLI 16V had a special Wolfsburg Edition which had added the deeply bolstered Recaro Trophy seats and BBS RA alloys. These were color-matched to the Helios Blue Metallic paint outside. The seats and BBS wheels would carry over for the 1990 model year, but like the GTI the Jetta received the new 9A 2.0 16V and revised bumper/trim of all the A2s. Brakes were updated to 10.1? and dual tailpipes emerged from the new 'big bumper' A2 refresh. Central locking and a cassette player were standard, while you could opt for many power options including windows, mirror, anti-lock brakes, trip computer, cruise control and of course a sunroof.
Although the package was essentially quite similar to the GTI, I've never quite taken to the 2.0 GLI 16V in the same way. But it's still very nice to see a clean example hit the market: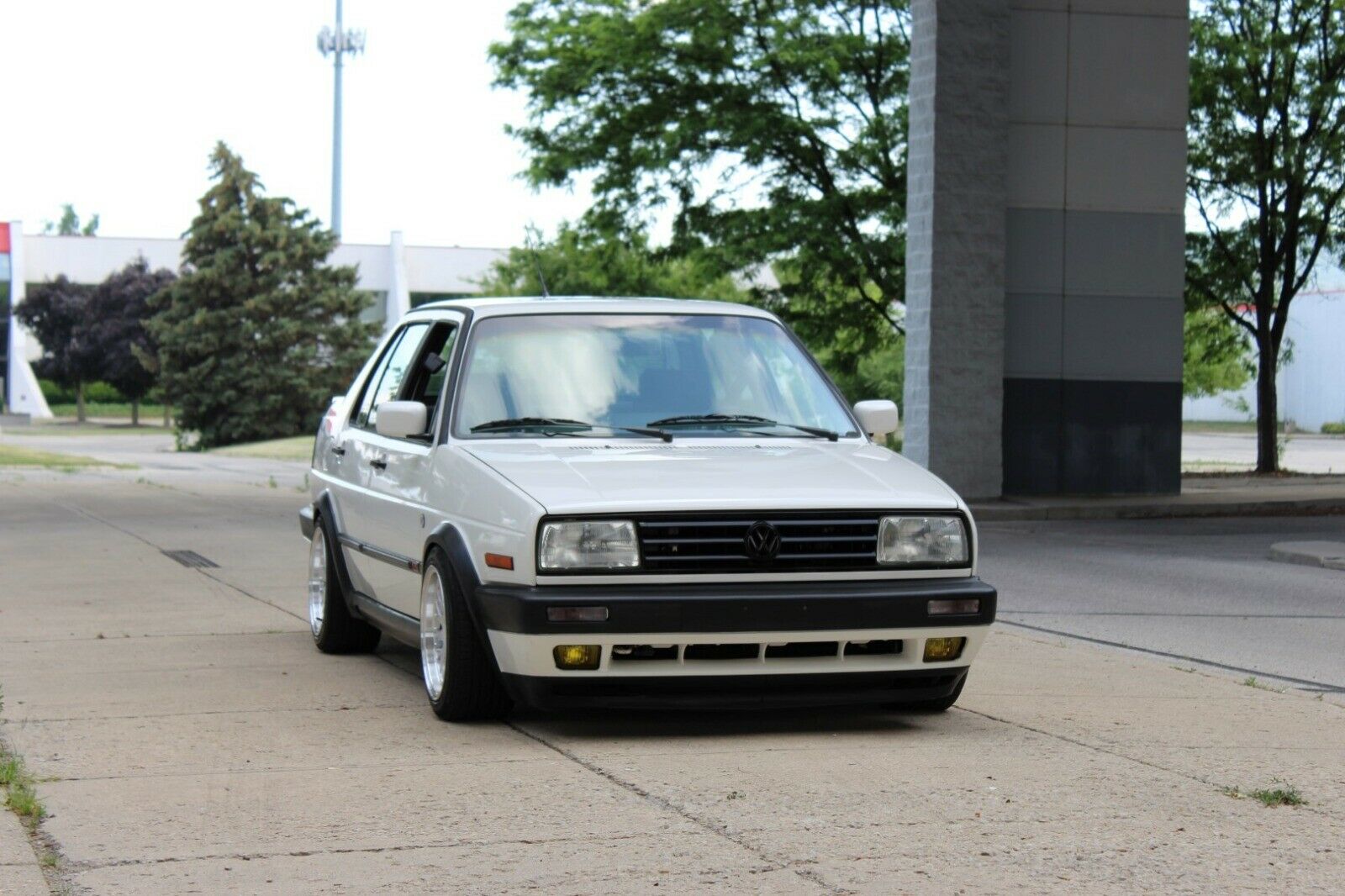 Year: 1991
Model: Jetta GLI 16V
VIN: WVWTJ21G7MW016474
Engine: 2.0 liter inline-4
Transmission: 5-speed manual
Mileage: 116,000 mi
Price: No Reserve Auction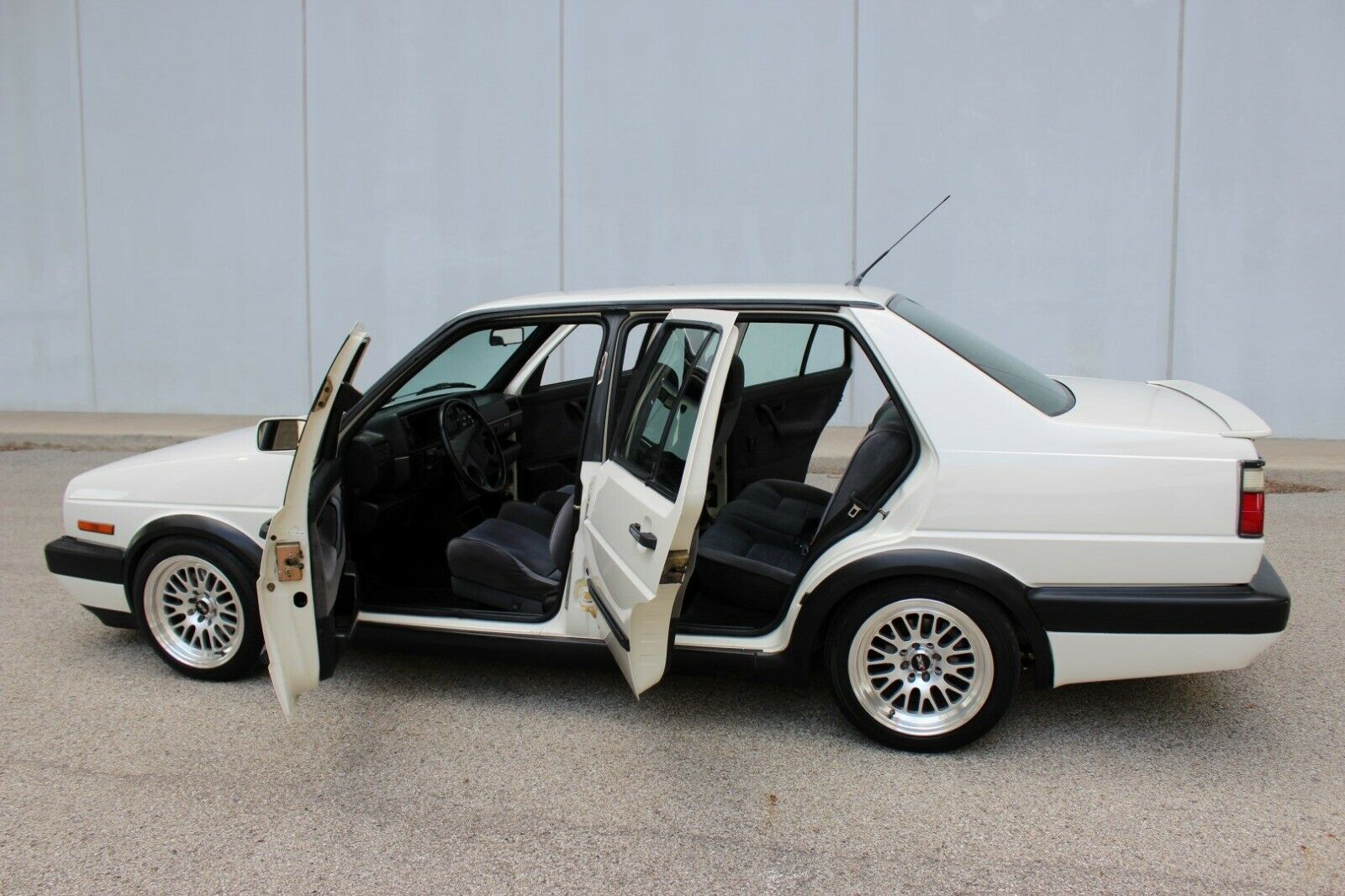 Here's a link to pictures that should answer most questions. The link may not work on your phone.

https://photos.google.com/share/AF1QipOC0CQCfaS4lazLMvhbPzNJYwPSgbUIfuGR6is4LjhI1rbZ6-aNiEVUWJRk_YLw-A?key=ckIzVUoyMW90WERjS1FZSFJrNEgzNWpWSU82RURR

1991 Jetta GLI 16 valve

I purchased this 5 years ago or so with the intention of making it a dependable 3rd car. I pulled the engine and replaced every maintenance item I could think of and cleaned everything up. It's in good condition, but needs a few thing squared away. I've lost interest, don't have the time, don't have the room, and need to move on.

Condition:

The body is fairly clean and the paint is nice. It has some dings and scratches even though it looks great in person and in the pictures. It also has two little rust holes on the floor that you can see in the pictures. The interior is also in nice shape. It's one of the nicer mk2's I've seen, but it is by no means perfect.

The good:

Timing belt replaced

Cam seals and crank seals

Water pump replaced

Clutch replaced

Shift bushing replaced

Raceland header ceramic coated and installed

Techtonics exhaust installed

Intake manifold and cam cover ceramic coated

Engine bay painted

All new brake calipers, rotors, and rubber lines

JOM coilovers installed

New strut bushings installed

New front control arms and ball joints installed

New tierod ends installed

Bumpers and mirror were repainted by me and aren't that great, but they are presentable

New BFGoodrich tires just installed and alignment done.

The bad:

I can't get the car to idle properly. When warm it idles at 2,000 rpm. I replaced the O2 sensor, knock sensors, injector O-rings and god knows what else. It runs great, but the idle is too high. If it has a vacuum leak I can't find it.

It had two small rust holes in the driver side rear floorboard. I doused it with seam sealer and an old license plate. That was the only rust on the car that I found and I couldn't believe it because the rest of the body is in great shape.

There are a few areas on the passenger side doors where the clear is flaking. They may have had paintwork, but the rest of the car looks to be original paint. Other than the bumpers and mirrors that were done by me. I do have the carfax somewhere and it is clean.

The blower motor and hvac controls aren't working. When I bought the car the power steering and AC were removed and I replaced them. Not sure what the issue is, but my intention was to have operational AC.

The fenders have been rolled and the side skirts trimmed.

Rear passenger side window isn't working.

Fog lights were installed, but not wired up.

This is a no reserve auction a real one!

There will be no BS shilling on my end.

I will not end the auction early. Please don't ask.

$500 NON-REFUNDABLE Paypal deposit required within 24 hours of auction end.

The remaining balance paid via cash or wire transfer within 7 days and prior to me releasing the car.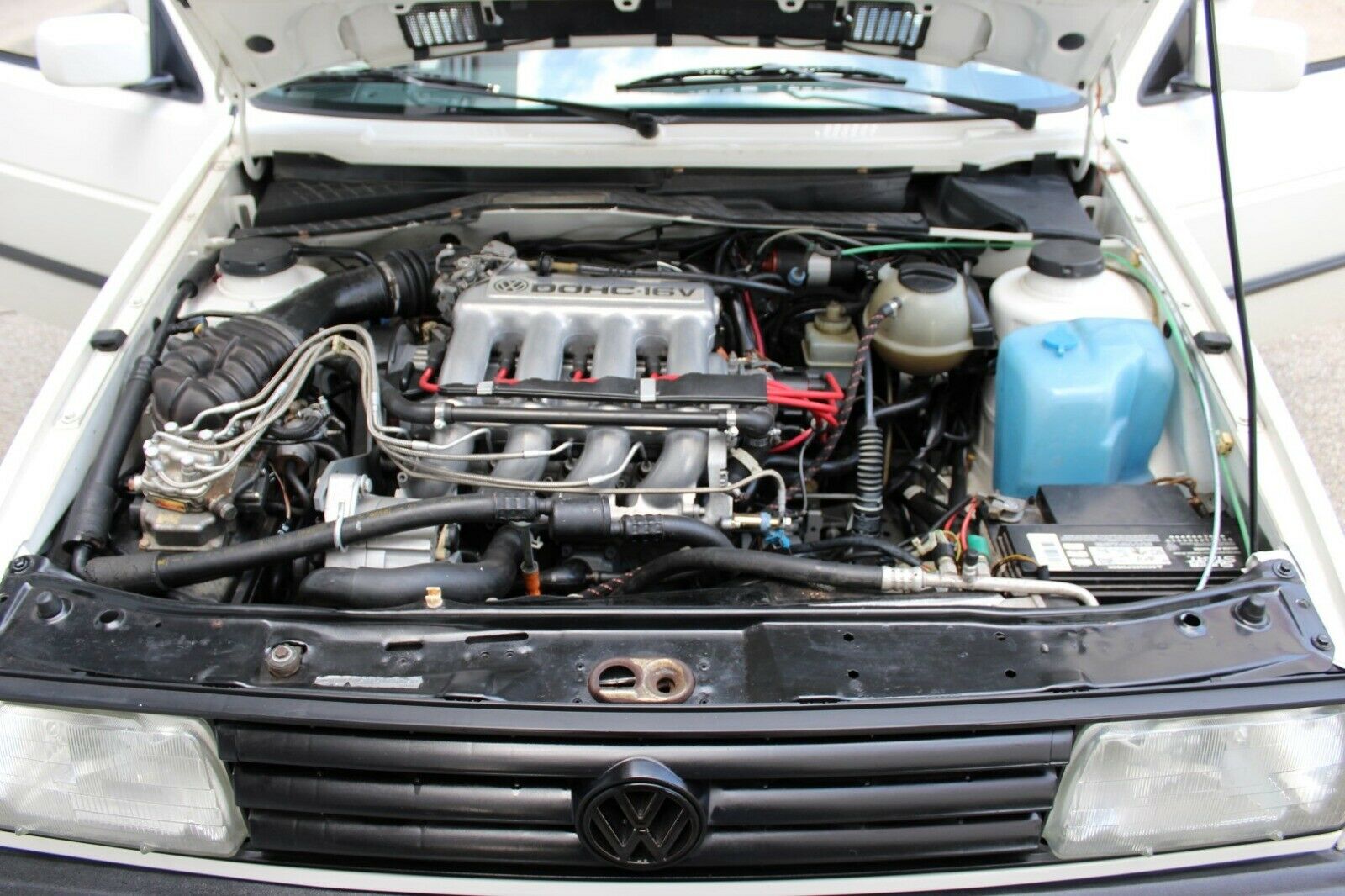 One interesting aspect of this car is that it was German-built rather than Mexican. I'm not sure that matters all that much, but its interesting. The upgrades make it look more purposeful without being too far over the top, and overall the condition appears to be very good and certainly far above average. The seller also seems to be very upfront about the needs and current condition. Personally, I'm not a huge fan of the CCW Classic wheels but since they're popular if you're like me you could sell them and mount some more appropriate BBSs. RAs can still be found relatively inexpensively though it's getting harder to find a nice set.
So far bids have only hit $2,000 with about 5 days to go. It's pretty unlikely we'll see the bids get close to the much more popular Montana Green GTI I featured recently, as this one has needs and Jettas don't usually bring the big bids. But these Jettas do offer most of the look and experience of the high-revving A2s for shorter money. That may make them worth a look to you.
-Carter