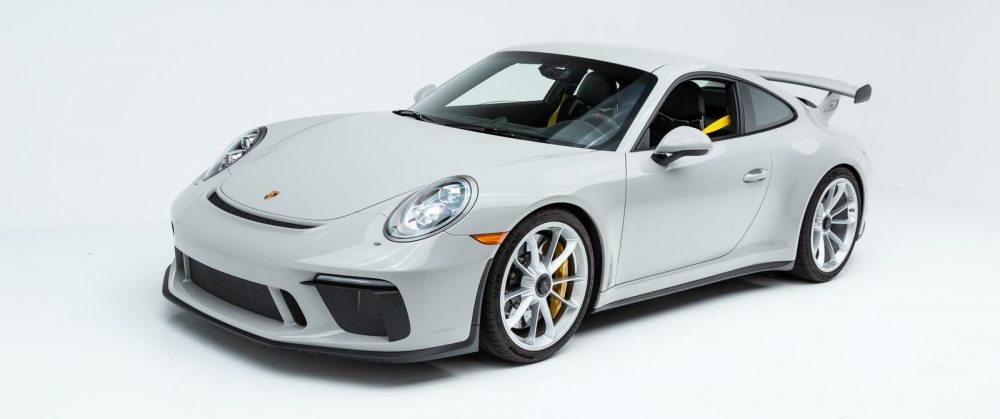 Last week I took a look at the new 992 Porsche 911 and while it surely is amazing, it is going to be quite pricey. Naturally I start wondering if I'd rather has a mildly optioned 992 C4S or a 991.2 GT3 or GT3 Touring. I think both cars I going to fall somewhere in that $175,000 range and while the new tech in the 992 sure is amazing, you'd hardly find anyone complaining about what is inside a 991.2. Naturally, I started taking a look around what what 991.2 GT3s were out on the market and ran across today's car. This 2018 GT3 up for sale in Boise, Idaho of all places has just 2,000 miles and is optioned with the rare 6-speed manual. Not to mention it is painted in the always popular Chalk. Who needs new cars, right?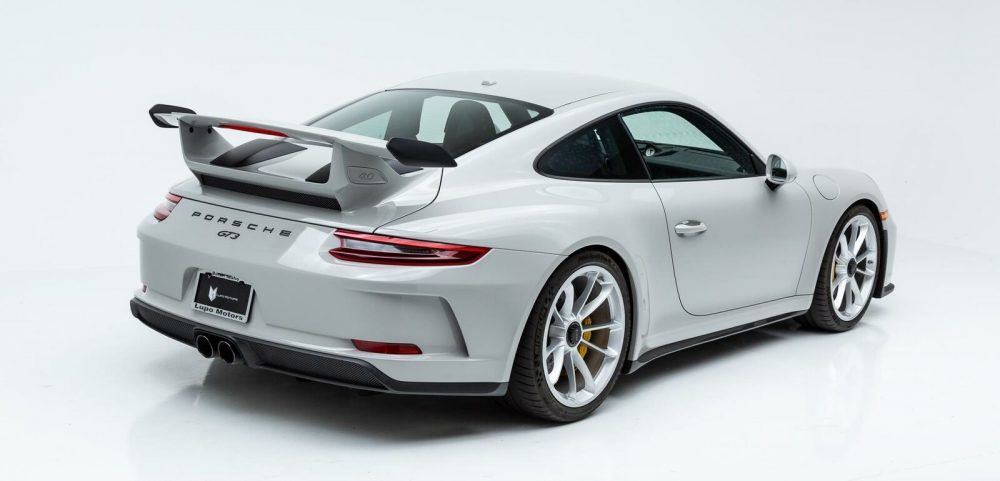 Year: 2018
Model: 911 GT3
VIN: WP0AC2A91JS175464
Engine: 4.0 liter flat-6
Transmission: 6-speed manual
Mileage: 2,023 mi
Price: Reserve Auction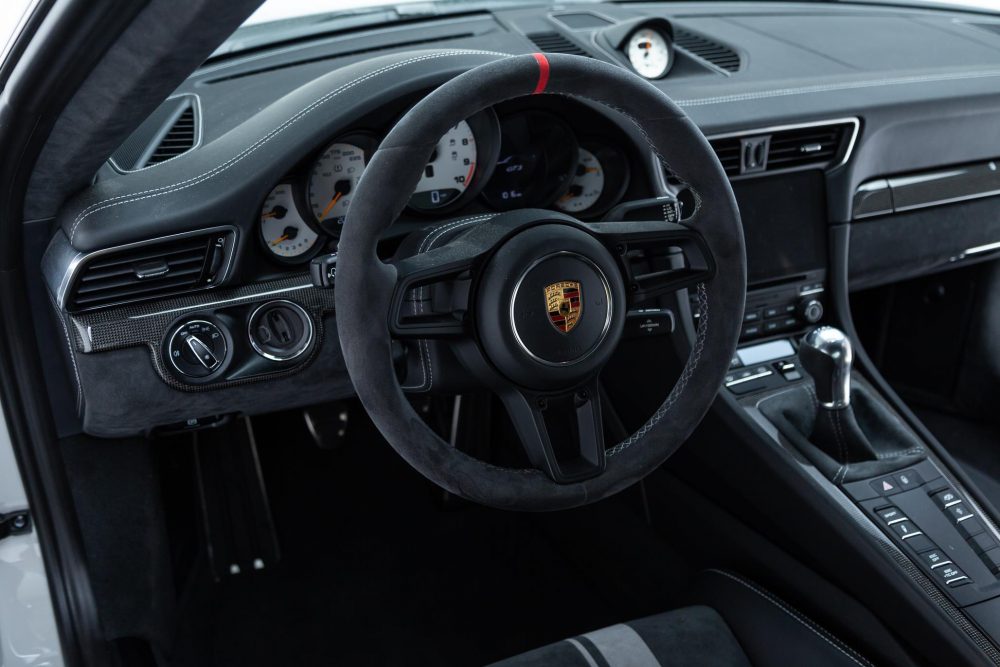 2018 Porsche 911 GT3 Chalk Grey

Manual Transmission
Carbon sport seats
Finished in Chalk Grey on top of black interior
Well optioned

Here is one of the most driver focused modern sports cars on the road. This 2018 Porsche 911 GT3 is finished in Chalk Grey on top of a black interior with yellow accents throughout. The interior is finished in alcantara and leather with optional carbon fiber pieces including carbon fiber sport seats and interior. Featuring a manual transmission this GT3 is truly a driver focused car that wants to be driven. With only 2,004 miles on the clock and never driven hard this pony is just past the break in point. Never seen a track, over revved, or pushed to itís limits. Meticulously maintained with a full front paint protection film at the front to protect from stone chips. Original MSRP of 184,920 options include: Full bucket seats, Leather/Alcantara interior package, LED headlights, carbon interior package, sport chrono, Bose sound system, front end lift, carbon ceramic brakes, racing yellow seat belts, and most important the GT sport manual transmission. Do not miss your opportunity to own this perfectly spec'd, low mileage, 2018 Porsche 911 GT3.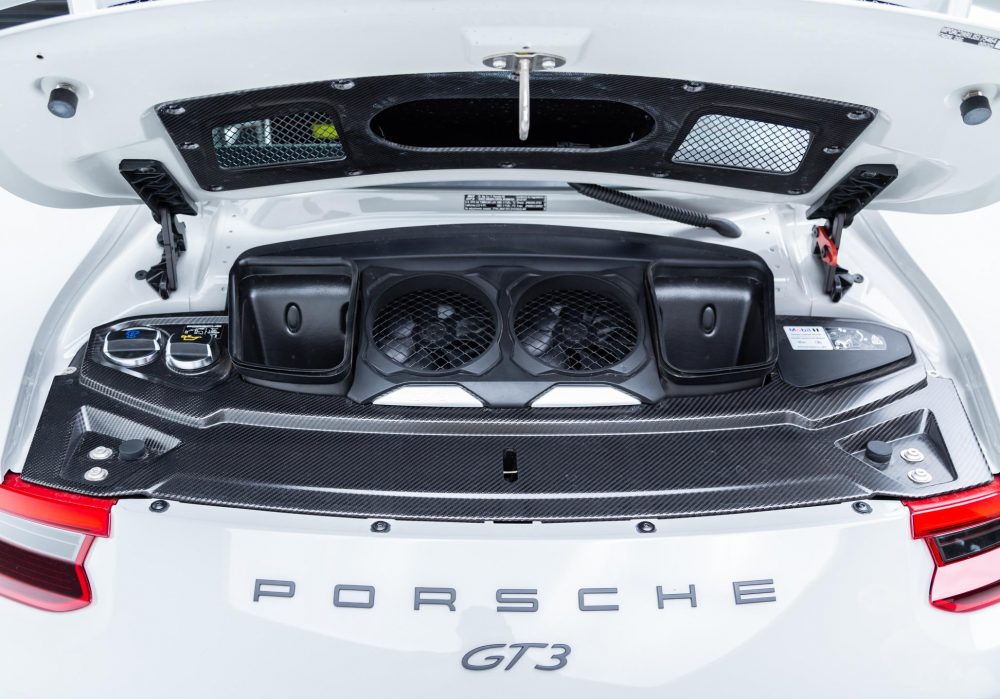 Just a quick aside, this is how you photograph a car. Put it on a white background and snap away. The only thing to look at is the car. So refreshing to see this type of presentation on a car like this. As for the car, wow do I love it. Full bucket seats, Alcantara interior package, LED headlights, carbon package, sport chrono, front end lift, white gauges, carbon ceramic brakes, and yellow seat belts. We are set. Take all my house money, I'll just sleep in the car. Its just so clean and simple. Yes, I love crazy colors as much as anyone, but this is a car that can do it all and maybe even be a daily driver if you don't sit in traffic or have back problems.
How much? Well, the sticker on this car was $185,000 and I'm going to bet that the dealer is looking in that $175,000 range that I mentioned before. The 991.2 production is done, so whatever is out there is what you have to pick from now. This is basically a brand new car still, so I'm sure lots of people would sign up for $10,000 off sticker especially considering people were fighting each other for an allocation of one of these. If I had the means, this is where my money would go. Easy enough to live with everyday, but still fast and crazy enough to have your hands shaking.
– Andrew