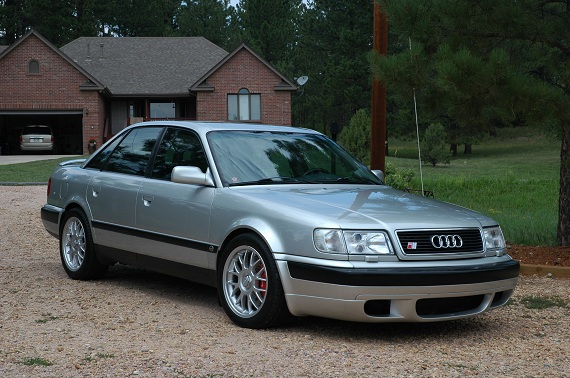 We've featured quite a few original Audi S6s recently, and they always get the attention they deserve, as one of the best performance bargains available in German motoring. It's rare, though, to find their older brother S4s in good shape for sale. Launched in late 1991, the S4 took the platform of the 200 20V to another level, utilizing mostly the same drive train encompassed in a new aerodynamic and smart looking package. Like the 200 20V and V8 Quattro, the S4 featured flared fenders covering wide rubber, this time mounted to (gasp) 16″ wheels – Audi was still pushing the ride quality virtues of larger sidewall tires compared to those racey boys from Munich. While the S4 lacked the punch of either the M5 or 500E, it was a more complete package for many of it's buyers, offering year round performance coupled with reasonable economy. Imagine the other firms going to smaller displacement turbocharged engines….cough, cough. Anyway, enough history, let's look at one of the nicest S4s I've seen in quite a long time: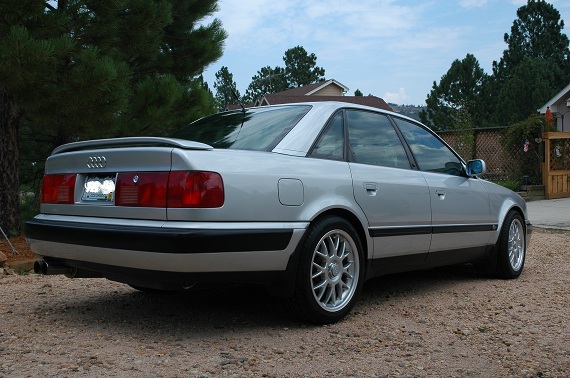 Year: 1992
Model: S4
Engine: 2.2 liter turbocharged inline-5
Transmission: 5-speed manual
Mileage: 104,000 mi
Price: $9,000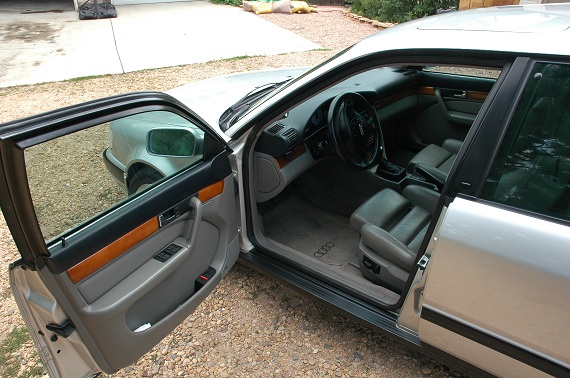 92 Audi S4 (Feb 92 build) in great shape w/ rare Quattro script on rear window (MY 92 only). 9,500.00 Denver, CO

Service records going back to 1996/50k miles with ~340 HP
Silver with Grey interior .
One of the best 92 S4 in the states with only 104k miles on the car.

Third owner, The A/C has converted to R134a. Working 10 disk CD Changer. Interior and exterior are in really nice shape for a five year old car let alone for a 21 year old car. No joy rides, not in a hurry to sell.

link to photos

https://skydrive.live.com/redir?resid=2BDCFDC7F34B32BB!135&authkey=!ACH8dooSJtfW-Y8

Highlights (within the last 50K miles)
RS2 Turbo, Exhaust Manifold, MAS, Injectors, and Exhaust Camshaft
Abt sports suspension
3″ Stromung Exhaust System
Performance Diverter Value
Porsche 993TT Brake kit (less than 9k on pads and rotors)
LLTek RS2 lower lip spoiler
Full 3m clear bra on hood, frnt qtr panels, bumper, lower spoiler, and mirrors
A Pillar boost Gauge
S4 sports steering wheel
Euro s4 lens
92 S4 rear sway bar
92 S4 larger front sway bar
4 17×8 TSW Hockenheim (summer set) with Hankook Ventus V12 Evo 235/75ZR17 95% remaining
4 17×8 TSW Hockenheim (winter set) with Michelin Pilot Alpin 225/45/17 75% tread remaining
1 17×8 TSW Hockenheim spare

Service Highlights
104K Brakes flushed
103k replaced Timing Belt & water pump, cooling system flushed
95k New Mass Air sensor, Fuel Injectors, front rotors and pads
95k New ignition switch
88k Replaced sunroof cables and guides
86k New Power Steering pump
85k replaced lower control arm bushings
79k New RS2 turbo, and RS2 cam shaft & software update
79k replaced transmission and diff fluids
76k New steering rack, steering damper, and strut boots
76k replaced fuel line
68k strut brace installed (Feb 92 car)
67k 3″ exhausted installed
60K s/s Brake Lines from Hoppen Motorsports installed
56k Accelotator pedal replaced
56k MTM software from Hoppen Motorsports installed
51k Abt/Bilstein Sports Suspension from Hoppen Motorsports installed
51k RS2 exhaust manifold kit from Hoppen Motorsports installed

Issues
Driver seat heating element is out
Front Passenger speaker not working
Very small dent on rear driver side door
Paint of roof of car is not the best compared to the car as a whole
Minor cracks around key slot on rear taillight lens

https://skydrive.live.com/redir?resid=2BDCFDC7F34B32BB!135&authkey=!ACH8dooSJtfW-Y8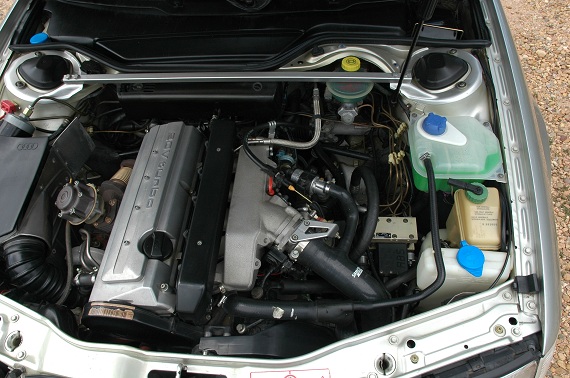 Desirable upgrades, recent maintenance, perfect color combination…does it get much better than this? With a claimed and usually believable 340 horsepower on tap, those pesky M5s and 500Es are nothing to worry about for this car. A/C is converted, most everything works (I can live without the toasty tush), and it just looks loved and taken care of. I have to admit, the front chin spoiler and wheels aren't my favorite but are changeable without too much difficulty. Ideally I'd love to see a set of Euro-market 17″ Boleros on there, but they can be hard to come by these days.
Asking price for all of this is a scant $9,000 – as I've argued before, just look at what condition 500E or M5 that puts you into, and this car is certain to trump it. It may be on the high end for C4 S4s but with the work completed, service records, the lower miles, two sets of wheels and the desirable modifications, this car looks like a stellar deal to me.
-Carter