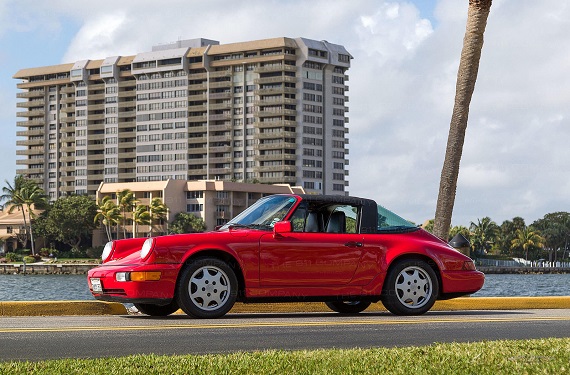 I've been seeing dealers here and there with higher priced 964s of late, but try as they might to push the market upward for these cars it doesn't really seem like it's happening. At least not at the pace the higher prices would suggest. In the eyes of many (and I include myself in this crowd) the 964 has come around. Somewhat unloved during its production the 964 occupies an awkward space between the much-loved classic 911 that served Porsche for so long and the wonderfully beautiful 993 the represents the apex of air-cooled 911 design. For a while that awkward spot shaded my view of the model, but I have sense turned 180 seeing it not as a problematic spot in the lineup, but as a blessing. In its design, the 964 remains more firmly attached to its predecessors than to its successor and in that regard serves as a welcome evolution of the classic 911 design. As I've remarked before, seen on the roads now they possess a presence that I didn't feel in earlier years and a presence greater than that of the 993. Day or night when a 964 approaches me I know what it is as that iconic 911 shape comes into better view. The one we see here brings a brightness to that shape with its Guards Red exterior and contrasts it with a Black interior. At just 52,174 miles this 1991 Porsche 911 Carrera 2 Targa should have a long life left ahead of it.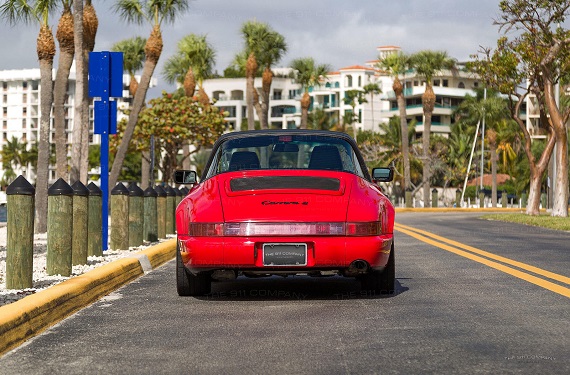 Year: 1991
Model: 911 Carrera 2 Targa
Engine: 3.6 liter flat-6
Transmission: 5-speed manual
Mileage: 52,174 mi
Price: $62,500 Buy It Now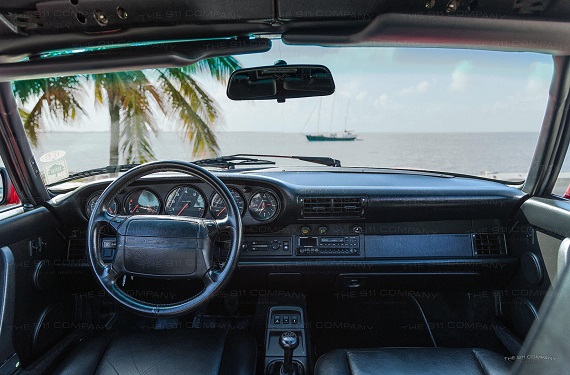 This Porsche promises a lifetime of fun driving.

We were awestruck when we first saw this beautiful Guards Red (Code 80K) 964 Targa. This is the last generation of the traditional Targa, and it combines beautifully with the 964 chassis!

This collectible model is quite rare. Only 746 cars were brought into the United States in 1991, and only 3,786 were produced worldwide during the 964's five-year lifespan.

Its single previous owner carefully documented its twenty years of action in the Newport Beach area. Meticulously garaged and pampered throughout its entire life, this Porsche's interior is nearly flawless, showing very light wear. It comes with its original books, tools, air compressor and a thick stack of comprehensive service records.

With only 53,000 miles behind it, this car's smooth and powerful ride suggest a 20,000-mile car. Despite its pristine state, we recently gave it a full service and inspection.

Rare, stunning and exciting to drive, this 964 Targa is ready to hit the road!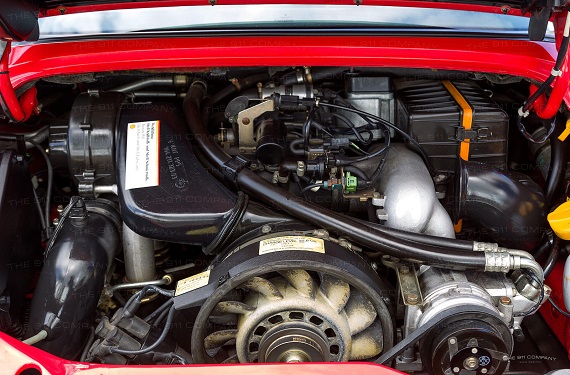 It sounds like this 964 has spent its life exclusively in warmer climates, beginning in California and now residing in Florida. We don't see much of the interior to get an impression of its condition, but if it looks similar to the rest of what we see then the seats should be in nice shape. I like Targas a lot and we see fewer of them for the 964 than with earlier models, though they are by no means an extreme rarity. Still, for Targa fans the 964 is the last to utilize the original design before the changes brought about for the 993. That in itself makes them a somewhat more prized possession, but I'm not sure that brings us to the $62.5K asking price we have here. As noted above I've seen asking prices going up for the 964, but few of those selling and I think the mileage of this one is high enough that it won't really attract top dollar. As a driver, however, it should be great, but the pricing will need to be brought down.
-Rob