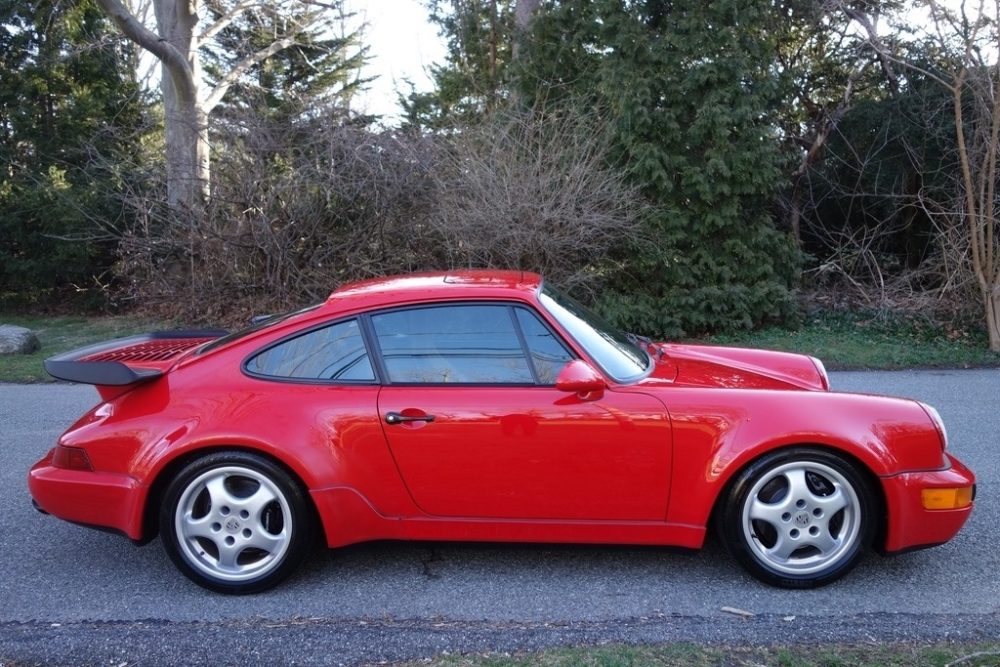 I still feel as if I come across way too few of these early 964 Turbos. Compared to its predecessor the 930 it's as if they don't exist. While the later 3.6 liter Turbo is more rare I feel like I see them more often. Or, at least, this is all how I perceive the whole thing. It may be more a matter of coming across examples I like rather than coming across them in particular, but I'm not sure. I like this one and whether there are few of these for sale or simply few of them I actually like for sale the result is the same: opportunities for a nice 3.3-liter 964 Turbo don't come around all that often. They certainly don't come along often in brighter colors.
This one checks all of those boxes: a Guards Red 1992 Porsche 911 Turbo, located in New York, with Cashmere Beige interior and a mere 16,427 miles on it.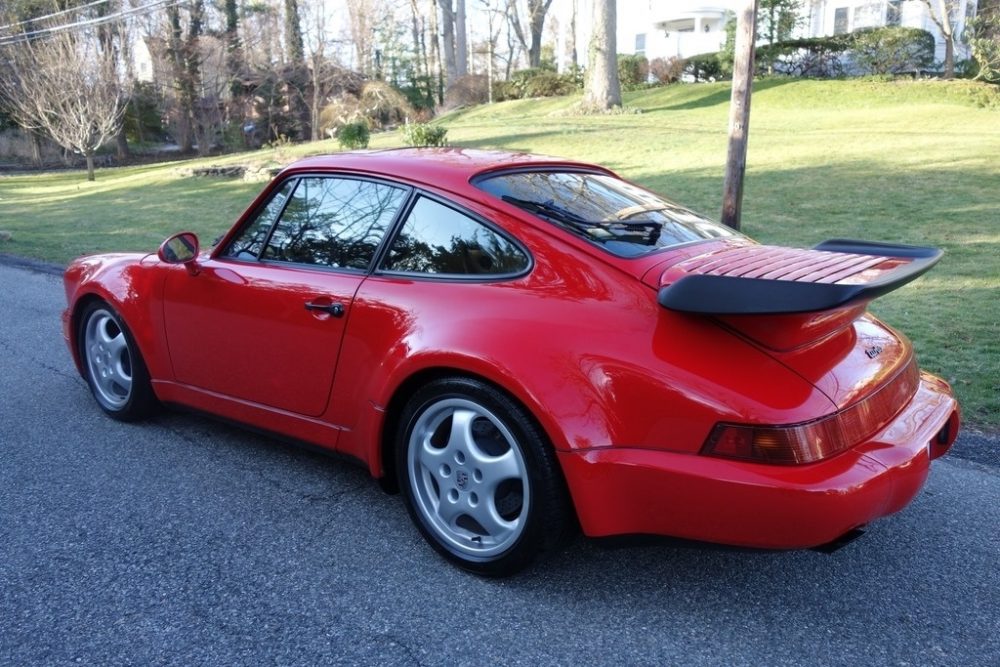 Year: 1992
Model: 911 Turbo
Engine: 3.3 liter turbocharged flat-6
Transmission: 5-speed manual
Mileage: 16,427 mi
Price: $149,900 Buy It Now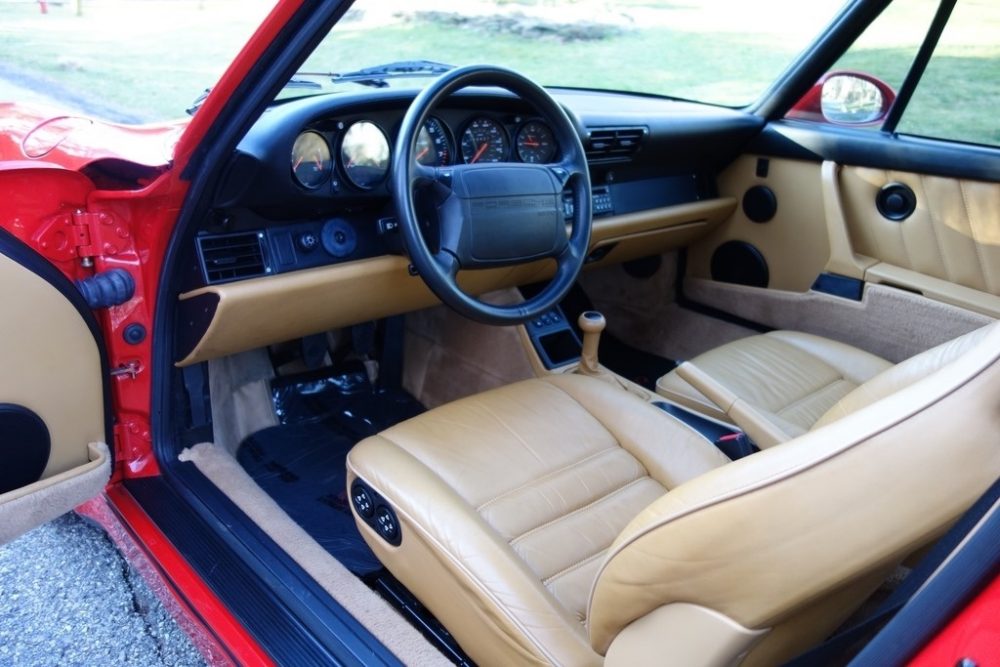 Porsche Roslyn is proud to offer this limited production 1992 964 Turbo. Less than 300 cars built for the US. Red with Cashmere Interior. She comes with extensive service records since 2008. Major service with valve cover gaskets, spark plugs, new battery along with a leak down and compression test. Tires and brakes are like new and she also has full nose clear film. Everything is working and running to spec. A true collector piece for the Porsche enthusiast

Click here for service records

https://www.dropbox.com/s/bxmiy6sbvubqyl3/92%20Turbo%20SR.pdf?dl=0

Please call Eric today for immediate assistance to find out more about this Turbo at 516-695-0507 or E-mail him directly at ericb@porscheroslyn.com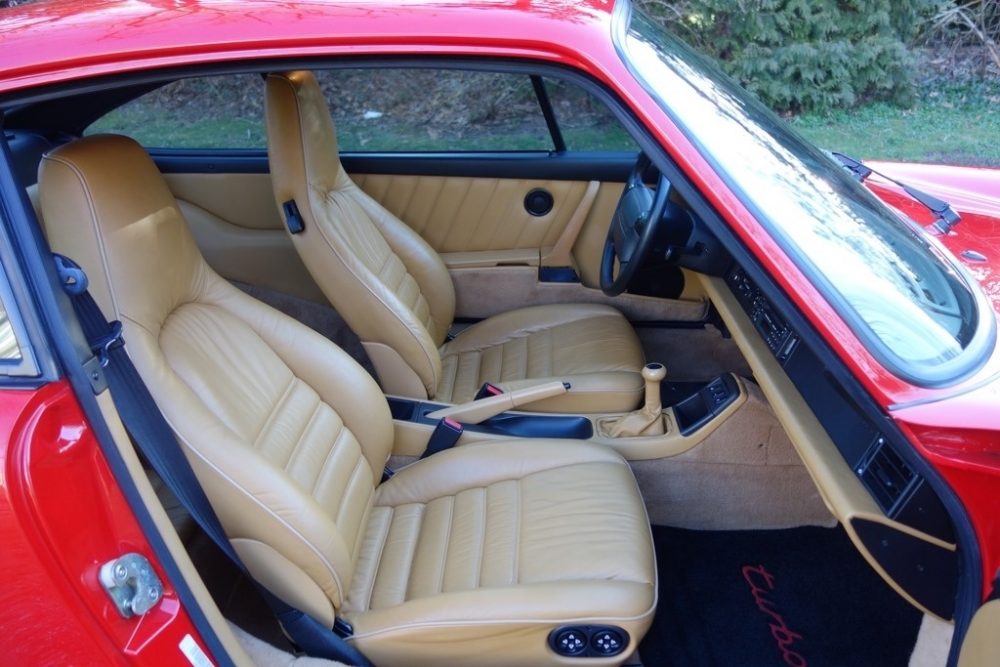 As those familiar with the 964 know the engine in these Turbos is not the standard 3.6 liter unit housed in the rest of the 964 lineup, but rather a carry over from the 930 itself. It also has the 5-speed transmission from the '89 930. Thus, in a way, these Turbos are kind of a final-year 930 with a new skin. They've been upgraded a little bit as well with their 3.3 liter producing a few more horses and now equipped with a LSD. Given the asking prices we see for '89 930s it can be tough to rationalize actually driving the darn things. Thus, the 964 offers a solution to that problem.
For those searching for a 964 Turbo to drive I'm not sure this is the one to pursue. With fewer than 17K miles on the clock you're going to have to pay a price similar to those final 930s and given the premium you're not likely to want to indulge yourself too much and add-on too many more miles.
That is a shame, but this is a nice looking example. The Guards Red paint shows off the 964's curves well and the interior looks quite inviting. The seats are no longer perfectly crisp and show a little patina, but very little wear. That's the sort of thing we love to see. A little age never hurts, but especially when that age has been well-kept. The biggest gap is the somewhat typical lack of service records. While it's nice that recent records exist, there's still the matter of coming to terms with its first 16 years.
All in all this is great looking Turbo. The seller even has shown some flexibility as the asking price has been decreased slightly since first listing. I just hope I see more of these; I certainly don't see enough.
-Rob