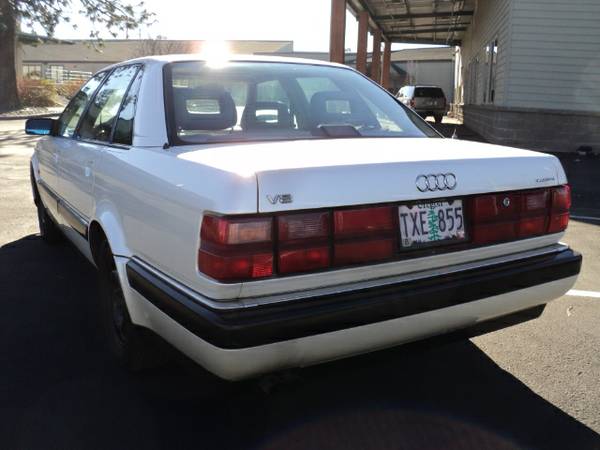 Edit 7/28/2017: This '93 has reappeared with the same plates (so I presume the same seller) from December 2015 in a no reserve auction. It no longer has black wheels but only a few more miles on the clock. Finding clean late model V8s is pretty rare and this one generally looks nice! Cleverly the seller stuck in the listing that the car's odometer is broken, though you have to look. The original ask price was $5,000, so it will be interesting to see where the strong bidding ends.
Sometimes it's something small on a car you're looking at that brings up a great memory. In the case of this 1993 V8 quattro, if my emotions weren't already stirred by the sight of another late 4.2 model like my beloved and maligned example from a decade ago, it was the wheels that really did it for me. You see, for a few winters I ran A4-spec 15×6 steel wheels with Michelin Artic Alpins on my Ragusa Green monster. Already small, the A4 offset is higher than the V8s, leaving the impression – especially head on – that the car was floating. The awesome flares that were the signature of the V8 hung out in mid air, the antithesis of today's trend of fitting the widest wheel as close to the fender as possible. But the result in the snow was undeniable. The V8 on skinny rubber was virtually unstoppable, hugely controllable and a riot to drive. Pulling in from runs at a Tim O'Neils rally school, the rumbling eight would erupt in clouds of smoke, as if Vesuvius was on the verge of claiming Pompeii. Crowds would gather to look in wonder and slight bemusement at the smelly, crusty and leaking old Audi which so thoroughly trounced the newer models around the circuit. Even though that car brought me plenty of heartbreak and emptied my wallet on multiple occasions, memories like that keep the legacy of my V8 ownership a positive one that still brings smiles to my face: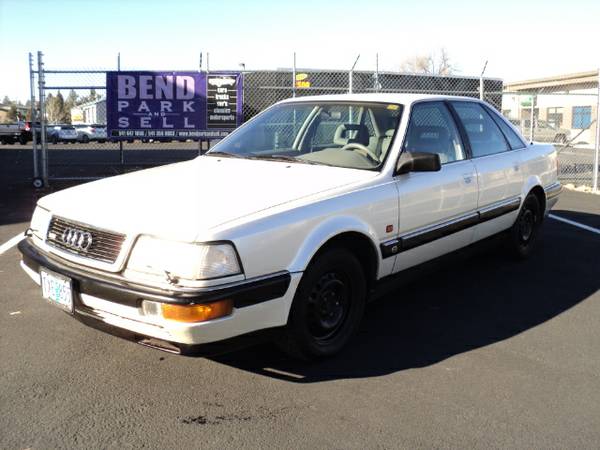 Year: 1993
Model: V8 quattro
Engine: 4.2 liter V8
Transmission: 4-speed automatic
Mileage: 123,750 mi (TMU)
Price: No Reserve Auction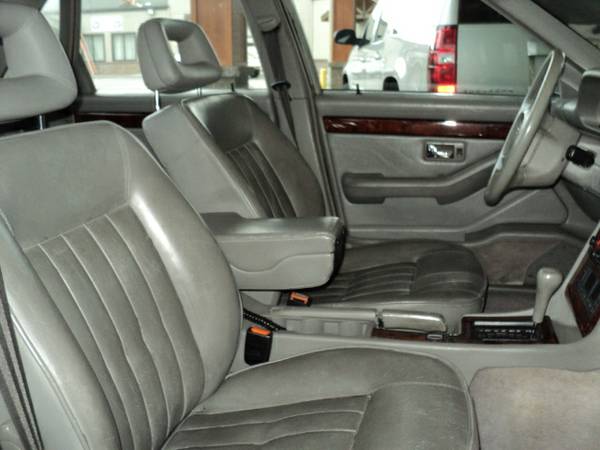 New Listing
1993 Audi V8 Quattro being sold at no reserve!!

The odometer reads 123,729 but being sold as exempt.

These cars are very rare and very sought after, and extremely collectible.

In 1993 these Audis were the flagship of the European imports.

Look closely at this automobile. It looks as it was lost in the factory.

This car retains the original tri-coat pearl white exterior paint.

With the factory flared fenders, laser straight body panels and perfect gap fit. This car is a rust free automobile.

The car was sold new at Carrera motors in Bend Oregon with stamps in the factory manuals to show authenticity.

The car retains all the original glass which is crack free and delamination free.

The car has a set of period correct alloy wheels that are curb rash free with great rubber.

All the exterior stainless and black trim, impact strips, and bumpers are superb and in showroom condition.

The body panels are completely rust free, the lower rockers are also in great shape.
All the taillights, European headlights, turn signals and front grill are also perfect condition.

Open the doors to see the interior looks as if never sat in.

The dove gray leather is supple and crack free.

The headliner is all intact and stain free with no wear or sagging.

The sunroof opens and closes both ways with the touch of a button as shown in photographs. All the interior dome lights are working properly.

The dash is perfect and crack free with all the instrument clusters working properly. All the Burl wood finishes are perfect with no cracks or blemishes.

All the center console and gauges are working. All the LED lighting is illuminated correctly and working properly.

As seen in the photographs, the cigarette lighter and ashtray have never been used.
The car has the Audi Bose sound system which sounds perfect.

The car even retains the original special ordered center console telephone system.
All the original wool carpets are also in excellent shape, with some wear on the driver's floor mat.

The car has every bell and whistle available that you could order at the time. Which included power windows, power door locks, remote entry, two way power sunroof, dual power seats, heated seats, air conditioning, cruise control, dual climate control, Bose sound system, integrated cellular telephone, and everything works.

The car has all the original owners' manual, and stamps from Carrera motors with a clear Oregon title. The car has good tags and smog certificate and was just professionally detailed.

Open the hood to see the engine compartment is spotless and all original.

With no signs of oil leaks, damage or repairs whatsoever as shown in photographs up to the frame horns.

The cars has a 4.2L, 32 valve, four valves per cylinder head, dual electronic ignition that is mated to the automatic transmission that starts right up and shifts smoothly between all the gears.

The Quattro all-wheel drive system operates with a touch of a button.

These cars don't come up for sale in this condition very often.

Open the trunk to see it retains all the original carpets, ski boot bag, which is complete and intact. Also comes with original toolkit and original spare tire.

The car is in incredible shape and it has some small patina due to its age. But overall pretty hard to beat the condition of this automobile.

The car has been properly maintained and has been serviced and always garaged kept.
Bid with confidence there only original once.

This car will be sold at no reserve to the highest bidder.

Feel free to contact me with any questions David .

Original Listing
1993 Audi V8 Quattro 4D Sedan
Vehicle Details
Year: 1993
Make: Audi
Model: V8 Quattro
Engine: V8, 4.2L
Drivetrain: AWD
VIN: WAUBW84C1PN001680
Stock Number: 15-130
Mileage: 114701
Transmission: Automatic

Vehicle Options

Power Sunroof, Tinted Windows, Premium Wheels, 4 Wheel ABS, Front Disc Brakes,
Air Conditioning, Bucket Seats, Heated Seats, Leather Seats, Cruise Control,
Power Brakes, Power Locks, Power Mirror(s), Power Seats, Power Steering,
Power Windows, Beverage Holder, Center Arm Rest(s), Overhead Console, Tilt Steering,
AM/FM Stereo, Bose Sound System, Intermittent Wipers, Rear Defroster, Tachometer,
Dual Air Bags, Good Maintenance Records

Additional Information

Paste the link below into another window to see more information

http://www.bendparkandsell.com/en_us/unitdetail.asp?unit=566907

Bend Park And Sell
Rod James
541-647-1650
1310 SE Reed Market Road
Bend, OR, 97702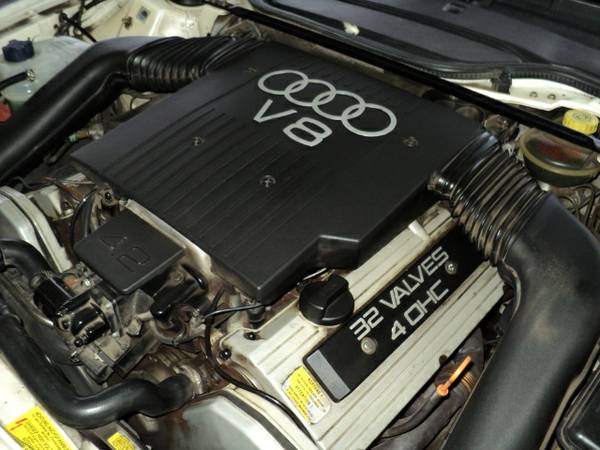 I had to have a laugh at the dealer's name, as I think "Bend Park and Sell" probably describes many second hand dealers. But these days, why would even the sketchiest of dealers take on such a niche car like a V8 quattro? The market on these cars is ridiculously small and even compared to other notoriously difficult to maintain Audis, the V8 has a bad reputation. Perhaps some of that is undeserved, but it is a pretty complicated car that is now a few weeks from being 23 years old and on the verge of being antique in some states. To be on the safe side, the prospective buyer should factor a timing belt change into the purchase price, and save some money for the ridiculously expensive Pentosin hydraulic fluid. Become friends with the V8 quattro list and be ready to summons parts from the dead, as things like transmission control modules and some of the wiring harness can get flaky with age and was specific to this car. You'll be rewarded with one of the better condition V8s that we've seen come to market recently, and since the '93s are quite rare to begin with you're not likely to meet your match rolling down the road – or even at an Audi meetup. They drive not quite like any other contemporary but are consummate professionals on the fly, and while heavy they're quick and truly enjoyable to drive. $5,000 is all the money for a car without documentation, but your options are to buy a wreck that will cost you twice that to get going or hope for the best on an example like this. Were I in the market, I'd chose the latter (having done the former…).
Thanks to our reader John for a great spot!
-Carter