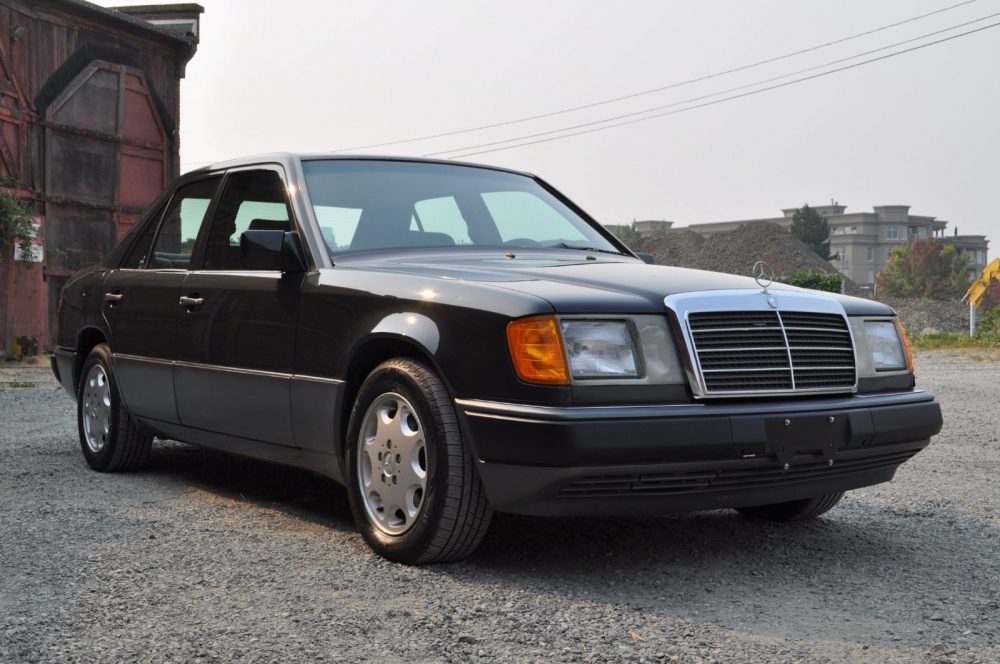 About two weeks ago I looked at a really nice Mercedes-Benz 400SEL up for sale in Canada that I felt was just a sublime car. Nothing was crazy or ostentatious, it was just a beautifully built car. Today, I wanted to look at another 1993 V8 Mercedes up for sale in Canada but this time it is the slightly smaller 400E. I've gone on before about how the W124 400E/420E is often lost in the crowd thanks to the legendary 500E and always in-demand E320 Cabriolet, but it seems like the really nice examples of these cars are starting to pop up more often. This one painted in Dark Grey Metallic with black leather interior is not a perfect car by any means, but is just as functional and probably a lot more fun than the 400SEL from a few weeks ago. My advice? Snag one of these now if you want one because they aren't getting any cheaper.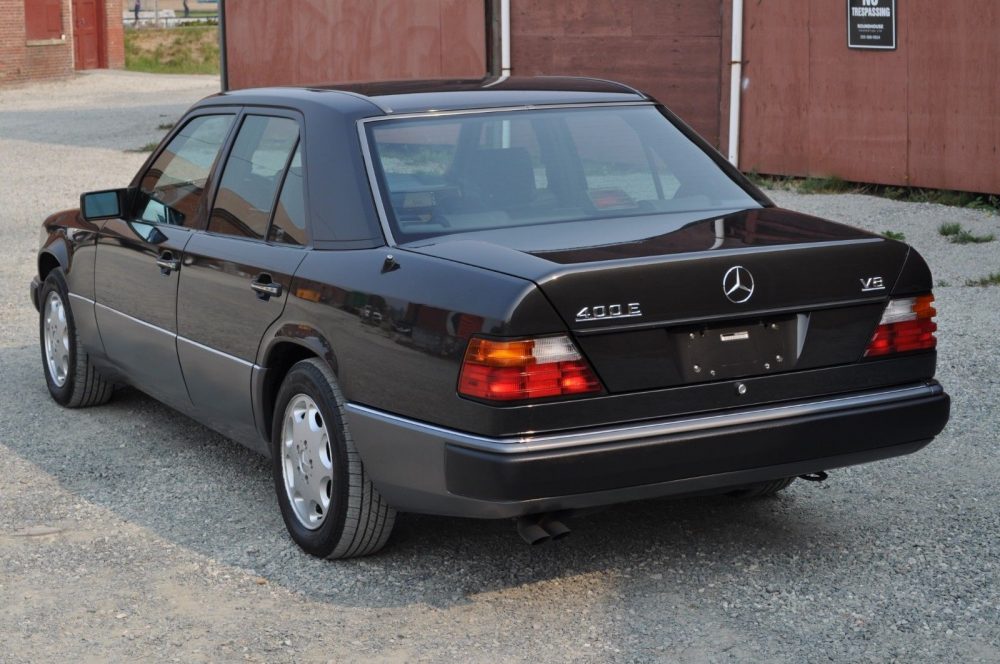 Year: 1993
Model: 400E
Engine: 4.2 liter V8
Transmission: 4-speed automatic
Mileage: 130,318 km (80,975 mi)
Price: Reserve Auction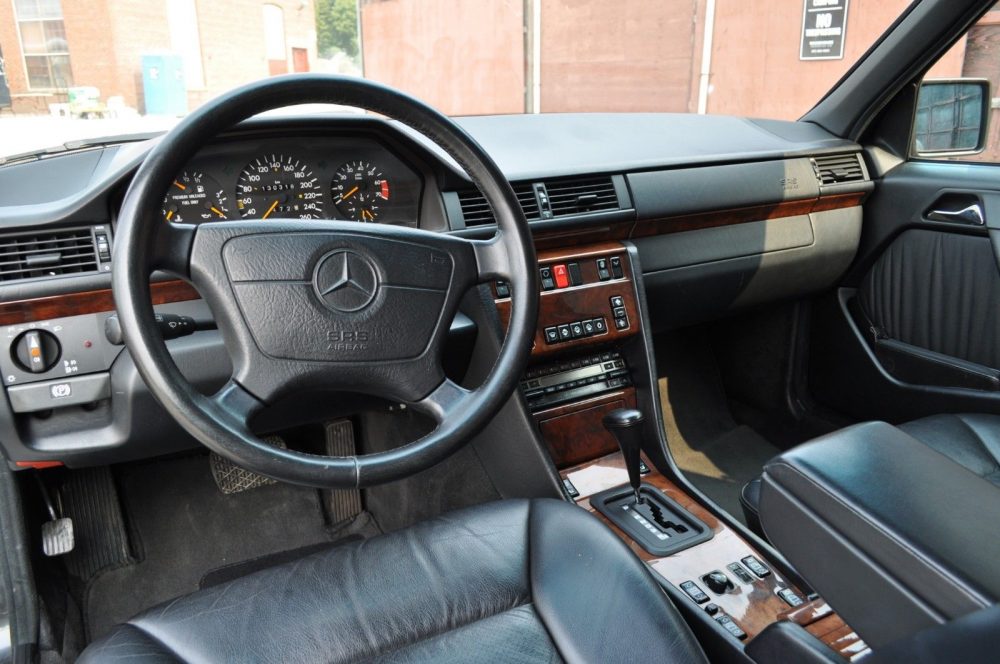 This 1993 Mercedes-Benz 400E shows only 80,975 miles (130,318 KM) and is powered by a 4.2-liter M119 V8 factory rated at 275 HP and

295 lb/ft, paired to a four-speed automatic transmission. The car has had only one owner since being sold new in Vancouver BC. Recent

maintenance included an ignition tune-up, oil change and full mechanical inspection. Although paper copies of service history were not kept,

client records show the car has been regularly serviced at Boundary Road Mercedes-Benz in Vancouver BC for many years. This W124 retains

all original paint from front to rear with lighter-colored satin finish body cladding completing the classic and desirable Mercedes-Benz

appearance. The factory 15" alloys show some minor curb rash but has a matching full size spare in the trunk in perfect condition along with

tools and jack. The paint has retained a rich, deep gloss and is free of any major defects. Bronze window trim finishes beautifully against the

grey metallic paint and is great condition with no signs of corrosion. The car is 100% rust free. The original windshield is free of any chips or

pitting. The black leather interior features dual airbags, power and heated seats, power tilt steering wheel, power mirrors, power locks, power

windows, rear sunshade, rear folding headrests and sunroof. The original radio and speakers sound great with a working power antenna. No

electrical issues inside are present, everything works as it should. With the exception of a hairline crack in the wood trim around the shiftier,

the interior of the 400E is in exceptional condition.

At 25 Years of age, this W124 is eligible for Collector Status and DOT exempt importation into the United States. We are specialists in vehicle

importation and can help buyers through the easy process.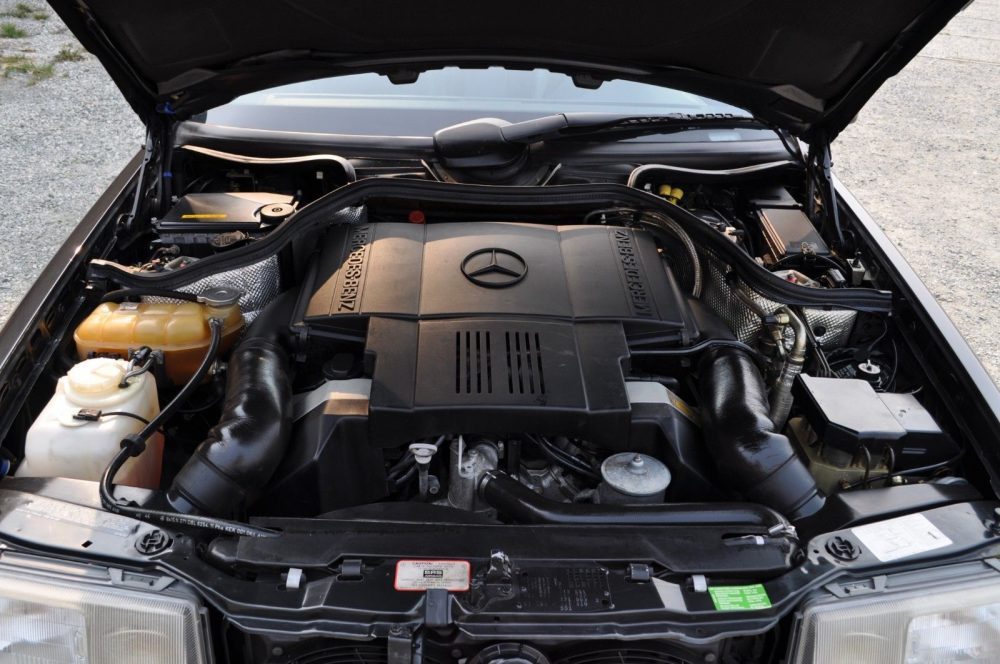 I think the majority of people would pick a facelifted W124 over a pre-facelift car like this one, but these pre-facelift cars are growing on me. I think if you look at them purely as functional machines, the early W124s make bunch of sense and you understand why they look like they do. It is hard to believe a car like this is 25-years old, but thankfully this one looks like it has had a nice life and the real beauty of the W124 is that it can exist for another 25 years looking just the same. There is a coupe spots on the wood where it is cracked and the clear coat is peeling, but other than that I'm not seeing a whole lot of drawbacks with this one. The 81,000 miles is a great mileage where it is just high enough where you don't feel guilty about adding more but not so high that all the components of this car are nearing the end of their life.
If you put a gun to my head and make me pick between this car and the 400SEL, I'd have a really tough time picking. This 400E is much more of a sports sedan than the W140, as it should be, and is suited towards a driver who wants a much more nimble car. The 400SEL is a car you want to drive in total relaxation but at the same time have the grunt and passing power when needed. As for where this auction will end, it wouldn't shock me to see $10,000. Because this car is 25-years old, you can drive it into America and own it with a couple of pieces of paper so there will probably be a good number of American bidders trying to grab this one. I can't wait to see where this one ends.
– Andrew