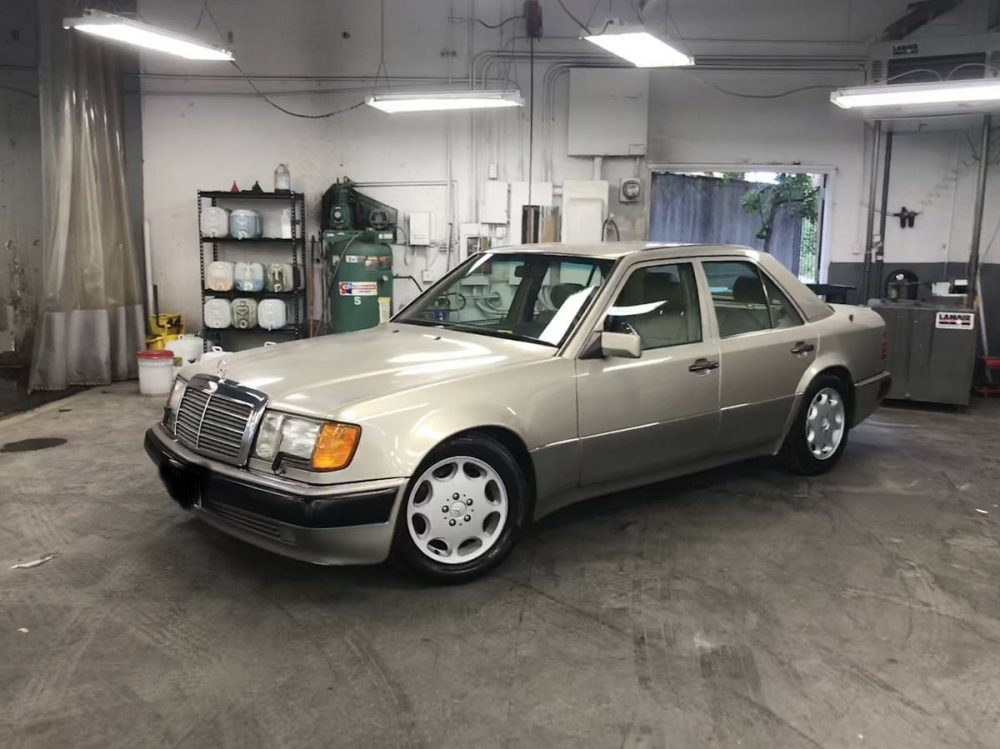 Update 12/30/18: This car is now on Bring a Trailer.
I've proclaimed my love before of ultra-high mileage Mercedes-Benz by fawning over a 2003 G500 with 318,000 miles and a 1980 300D with 585,000 miles, but today's car is something I didn't expect to see with a '3' as the first digit on the odometer. I shouldn't be all that surprised since it is a W124 and there is a probably one right now being used as a taxi somewhere in Africa with somewhere over 600,000 miles on it. You think I'm kidding? What did surprise me is that this particular W124 with over 350,000 miles is none other than the legendary 500E. This is the highest mileage .036 I've run across in as many years as I can remember because since the day this car rolled off the production line in Zuffenhausen, they've always been expensive and collectible cars. The nearly $82,000 window sticker in 1993 and the current market prices for these cars have kept them in the hands of loving owners who often have more cars than they have pairs of shoes. This of course keeps miles off these in general because of how special they are and also the fact that some 500E specific parts are rather pricey and not the easiest to source thanks to a lot of little pieces being no longer available. From afar, this DB702 Smoke Silver over Parchment 500E up for sale in Portland, Oregon doesn't show one-bit of its mega miles and I'm quite impressed with its condition even for being in California for almost its entire life: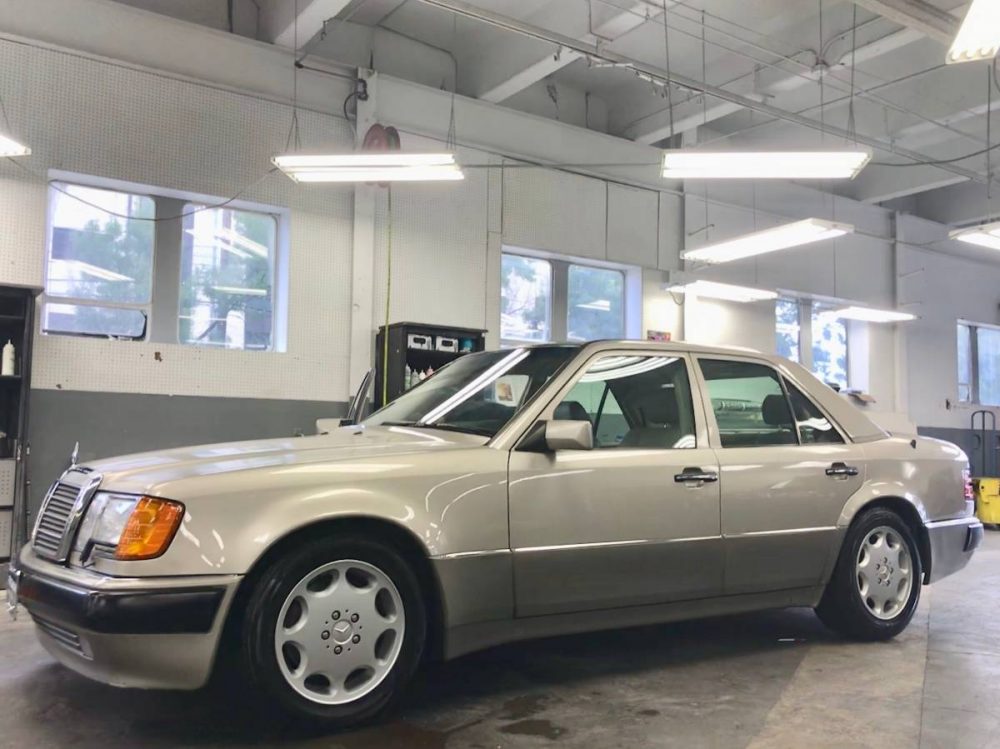 Year: 1993
Model: 500E
Engine: 5.0 liter V8
Transmission: 4-speed automatic
Mileage: 350,421 mi
Price: Auction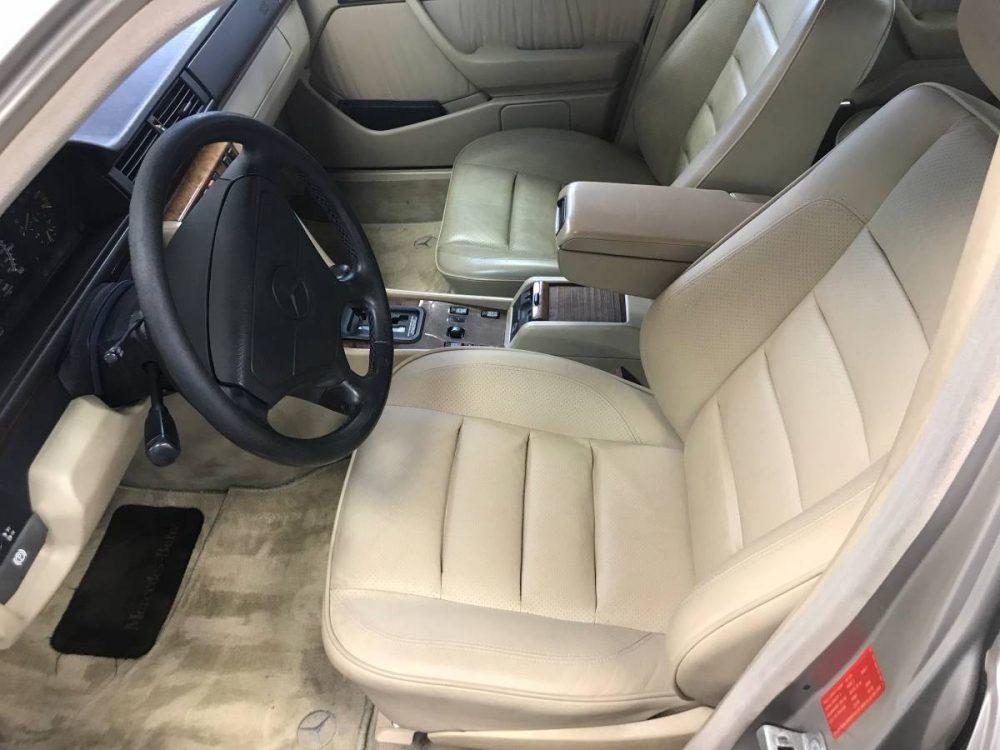 If you're looking at this ad, you know exactly what this car is. If you aren't aware of what makes this car special, these were built at the Porsche factory in Zuffenhausen outside of Stuttgart. They were assembled with wider front fenders, SL500 suspension and brakes, as well as the twin cam 32V 5.0 V8 from the same car. This is a factory hot rod in an era where a new Corvette made 300hp, or less than the 322 ponies in this car. They imported roughly 500 of these a year so they are quite rare.

This particular model is Smoke Silver Metallic with Parchment leather. The power seats completely work including headrests and memory function. The driver seat was upholstered with the factory leather cover a couple of years ago. The automatic climate control works well in all functions. The heated seats also function well. There are no warning lights on in the gauge cluster. This model also has the CD Changer installed and working with the working Becker Grand Prix 2000 cassette stereo. The gentleman that owned this car traveled quite a bit for business and this was his travel 500E for his occupation, hence the miles. The rear suspension has been serviced with necessary components replaced to insure that the load leveling functions are fully operational. Paint is ok. What I mean by that is that the upper surfaces have some sunburn areas. It's not perfect. With that said, the bumpers have the original VIN stickers so that tells me that there aren't any accidents because bumpers only have VIN stickers when they are new. This car also still has the original wheels. While I would agree that the 18″ AMG Aero Monoblock 2's are the best looking wheel on this car, they aren't the original wheels and they are getting harder to find.

I am the third owner of this car. I've loved these since they came out so of course I bought this when it became available to me. Then I told my wife. You can probably piece the rest of that story together.

The last owner resided in California as did the original owner. Because of this, the paint shows the effects of the California sun over the last 25 years. Add this to the mileage and the fact that I HAVE to sell it, and you can understand why this 500E is priced aggressively. It's unfortunate really as this is one of my "bucket-list" cars and will probably go on my "list of automotive regrets" (cars you sold that you shouldn't have like that 67 VW Deluxe Bus and 89 E30 M3) when it sells.

There are a few minor things that should be disclosed:
Is it perfect? No. I'm sure it's got a couple of oil leaks. It's an old MB. They do that.
The power antenna doesn't go up and down. I don't use the FM.
The blower fan for the climate control squeaks at low fan speeds.

This car is ridiculously good for the age. These are of the "million mile Mercedes" era with tank like construction and are truly over-built.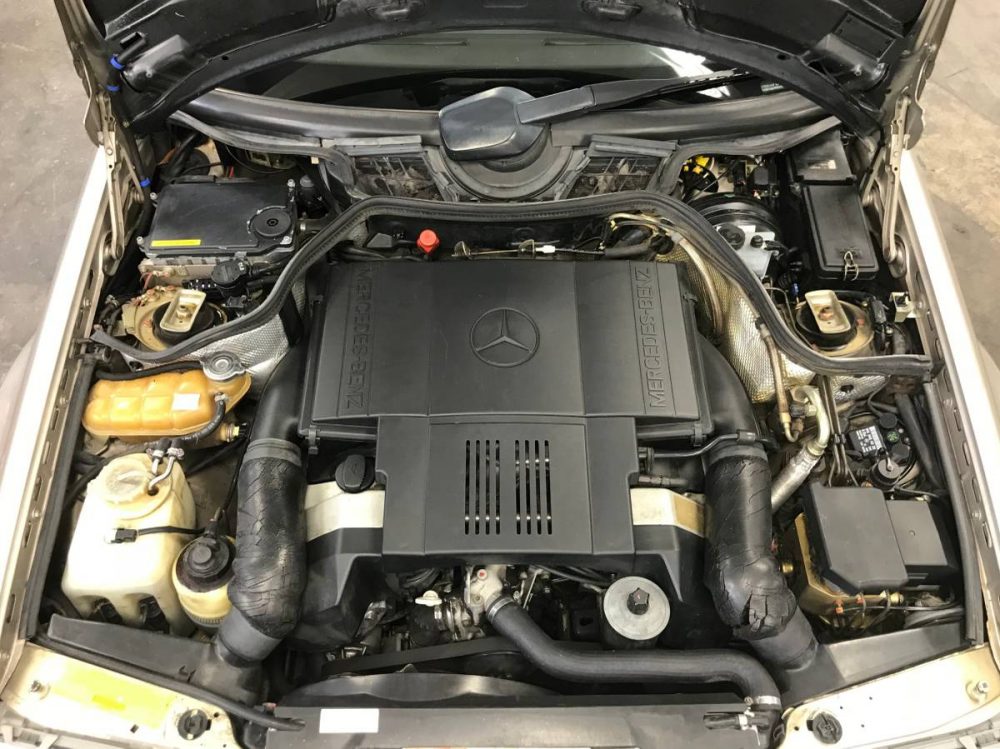 From what I can see from the photos, this 500E came from a loving home and received the attention it probably commanded to get to this mileage. The seller tells you what you need to know about the cosmetic condition of the car and you can piece together the rest, but it is presentable and no way screams "this car has 350,000 miles." The exterior has a couple of love taps and the recovered drivers seat is a nice surprise but I am more impressed about the mechanicals. While the M119 is a hearty engine, it needs attention just like anything else. I'm sure this car has been through a few waterpumps, many hoses, enough oil to fill a 50 gallon drum, a bunch of suspension bits and if this car is still on its original transmission, it will be a miracle from the Mercedes gods. I don't care if you are buying a 35,000 miles 500E or this one, it is highly recommended you get a pre-purchase inspection because these cars are capable of hiding five-figures worth of things that need addressed. I am not saying that is what is going on with this car, but given its extreme mileage, a simple peek under the hood and drive around the block isn't advisable. The seller has indicated to us he is willing to work with the right buyer to make a deal happen.
Because of the high mileage, this 500E comes to market at a lower price point than many but it is not without competition. Legends rarely align with the moniker "cheap". There is another 500E on the market right now with 200,000 miles in similar condition for $15,000 and some other ones floating out there for under $20,000 as well, but again a careful PPI could reveal thousands more in unknown work needed on those that isn't shown in a profile shot. The 350,000 odometer reading is going to scare a bunch of people away right off the bat no matter the price and if you hit them again with the $14,000 ask many would probably scoff. But properly cared for, there are some people who would have no problem signing up for this 500E. If this car wasn't 2,500 miles away from me, I'd entertain buying it because I think the .036 is just one of the "most-own" Mercedes that you can experience for a year or probably keep for a lifetime. This one is an example how it's possible.
– Andrew