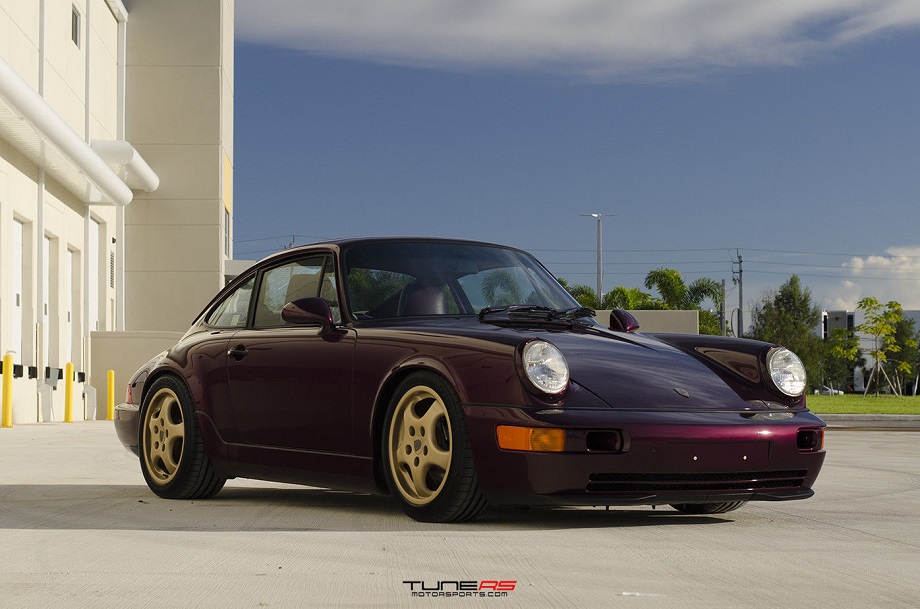 I never really know if I should post cars like these. The car itself I like a lot. It's an Amethyst Metallic 1993 Porsche 911 Carrera 2 Coupe with matching interior and 40,500 miles on it. A low mileage, rare color, rear drive 964 is something I'm always on the lookout for. It's got a few modifications – center exit exhaust from a 997 GT3, new headers, bronze/gold painted Cup wheels, upgraded suspension, and a couple other minor items – though the seller says most of the original parts come with the car. Overall it looks great. Not everyone will care for the choice in wheel color, but I think they contrast nicely with the Amethyst exterior. Regardless, wheels are easily changed.
That said, unless I'm missing something the price seems so out of line with the market that I'm not sure any serious buyer really will give it much consideration. Maybe the market changed while I wasn't looking or maybe the seller has seen a few RoW cars with similar asking prices and figured this one should garner similar attention. I don't know. Obviously, we can see where I landed on the decision of whether to post. I like this 911 enough and see them rarely enough that I thought it worth a closer look. But I'm not sure where we go after that.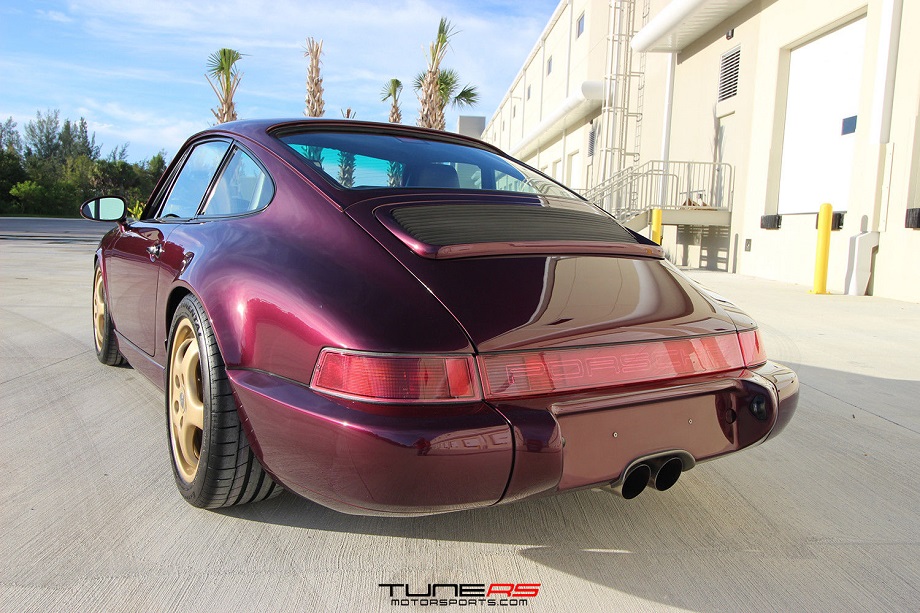 Year: 1993
Model: 911 Carrera 2
Engine: 3.6 liter flat-6
Transmission: 5-speed manual
Mileage: 40,500 mi
Price: $97,500 Buy It Now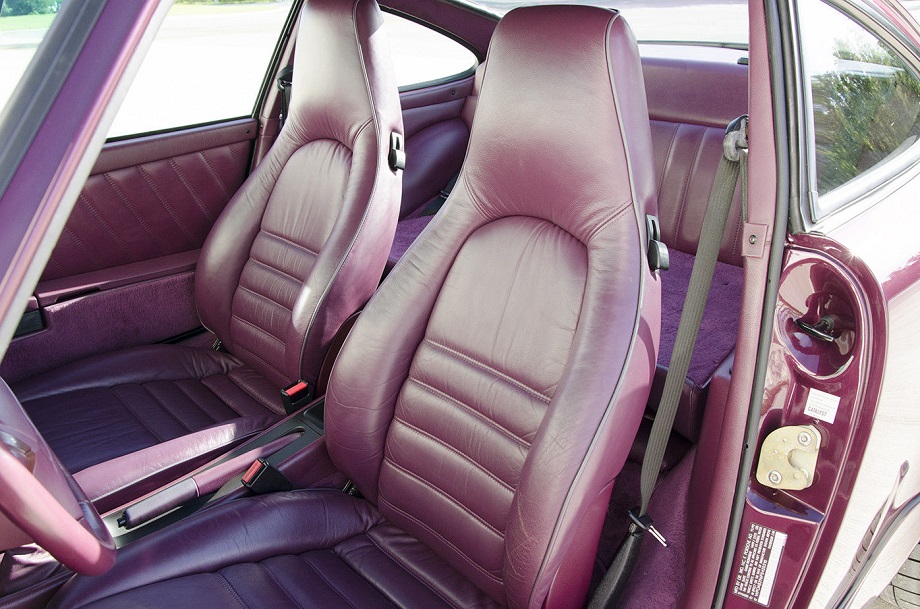 1993 Porsche 911 964 Carrera 2 Coupe | Amethyst Metallic

(Scroll down for 100+ photos)

This is a very beautiful, well maintained, and well represented 1993 Porsche 964 coupe. It has it's original color, Amethyst Metallic, which was not a very common ordered color at the time. The interior was also ordered to match, purple, and is definitely striking and unique. Code 09991, "manufacture from exclusive programme" leads us to believe this vehicle was special ordered by the first owner. It's one of 520 C2/C4 coupes imported into the U.S.A. in year 1993. There are not too many 964's made in Amethyst Metallic as it was a special order paint, and add in the purple interior and this is definitely one of very few, if any others. The vehicle has three keys and all of the original books & manuals to go with it. This car was also ordered with most of the normal options found on a 964, but a few extras including factory Limited Slip Differential, technic package and draped leather seats.

This is a three owner vehicle that started it's life in New York and worked it's way down to Florida with owner 2 and 3. It comes with a clean title and has a clean carfax. It's a non-smoking vehicle and had been very well maintained it's entire life. The interior is all original, with draped leather seats front & rear that are in great condition. The driver seat has some light wear on the left bolster which is normal to see. The interior is damage free. All of the power functions are working correctly with no known defects. All instruments are also functioning correctly and the vehicle has original miles as noted.

Factory option codes:

P02 – Technic Package
XD4 – Wheel caps with colored Porsche Crest
058 – Impact Absorbers front & rear
130 – Control and indications in English
197 – Stronger battery
218 – License plate space America
220 – LSD Limited Slip Differential
236 – Tyre related production code
323 – Sticker, without ECE-regulations
379 – Standard seat, left, electrical height adjust
380 – Standard seat, right, electrical height adjust
402 – 16″ 6 spoke wheels
434 – Work instructions for cars for overseas
441 – Radio preparation
454 – Automatic speed control
455 – Wheel locks
464 – Without tire compressor
481 – Manual gearbox, 5-speed
484 – USA symbols & lettering for switches & instruments
494 – Amplifier
534 – Alarm
553 – Version for USA, Canada
562 – Front airbags
567 – Top-tinted windscreen
573 – Air Conditioner
576 – Without rear fog lamp
602 – Araised stop lamp
650 – Sun-moon-roof
657 – Power steering
685 – Rear seats
691 – CD-Radio Alpine Porsche CD-2
912 – Without european ID plate
935 – Draped leather rear seats
980 – Draped leather front seats
09991 – Manufacture from exclusive programme

Mechanically the vehicle is perfect. All maintenance items have been performed including:

New spark plugs and spark plug wires
New air filter and new Bosch air meter
Brake fluid system flushed
All new drive belts
New distributor caps
Engine oil and filter (genuine red filter)
New fuel filter
Fuel injectors serviced
A/C system serviced with new freon and oil
New Interstate battery
An engine leak down test was performed by TuneRS when first receiving the vehicle, with all cylinders showing less than 5% across all cylinders indicating a good sealed motor. The engine is in solid condition and has no leaks or known problems. It is the original 3.6L, matching number paired with the original 5 speed manual gearbox. The car runs strong and smooth. The handling is also fantastic, a set of new Bilstein sport shocks and european sport springs were installed for the perfect ride height and handling.

This specific 964 was repainted by TuneRS. The original paint had seen better days since it left the factory in 1993, and it was decided to strip it completely down to metal and repainted properly with the correct color and all Glasurit line materials. It was done professionally by TuneRS matching the correct version of Amethyst Metallic. The vehicle had no accident history on record. This car was intended to be showroom perfect for the next owner, with a few nice subtle upgrades. Once this 964 was completed with paint, all new Genuine seals were installed and a new front windshield glass for a perfect finish. A lifetime ceramic pro coating was then applied to the exterior to ensure maximum UV and paint protection.

This vehicle was also given some TLC and a few upgrades by TuneRS Motorsports to include the following:

Original 17″ Porsche Cup wheels (17×8 , 17×9) with fresh new Continental Extreme Sport Contact rubber all around
Wheels have been painted in a unique bronze/gold color to create a stunning contrast from the amethyst metallic exterior
Equipped with a custom Tire Pressure Monitor System (TPMS), a nice feature for a classic vehicle
European sport springs installed with a set of new Bilstein sport shocks (front & rear)
Front urethane air inlets with hidden hardware
Front RS style lower splitter set
Rear urethane center bumper, European, with custom work for center exhaust done by TuneRS
Original 997 GT3 center exhaust muffler installed in loud position for the ultimate flat six sound!
Set of custom exhaust headers, no catalytics or heat box.
Upgraded radio to Porsche classic with navigation (not pictured)
Lifetime ceramic pro coating finish to entire exterior
Ceramic lite applied to all interior components for ultimate protection
The vehicle is being sold with all of it's original parts that had been removed by TuneRS, which include the following:

Front fog lights with hardware
Original 16″ wheels, silver with original sized tires
Original rear center bumper and corner bumper (with exhaust cutout)
Original exhaust system, muffler, heat exchangers and hardware
Original radio (not functioning)
The car also underwent a complete CryoDetail® dry ice cleaning procedure. This service removes all of the grime, dirt, debris, anything that may have stuck to the vehicle undercarriage for years and brings it back to a factory-new showroom finish. In the Cryo photos shown below, the factory original exhaust is installed.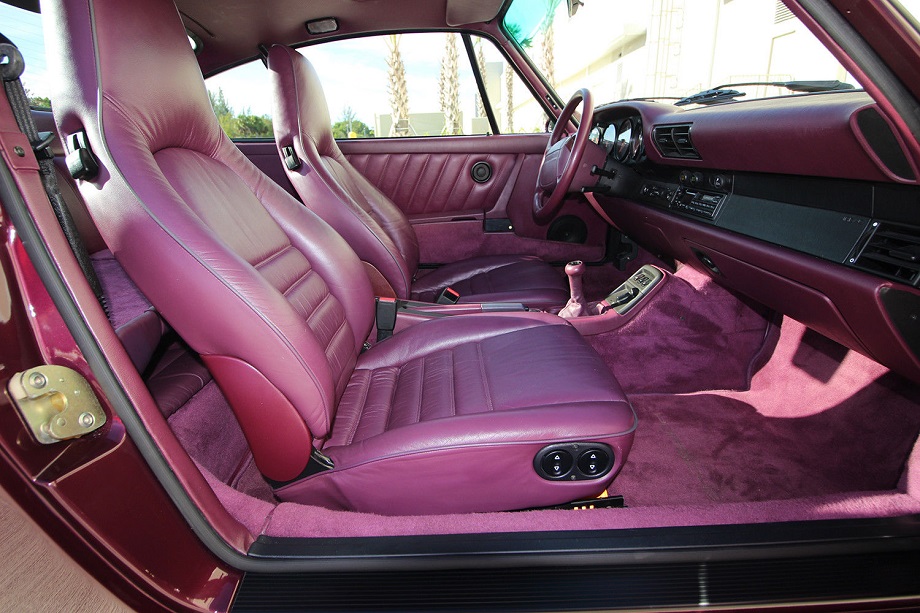 A few other things to note on this 964. The entire car has been repainted and the windshield has been replaced. It's said to be accident free so I guess this is a case of the paint not looking as sharp as you'd hope. Either way we know the paint isn't original. It does look very good though. The interior is said to be original other than the radio. It looks in very good shape with little wear. I don't know how I feel about such a matching interior; the whole car is a little too monochromatic, but the interior color itself is one I've liked on a variety of 911s. I like it a lot, though I'm not sure how much I like it on this car, if that makes sense. Mechanically it's said to be in great condition and properly serviced. It comes with its original books, though we aren't told of service records (it sounds like the ownership history is known).
In the end, I'm still stuck on the price. This does look like a really nice 964. It's been refreshed to a certain degree and while not totally original the modifications should improve the driving experience. This strikes me as an excellent choice for someone who is looking for a 964 to live with for quite a while. It's a striking color combination and should have loads of life in it. I don't know quite what it should sell for and I do hope someone can take it in who really will enjoy it. I don't think it's going anywhere anytime soon, so for now patience is key.
-Rob