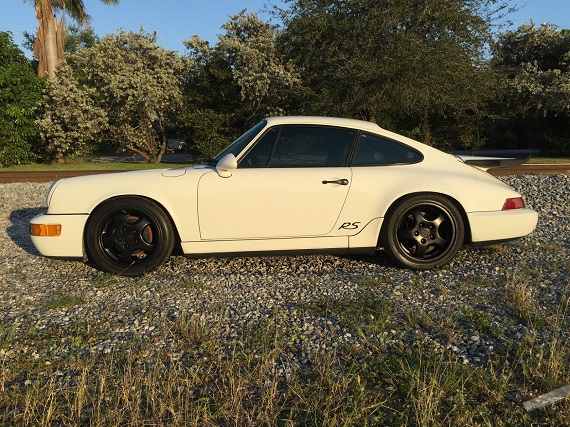 Over the past few weeks I have featured an abundance of ultra-low-mileage collectible 911s and I know the common refrain has been that these are, to a degree, a waste. As beautiful and interesting as these wonderful low-mileage examples are, they are not being used as intended. I feel everyone's pain on this. Here we have another collectible 911, but this one is far from a pampered garage queen. Rather, this Grand Prix White 1993 Porsche 911 RS America has covered nearly 215,000 miles over the course of its 22 years on the road. The RS America in general has shown really nice increases in value over the past year, but it's rare to come across one with more than 100K miles let alone twice that. That makes the valuation of this car difficult, but in many cases well-maintained high-mileage 911s still seem to fetch pretty good numbers. In addition, this one is a low-option car, only having 1 of the 4 available options selected upon delivery. That 1 option was A/C.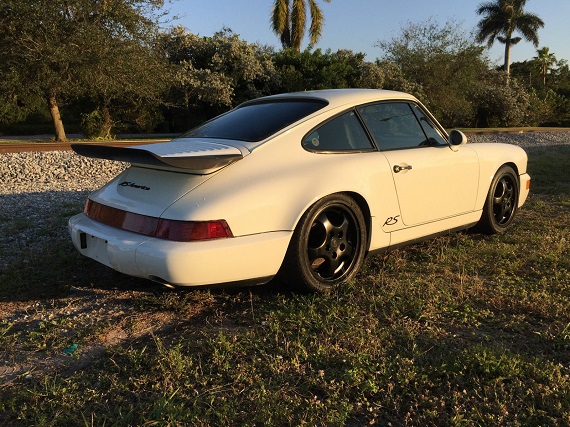 Year: 1993
Model: 911 RS America
Engine: 3.6 liter flat-6
Transmission: 5-speed manual
Mileage: 215,000 mi
Price: $80,000 Buy It Now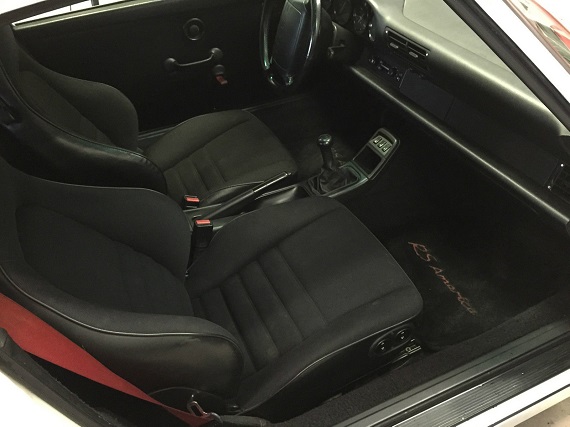 selling my 1993 RSA in GP White with black interior. of the 4 options available on the rsa this one only has a/c. it doesn't blow super cold but it does work.
the car is very well set up for any kind of driving. it is a spectacular drive and drives as if it only had 50k miles on it.
list of features:
wevo engine mounts
bilstein hd's with red h&r turbo springs
rs fan hub
928S4 front calipers and rotors
euro rs adjustable front sway bar
h&r adjustable rear sway bar
cup 1's have been powder coated black and look great
euro rs shifter
front strut brace
993 steering rack brace
g-pipe
the car does have 215k miles on it though. by looking at it and driving it you would think it has 50k. while i do have some invoices for some repairs/parts i do not have any documentation as to engine work. i do know that it pulls very strong, does not smoke at all and leaves a couple drops on the floor after it sits for a few weeks in the same spot. there was a ppi done about a year ago which shows compression was between 160-165 on all cylinders. i have a carfax which shows no damage and it is obvious that it is correct. there was a respray of the front but that was due to rock chips and such.
the interior is in excellent condition as pics show. the dash does have a couple of small cracks due to the california sun which is where this car is from.
unfortunately i do not have the owner's manual and related items.
tires are about 80% front and 40% rear
overall this is an extremely solid car that you can drive anywhere anytime. if i didn't already have a modded C2 i would definitely hold on to it but no sense on having 2 964's, at least not financially
car is located in hollywood, fl and personal inspections are welcomed and encouraged
considering that you will not find an RS America for under 6 figures i feel $80k is a fair asking price for a very high quality rsa, albeit the high miles.
a $500 deposit is due within 24 hours of committing to buy and balance in full due 7 in days.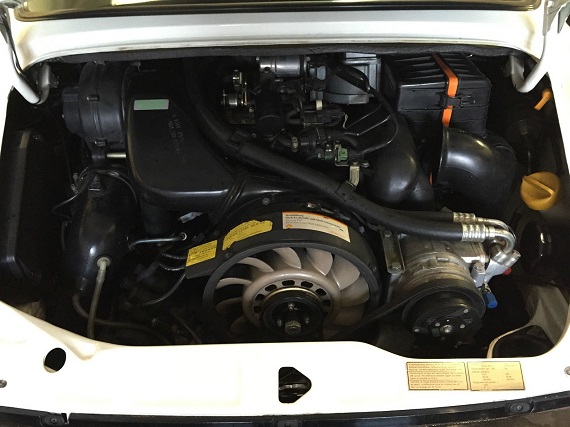 The exterior photos are in somewhat low lighting so it is difficult to gauge accurately the quality of the paint, but it looks in good shape. That said, the interior and engine bay look in remarkably good condition for a car with this sort of mileage and both back up the seller's claim that this car seems more like a car with 50K miles than one with 200K. Given the state of the interior and engine, I feel confident that the exterior is in just as good of condition and this seems like a car that has been very well maintained, if not its whole life then at least by its current owner. The $80K asking price, while definitely below the going rate for a lower-mileage RSA, still feels high given the combination of high miles and the various modifications. Regardless, if an appropriate price can be reached then this would make for a wonderful driver for anyone looking for a slightly stripped down 964. The price isn't going to be as low as a standard Carrera 2, but it should also hold its value quite well if shown appropriate care.
-Rob