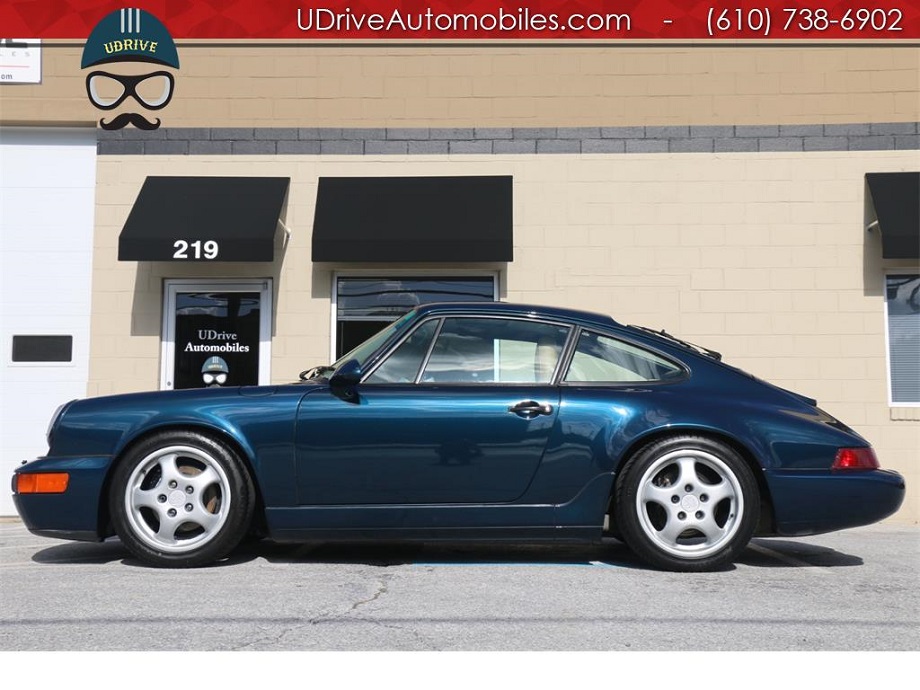 I'm starting to wonder if I've missed something with the 964 market. I'm speaking here of the standard models like the one we see here, not the various ultra-rare models that can command extremely high prices. Asking prices just seem way too high. The 964 indeed has become a more desirable model relative to its place among the air-cooled models only a few years ago, yet still while the rest of the market takes a few steps backward the asking prices for the 964 continue to go up. Perhaps it is because of those ultra-rare models and the significant premiums they command; sellers see a Turbo S fetching nearly $1M and think their Carrera 2 most certainly must be worth more than it is. Perhaps it's the influx of RoW cars and the premiums those are commanding. I don't know. Regardless, here again we have one that quite simply appears to be priced a good deal higher than it should be.
This is an Amazon Green Metallic 1994 Porsche 911 Carrera 2 Coupe, located in Pennsylvania, with Tan leather interior and 116,810 miles on it. To be clear, I like this 964. I think it'd probably make for a nice addition to anyone's Porsche family. It looks in pretty good shape for the age and mileage and the color combination is a very attractive one – not eye catching and head turning, but subtle and quite pretty. I just don't think it's a $60K 911.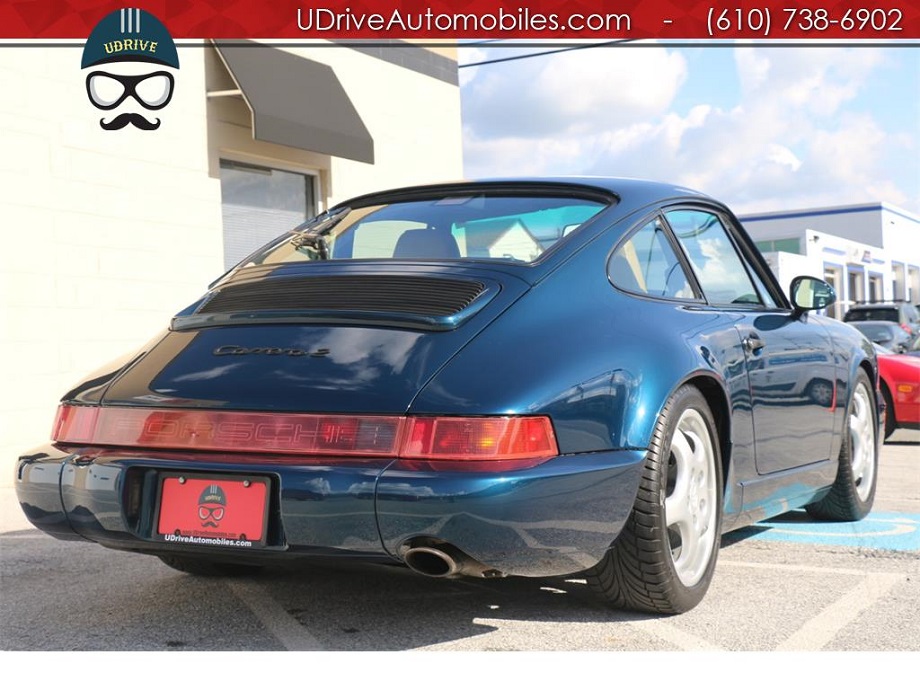 Year: 1994
Model: 911 Carrera 2
Engine: 3.6 liter flat-6
Transmission: 5-speed manual
Mileage: 116,810 mi
Price: $62,900 Buy It Now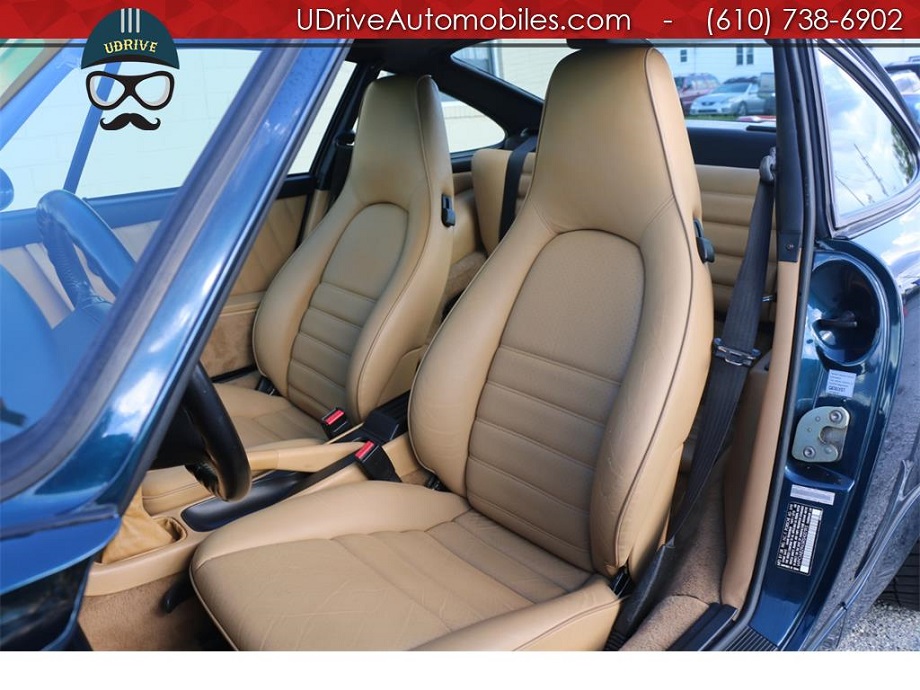 !!EXTREMELY RARE 1994 PORSCHE 911 CARRERA 2 COUPE / AMAZON GREEN OVER BEIGE LEATHER INTERIOR!!

!!5 SPEED MANUAL TRANSMISSION!!

CALL (610) 738-6902

!!$12,782.48 IN RECENT SERVICE!!

AT 116,807 MILES AT A COST OF $4,560.80!
– NEW SPOILER GRILL WALL
– NEW FRONT CONTROL ARM BUSHINGS
– NEW FRONT / REAR BRAKE ROTORS
– NEW DECK LID STRUTS
– NEW REAR CV BOOTS – BOTH SIDES
– NEW OIL COOLER LINES AND SEALING RINGS
– FRESH OIL CHANGE AND NEW AIR FILTER
– NEW FRONT LEFT WHEEL WELL LINER
– REPLACE SUNROOF TRANSMISSION
– NEW VALVE COVER GASKETS

AT112,480 MILES – MAJOR SERVICE COMPLETED BY PORSCHE DEALER $1,023.03!
– BELTS SERVICE – ALL 3 REPLACED
– OIL FILTER
– OIL SERVICE
– FUEL FILTER
– CAM GASKET
– SPARK PLUGS

AT 103,107 MILES
– R&R HVAC BLOWER ASSEMBLY COMPLETED BY PORSCHE DEALER $1,290.62!
AT 100,647 MILES COMPLETED BY PORSCHE DEALER $5,908.03!
– INTERMEDIATE SCHEDULED MAINTENANCE
– EVACUATE / RECHARGE / DYEFRONT BRAKE POADS TEST A/C SYSTEM
– REPLACE FRONT BRAKE PADS
– REPLACE REAR BRAKE PADS
– REPLACE FRONT BRAKE CALIPERS
– PERFORM 2 YEAR BRAKE FLUID FLUSH
– REPLACE DECK LID STRUTS

We have supplied many detailed photos to give you an accurate sense of the VERY NICE condition of this AIR COOLED 911.

We photograph our cars outdoors in natural light. Hence, there maybe shadows cast on the vehicle due to the conditions in which the photos were taken. If you are unclear of anything please contact us!

Inside we found a CLEAN and SPORTY cockpit FILLED with FEATURES.

The 5 SPEED MANUAL TRANSMISSION shifts flawlessly and the 3.6L 6 cylinder engine offers ample power when called upon.

!!OUR VEHICLES ARE SHOWN BY APPOINTMENT. PLEASE CONTACT OUR SALES TEAM AT (610) 738-6902 WITH ANY QUESTIONS!!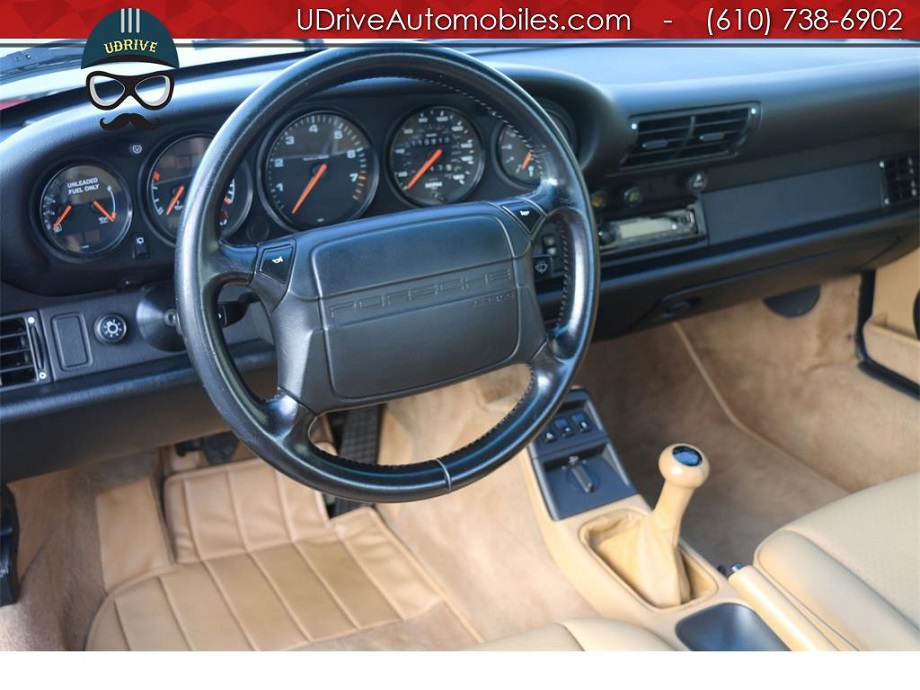 The 964 received mainly minor changes throughout its model run so the fact that this example comes from its final year of production is a nice feature, but not one to which you'd attach great significance. 1992 and later models generally provide the improvements you'd seek. As I noted above, the overall condition here looks pretty good. There is some obvious paint chipping at the front that appears typical of a car that's seen regular driving and the wear to the interior seems minor outside of the driver's bolster. Basically, there appears to be wear in the spots that you'd most likely expect it while the rest presents pretty well.
It's said to come with an extensive service history and the ad provides details of its servicing over the last 16K miles. Whether there's additional history related to its first 100K miles isn't made clear. I would hope so otherwise the history really isn't all that extensive, but that'll require further inquiry.
Again the issue here shall remain the asking price. We pretty much all agreed that the Midnight Blue Carrera 2 Coupe I featured last month was overpriced at $53K. It probably didn't present quite as well as this one and had a few more miles, but that probably means at most this one should be priced similarly (and probably even a little below). That puts us around $50K. At the very least you should have time to work out the details on this 964's history and current condition.
-Rob