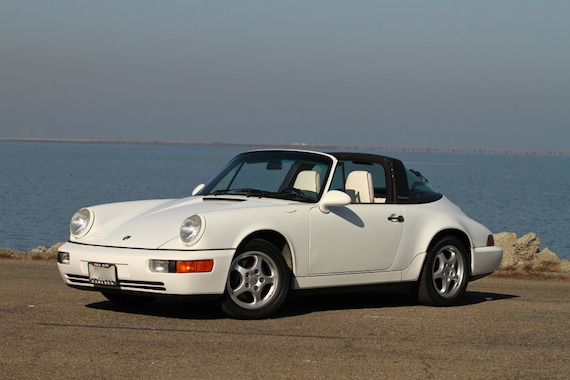 The current 991-type Porsche 911 has not been with us for very long, but one model is curiously missing from its lineup: the Targa. There has been some speculation as to what a new Targa would look like with the surfacing of some recent patent images. Will the 911 revert back to the classic Targa look that left us with this car, a rare 1994 model Targa produced in June 1993? One can't be certain at this point, but in the meantime, you can still enjoy the classics like this Grand Prix white over white leather for sale in California. Thanks to reader Val for bringing it to our attention!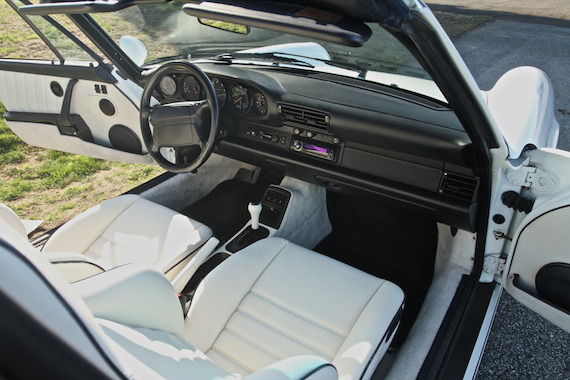 Year: 1994
Model: 911 Carrera 2 Targa
Engine: 3.6 liter flat-6
Transmission: 4-speed Tiptronic automatic
Mileage: 127,954 mi
Price: No reserve auction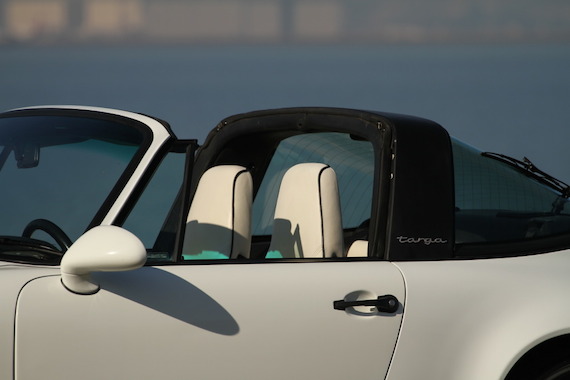 Ultra rare 1994 Porsche Targa 964 for sale with no reserve… Just in time for a White Christmas.

Its not a white ghost or an illusion but a real documented 1994 Porsche Carrera 2 Targa. Hard to believe since Porsche stopped producing the Targa in 1993 (only 137 were made in 1993). There were no Carrera Targas produced in 1994. This is definitely a rare collectible that is true classic rarity. Just to be certain of the model year I have included a copy Certificate of Authenticity from Porsche to verify its a 1994 Model Year Carrera 2 Targa. COA pic below. VIN WPOBB2967RS4440076 and current odometer reads 127.954.

First sold on July 21, 1993 by Niello Porsche in Sacramento, California. Car was specially ordered by a woman owner and car was delivered new with only 31 delivery miles. This Porsche Targa has been pampered since new and all of the required maintenance has been performed on schedule at the Niello Porsche Dealership. Service book tells it all. Please see pics for dealer stamps. Subsequent owner has taken over the pride of ownership in 2009 and has been garaged and maintained in Palo Alto, California. Only driven about 7k miles per year by retired PCA member.

The car has a clean history with clean car fax and clean title. There are absolutely no modifications and car is all original and all stock. Only exception is the radio. This Targa is in excellent condition over all. The striking white leather interior is amazing in person. The white on white combination with white carpet gets a lot of compliments. White leather seat color is "leather to sample" which means its a special custom request. I have never seen this color leather on another Targa and when the top is off it really looks beautiful.

Optional equipment on this 1994 Targa include:

Grand Prix White
Leather to Sample

Sport seats with Electric Height adjustment L/R
Rear Window Wiper
Model Designation
US Standard Emissions
Porsche Floor Mats- Black
Radio w/ Cassette Player
Tiptronic Transmission
Seats Leather Piping

The exterior condition is excellent overall. The Grand Prix white paint is excellent shape there is not very many imperfections. Front hood and front bumper is almost perfect with only couple minor chips. Drivers door seems to show previous paintwork but is original and not replaced. All of the original VIN tags are in place on fenders, doors, jambs, truck, hood etc. Equipment code sticker is under hood and perfect shape. See pic. The Targa top is excellent with no rips or tears and great rubbers.

Interior is excellent with no smoking or signs of pets. Leather seats are excellent with some light wear but no rips or tears. Carpets are white and have been kept up very well and floor mats have protected them over the years. Dash and rear leather tray are excellent and not warped or peeling. Its hard to believe this car has over 100k as it still looks very new. The mechanical condition is excellent. Car runs and drives excellent. I have owned many Porsches and have driven only air cooled. She is a strong tight driving Porsche and will make you appreciate all of the reasons why we like to drive air cooled P cars!

Only issues with this Targa are: The rear tail lights and Porsche deflector are fading due to age. Replacements are available online. Car has a an oil leak form valve covers/timing cover. Other than that the car runs perfect. No warning lights on and passes smog perfect. Oh and yes the AC blows ice cold. Rare for an air cooled. Email for more info. Please only bid if you are serious in taking ownership of this Collector Targa. Car is located in SF California.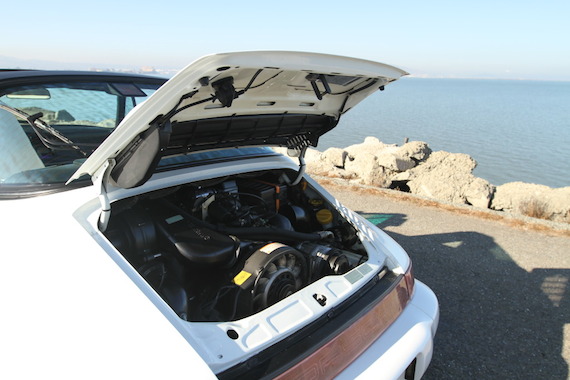 The one glaring issue that most people will have with this 911 is the gearbox. OK, so I wouldn't personally seek out a Tiptronic 911, but for some who might want a bit of relaxed cruising from time to time, it might not be a bad option in combination with the Targa roof. Typically the Porsche purist wouldn't be seeking out an open roofed model anyway, so I tend to give models like these a bit more latitude. There is still a few days of bidding to go and there's been a fair bit of interest. Late model 964 Targas are rare, especially those sold as 1994 models, as we see from the production figures provided by the seller. Will rarity drive up the price here? I'd suspect bidding will probably wind up around the $25,000 mark, only being held back a bit by the automatic gearbox.
-Paul