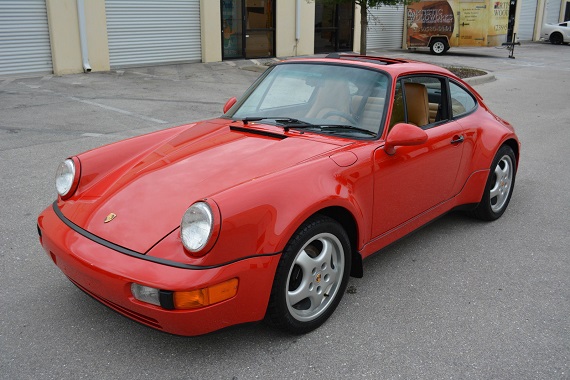 The final year 964 Carrera 4 Widebody we featured back in June is back up for sale at the same price as before. These 964s are quite rare, this example being one of 238 produced. Will it fetch a premium over your standard 964 C4?
The below post originally appeared on our site June 8, 2014:
Ever come across a car that changes your perspective? I have been a slow adopter of the 964. For years I viewed it as a 911 that diverged from the classic 911 design, which I loved, but which had not quite reached its full evolution with the shape of the 993. In that regard, the 964 seemed a strange mid-point, neither here nor there. I've slowly gained a fuller appreciation for its shape, seeing it as more of a best of both worlds design that moved towards the grace of the 993 while retaining some of the distinctive cues of the classic 911. This car, a very low miles Guards Red 1994 Porsche 911 Carrera 4, snaps the entire design into focus. We come across A LOT of Guards Red air-cooled 911s, but this is the first time I can remember coming across a Guards Red 964. That it also has the lovely contrast of a Tan interior makes it all the better. I really really like this car and have revisited the ad listing quite a few times since first coming across it.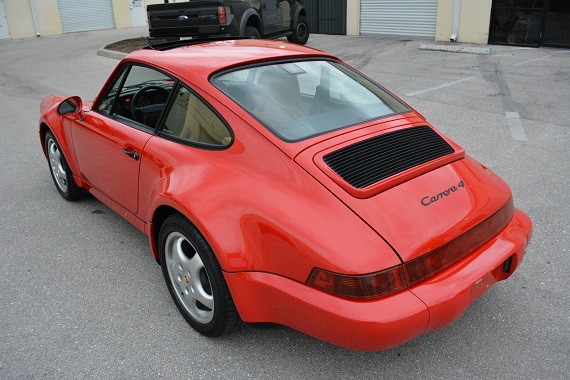 Year: 1994
Model: 911 Carrera 4
Engine: 3.6 liter flat-6
Transmission: 5-speed manual
Mileage: 9,300 mi
Price: $109,000 Buy It Now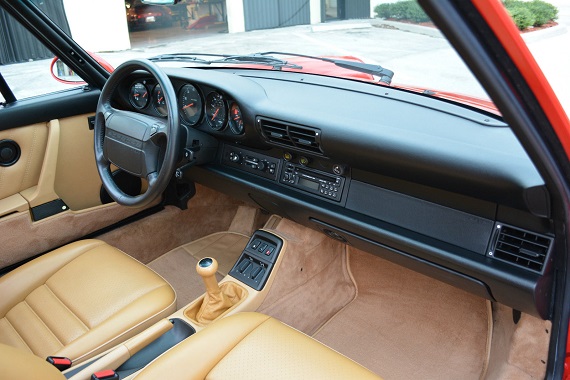 1994 Carrera 4 widebody with only 9,000 miles.

Included with car:
All owners manuals including original service manual with pouch and mics pamphlets.
Took kit.
Jack.
Gloves.
Rain jacket.
Two keys
Spare Key
Lucking lug nuts.
Lloyd PORSCHE floor mats front and rear
All trunk carpets
Spare tire.

COMPLETE PORSCHE! nothing missing.

As you can see by the photos this Porsche is exceptional in every way.

More photos upon request.

Mechanical:
No oil leaks! Complete dry engine.
Transmission shifts smooth and all synchros line up.
Breaks and rotors are excellent.
Ac blows cold.
Factory wheels have never been refinished and no curbmarks.

Tires may need to be replaced due to age. They are original to the car.

437 Comfort seat left
454 Automatic speed control
494 2 speakers on back shelf
494 Amplifier system
650 Sunroof
691 CD-Player "CD-1" with Radio
C02 Equipped with catalytic converter
XD4 Porsche Crest Rim Caps

Phone number : Five six one – three two two – eight five two six

Will consider trades. Prefer air cooled Porsche, but will consider anything. I'm looking for a Slant nose or Turbo. Finders fee / Commissions paid.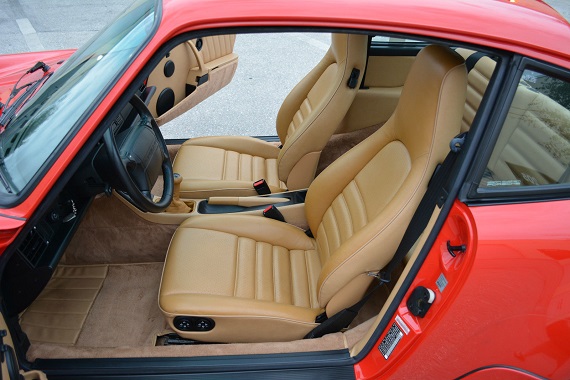 In recent months, I have started to suspect that the 964 was becoming the best value for those on the market for an air-cooled 911. 3.2 Carrera values have really shot up and while the 911SC appears to be lagging behind that rise slightly, the 964's improved performance should offset any cost differences. With that said, this probably wouldn't be the first car to grab for value. Even though this price strikes me as too high – it seems to be asking Turbo money for a non-Turbo – it should still sell for quite a premium given the low mileage and as such probably won't make for the best value purchase. Simply fantastic though!
-Rob