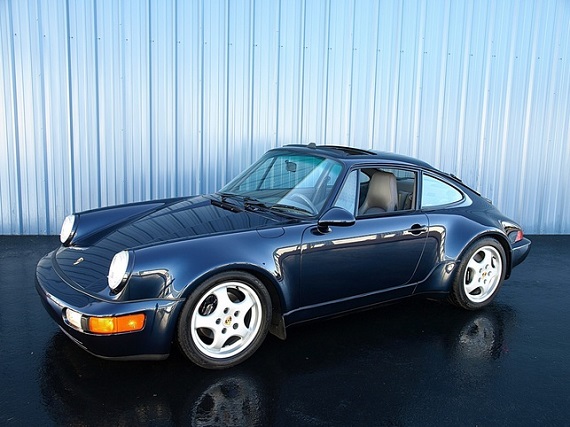 I'm going to begin this post somewhat counter-intuitively: of the various 911s Porsche has produced the 964 is the only model where I prefer the style of the narrow-bodied car over the widebody. I find the proportions of the narrow-body 964 to be excellently balanced and while a wider rear does give it a more aggressive stance I actually find the narrow-body to look more purposeful, in the sense of more poised and dynamic. With that said, I don't dislike the widebody 964, in fact they can be fantastic looking variants, and their relative rarity makes them a valuable commodity and consistently of interest to those in search of a good 964. While the Carrera 4 itself served as the debut model for the 964 when it was released in 1989 it was not until the final model year, 1994, that Porsche added those wider rear fenders. These were, in a sense, a prelude to the Carrera 4S and Carrera 2S made available for the first time for the 993 and the 964 C4 Widebody most definitely is a special car. As with most special cars, prices are not cheap, but rare models have shown quite well on the market and stand a good chance of continuing on those lines. Here we have what looks like a very well cared for 1994 Porsche 911 Carrera 4, located in Washington, with 81,800 miles on it.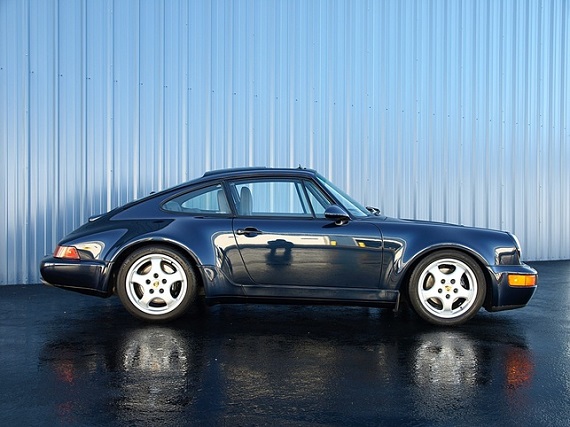 Year: 1994
Model: 911 Carrera 4
Engine: 3.6 liter flat-6
Transmission: 5-speed manual
Mileage: 81,860 mi
Price: Reserve Auction ($85,000 Buy It Now)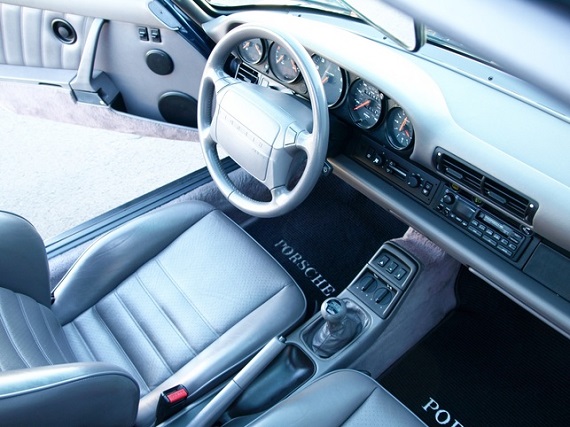 As the air cooled Porsche market continues to go Stratosphere, every now and then a REAL collector opportunity comes along. This is one of those times. You'll kick yourself later if you pass on this one.

In 1994 Porsche produced in the vicinity of 250 Turbo Look or "wide-body" C4 964's for the North American Market. Porsche does not release actual production numbers but, those who know these cars believe the number to be between 230 and 258 cars. This is one of those cars. The car is finished in Midnight Blue over Gray leather and is in simply superb order. This car was recently verified by the Porsche Turbo Look registry. It comes complete with Books, Keys, Tools, Compressor and service history. The car is heavily optioned with Sport seats, heated seats (a pretty rare option for the day) rear wiper. etc.The car is immaculate! The bumpers and hood have been painted due to chipping, the paint on the car is simply superb ! The photos of the car are good, but, it is still better in person. The car has 81,860 miles ….looks like 8,000 !

At 79,935 miles the car received an extensive freshening up inclusive of a top end rebuild, new piston rings, engine case through bolts, A/C service, new fog lamps, 2 new rear tires, Michelin Pilot sport (fronts, same tires, are ok. Would replace within 5,000 miles) the expensive ones are done. hood shocks all to the tune of nearly $22,000 and performed by the extraordinarily reputable guys at BECKS'S Euorpean in Scottsdale, Az.

The car was just driven on an epic Journey of 1,830 miles starting in San Diego, all the way up the California and Oregon coasts, to Portland, through the Timberline National Forest the Hood River Valley and on to Spokane, Wa. and never skipped a beat. Some of the photos are from that very trip taken just one week ago. The car performed flawlessly, I didn't want to get out !

This is a very rare and extremely well sorted Porsche 964 C4 widebody. An easy car to sit in for 10 hour days and a simply fantastic car to drive on great roads!

I do have this car listed locally and therefore reserve the right to end this auction at any given time.

This is an exceptional opportunity to acquire a Porsche that is a part of one of the smallest production runs in the history of the Porsche brand.

Happy bidding. Realistic reserve.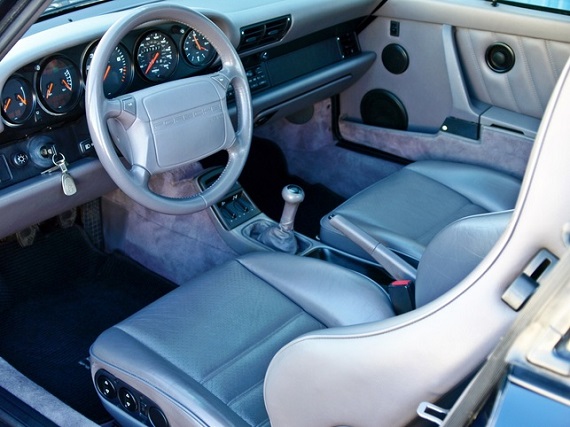 I must admit this 964 presents very well, especially at 80K miles. The seats appear quite crisp and the Midnight Blue paint looks in good shape. It has been photographed pretty well and that always helps, but overall it seems like its owners have done a fine job with it. If the mechanical condition is in an equal state of care then this should make for an altogether good buy. The asking price here is in line with other auctions I've come across though similar to those I feel that price remains too high. A year ago we featured a similar example that sold for $55,100. These have certainly appreciated since then, but $30K more is asking a lot. Bidding for the auction itself currently sits at $60,011 so we'll have to see if it can reach the reserve. Long term it's probably a good bet though and at the very least this one has enough miles on it that a new owner doesn't have to restrict it to concours duty or make it a garage queen.
-Rob