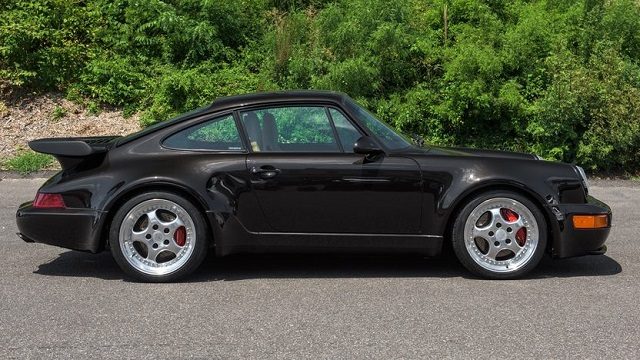 I would like to briefly interrupt our RHD Theme Week to bring you this very special car, which will be up for auction this Saturday at the Mecum Monterey Auctions. Those who are familiar with the 964 3.6-liter Turbo S should note quite quickly just how special this car is. However, I think it is even a little more special than we might first understand because, similar to the previous Turbo S 'Package' car we featured, I believe it is 1 of 1. This is a Black Metallic 1994 Porsche 911 Turbo S with Cashmere Beige leather interior and a mere 6,356 miles on it. It looks amazing!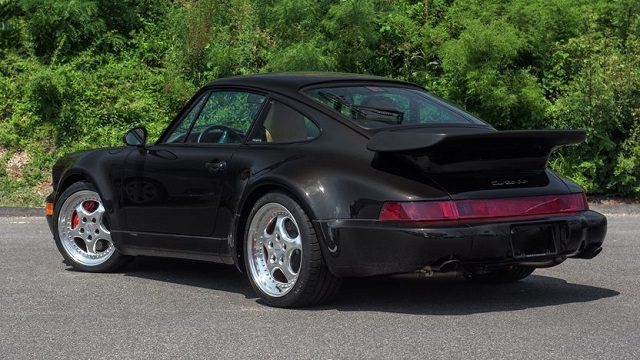 Year: 1994
Model: 911 Turbo S
Engine: 3.6 liter turbocharged flat-6
Transmission: 5-speed manual
Mileage: 6,356 mi
Price: Reserve Auction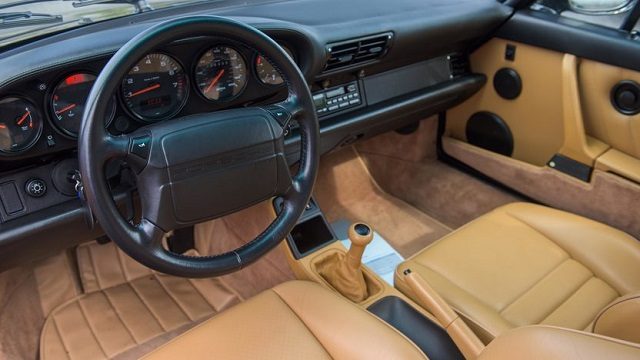 1 of 17 code 36S Turbo S cars produced in 1994 without code X85 Turbo 'Flatnose' Package
6,356 miles since new
Original Black Metallic paint
Completed November 9, 1993
Delivered new to Auto Strasse in Quebec, Canada
Porsche Certificate of Authenticity
Turbocharged 3.6L H6 engine with intercooler
5-speed manual transmission
Limited slip differential
4-wheel independent suspension
Front and rear stabilizer bars
4-wheel disc brakes, Red calipers
Turbo S front spoiler
Rear side panel air intakes
Tan leather interior
Sunroof
6 disc CD changer
Heated electric sport seats
Tools, jack and compressor
Books and manuals
18 inch polished alloy wheels
This stunning 1994 Porsche 911 Turbo S Coupe—one of just 17 produced in the Flatnose Delete Package—is a superb example with only 6,356 original miles. Conceived as the swan-song exclusive offering to the 964-based Turbo 3.6, Porsche built a mere 93 Turbo S models worldwide, 76 of which were built with the Flatnose configuration, meaning only 17 cars were built with the Flatnose Delete Package. In model-year 1994, the standard Porsche Turbo 3.6 was the fastest production car available in the United States. This already formidable sports car was further elevated with the Turbo S option-code 36S. A key feature of the Turbo S cars was the M64/50S high-performance engine, a factory derivative of the 1993 IMSA 3.6 engine built by ANDIAL for Brumos Racing. The factory-rated 385 HP was achieved through a larger turbocharger unit, increased boost pressure, modified cylinder heads with larger inlet and exhaust ports, reprofiled camshafts and advanced valve timing. The acceleration was neck snapping with 0-60 MPH realized in less than 4 seconds and the quarter-mile elapsed time achieved in only 12 seconds. The Flatnose-delete version was lovingly and officially referred to as "the Package car." Externally, the Package cars are identifiable by their exposed air vents on both rear fenders, exclusive front spoiler and exclusive rear spoiler. The exterior presentation is tasteful in metallic black contrasted by the factory-correct polished modular wheels and red brake calipers. The interior features a cashmere leather interior with sports seats and deviating black on the dashboard, upper door sills and headliner. This car comes complete with a factory-issued Porsche Certificate of Authenticity, owner's manual, maintenance book, jack with changing tool, tool roll and spare-tire air inflator.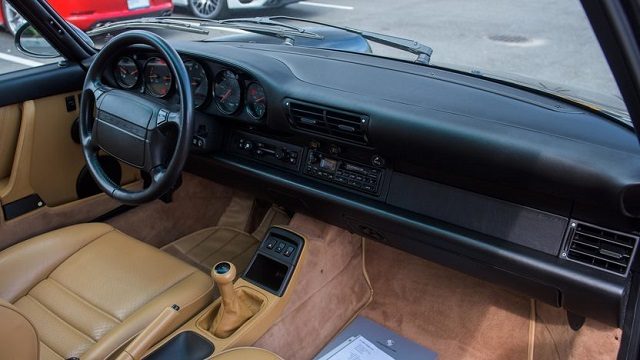 Enumerating the details of Turbo S production sometimes makes my head spin, but let's get to it as it helps establish what I think should make this a 1 of 1:
Porsche produced a total of 93 examples of the 3.6-liter Turbo S. The vast majority of those, 76 cars in total, featured the X85 option, which was the 968-derived Flatnose with pop-up headlights – 39 of those made it to the US. Of those 93 Turbo S produced, the remaining 17 cars were designated the 'Package' car and were only available in North America – 15 came to the US and 2 went to Canada. This is one of the two Canadian cars. Both Canadian cars were Black, but one was Black Metallic, which we see here, while the other was non-metallic Black and had a full black interior. Making this car 1 of 1. To further the claim: of the 17 Package cars 10 had a Black exterior, but 9 of those 10 were non-metallic Black. Only 2 of the 10 featured a Cashmere Beige interior. The one we see here and another which was non-metallic Black over Cashmere Beige and which we also have featured. To add to the exclusivity, the 2 Canadian Turbo S did not have the Turbo S script on the rear, but rather had the standard Turbo 3.6 script. They also lacked the Turbo S specific rear spoiler and the quad-exhaust of the Turbo S. I don't know why they lacked these Turbo S features, but those points all can be seen on this car. As I said, it's a really special car.
My biggest question: why is it at Mecum? While the Monterey auctions are a different breed, typically Porsches (and other foreign marques) don't do well at Mecum. Mecum auctions are more domestic focused so the bidders are not always there for cars like this one. I would think Gooding and Co., which is hosting its Pebble Beach auctions this weekend, and RM Sotheby's, also hosting Monterey auctions this weekend, would be the place for this car. This isn't to disparage Mecum, they do a fine job, but I do wonder how this car ended up here, and I'll be very curious to see where bidding takes it. We've seen the Flatnose versions sell for around $1M. So what does that make this much more rare example worth? I guess we'll find out.
-Rob