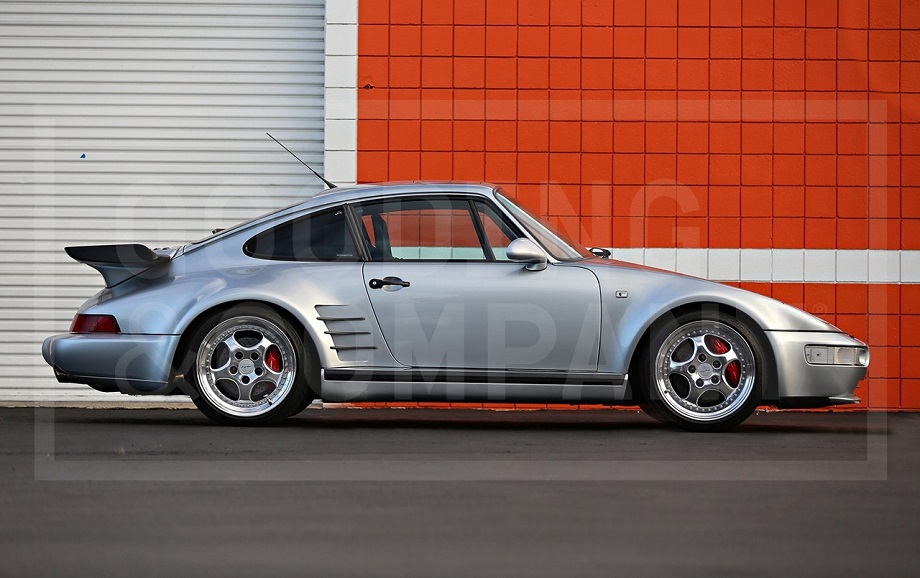 With the January auctions approaching I always like to check in on what sorts of interesting cars will be crossing the blocks this year. Even though this auction is still a couple weeks away, I couldn't resist posting this now. I could be wrong, but I think this is the only air-cooled 911 model I have never featured. It's one of the rarest 911 models there is. We've featured the North American only Turbo S Package car previously, of which there were only 17 produced. For this model there are even fewer.
This is a Japanese market 1994 Porsche 911 Turbo S Slantnose, also known as the X83 Turbo S. And, yes, I do mean Slantnose and not Flatnose. Of the various markets only Japan received the 935-derived slantnose that was commonly found on the 930. The rest of the world received either the 968-derived flatnose or the standard 964 front of the Turbo S Package. Only 10 Slantnose Turbo S were produced, all nearly identical with Polar Silver Metallic exterior and Black interior. The biggest difference among the 10 was the choice of rear wing: you could have either the standard Turbo rear spoiler or for a little extra money you could choose the spoiler from the 3.8 Carrera RS. 4 buyers chose the RS wing.
I have never seen one for sale. Until now. This one will be up for auction at Gooding and Company's Scottsdale Auctions on January 19 & 20.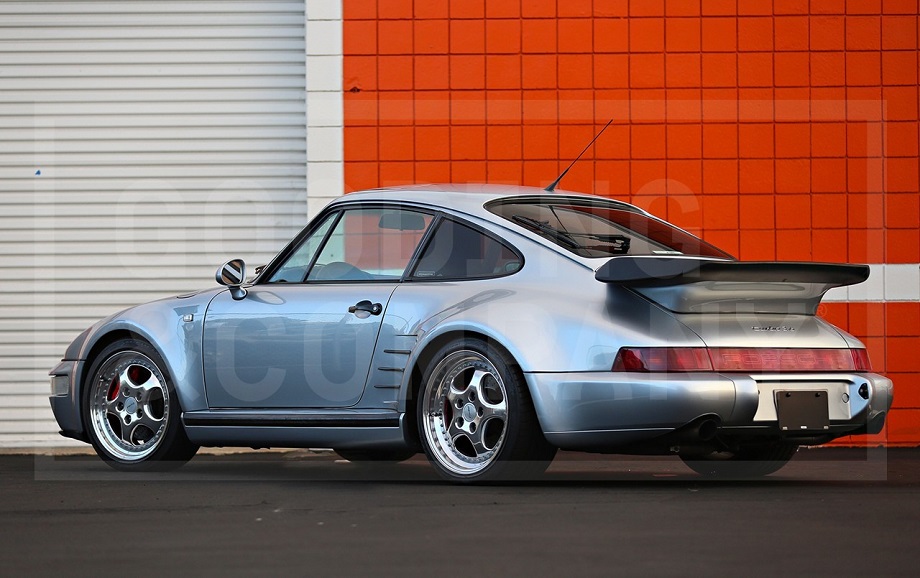 Year: 1994
Model: 911 Turbo S
Engine: 3.6 liter turbocharged flat-6
Transmission: 5-speed manual
Mileage: ~35,000 km (~21,748 mi)
Price: Reserve Auction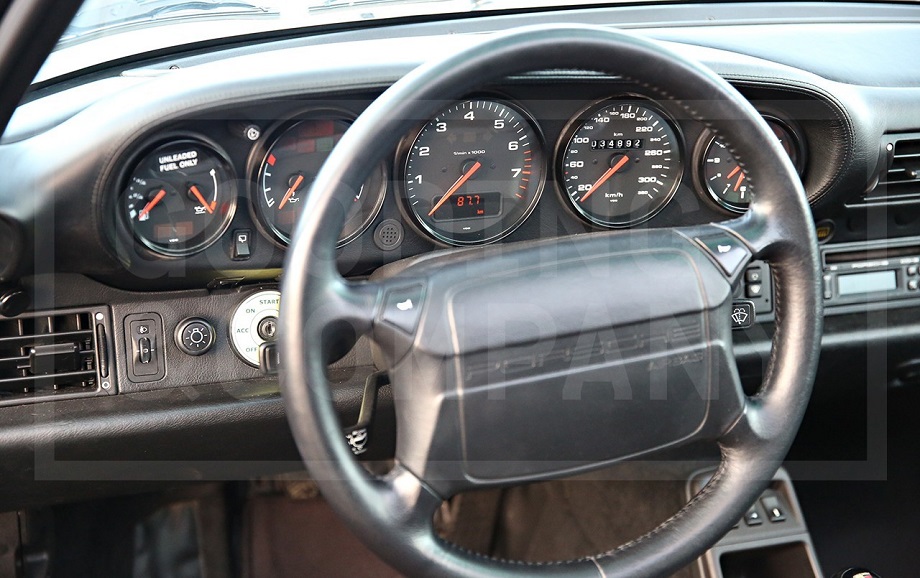 Through its exceptional technical capacity and engineering excellence, Porsche has designed and developed some of the most astonishing sports cars of the modern era. The iconic and enduring 911 has continually evolved, with each celebrated iteration delighting generations of enthusiasts. In 1994, the 911, designated the 964, concluded a five-year production run. Porsche selected the last 90 Turbo production models for delivery to Porsche Exclusive, its special-order division, where they were transformed by hand into the most desirable models of this series.

Available with either traditional bodywork or the flachbau (slantnose) option, each car was built to order; 10 were designated for the Japanese market and given the moniker "X83." Buyers who selected the Flachbau Turbo S model, itself a $60,179 option on top of the $99,000 base price, were assured further exclusivity on an already rare car. During the Porsche Exclusive transformation, the X83 Flachbau was hand-assembled with the slantnose front end, pop-up headlamps, 930 Turbo S front bumper and air dam, 930 S-style rear-quarter vents, and boxed rocker panels. All 10 of the X83 models were assembled as left-hand-drive models and finished in Polar Silver Metallic.

According to factory assembly records, this Porsche was completed in December 1993, the fifth X83 Flachbau built and the first delivered to Japan, having been special-ordered by MIZWA, the official and exclusive Porsche distributor in Japan. The factory report notes 32 individual options, making it a unique "Special Wish/Special Request" vehicle, with special items including Yokohama tires; Carrera RS Cup 18″ polished modular wheels; special thinshell, black leather Carrera RS bucket seats; a green-tinted front windscreen; and an electric sunroof.

After delivery, the Flachbau remained in Japan through early 2017, where it had been kept by four dedicated owners. There, it was regularly serviced and meticulously maintained to the highest standards by qualified specialists. The consignor imported the Flachbau into the US under NHTSA's Show or Display exemption in March 2017. The car now shows just over 35,000 km, and is accompanied by a copy of its factory build sheet, original books, accessories, and tools.

Fast, visually riveting, and exceptionally well presented, this Japanese-market 964 Turbo S 3.6 Flachbau is one of the finest and rarest performance Porsches ever developed for public enjoyment.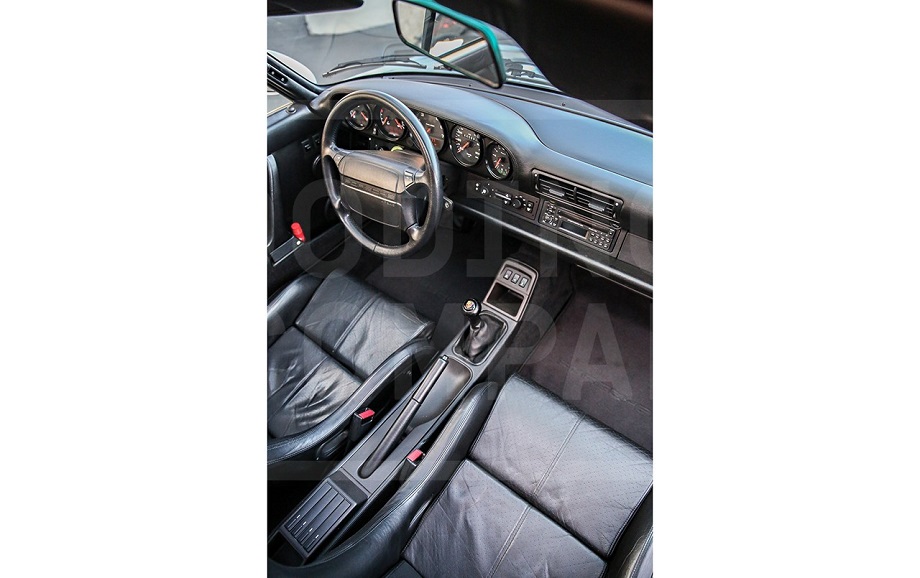 Other features that distinguish these from other examples of the Turbo S are the rear vents and rocker panels also found on the 930 Slantnose and black seats from the Carrera RS. In a lot of ways the X83 is a 930 S body surrounding a 964 Turbo S. Outside of a few details you'd be forgiven for confusing the two. A note about the ad listing: The Carrera RS seats are not a particular option for this car. All 10 came with them. I do believe the polished wheels are a particular feature of this car though.
While coming to terms with any peculiarities that might separate this X83 from the rest surely is of importance you really are splitting hairs. Other than the rear wing the differences are minor and the rarity of any of these cars rates very high. For those who may be interested in this Turbo S you'll have to apply for a show/display permit, though I'm not sure anyone would be planning to use this as their daily driver so that limitation may not be of great significance. Otherwise, the biggest limitation will be cost. Interestingly, Gooding and Company has provided an estimate that to me seems very much on the low end. $600K-$700K is a lot of money for a car, but given that in 2016 a Flatnose sold at their Amelia Island auctions for more than $1M the price here seems quite reasonable. Granted, that Flatnose belonged to Seinfeld so perhaps buyers paid extra for the association, but even so that's a high premium just for a name. Regardless, I don't think we'll be seeing many more of these come up for sale so if you want one of the rarest 911 models Porsche ever produced then the time to act is upon you.
-Rob