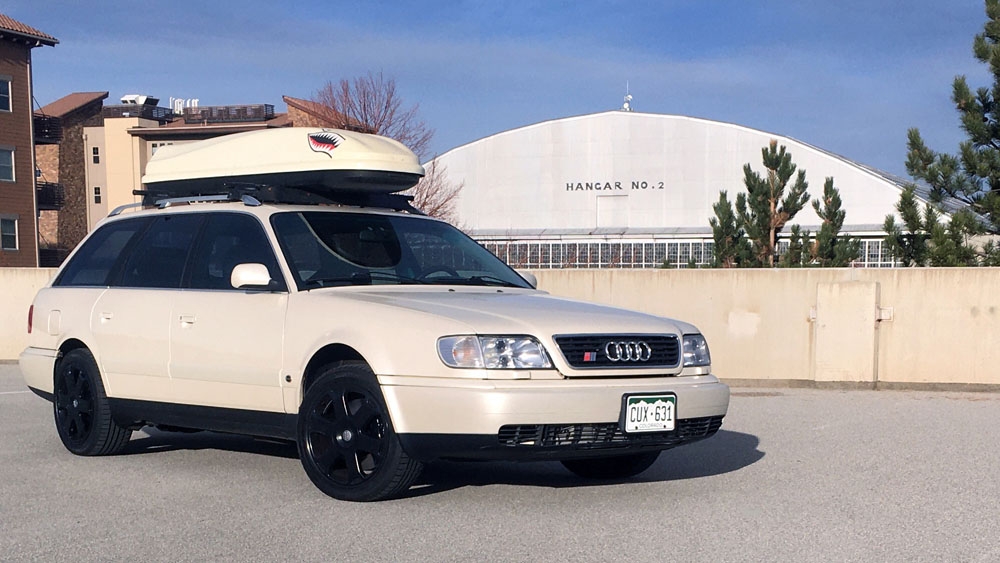 Defying the odds and most aspects of common sense, a group of fans out there still loves, maintains, and drives Audis from the 1980s and 1990s. Why is this so outrageous? Well, first off, there just aren't many left. Audi never really broke many sales records here in the US. When we look at this car's model year, Audi sold about 18,000 cars in total – helped in no small margin by the early launch of the A4. Between 1991 and 1994, Audi averaged only about 13,000 cars per a year. To give us some perspective on that, let's look at Ford's F-Series trucks. Even in the midst of pandemics, global parts and labor shortages, and inflation, Ford has managed to move between 45,000 and 84,000 F-Series trucks from showrooms each month of 2021. But that's the Ford truck, you say, not a luxury car. Fair enough. Let's look at the least popular Volkswagen on offer – the Passat sedan. Volkswagen is on track to sell more of those here this year than Audi sold total cars in 1995, and they've already outsold the '91-94 years by a safe margin with two months to go.
The secondary part of the problem is Audi's insistence that we don't need parts for our 25+ year old cars. It's not that Audi doesn't make said parts – they do, and sell them through Audi Tradition. And judging by their recent partnership with Ken Block, Audi's interested in showing off its historical cars here in America. But they refuse to sell you parts to fix them.
This means, of course, that enthusiasts are left to fend for themselves, creating groups of faithful fans that buy, trade, and sell parts amongst themselves, tricks and tips, and…of course…really good examples for sale that pop up. So let's dive in to this late-production Magnolia S6 Avant: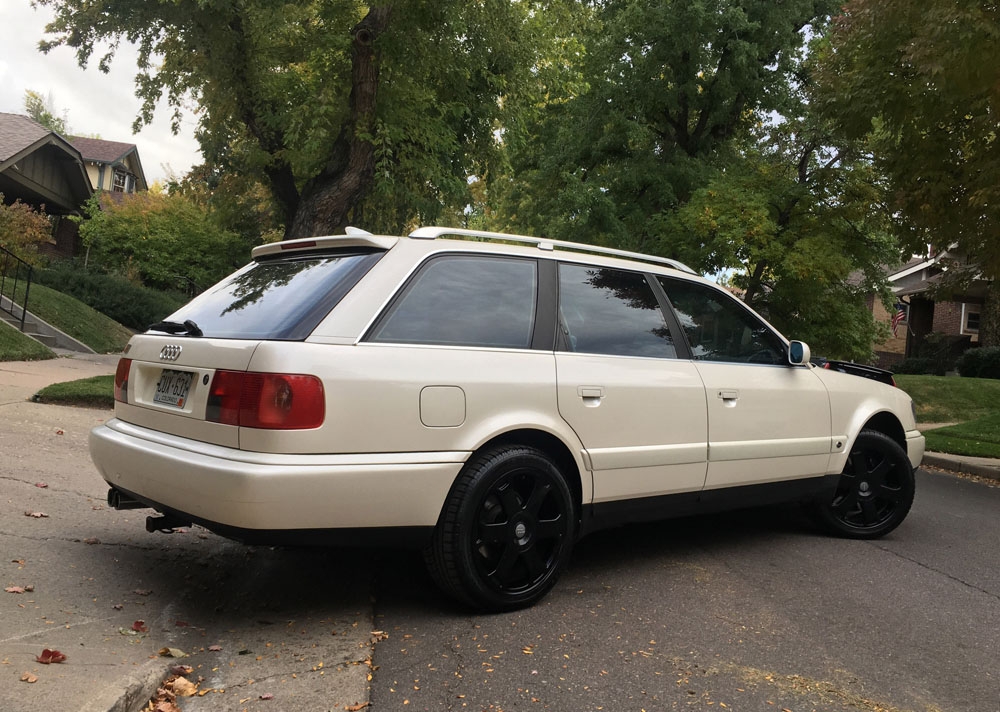 Year: 1995.5
Model: S6 Avant
VIN: WAULA84AXSN121715
Engine: 2.2 liter turbocharged inline-5
Transmission: 5-speed manual
Mileage: 264,000 mi
Location: Denver, Colorado
Price: $17,000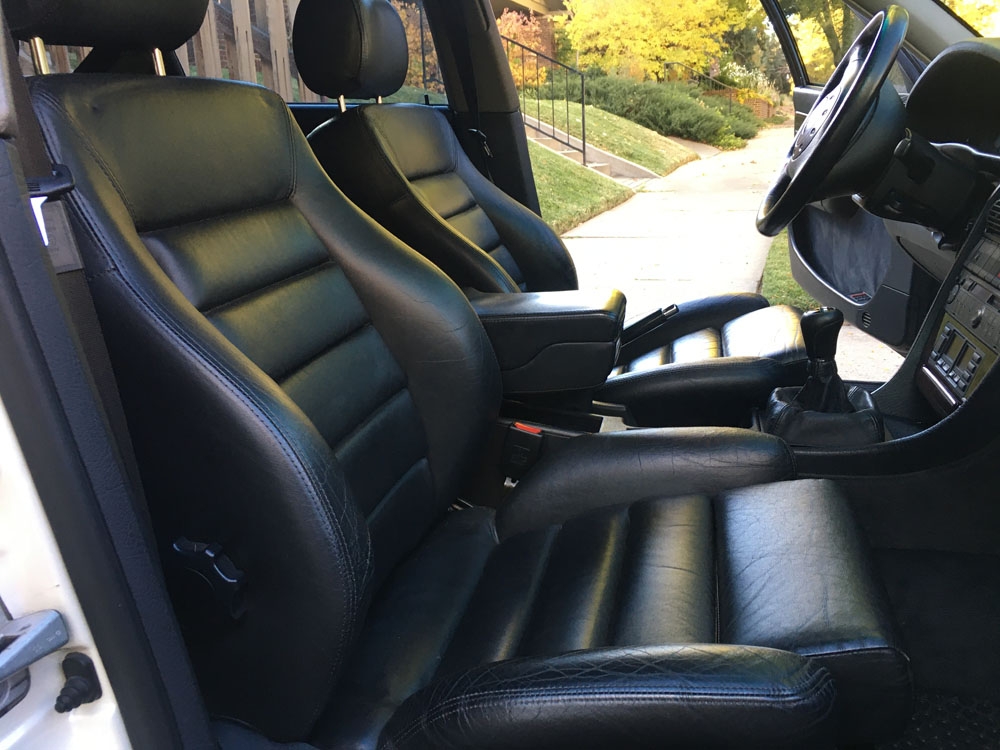 Exterior: Pearl White Metallic Tricoat L0B9 "magnolia"
Interior: Black N1U/CK "anthracite"
Transmission: Manual 5-speed 01E CBD
VIN WAULA84AXSN121715
More than 150 photos here.
More than $38,000 in documented work since 2014; 100 maintenance, repair, and performance items listed here.

Extra wheels and tires, roof box and crossbars, parts hoard included as desired
$17,000 OBO | All questions, comments, offers welcome at john.eding [at] sbcglobal.net. Thank you for looking!

BACKGROUND

I've owned this wagon for the last three years with complete devotion and no expense spared. It offers a reliable and fabulous driving experience as it stands today. I am proud to offer it for sale here on QW as I make room for the next rare Audi wagon coming soon to my garage.

Correspondence with Audi of America indicates this car is one of 15 pearl-on-black S6 Avants shipped stateside from the factory. I have documentation for it since 1999 and there are no missing links in its history going back more than 20 years. I purchased it from fellow QW user shmcquilkin in November 2018.

I am a friendly, honest and responsive seller and the buyers who work with me enjoy smooth and straightforward transactions. You can still view my listings for the 1993 S4 and 2001 S4 Avant that I've sold here, which include dozens of positive comments as well as links to favorable editorial coverage about my listings on Bring A Trailer and German Cars For Sale Blog.

VEHICLE OVERVIEW

This car is a thrilling and capable survivor, with a clean carfax and reams of documentation, that still wears its original paint and upholstery in very nice condition.

It shows 11/95 on the doorpost sticker, making it one of the very last USA-spec urS cars. As such it features the wider-first-gear transmission and all the other quirks and features of a late-run S6 Avant. The factory Alpine CD changer is still in the trunk, as is the late-Avant-only rear subwoofer.

Records show it was originally purchased 4/18/1996 and registered in Pennsylvania; judging by the leather book for the owner's manual it was sold by Fred Baker Audi in Bedford, OH. It was then bought by Eric Friedman of Sparta NJ in July of 1999 at 35,000 miles, Robert Klemm of Colgate WI in April 2000 at 66,000 miles, shmcquilkin of Freeport ME in April 2014 at 234,000 miles, then me here in Denver CO in November 2018 at 258,326.

It was a beloved and carefully modified stage-2 car with some beautiful Euro-spec conversions when I bought it. Since then I've worked to further enhance its presentation and partnered with three local shops — Autosport Werks, Berg Performance, and Apikol — to eliminate rust underneath, ensure it's running smoothly, and bring it to stage-3 spec that meets or exceeds RS2 performance levels.

MECHANICAL / PERFORMANCE

This car is in solid mechanical condition. The previous owner and I have gone through it bumper-to-bumper several times over.

A cold start video recorded October 24 is available here. A comprehensive $400 inspection conducted at Berg Performance on October 20 is also available here; the compression test showed closely aligned results well above the wear limit (102 psi):

Cyl 1: 135
Cyl 2: 146
Cyl 3: 148
Cyl 4: 144
Cyl 5: 134

Some noteworthy items from the work log:

A rust-free fuel tank, subframes, springs and uprights were sourced from Roman at European Auto Parts Store in Denver and professionally installed in July of 2019 at 260k miles. The items were pulled from an S6 Avant so the car retains its rear sway bar and the correct green / orange paint marks are present on the rear springs. Brakes were also overhauled at this time.

Front brakes are 993tt Brembo calipers (aka Big Reds, though mine are painted black) on Apikol brackets with Pagid pads over 323mm S8 slotted rotors from Stoptech with stainless lines. The rear calipers are stock Girling units also over slotted rotors mated to OE hand-brake cables installed in 2018. All four corners have NOS dust shields courtesy of Jim McCarthy (RIP!). New wheel-speed sensors and wheel bearings all around in 2019 as well. Dampers are NLA Bilstein B6 / HD front and back.

The fuel lines were professionally replaced in November 2016. (The car also received its fuel-line recall service in June of 2011 at 81,800.) The rear axles were rebuilt by Raxles in 2018. The rear diff was completely resealed in April 2019. The PS pump was replaced at some point by the previous owner and does not weep from the X-plug. An urS4 oil-pressure sender is installed but not wired up. (A pair of S4 clusters come with the car.)

The a/c system has been completely overhauled, including a proper NOS Zexel compressor last year, and a new auxiliary cooling fan. The last owner replaced all four under-dash vent control motors, and the car received a new Behr heater core and heater valve in September 2019.

All nine of the things that will strand you have been preemptively addressed. Most recently the car received new G40, G4, and G28 sensors; new fuel pump relay, and new ignition switch in 2020. Berg Performance also swapped in an urS4 vc fan bracket with serviceable bolt-in bearing during their comprehensive timing belt service in April of 2020. Engine, tranny, and snub mounts are 034 street-density installed 2014 / 234k. There is a helicoil for the spark plug in cylinder four as of 110k miles 12/2002.

Exhaust is a Strömung Gen V from Posto mated to an EFI Express / Iroz 3" downpipe with EGT bung installed with new hangers in 2015 / 234k. It has a Magnaflow 54959 universal 3″ cat; the car passed emissions tests in both 12/2018 and 12/2020.

The modified K24-7400 turbo that I purchased on QW was installed by Troy at Apikol in June of 2020, when the car also received 440cc injectors, bypass valve, N75H valve, and a silicone 3" maf-to-turbo hose from 2Bennett. It was rebuilt, ported and ceramic coated by G-Pop Shop. The chips in the ECU with 3-bar MAP sensor are from EFI Express / Marc Swanson. I also have a chipset from Steve Eiche via Apikol for the current setup. Coils are 1.8T units from Apikol in 2016; the FMIC is also Apikol's installed 2017 / 248k.

The car shifts smoothly in all gears and the clutch take-up is correct. The clutch pedal and master cylinder were replaced in 2019. The PPI notes a hydraulic seep from the shifter seal on the transmission and records indicate the car is possibly still running its original flywheel, clutch kit, and slave — which is reflected by occasional chatter when idling in neutral and a clutch pedal that is certainly firm but remains compliant and consistent. (Not bad for 26 years and 264k miles!)

EXTERIOR

The paint exhibits no crazing or peeling. There are some rock chips and other imperfections, especially on the rear spoiler and the front bumper, which has a flat hairline crack on the passenger side. But the paint is generally in very nice condition, not least because it wore what appeared to be dealer-installed clear bra on the hood, fender flares, mirrors, door handles, and tailgate until 2019, when I spent at least ten hours painstakingly removing it. I also removed an old pair of pinstripes and you can still see their outlines in the right light.

Lenses are NOS Euro-spec OEM/Hella units front and rear, with Morimoto HID low beams and working fogs. The paint-matching A6 plate holder and hatch-release mechanism were also sourced from Europe by the previous owner. Mirror covers are clean and the heated ECE side mirrors are flawless.

I replaced the driver door's lower rubber trim with a piece from the complete NLA genuine Audi set that comes with the car; the other pieces are not installed.

The roof antenna has been converted to a shark-fin unit from Japan. It could be reverted to the stock mast that comes with the car if desired.

There is a Yakima rocketbox painted to match the car along with hardware to mount on Yakima Railgrabs with 48″ crossbars that are also included as desired, all with keys.

The car also features a Curt Mfg Class 1 trailer hitch (#11167) with 1.25″ receiver for a bike rack or similar. It is rated to 2,500 lbs. gross trailer weight and 200 lbs. tongue weight. The previous owner also wired in fittings for trailer lighting. I have never used either.

There are shallow dings on the front right fender; no damage to clearcoat. Some corrosion appears in typical spots as shown in photos.

The powder-coated C5 Speedline Avus wheels are immaculate and clear the big brakes with plenty of room to spare. The 225/45/17 Nokian zLines on the car now have 2019 date codes and 720 miles on them.

The 205/55 Michelin X-Ice on the original 16" Avus have 2015 date codes, even wear and plenty of tread, but unknown mileage as I purchased them from a part-out. I store them indoors. These original wheels need a 10mm spacer (possibly 5-7mm, but I didn't want to risk it) to clear the big brakes. The center caps are crack-free.

INTERIOR

This car has clean and supple leather that has been protected with top-of-the-line covers since 2015. There are no tears or holes and the driver-seat bolster wear is minimal.

Six-level seat heaters work in front without hotspots or other issues; driver's seat memory module still works. The rear seat heaters are disconnected as is the sunroof, which did have a working motor when I unplugged it as a precaution.

An in-cluster TDS-1 digital MAP gauge is neatly wired in via the ashtray since 2020. Wiring for IAT is included but not spliced in.

The car has an Audi Concert 1 head unit 8N0035186A (December '98) with red backlighting that matches the CC head unit. The tape deck is inop. An Enfig USB auxiliary unit is discreetly wired in through the console shelf under the ashtray for aux audio and charging. It has an Apple Lightning cable hooked up.

There is a spot of battery-acid damage on the rear carpet from many years ago, and some spots where the headliner is loose near the rear grabhandles. The tailgate hatch trim with sunshade is uninstalled but included with the car.

A VAG child-seat anchor is installed on the factory mount for the middle back-seat position. It pops up through the panels for the third-row seat when needed.

The tint is 37% all around. There are some nicks and fog in the tint on the rear hatch window.

Floor mats are Lloyd black rubbertite mats from December 2014. Pedals are SRP racing installed 2015.

EXTRAS AND SPARES

Complete NOS AAN electrical harness in original packaging, rubber boots still soft

Three-volume set of Bentley manuals in nice condition

Owner's manual and other original books

Steve Eiche stage-3 chips; Original chips + MRC stage 2 chips for K24-7000

Original K24-7000 and injectors

Original side-mount intercooler and silicone michelin-man hose

Original air inlet snorkel

North American front and rear lenses, plate tub / latch mechanism

Two extra sidewinder keys, extra DEFA remote fob

Custom neoprene front-seat covers from Wet Okole of Hawaii. They are waterproof, made in the USA, and fit like a glove. No rubber touches the seat material.

Original cargo cover

Original Delta Bose head unit

Original car phone + bits

Spare set of NOS Avus centercaps

Weathertech wind deflectors, cargo liner, and rear seat cover, suede chaps for rear doors

Numerous side-of-the-road spares

Two S4 instrument clusters

Two climate-control heads

Driver's door window-switch pack

walbro 255 lph fuel pump

Stock fuel pump and basket

Spare fuel-level sender

Spare temp-flap servo motors

OBD1 jumper

Cam Position Sensor tester

OE lower black door-trim rubber (driver's door already installed)

Autometer A-pillar housing and gauge sets (Boost, EGT, Oil pressure; EGT thermocoupler already mounted in downpipe accessory bung)

Euro mudflaps

Bosch central locking grommets

Four Mann oil filters W940/25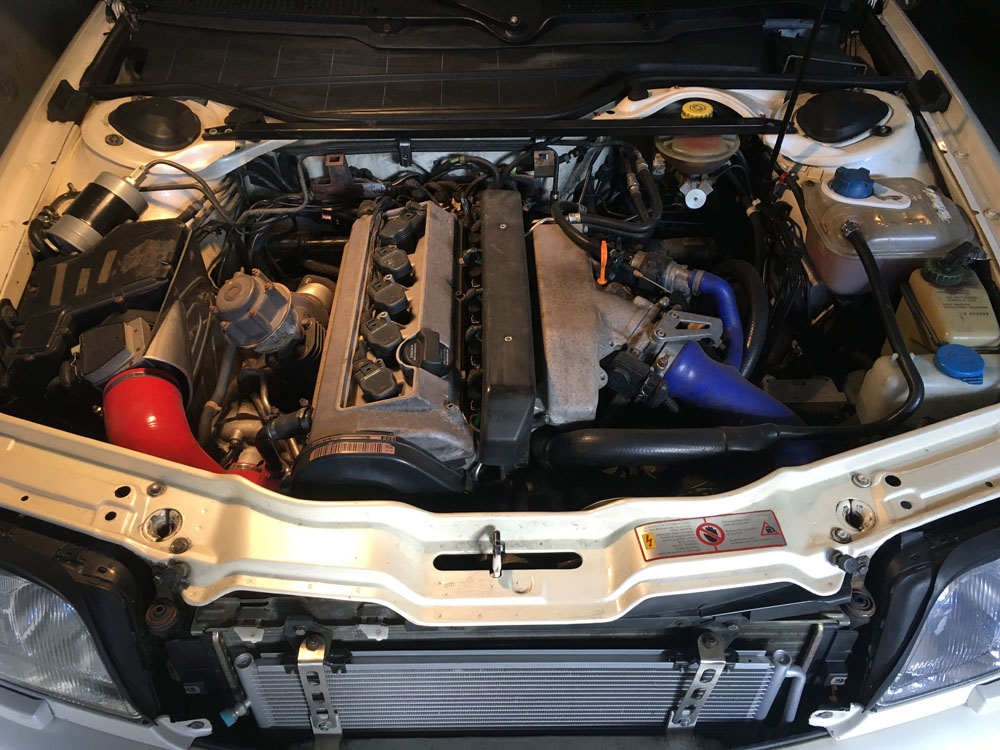 The photos look great, but they're just a taste of the larger collection supplied by the seller. The seller is also not a stranger to these pages, having also had a beautiful S4 appear in 2019. The same situation that time appears here too; this is really an excellent example of the last of the original S-cars sold here. The upgrades are great; a combination of Euro bits, some more power, and some clever and thoughtful changes – using C5 rather than B5 17″ Avus wheels maintains the proper offset, for example. Looking through the photos, you'd be hard-pressed to convince anyone that this car has over 260,000 miles and lived in the North East for some time. Pricing seems, if anything, slightly under market value; a similar late-run Magnolia car sold on BaT in February for $19,000. This example is well-documented and obviously well cared for, and it's probably one of the better examples left out there in the wild. These cars are not without fault and have plenty of idiosyncrasies, but they're also very cool – and if you want one, it's better to start with one that someone has done the heavy lifting for you on than to try to start from scratch. You won't get to the condition this car is in easily – or likely, at all.
Thanks to our reader Scott for sending this one in!
-Carter