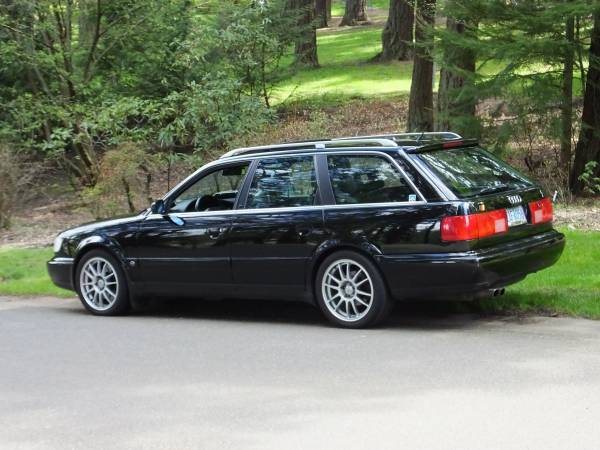 If C4 S4s and S6s in good shape, such as yesterday's feature listing 1993, are hard to come by, the limited run 1995 Avant version is especially so. Not many of these wagons were brought to the U.S.; depending on your source, a reported 300 made it here. Compare that to the "rare" E30 M3 (of which 5,000 were imported) or even Audi's own super-rare Quattro – a staggering 663 of those made it here, though you wouldn't know it. Plus, the nature of the S6 Avant meant they were snapped up by enthusiasts who used them, and often used them hard. Exact numbers still alive today are hard to come by, but figure it's reasonably lower than the 300 original units. Back out the number with under 200,000 miles and the number gets much smaller. And to find two in a week in good condition with nice modifications? Time to play the lottery: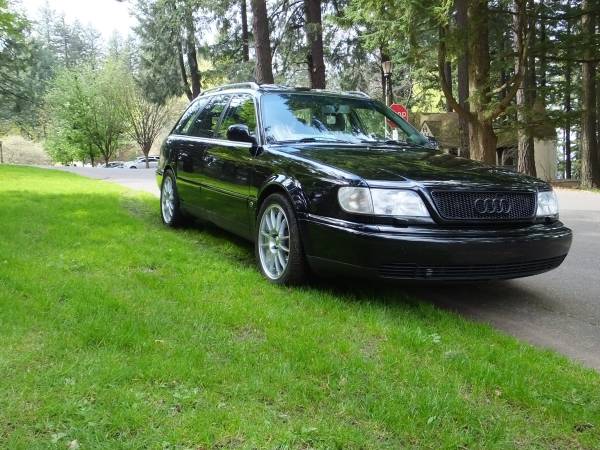 Year: 1995
Model: S6 Avant
Engine: 2.2 liter turbocharged inline-5
Transmission: 5-speed manual
Mileage: 176,000 mi
Price: $12,000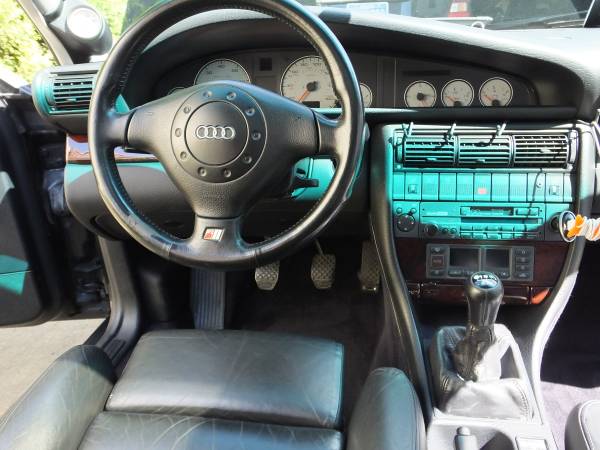 1995 Audi S6 Avant : Very Rare in this color combo and even more so in this condition w/ updates.

Black on Black, 2 owner car with full records from new.

This beautiful family supercar has been an absolute dream to own and drive. We've had her since 2002 (95k) and it's by far the best car we've ever owned.
She was completely stock when we bought her from a wonderful lady who's family are Audi nuts, they had an S6, S8, S4 and a new allroad (which is why they sold us the S6), all of them treated properly and fully dealer maintained with no expense spared.
After careful consideration and planning we decided to do some tasteful and modest upgrades to boost performance and safety, here's the list that was done at 105k (2002):
Software Upgrade by Dave Jones (RevSport) with max boost to 16psi (approx 280hp).
RS2 Exhaust Cam
Stroming turbo back 3″ exhaust and hi-flow cat + dual Magnaflow muffles for a great sound
Porsche 993 turbo front calipers mated to A8 rotors w/ Porsche Pads
S4 all Aluminum Intercooler and cross-over pipe
Full Samco Silicone hose kit
Euro Lenses + upgraded bulbs
Clear Side Markers
Eibach Sport Springs + Bilstein shocks
Custom Camber plates
17″ OZ Superleggera Wheels (there are 2 extra wheels just in case) w/ 245/50/17 tires.
***all stock parts are still with us and come with the car, this includes the 4 Audi Avus wheels which have almost brand new Nokia studless snows on them.

As I mentioned, this car comes with full records from new, neatly organized in a folder. All maintenance and wear items have been replaced on time and always with best available parts. Oil and Filter have always been replaced at 5k intervals with Mobil 1, along with brake, coolant and PS/PB fluid done every 2 years.
Some highlights from the maintenance to showcase that this car needs nothing, and won't for many years to come:
New Battery : 11/2014
Cooling hoses and temp sensors : 169k
New Clutch, slave cylinder and pressure plate : 168k
Timing Belt, all seals and rollers + waterpump : 168k
EFI Coils + plug wires : 165k
New Front Brake Pads and Fluid Flush : 162k
New Tires and 4 wheel alignment : 152k

Overall this car is a 9/10. It has been in a rust free environment it's entire life and since we've owned it it's been garaged at home and office, the paint and interior show accordingly.

Of course she has all the options available which include the Bose Stereo, 6 cd changer and recently updated to accept MP3 input. Front seats are full power adjustable w/ lumbar support and heated, the leather looks as new and has been maintained often. Rear seats are also full leather and heated. All electronics are fully functional and there are zero electrical gremlins (never had any issues). This car basically drives, operates and looks new.

If you have any questions or would like any additional photos please text me.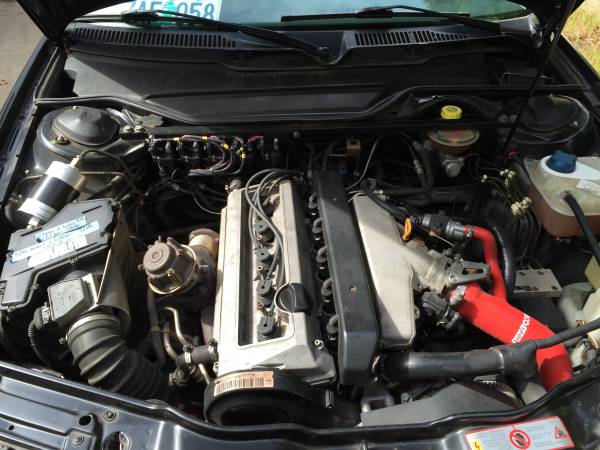 This car is quite desirable in double black, and the condition is quite good. The original pieces like the wheels come along, though I think the OZ wheels are a nice fit even if they're a generation too new. A set of Boleros would really make this car pop, though. With detailed records, maintenance, and nice modifications, this car is certainly towards the top of the market. And it's priced accordingly; $12,000 will narrow down the group interested in plunking down money on a 20 year old Audi wagon, but this package is pretty unique and desirable. While I'm personally not a fan of the grill treatment, overall this car ticks all the right boxes.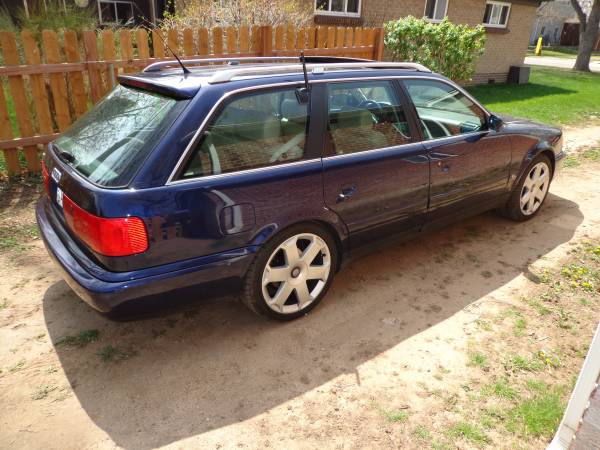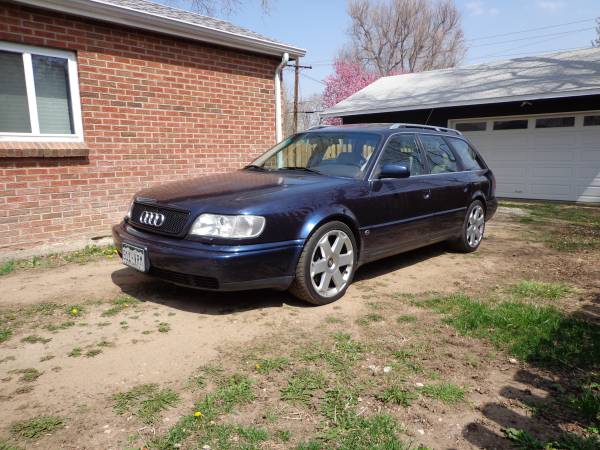 Year: 1995.5
Model: S6 Avant
Engine: 2.2 liter turbocharged inline-5
Transmission: 5-speed manual
Mileage: 122,222 mi
Price: $11,000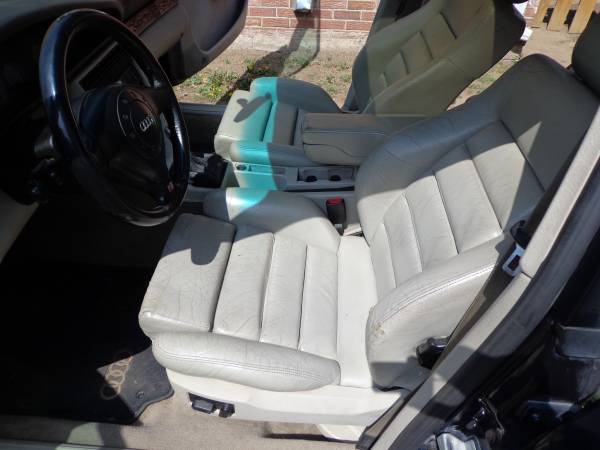 1995.5 Audi S6 Avant

The Good:
-2.5 Bar Lehmann Tune/Chipset
-1.9 Bar Wastegate Spring
-Very Strong Clutch
-RS2 7200 Turbo
-RS2 Exhaust Manifold
-RS2 Fuel Injectors/034 Rep's
-RS2 MAF Sensor
-2Bennett A Pillar Gauge Pod/Boost & Fuel Gauge
-2Bennett Digital Intercooler Gauge With Ash Tray Delete & Fuel Mix Gauge/Autometer
-2Bennett Rear Coilover Suspension
-2Bennett/Brembo Big Front Brake Kit With New Pads & New Slotted Rotors
-2Bennett Camber Caster Adjustment System
-Koni Yellow Externally Adjustable Strut Inserts Up Front With H&R Green's
-Stromung 3 Inch Turbo Back Exhaust, 3 inch Downpipe
-Apikol Coil Conversion with Apikol Decorative Top Engine Cover
-Larger Upgraded Diverter Valve
-Samco Boost Hoses
-18 Inch Avus Wheels In Good Condition With New Summer Tires
-Super Low Miles @ 122,122
-Europa Blue Paint With White Interior, Rare!!
-Timing Belt, Rollers And Associated Components Replaced At 109,000
-Clean Colorado Title In My Name
-No Rust

The Bad:
-One Small Oil Leak In Front Of Engine. Never Registers As Losing Oil On Dipstick
-A/C Needs Recharge. Worked Nicely Three Years Ago And Has Slowly Faded Out
-Needs New Rear Brake Pads Causing Limp E-Brake
-Car Has Been To Burning Man Three Times……And Many Ski/Camping Trips
-Needs Green Antifreeze/Coolant Flushed Out And Replaced With Proper Fluid
-Sunroof Set Up For Manual Open/Close, Unplugged
-No Paperwork From Previous Owner
-Paint Has Swirls And Scratches And A Few Pings/Still Looks Sweet
-Interior Cleans Up Well But Shows Some Age

This Is A Sweet Old School Audi That I Have Cherished Since My Ownership. This Car Is Set Up More For The Street. Probably Not For Heading Out On A Flyfishing/Camping Adventure Anymore. Suspension Is Stiff Around Town But Perfect For Mountain Twisties. This Thing Runs Excellent And Can Out Perform Most Cars On The Road Easily. I've Put 10k Miles On This Car In My Three Year Ownership. Mostly My Weekend Car. It Had 112K When I Bought It. The Mods Were Completed By The Previous Owner. Previous Owner Was An Audi Enthusiast Who Bought A New 2013 S4 And Luckily Left This Car Sitting In The Lot At 5280 Motorsports Denver Needing Some New Coils And A Few Other Things. Since He Had His New S4, He Wasn't In A Hurry To Fix It. I Was Able To Make An Offer To The PO Who Lives In Vail And He Accepted. Unfortunately He Lost All Service Records In A Move. At The Time, I Didn't Care Because The Car Was So Sweet. I Was Soon Able To Confirm The Timing Belt And Associated Components, Brakes Pads Etc. With The Owner Of 5280 Motorsports In Denver As He Had Personally Done The Work. I've also inspected the components and they appear to be in very new condition. This Car Should Probably Go To An Audi Enthusiast Only And To Someone Who Is Able To Do Small Repairs As She Is An Older Car That Will Have Needs In The Future. Great Car As She Sits And Interested Parties Should See The Car In Person Before Negotiating And Have Finances Figured Out Before Contacting me. Price Is OBO!! Yes It Hurts To Let This Thing Go But I Recently Purchased A House And Need To Make Improvements. I Have A Tornado Red URS4 To Soften The Blow.
Send Emails With Questions So I Can Weed Out Those That Have No Real Intention of Purchase. I Will Respond To Those That Are Serious As Soon As I Can.
Thanks! Check Contact Box Above For Contact Info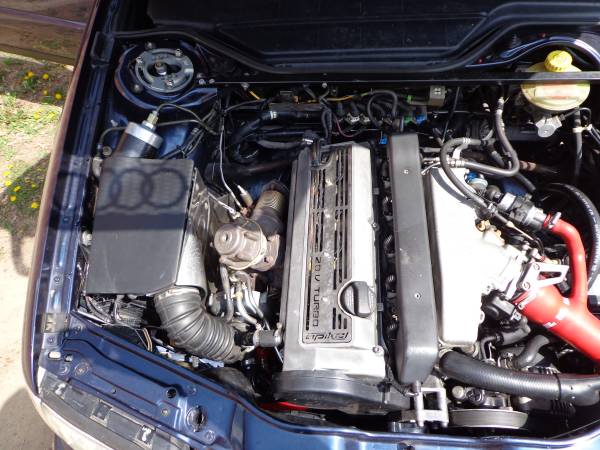 Like the first example, this Europa Blue Mica example is overall in great shape. It has much lower miles, but the lighter interior shows more wear as is typical. The modifications here are a bit more extensive in the engine compartment but still desirable items, and overall the build is pretty similar between the two. While the B6 Ronal-made Avus wheels channel the original Speedline made units in design, they're not the wheels that look right to me on this car. Again, I'd probably downsize and opt for some 17″ Boleros to really make this car pop. This car also has a non-original grill, but again it's fairly minor and innocuous. As with the first, the condition, rarity, lower miles and modifications mean this car is priced towards the top of the market for these cars currently. However, in both cases, they're about what clean E30 Tourings are trading for, and you'd be nuts to select one of those band-wagons over these two examples. Sure, they're complicated older Audis that will require regular maintenance and sourcing parts isn't always the easiest. But if you want arguably the best overall wagon Audi ever made, look no further. These Avants will continue to be highly sought and rare to find in the condition of this duo.
Thanks to our readers Ben, John, and Eric for these great spots!
-Carter