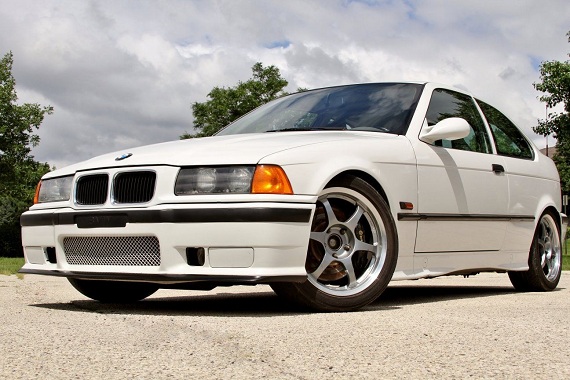 A few weeks ago, I wrote up a tidy little 318ti M-sport that, as a package, was pretty well presented. The right sprinkling of M3 details on these little hatchbacks really dresses them up and makes them a compelling alternative to a Volkswagen GTi, for example. But that car retained the original 4-cylinder motor; great for commuting and fuel economy, not so great if you want a kick in the pants. What if you took one to the next level then, and installed a full Euro-spec S50 with double the horsepower of the original motor? You'd have an even more compelling package, especially when it's presented in a very low mile chassis: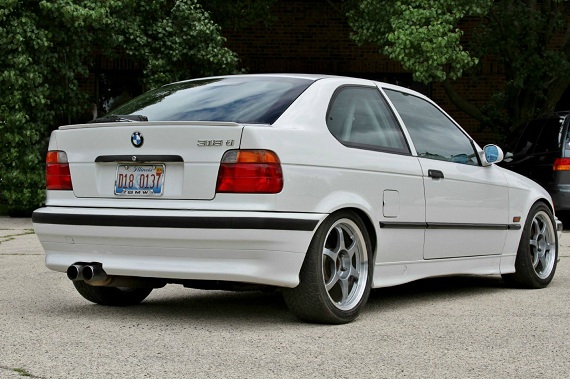 Year: 1995
Model: 318ti
Engine: 3.0 liter inline-6
Transmission: 5-speed manual
Mileage: 20,157 mi
Price: $25,000 Buy It Now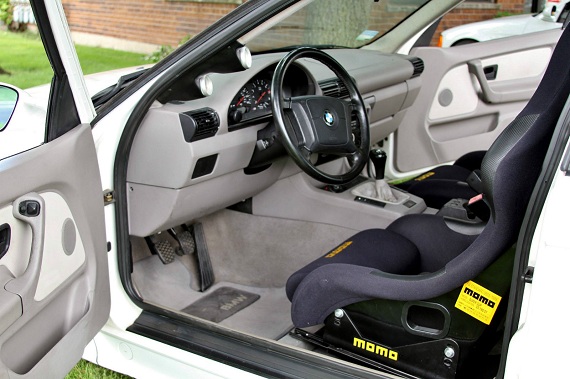 History:

If you are looking for a car that handles like an E30 M3 on steroids this is the car for you. I owned a E30 M3 and loved the handling but wanted more power. This car was a stock 1995 Vin#: WBACG5325SAM50482 that was in very good condition purchased April 2, 1998. Car has never been driven in snow since purchase. The following options turned the car into a quick and fast, excellent handling, fun car. The ti weighs 2,734# vs. 3175 for the E36 M3 with 240hp.

Engine History:

European-spec S50 B30 M Power engine rated at 295 horsepower.

Features:

Turner Performance Chip

Mahle Piston Kit

Borla performance exhaust

Dinan adjustable Rear Camber kit

E30 M3 sub Frame

SSR 17″ wheels with alloy Nuts and studs

Alloy Flywheel

F40 Brembo Brakes

5-speed Transmission

Air Ducts to Shark Cool Air Box

Motorsport Stress Bar

M3 side mirrors

Jet Hot Sterling finish on headers

E36 M Front and Rear covers

Momo Seats with Slider kit

TC Kline Roll Bar

Battery located in Spare tire well

Care:

All fluids changed with top grade premium fluids

Leather interior cleaned – no tears rear seats perfect

Momo's can be exchanged for Original front seats

Body maintained – excellent condition

Chicago area BMW tech that built car is glad to maintain the car.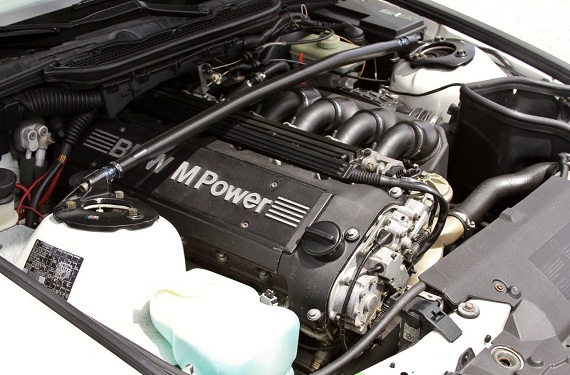 If you want a fun track car, these lively 318tis are a great option, and this one has the scoot to match the more aggressive M3 kit that is attached to it. Honestly, I think it's probably a step too far; I'd prefer to see this as more of a street car, though the seller says the seats can be swapped. The pieces are the ones you'd want to choose if you were building the car yourself and the low mileage chassis is a big plus. Downsides? Well, the price for one – $25,000 is certainly all the money for any E36 right now, and you could pickup going on 3 M3s for the same amount. None of them would be as quick, but the point is that you could probably recreate this car for the same amount of money – or less, if you did the work yourself – with the details you wanted. As with the S8 from last week, though, if you want a turn-key M3-powered 318ti in pristine condition ready to hit the track, your options are very limited. Still, despite the clean build I think this car is a pretty hard sell at the current rate.
-Carter