Warning!
This post is in our archives. Links in this post may have been updated to point to similar cars available to bid on eBay.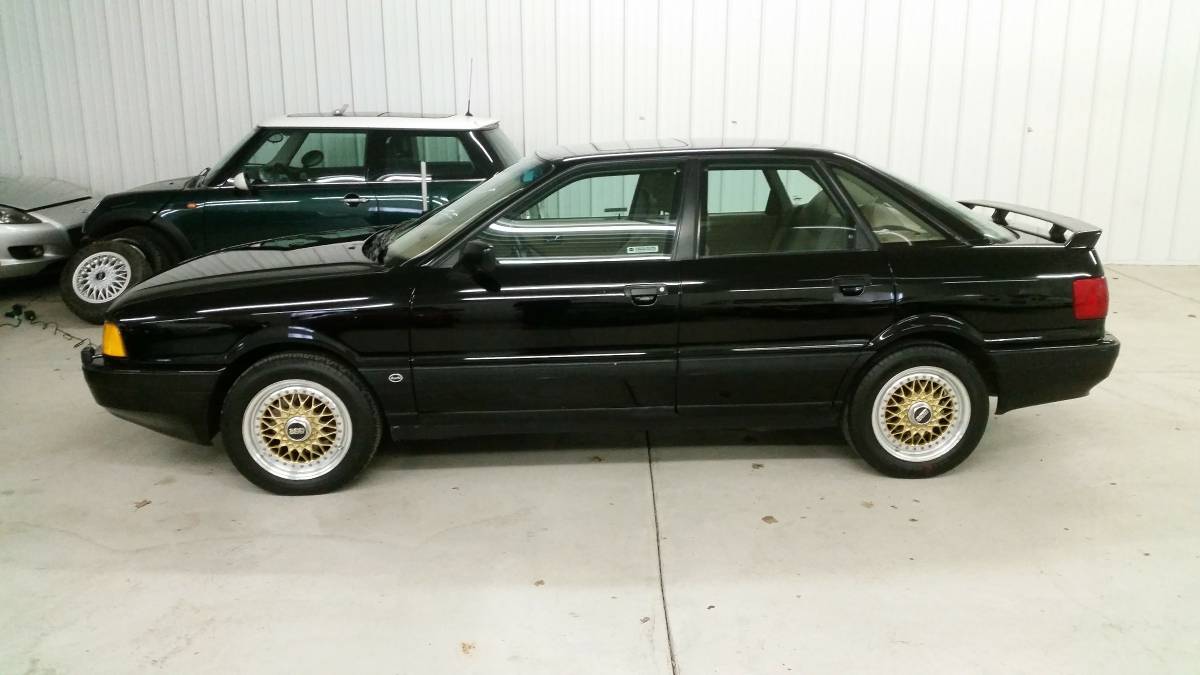 Update 5/18/18 – After failing to sell last year at nearly $8,000, this sweet and rare 1990 Audi 90 quattro 20V with some fantastic period-correct BBS RS wheels is back on eBay with an opening bid at only $4,000!
Just as they had with the development of the 10V Turbo for their top tier products, Audi's work on the Group B, Sport and later RR 20V Quattro (along with the creation of the original S-series cars soon after) trickled down into the rest of the range, but only in a very limited fashion. The 7A 2.3 liter 20V motor was the beneficiary of that racing work, and it was at the time a pretty impressive unit. Out of 2.3 liters, Audi squeezed a very reliable 164 horsepower with a screaming 7,200 RPM redline. While it's true this was down on peak power to racing motors like the M3's S14, the adding of the second cam and a modern EFI engine management also yielded nearly 160 ft.lb of torque.
So why does everyone claim that this car was under-powered?
Weight. The luxury-oriented B3 was most popular in Coupe form, where at 3,300 lbs in 1991 it was in need of a diet. It was 30 horsepower down on the BMW, and weighed 500 lbs more, with a more frontward weight bias. A performance car this did not make, and the result was that the expensive Audis leisurely gained speed. Despite the near 50% power increase over the outgoing Coupe GT, a stock B3 Coupe Quattro shared near identical 0-60 times and cost $10,000 more.
But if you were a clever buyer, you could get slightly better performance out of the 4-door variant of the naturally aspirated double overhead cam inline-5. That's because concurrent with Coupe production, the motor and drivetrain was offered in the slightly lighter 90 quattro 20V: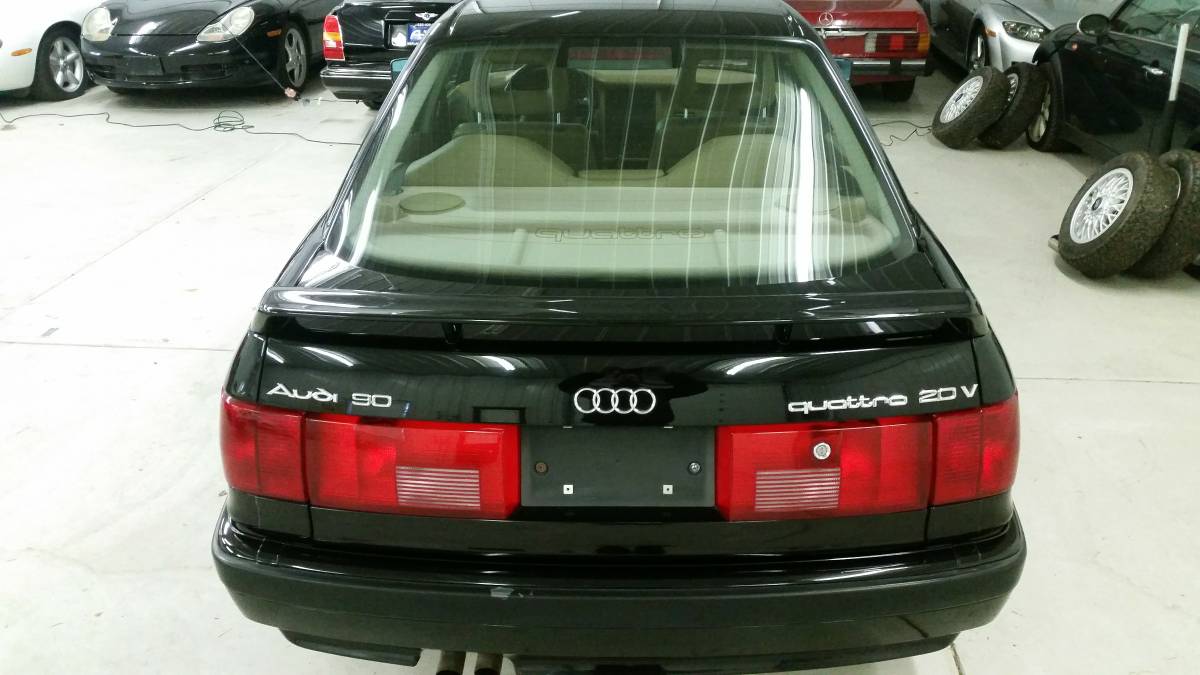 Year: 1990
Model: 90 quattro 20V
Engine: 2.3 liter inline-5
Transmission: 5-speed manual
Mileage: 160,000 mi
Price: No Reserve Auction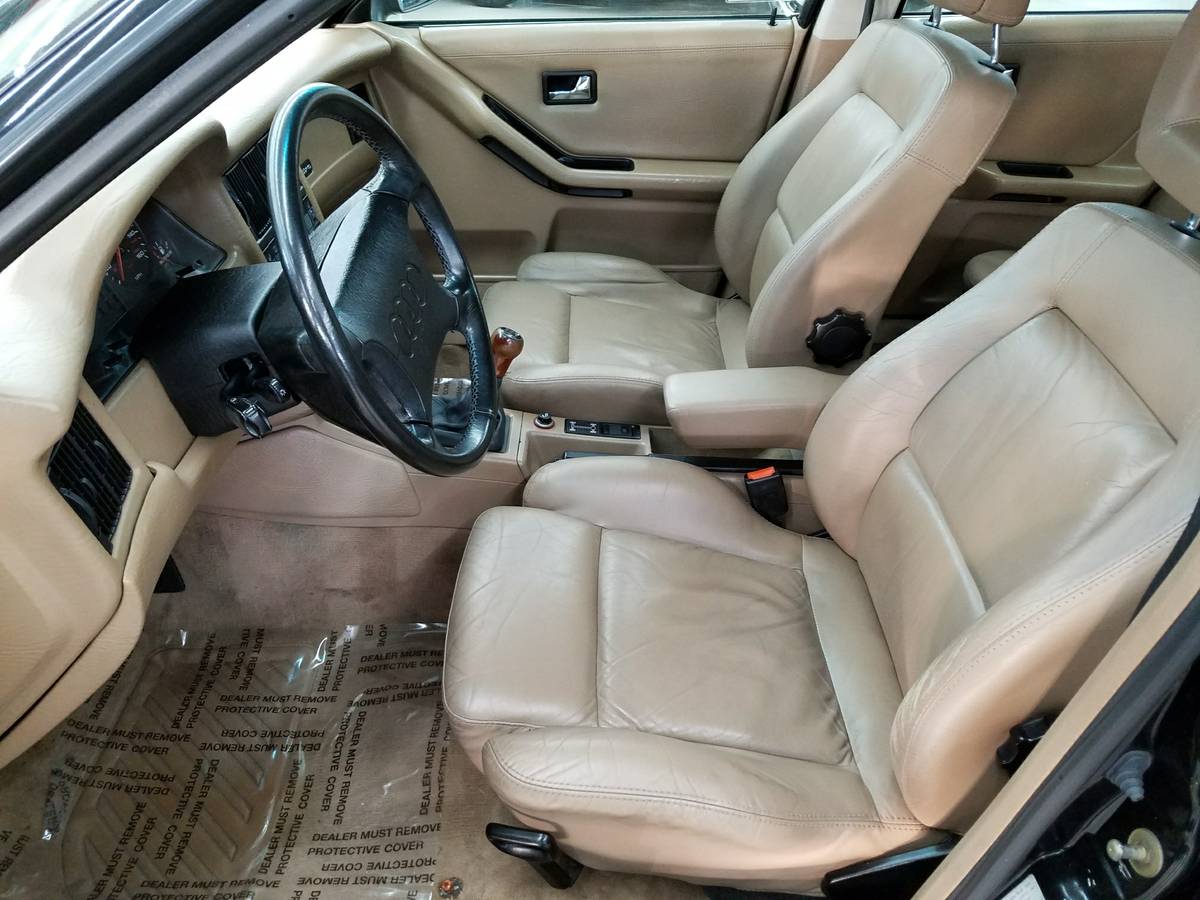 If you're looking to complete your Audi World Rally Championship collection, this car is a must! One of less than 1000 brought into the US in 1990/91. It is mint, and unchanged.

Once upon a time, when the German car companies had only just begun one-upping each other with continually increasing horsepower numbers – Its buffest competitors, the 158-hp Mercedes-Benz 190E 2.6 and the 168-hp BMW 325i, boasted in-line sixes that made mincemeat of most, until 1990, when the Audi 90 Quattro 20V showed up to challenge the big boys;
Ten extra valves pumped up the power to 164 hp, dropping the four-ringed contender right into the thick of the fight — and the 20V had something its rivals didn't: four valves per cylinder and a tachometer that didn't turn red until after it reached 7000 rpm.

The 20V engine was paired only with all-wheel drive, a sport suspension, and a five-speed manual transmission, confirming this as the driver's car of the 80/90 lineup. The 2.3-liter five-cylinder demands that you keep the tachometer needle aimed high, and its heavy flywheel requires a big stomp of your right Piloti to blip revs between gears. There's a stiff spot in the accelerator pedal's travel that tells you when you've begun to open the secondary throttle butterfly — and that's when the real music starts.

In Audi's book of heritage and history, there's room enough for only one hot 90 sedan-the one with five cylinders, twenty valves, and an ABS kill switch.

THE SPECS

ENGINE: 2.3L DOHC I-5, 164 hp, 157 lb-ft
TRANSMISSION: 5-speed manual
DRIVE: 4-wheel
SUSPENSION, FRONT: Strut-type, coil springs
SUSPENSION, REAR: Strut-type, coil springs
BRAKES F/R: Vented discs/discs, ABS
WEIGHT: 3180 lb

THE INFO

YEARS PRODUCED: 1990-1991
NUMBER PRODUCED Likely fewer than 1000 for the U.S. market
ORIGINAL PRICE: $27,500 (1990)
TWO WHEEL OPTIONS – Includes both sets of BBS Wheels, One set original silver, One set after market gold and polished aluminium.

WHY BUY?:
The 20V was a high-strung, all-wheel-drive, 135-mph autobahn stormer that derived its coolness from Audi's rally heritage – making this a very rare car indeed.

$7,950.00 Feel free to make an offer – CASH, WIRE TRANSFER, NO CHECKS, Possible Meet at local bank.

Please send me your contact info so I know you are NOT a spam – I will call you. Please note, without contact info – reply will be ignored! NO INSURANCE Companies please – VIN will be supplied as transaction progresses, thanks.
Thanks for taking a look!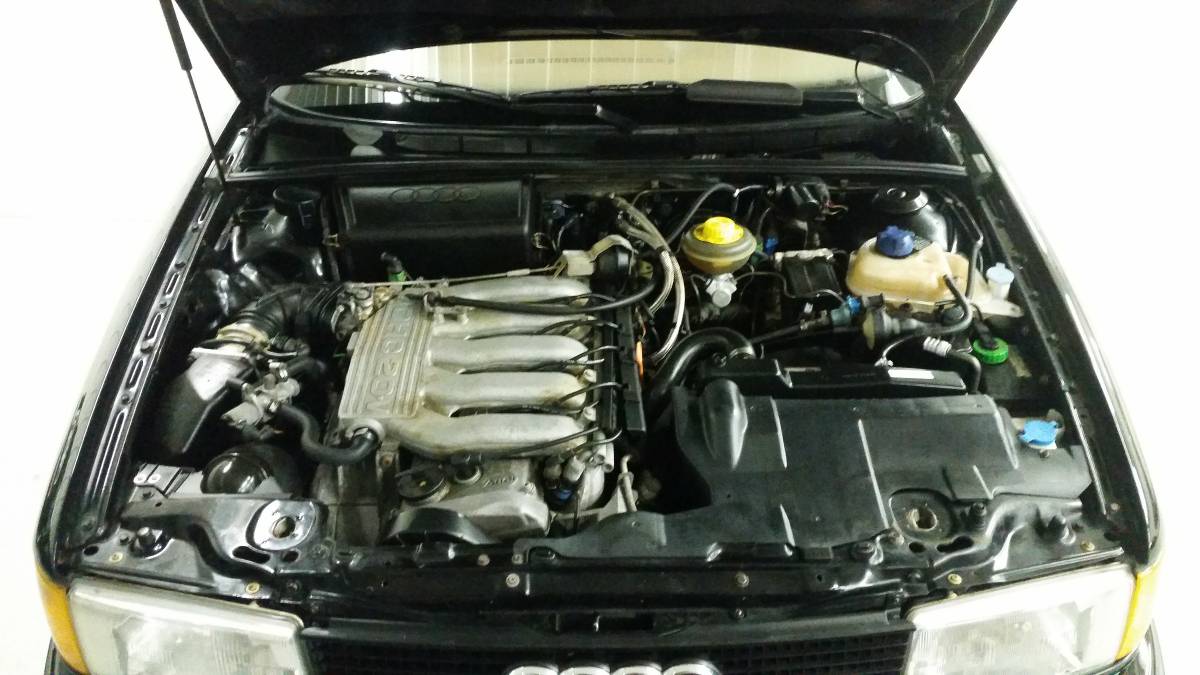 The 90 went without the larger dual-piston G60 Girling brakes up front and wore smaller 14″ wheels (15″ Speedlines, in a unique offset, were available at extra cost). Outside of smaller brakes up front, otherwise the drivetrain and suspension was unchanged between the two. With less floor strengthening necessary thanks to smaller portals and without the huge glass rear hatch, the 90 was the best part of 150 lbs. lighter than the 2-door. While Audi claimed the performance was equal, car magazine tests did not agree. Car and Driver clocked the 90 the best part of a second faster than the Coupe to 60 (7.9 v. 8.7) and recorded a higher top speed (137 v. 133), better cornering (.80 g v. .79 g) and a quicker 1/4 mile (16.0 v. 16.5). In fact, none of the magazines got close to Audi's claim that the Coupe could do the 60 run in 8 seconds (most were closer to 9), while the sedan performed the task.
Of course, the lower offset wheels and sexier nature of the Coupe meant it was a better seller, even with a slightly higher price. This means that today, finding a very clean 90 quattro 20V is very, very hard. Craig spied this one in passing and forwarded to me, and it's one of the nicest I've seen in at least a year, if not more. Indeed, the last one I looked at was similarly mint but from over a year ago! Compared to that car, this one probably has a color combination more are excited about. Condition is on par though miles are slightly higher. That car had the nice optional 15″ high-offset Speedline wheels unique to the sedan, but this car has much more valuable BBS RSs that look great. The pricing of the 1991 was a bit better, and '91s have additional rear sway bars that not all '90 90s had. Considering the BBSs (which, incidentally, I'd love to know which RS model they are; they look higher in offset than my RS159s) are worth probably $1,500 on their own, is this 90 quattro worth around $6,500? It's a strong ask especially with no documented history, but the condition is great overall and we're not likely to see a flood of these come out of the woodwork even if values increase. If you love the bullet-proof nature of the naturally aspirated inline-5 and don't mind that this is a more relaxed sport sedan, it's reasonable good deal (though not as stunning of a great deal as the '91 from last year!)
-Carter