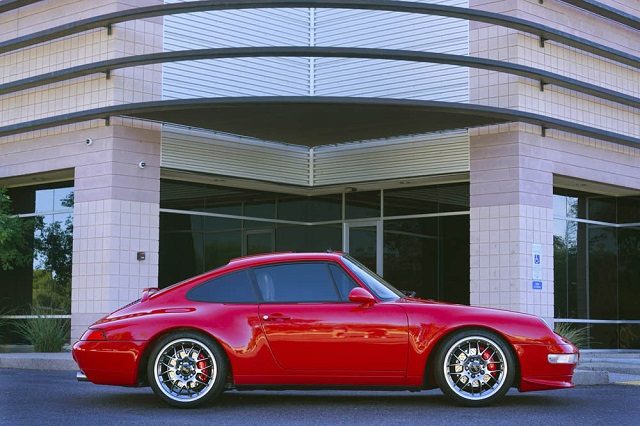 I can see why a magazine might call this 993 a sleeper. Of course, with its bright red paint it certainly isn't going to escape notice so I'm not sure it fits the bill of the wolf in sheep's clothing. Maybe a wolf in a ball gown? Either way, with a reported 550 bhp on tap this 1995 Porsche 911 Carrera Coupe definitely will take the unsuspecting by surprise. With its standard Carrera body and no whale tail it certainly doesn't look like a 911 Turbo, but it goes like one. In fact, given that the 993TT only made 408 hp it actually goes better than one. Naturally, with any such build seeing some proof of these numbers would be useful, though many owners might be satisfied using seat-of-the-pants testing. What we'll surely want to see is the documentation of the build. It doesn't appear to be running any kind of intercooler so I'm curious how all of this manages to work efficiently, but I'm no turbo expert so perhaps it's no problem at all. None the less, performance should be quite breathtaking and it looks pretty darn good as well. Love the BBS RS-GT wheels on the 993!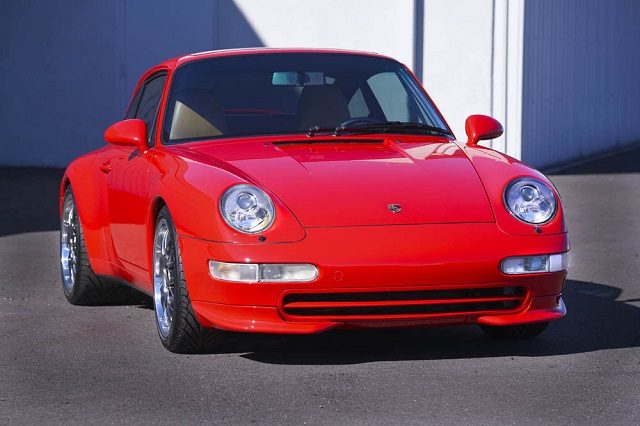 Year: 1995
Model: 911 Turbo
Engine: 3.6 liter twin-turbocharged flat-6
Transmission: 6-speed manual
Mileage: 94,200 mi
Price: Reserve Auction ($95,000 Buy It Now)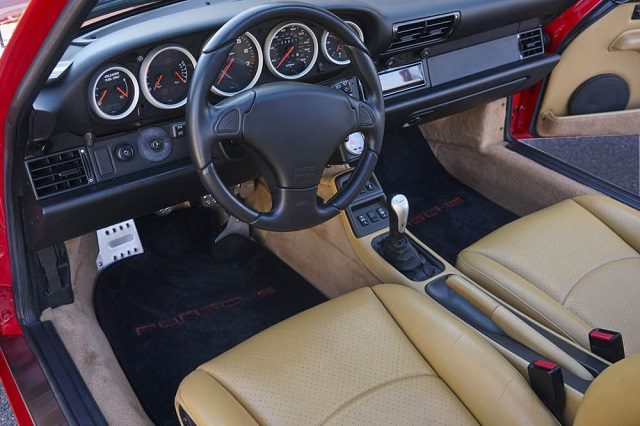 This beautiful example of Porsche's famed air-cooled 1995 993, is far from just a regular Porsche 993. Starting life in Arizona, Original owner, no accidents or even had a single panel painted. The finish on this car is ceramic with advanced Glare over the top. The car is fully prepared to enter a full Concourse event. This car has been named THE SLEEPER in Porsche Excellence magazine some years ago. The five page article tells it all, but for now; these are the highlights.

The changes include a custom built 3.6l "twin-turbo. The Garrett turbos are programmed to run approx 12 psi, it can be dialed up another 100 bhp. This engine has been stated to have 550 bhp, roughly 442 at the rear tires. The motor is coupled to the stock six speed transmission with a short shifter. A Porsche 993 RS racing clutch was added to handle the additional power. Also installed was a 3.8 racing flywheel. There are hundreds of photos that come with the car showing the motor being built and installed. Four piston Brembo calipers with racing pads have also been added. The stock struts were replaced with fully adjustable Bilstein coil over shocks for the best handing and ride height. Wheels are BBS RS 8 X 18 front and 10 X 18 rear. The engine has approx 28k and was re-sealed less than 100 miles ago.

Inside the interior a slightly smaller steering wheel was added, an $8k+ sound system and a uniquely hidden K-40 radar detector system.

I have the factory rear seats, window sticker, tools and even the air pump for the spare. This car is not only unique, it is also a true collectible1 Good luck bidding, you will not be disappointed especially when you blow past your buddies new Porsche..

Call anytime or email me for more photos.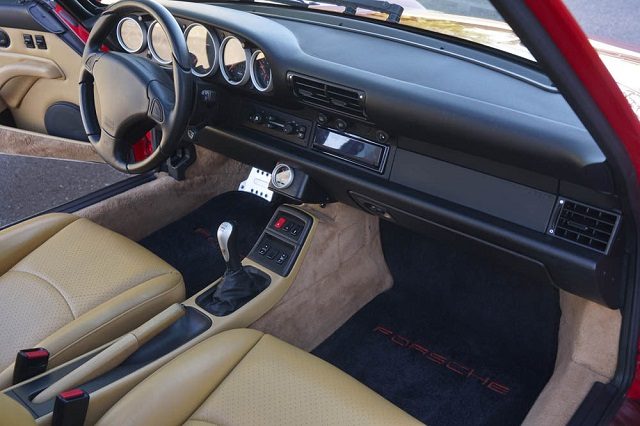 Thankfully, in addition to the engine upgrades this 993 also has upgraded brakes and suspension to help keep everything under control and upgraded clutch and flywheel to help deliver the extra power to the rear wheels. We're beyond GT2 levels of power here so this is a 911 that has to be taken very seriously with all of that power coming only to the rear.
When I first came across this 911 I thought, "Great! It looks like we have another reasonably price Turbo on the market." Then after digging further I realized this wasn't a modified Turbo, but rather a modified base Carrera that is now turbocharged. When it comes to market value that might make a significant difference and accounts for why we've yet to see a bid placed here. Frankly, I don't know what the value of this 993 should be. That a modified 911 like this is one owner is a nice bonus since plenty of information should be available and ideally plenty of records. All of that will at least help provide peace of mind and insure buyers know precisely what they're getting. Does that mean it'll fetch $95K? Probably not. Or at least not unless someone comes along looking for exactly this sort of 993. That isn't impossible, especially if there are people in the community who are familiar with the car and might have long had an eye on it, but it's probably still too high. We'll have to see though and no matter what it sells for someone will be getting their hands on a seriously quick 993.
-Rob