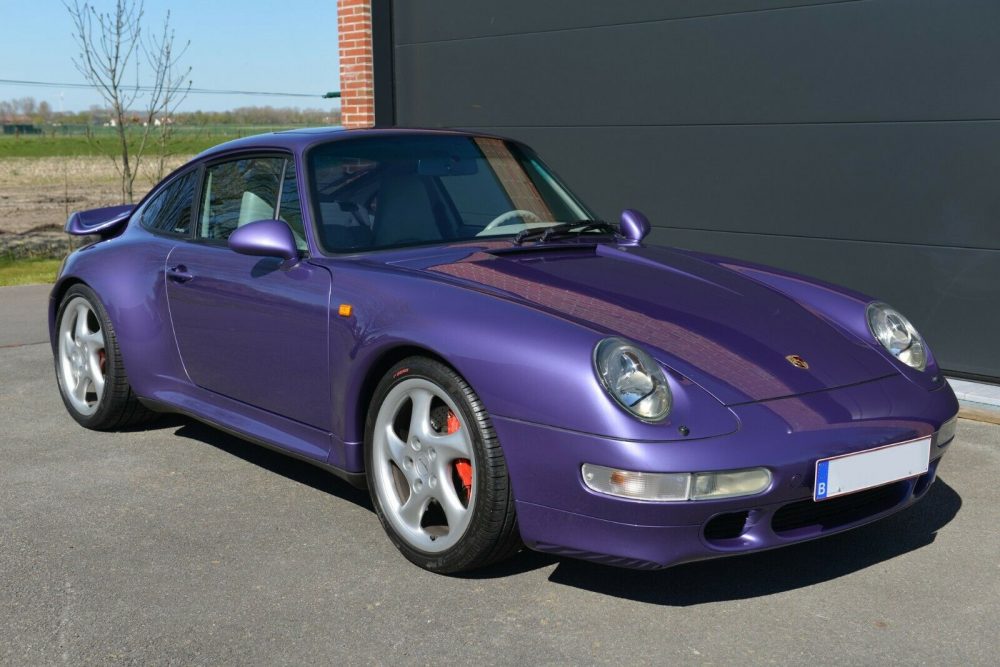 Wow. That is all I can say about this one. This of course being a 1995 Porsche 911 Turbo finished in Violet Blue Metallic over a Florence Gray leather interior. It is bold both inside and out as you can see, and for some, an ultimate 911. The 993 Turbo has held steady around the $100,000 for the nice examples with some miles, but this one up in Belgium has just under 27,000 miles. Needless to say, this car is not around $100,000. Not even close.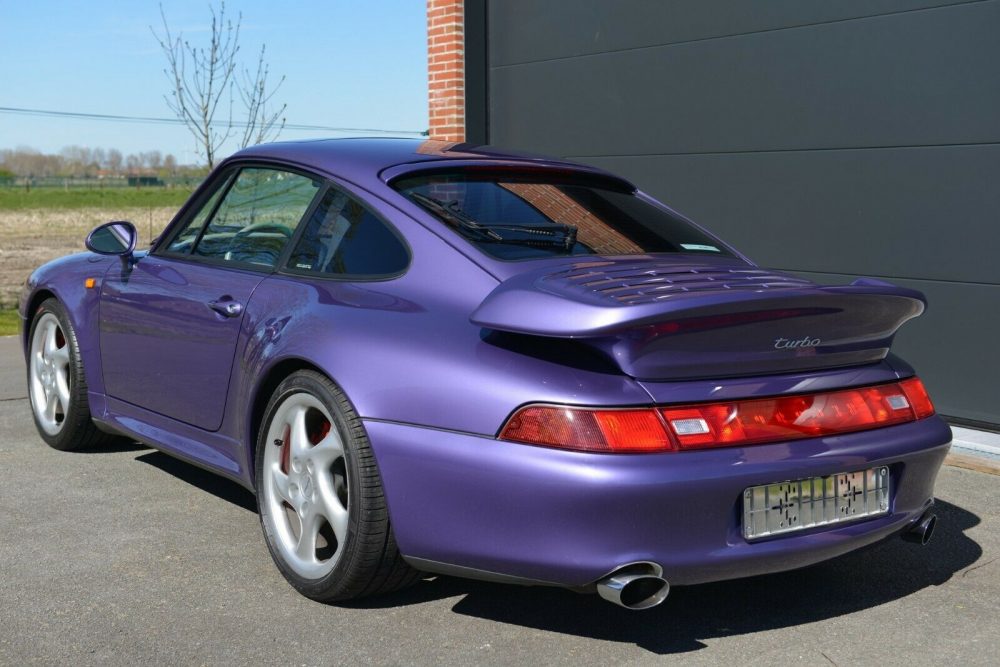 Year: 1995
Model: 911 Turbo
VIN: N/A
Engine: 3.6 liter twin-turbocharged flat-6
Transmission: 6-speed manual
Mileage: 45,000 km (27,961 mi)
Location: Brugge, Belgium
Price: €165,993 ($195,223 Today)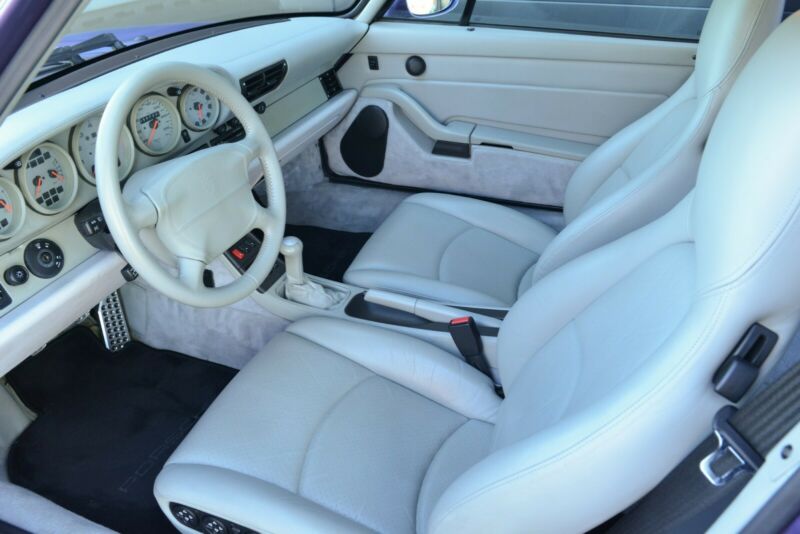 Magnificent Porsche 993 Turbo with only 45,000 km. Very rare violet blue metallic with Firenzegrau full leather interior. Many special order and Porsche Exclusiv options. This is a one-off and unique car. The car has recently benefited from a full service and turbo rebuild at a cost of 10,000 euros. This amazing Porsche is ready to be driven and enjoyed

Options:
567 Windshield green graduated tint
650 Electric sunroof
P14 Heated seats left and right
X19 Leather instrument housing
X26 Steering wheel all leather
X34 Special order dial color code + leather around dials

Z-Orders
00011 Violet blue metallic 37E Special order color
00311 Firenzegrau interior E27 Special order color
10461 Gear lever + parking brake lever in leather, special order color
16921 Carpet Edges in leather
16951 Headliner in leather, special order color
16952 Window pillars and door pillars in leather, special order color
16953 Sun visors in leather, special order color
18231 Special order carpet

M-Codes
130 Labeling in English
139 Seat heating left
193 Model for Japan
197 88 Ah battery
210 License plate holder type II
220 Locking differential
224 Active Brake Differential (ABD)
235 Bridgestone N1 / Pirelli N1
288 Headlight washers
323 Sticker without ECE regulations
335 Automatic 3-point rear seat belts
339 All wheel drive
340 Seat heating right
408 18 ″ Turbo Look wheels
423 Cassette Container and Coin Box
425 Rear wiper
434 Work instructions for cars overseas
437 Comfort seat left
438 Comfort seat right
441 Radio speakers and antenna amplifier
455 Wheel locks
480 6 Speed ​​manual transmission
490 Hi Fi sound system
534 Anti-theft system
544 75 liter tank
562 Air bag for driver and passengers side
566 Rectangular front fog lights, white
573 Air conditioner
599 Roof cover molding
605 Vertical headlight adjustment
651 Electric windows
657 Power steering
659 Onboard computer
660 OBD II
685 Divided rear seat
936 Seat cover rear leather
975 Velor carpet in luggage compartment
981 Leather equipment without seat covers
983 Leather seat covers front and rear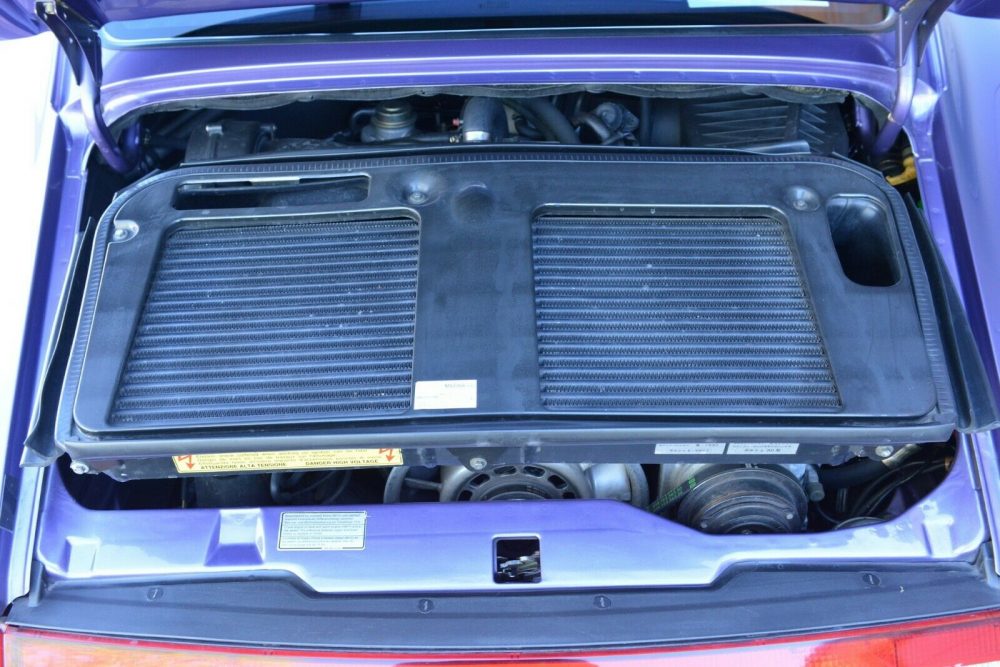 As crazy as the purple is, the interior covering in leather on almost every surface really knocks your socks off. It looks like this car was first delivered in Japan, which explains the crazy color combo, but now made its way to Belgium. The condition looks outstanding and the seller on this one said a full service was carried out at over $10,000. What does that all add up to?
A cool $195,000 and change. One of the priciest non-Turbo S 993s I've seen in a while. Worth it? Go find another one, as they say. If you wanted to stand out in the sea of silver and black 993 Turbos, here you go. Yes, its a crazy price, but who am I to try to argue this one? An interesting proposal, this car, or a Turbo S with 100,000 miles?
– Andrew