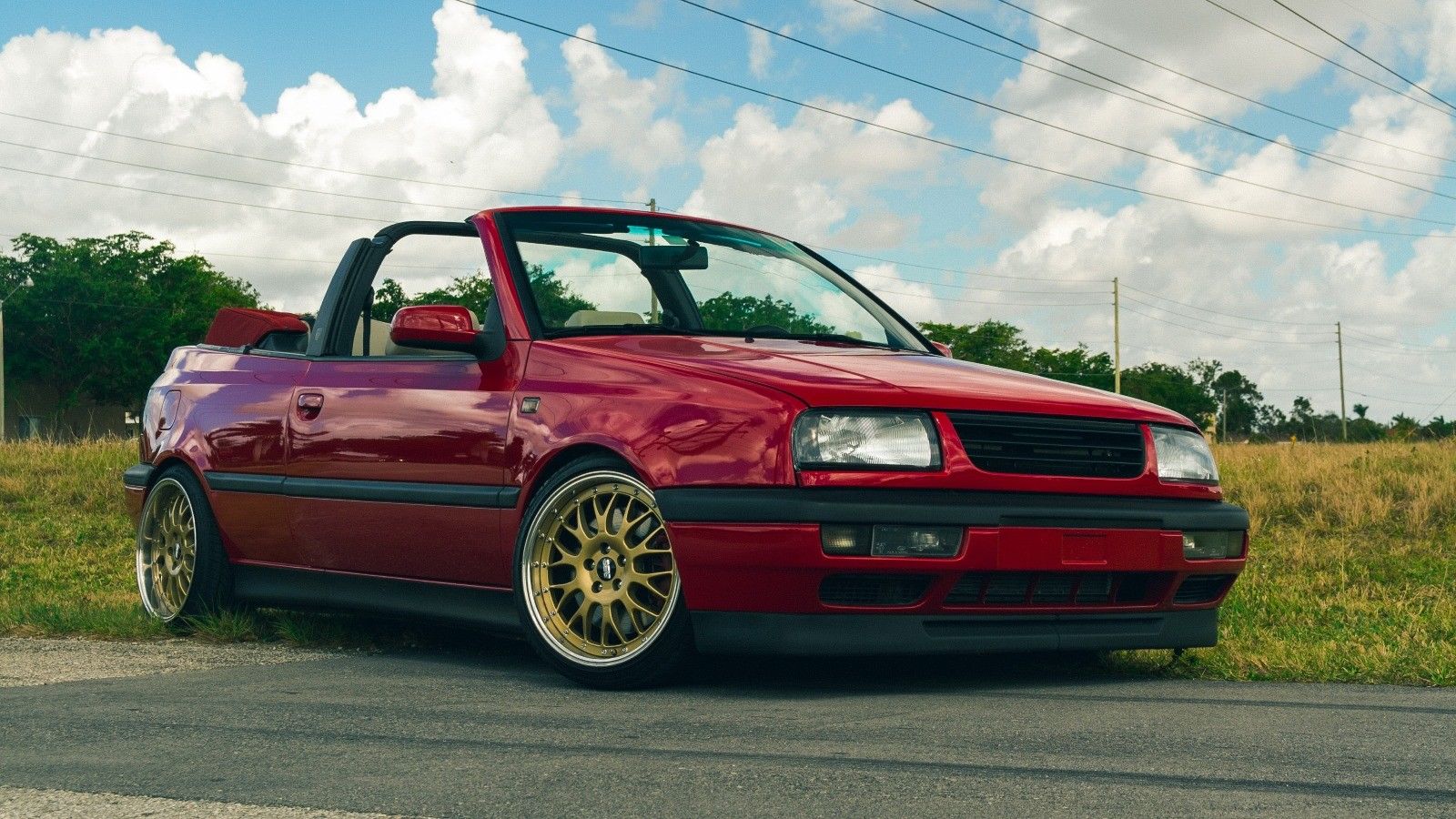 When the second generation Cabriolet finally launched for 1995, Volkswagen had waited so long to replace the A1 chassis that it completely bypassed the A2. What appeared then was a A3 chassis, and compared to the outgoing model it was bigger, rounder, softer and not appreciably sportier. Motivation was from the same ABA 2.0 inline-4 found in the standard Golf rated at 115 horsepower, so to make it 'hipper' Volkswagen dropped the "let" from the name.
It was, however, instantly recognizable as the new go-to affordable 4-seater drop-top, but sales were slow in the mid-90s. Volkswagen sold just over 5,800 1996s, for example. They were pretty expensive for a Golf at nearly $20,000 MSRP and over with some options, but then this was the cheapest German convertible you could buy. The big problem was that for less money you could get the much more entertaining (and reliable) Miata. The combination of low production numbers, the classic styling of the original and lack of enthusiast appeal mean we just about never feature them. I last wrote up a Cabriolet in July 2017, and the last Cabrio was a year earlier. So there's nothing to see here? Not with this turned up and built one, that's for sure!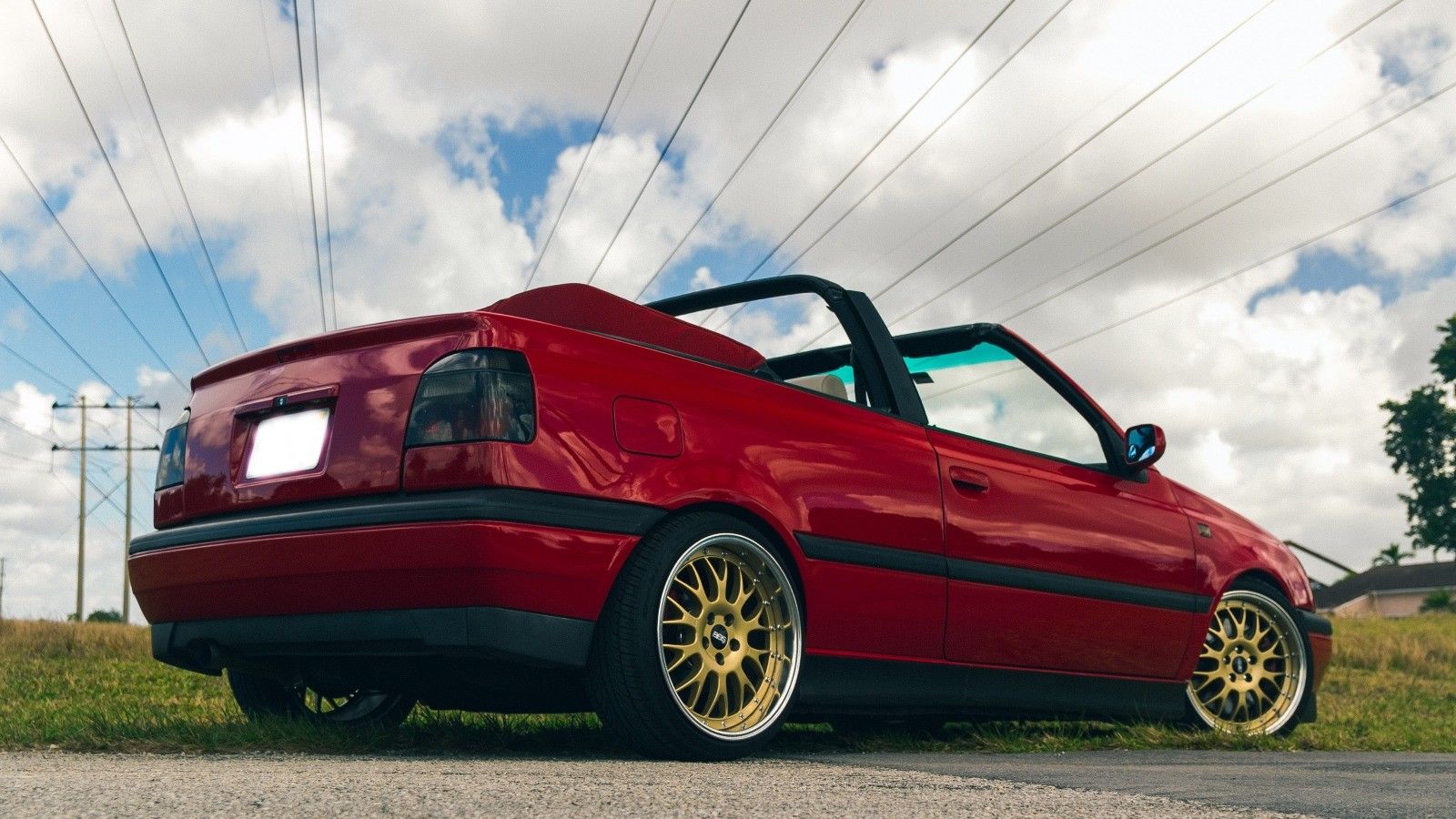 Year: 1995
Model: Cabriolet
Engine: 1.8 liter turbocharged inline-4
Transmission: 5-speed manual
Mileage: ~90,000 mi
Price: $8,000 Buy It Now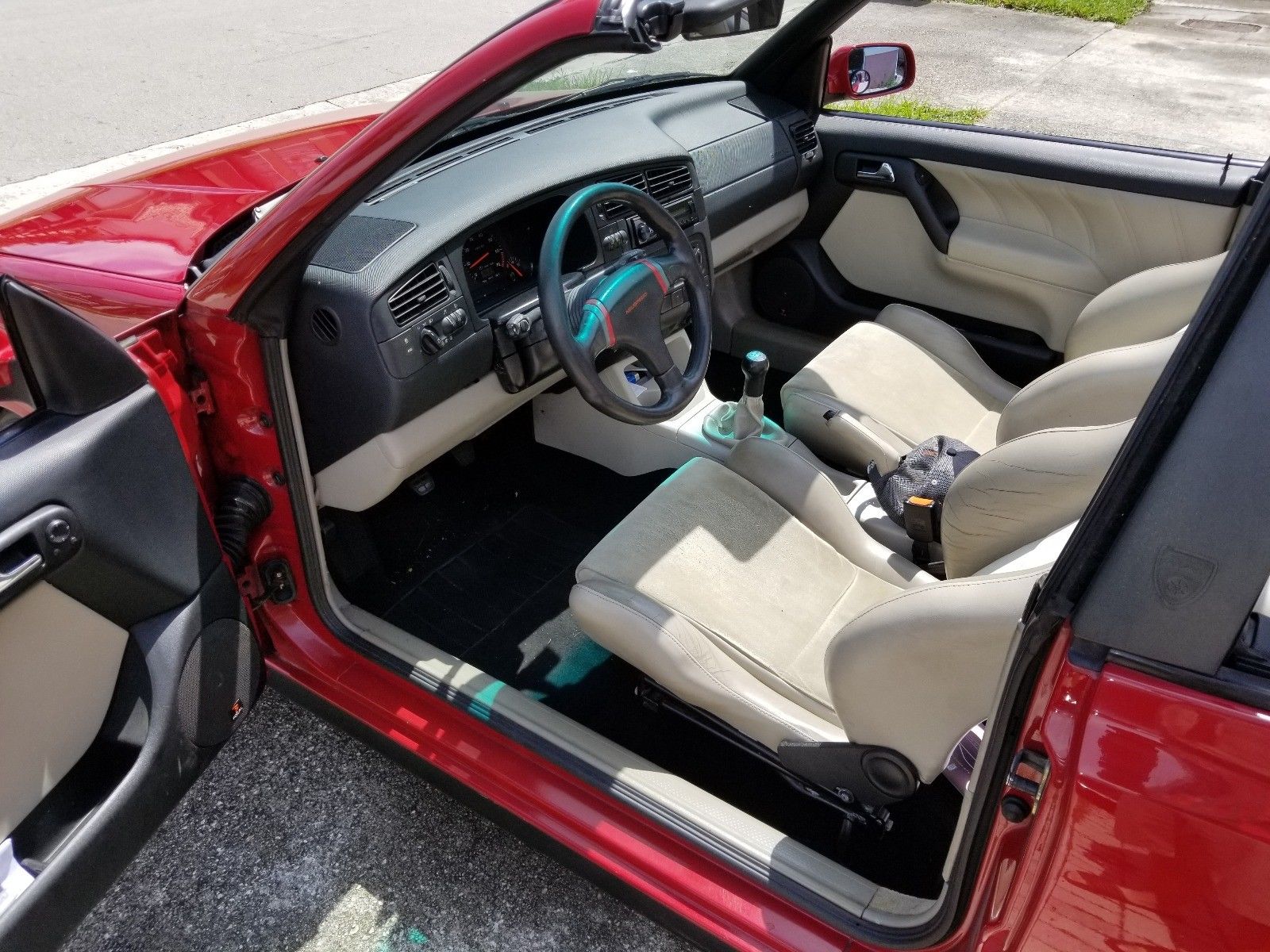 Well, the time has come. My Cabrio is up FOR SALE. Call/text me for details. Nothing about this car is stock.

EXTERIOR
Full bare metal respray Imola red BMW m3 color
Audi A6 door handles
VR6 Front Lip
Euro bumpers, front and rear
Euro rad support
Euro fenders (real deal) with smoked turns
Euro trim all the way around
Smoked E-Code Jetta headlights (Jetta front end conversion)
Hella smoked rears
Hartz stay fast custom one off red top triple padded color matched top

INTERIOR
MK3.5 dimple dash conversion
MK3.5 dimple top/leather front and rear door cards
MK2 Recaro front seats recovered in tan leather with suede inserts
rear recovered in tan with suede inserts
Homelink system from the Passat molded in mk3 sun visor
Early 90s Nuespeed steering wheel
New OEM black carpet
Tan leather shifter boot and e brake
Suede black headliner
Euro low rise rear e-brake console

WHEELS
Car will NOT be sold with pictured BBS wheels. Will be fitted with BBS 18″ RC Wheels.

SUSPENSION/BRAKES
H&R Ultra low Coilovers
Nuespeed rear sway bar
Nuespeed upper strut bar (not currently installed)
R32AUDI TT 12.3 FR BIG BRAKE KIT
5 lug swap

TRANS
corrado g60 trans O2A
Sachs sport clutch (less than 500 miles)
corrado trans brace
lightened flywheel

MOTOR
2002 GTI 1.8T SWAP with Revo Tune
drive by cable mgmt
Techtonics Tuning Downpipe
90K on the motor
All service parts done less than 2k mils ago. (Water pump, timing belt etc)
duel inline custom 1-off intercoolers
ALL NEW a/c system. EVERY component of the A/C is brand new.
custom 2.5 in exhaust with cat and Borla muffler

STEREO
Custom trunk set up with 12″ subwoofer and amp
Pioneer Bluetooth/USB/AUX deck
Focal speakers throughout the car

MISC
tinted windows
matching red boot cover for top and with matching bag
Noah tailored fit Car Cover
folder of receipts
car has 90k on body

Known Issues:
Small dent on driver side quarter panel. No paint damage.

My name is Rick and the car can been seen by appointment only. I can be
reached by email.

It is NOT daily driven and is maintained in a garage. Has not seen rain or
been out in the elements since I've owned it and even before that. The amount of hours and $
that has gone into this car is insane. It really is a work of art. Everything
works and is ready to cruise. I'm sure there are odds and ends that I am
forgetting to mention. NOT interested in any trades. I have the title in hand.
I am willing to assist with transportation and delivery at buyers expense.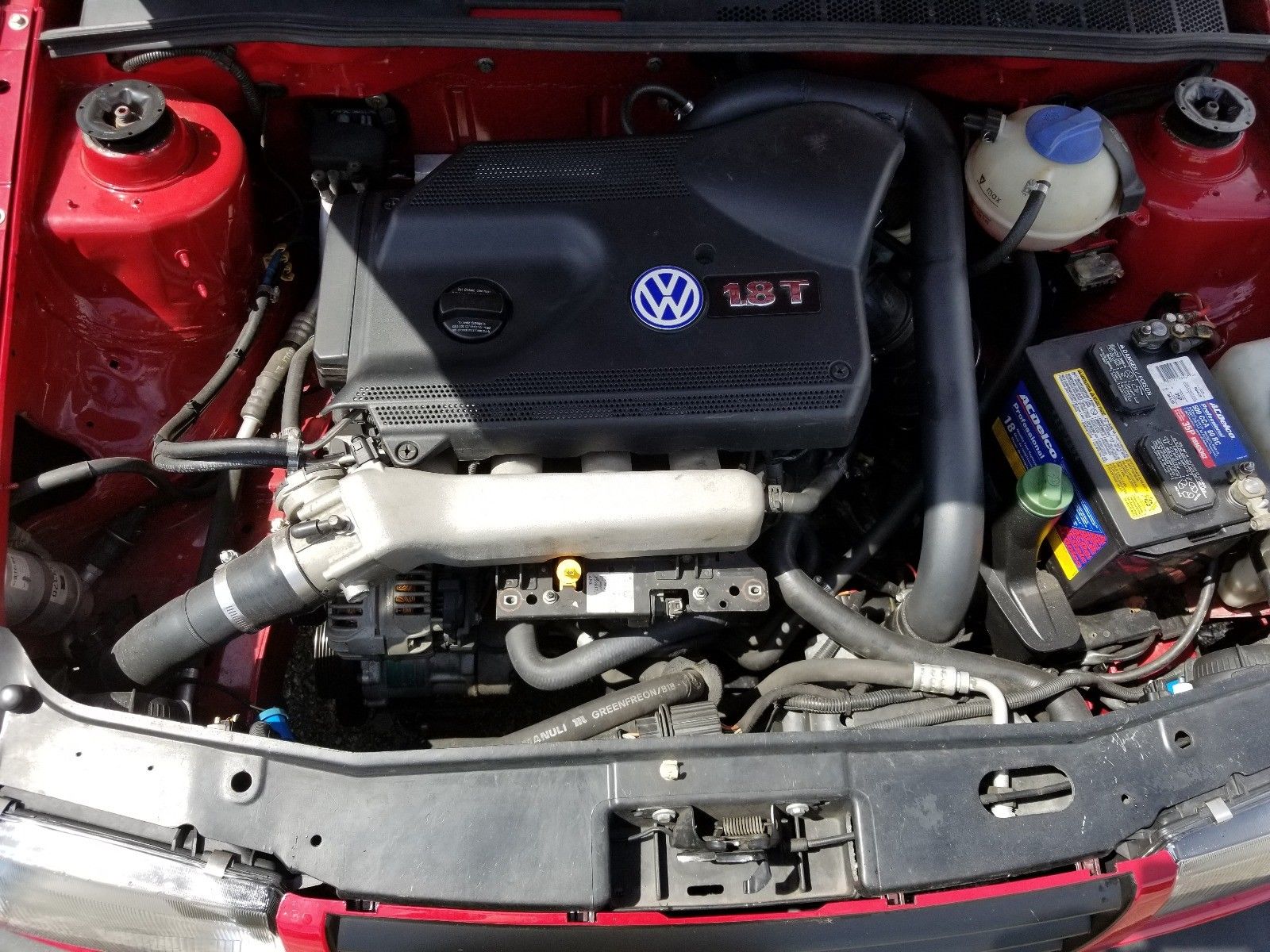 I was really drawn to this car by the look. The lowered stance, BBS wheels and great exterior color choice of BMW's Imola Red really suit the car well. Subtle exterior modifications like the European black beltline trim add to the appeal minus (at least for me) the Jetta light swap. I really prefer the dual-chamber GTI lights, but it should be an easy swap if you really wanted to revise the look. The seller has also updated the car with the later "3.5" Cabrio interior with some slickly matched Mk.2 seats and a sweet Momo/Hella Neuspeed wheel. Motivation has been seriously upgraded with a 1.8T swap which has several benefits versus the typical VR6 swap. Sure, you lose the noise of the narrow-angle, but the 1.8T is even more powerful when turned up and isn't quite as nose-heavy. A 2002-spec engine, this should be a AWP rated at 180 horsepower. But the big deal here is the functional air conditioning – so rarely seen in a swapped car. There are few gripes other than the seller doesn't picture the car with the presumably GLI-spec BBS RC wheels it will be sold on. It's a clean and very tasteful build overall.
Pricing? The $8,000 ask is certainly high for a Mk.3 Cabrio, many of which you can find in pretty good condition for well under half that amount. But the work done here and the unique status means this car has appeal even at the higher number.
-Carter