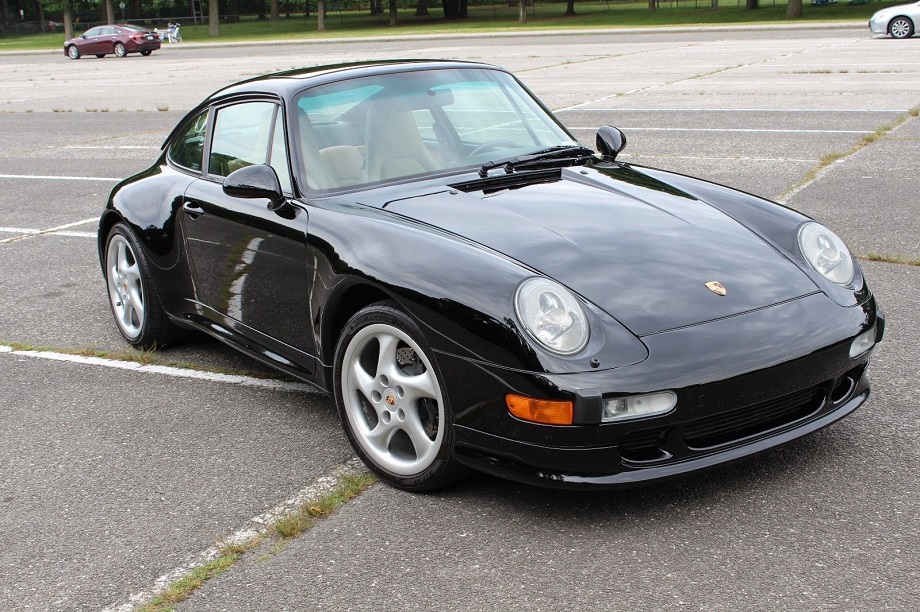 A black 911 isn't always going to be the thing to draw our attention. After all, we see black 911s all the time. But when the color is covering one of the best looking 911s, then I think we have something. Here we have a 1997 Porsche 911 Carrera S, located in Brooklyn, with a reported 68,000 miles on it. The black exterior is contrasted with a beige interior. For some, and that includes me, that light and dark juxtaposition between exterior and interior is just about perfect. For others it doesn't work. If you happen to be one of those in the former camp, then I think this one deserves a look. Like with any C2S the price is pretty high, but you are getting one of the best naturally-aspirated air-cooled 911s Porsche produced and certainly one of the most attractive overall designs.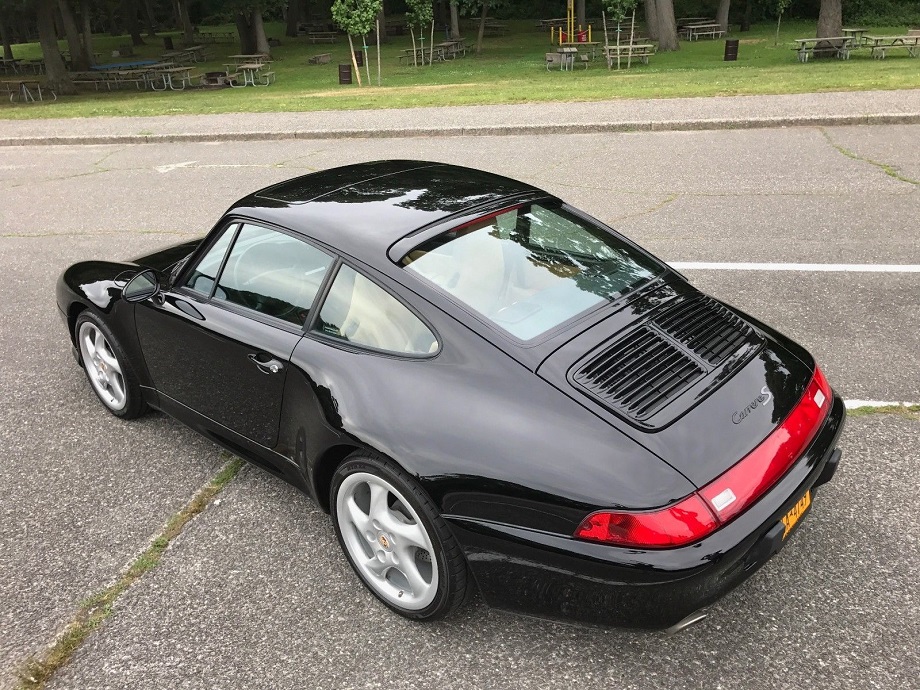 Year: 1997
Model: 911 Carrera S
Engine: 3.6 liter flat-6
Transmission: 6-speed manual
Mileage: 68,000 mi
Price: $96,000 Buy It Now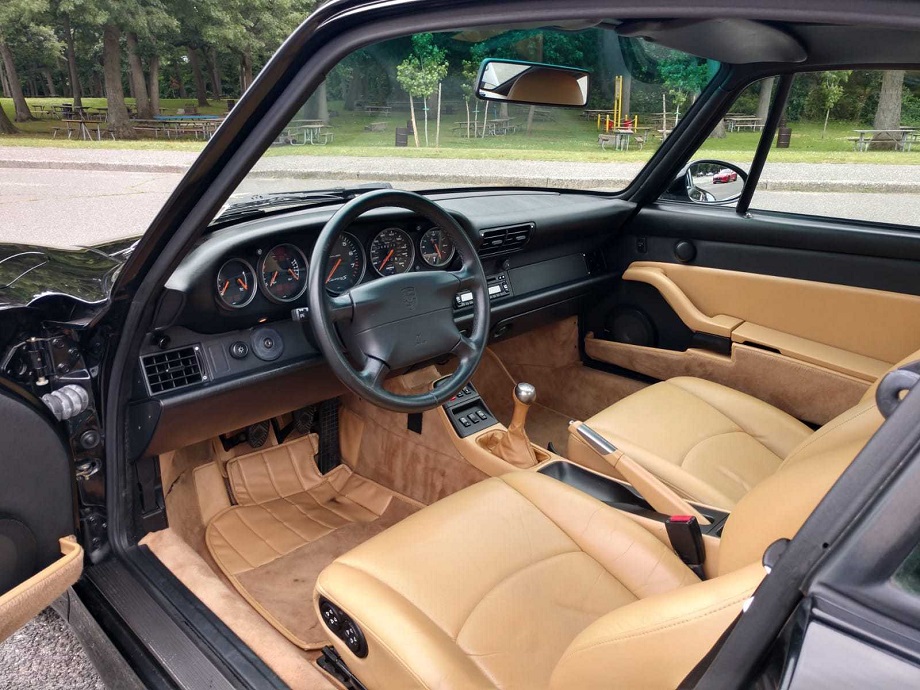 Rare 1997 Porsche 993 C2S – very rare rear-wheel drive, wide body. Last of the air-cooled Porsches.

Black exterior with black and tan leather interior. 68,000 miles and in excellent condition. Car has been garage kept and pampered. The car has been cared for and serviced only by authorized highly experienced reputable Porsche mechanics. All records were kept by myself and other owners and are available along with original sticker, books, manuals, spare tire, compressor, jack kit and tools.

The car is in excellent condition. The body is free of any major scratches, door dings or excessive rock chips. The interior is very clean with no unusual wear on the seats or carpeting. The dash is in pristine condition with no cracks or wear.

Clean CarFax.

Tires have about 8k miles on them and are in great condition.

Rare factory options include:
– Motor Sound Package
– 18″ OEM Porsche turbo twist wheels
– Limited slip differential
– Factory sunroof
– Factory metal door seals with insignia
– Brushed aluminum shift knob and e-brake package
– Dual power seats
– Factory Porsche floor mats

Known issues:
– Finger-nail size chip on rear fender between bumper pads.
– Small blemish on passenger seat. Can be easily corrected.

This is a very clean car – it's been very well cared for. Sad to part with it 🙁 More photos available upon request. Happy to support any PPIs requested. Please get in touch if you are a serious buyer – click "contact seller" above.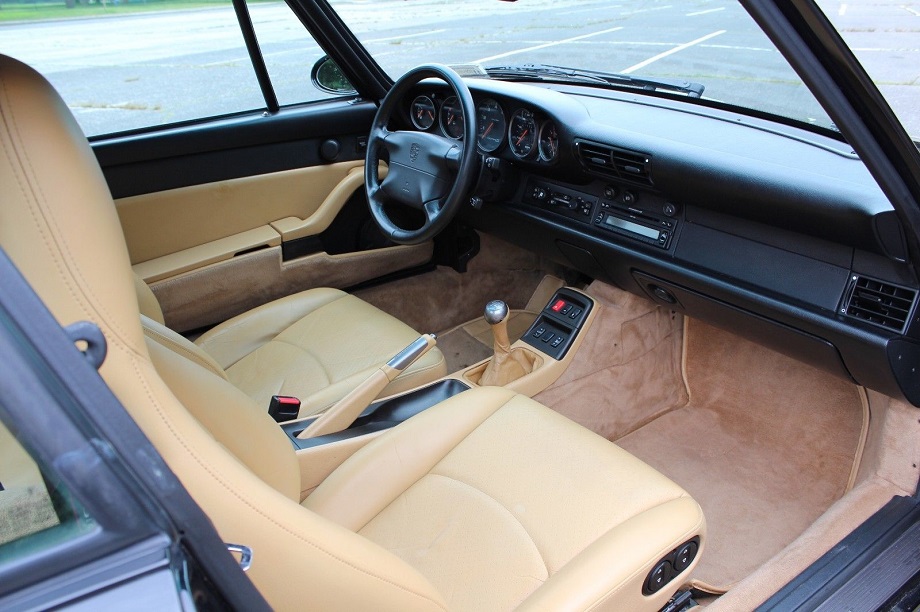 Regarding appearance there isn't much to quibble with here. The seller mentions a couple of blemishes neither of which sounds too terrible for a car that's old enough to legally drink. The interior shows very little wear and looks to have retained its originality. The rear seats look pretty much unused, which probably is for the best. The black paint looks in good shape and shows nicely here. There's good depth to it and other than the chip on the rear bumper everything looks scratch free. I'm sure closer inspection would show various things that reveal other imperfections, but with 68K miles I'm not sure how much more to expect. It looks very well cared for and reportedly comes with documentation of its ownership and service history. Assuming that a perusal of those records shows nothing of concern in its servicing we should probably expect this C2S to be ready to provide plenty of enjoyable driving.
I definitely could be accused of thinking the 993 is a bit too pretty. When we compare it to the 3.2 Carrera or especially a 930 the curves almost are too good. This is a stupid criticism, I will admit, but I guess my problem is that it's like it lost its aggression. The various wide-body 993s, however, sort of solve this problem and the combination of such excellent curves with the wider rear are very appealing. It's the Platonic ideal of the 911 form. All of this is to say I do really like these cars and being a particular fan of black over tan I find this one to be quite appealing. It's priced high, as nearly every C2S is priced, but outside of a 993TT there aren't many other models that we can feel very confident about holding that value. Just enjoy it!
-Rob