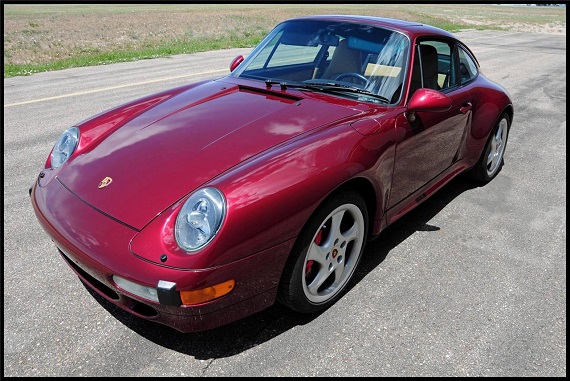 I should probably just admit it to myself: I drive a black car, it blends in fairly well with everything else, but I am a sucker for certain colors, especially certain bright colors, and always find myself taking a 2nd or 3rd look at the listing for a car painted in a hue that we would never refer to as subtle. C'est la vie. Here we have a low-mileage Arena Red 1996 Porsche 911 C4S that is located in Colorado. The C4S made its debut with the 993 and featured lowered suspension, Turbo brakes, and the wider rear bodywork of the Turbo, all packaged around Porsche's all-wheel-drive system. For buyers who wished to forgo the high-stressed forced induction of the 993 Turbo, the 993 C4S offered an alternative that was dynamically similar though in naturally-aspirated form. While certainly not as highly regarded as a 993 Turbo on the current market, the C4S still holds its own and is sure to command excellent value over the years to come.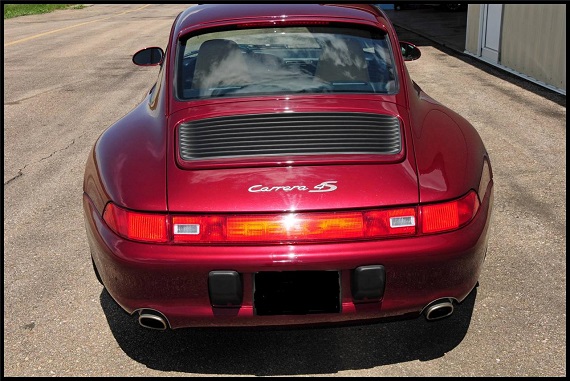 Year: 1996
Model: 911 C4S
Engine: 3.6 liter flat-6
Transmission: 6-speed manual
Mileage: 13,800 mi
Price: Reserve Auction (reserve met)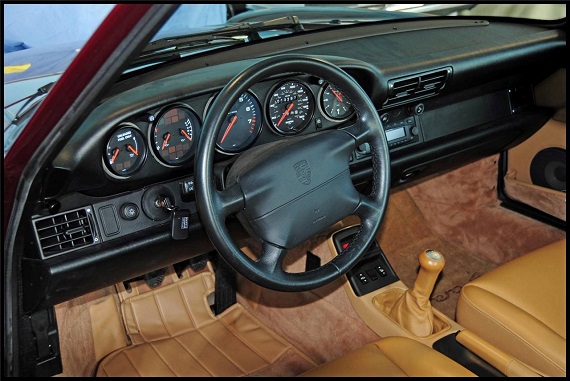 We have available the ultimate, normally aspirated, air cooled 911 993 Carrera four-wheel drive (C4S) Porsche. It is an original car with only 13800 miles from new. The good care that this C4S has benefited from is shown by the unblemished exterior, and the perfect cashmere and black interior and carpets. All window glass is clear and chip free. The body is perfectly straight with uniform panel gaps. Mechanically the drive line is sound from the engine on including a strong clutch, six-speed transmission and quiet final drive. Four-wheel disk brakes equipped with red calipers bring the car to a safe stop and quickly. This is one of the lowest mileage C4s examples known to exist in the US.

All badges are installed and all trim is in excellent condition. Inspection will show that all instruments work (speedometer, tachometer, oil pressure, oil temperature, oil level, and fuel level). Even the wheels fitted with new tires are immaculate. The newly aligned car handles and drives as one would expect from a like-new Porsche. Air conditioning is the best design and highest capacity up to the time of production of this car. The tool kit, elektro kompressor and all manuals are included.

Recent work, a recent PPI and the original build sheet are detailed in the service documents available to the serious bidder by request made of the seller. The car is exceptionally well sorted after more than $10,000 work detailed below. All OBD II codes are clear. The 959 super car heritage is evident in an overall driving experience that is hard to match.

The following summarizes the technical specifications for the C4S.

Specifications

Engine

3.6 liters Varioram
six-cylinder M64 boxer
double overhead cam
11.3:1 compression ratio
air cooled – final edition of the air cooled 911
alloy block and cylinder head
eight main bearings

Ratings

281 bhp @ 6,100 rpm (DIN)
251 lbs-ft @ 5,250rpm
171 mi/hr top speed (factory data)
5.5 sec 0-60 mph (Sport Auto, 1995)
78 bhp/liter (DIN)

Gearbox and running gear, chassis

six-speed manual
all new Michelin PS2 tires
alloy rear suspension and subframe
four-wheel, drilled rotor disk brakes
turbo twist design wheels

Weights & Measures

Wheelbase: 89 inches
Overall length: 168 inches
Overall width: 68 inches
Overall height: 52 inches
Weight: 3064 pounds, curb weight
Fuel Capacity: 19.4 gal

Factory Options

Arena red paint
Porsche floor mats – cashmere
Power seat package

Work Done Recently – within past 2000 miles

Up scale sound system with Becker Grand Prix head with iPhone interface – $2000
Complete detail – $3500
Michelin PS2 tires and wheel refinish – $2000
Full bra – $1000
Full service – $3700

Sale is FOB Greeley, CO. The buyer must have an acceptable EBay record.

Payment – A non-refundable deposit of $1000 (may use Paypal) is due within 24 hours of the auction close and the balance within 7 days of the auction end. Payment will be cash or bank wire transfer only. Buyer is responsible for all financing arrangements. Seller will not assist with financing. All title and paperwork will be completed within 72 hours of receipt of cash/bank wire transfer or shipment of car. Costs associated with courier shipment of documents will be responsibility of the buyer. Sale is final. This auction may be terminated early for local sale.

Shipping – Buyer will arrange and pay for all shipping costs. Seller will assist in the coordination of transport pickup. The car is to be picked up at Greeley, CO within 15 days of auction close. Storage charges will be made after 15 days at the rate of $100 per day unless prior arrangements are made.

Warranty – All vehicles are sold on an "as is" basis. No warranty is expressed or implied. Some vehicle information may be unintentionally missing or inaccurate. The actual mileage of the vehicle is not known. The vehicle description may contain statements of opinion that should not be relied upon as facts. Before concluding a purchase, the buyer is advised to have a vehicle data check carried out in order to provide details of the vehicle's history.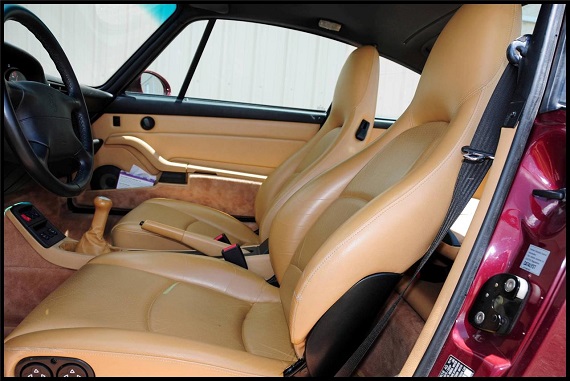 Here we have the rare case of a seller of an air-cooled 911, a 993 no less, who may have set his reserve too low, as we have seen auctions with lower starting bids than where this car's reserve was set. No matter since it makes for a more interesting auction to keep our eye on. This is a beautiful color on a perfectly proportioned car that I'm sure many fans of the 911 would enjoy spending plenty of time with. The biggest downside, as I see it, is that the car has had 4 owners, so even with under 15K miles it's certainly been shuttled around. A thorough PPI and a maintenance history would go a long way towards alleviating any worries in that regard. Otherwise, I can't look away. The more variants I come across, the more I grow to love the shades of burgundy that Porsche offered for the 911. Every one of them has a depth and brilliance that stands out in any crowd and the 993 we see here is no different.
-Rob