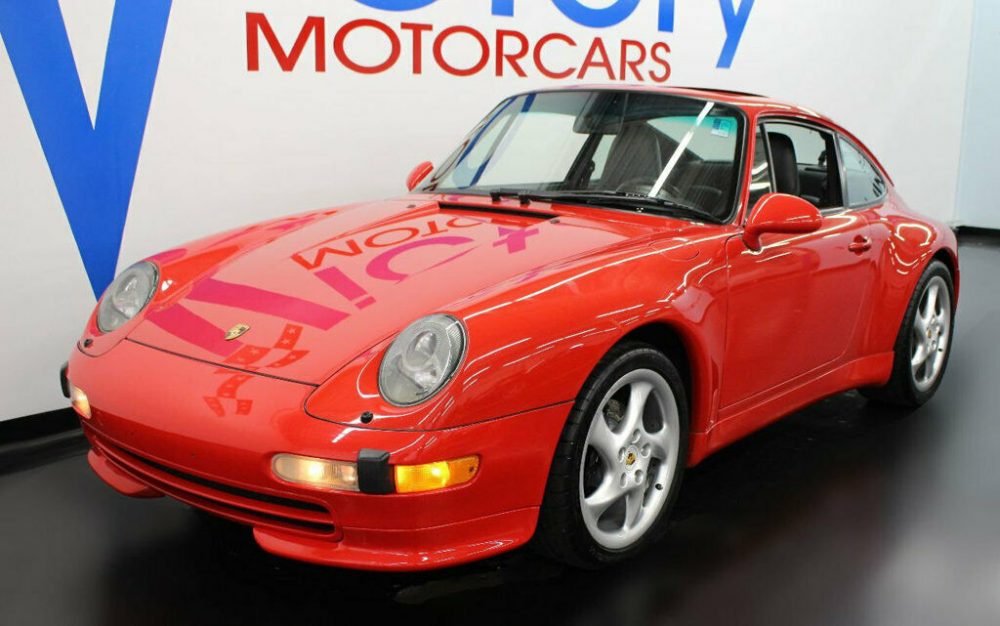 A little over a month ago I checked out a 964 Porsche 911 C2 in a great spec until you noticed it was equipped with the Tiptronic transmission. Nothing really wrong with that, but I felt like it shouldn't be priced on the same level as the 5-speed cars given the what recent 964s are selling for. Would I kick it out of my garage? Of course not. Would it be my choice all dollars being equal? Of course not.
Building on that, I thought it would be interesting to take a look at the next generation 911 with the old slushbox, the 993. The transmission was exactly the same, a ZF box with four forward gears, as opposed to the standard 6-speed you get with the manual cars. Even worse, the Tiptronic was 55 pounds heavier. Even worse than that, it sucked up the power big time. A 0-60 time in a C2 with the 6-speed was around 5.3 seconds while the same car with the Tiptronic box was 6.2 seconds. Yes, not great. However, this 1996 C2 painted in the lovely Guards Red could be cheap enough for you to consider it, right?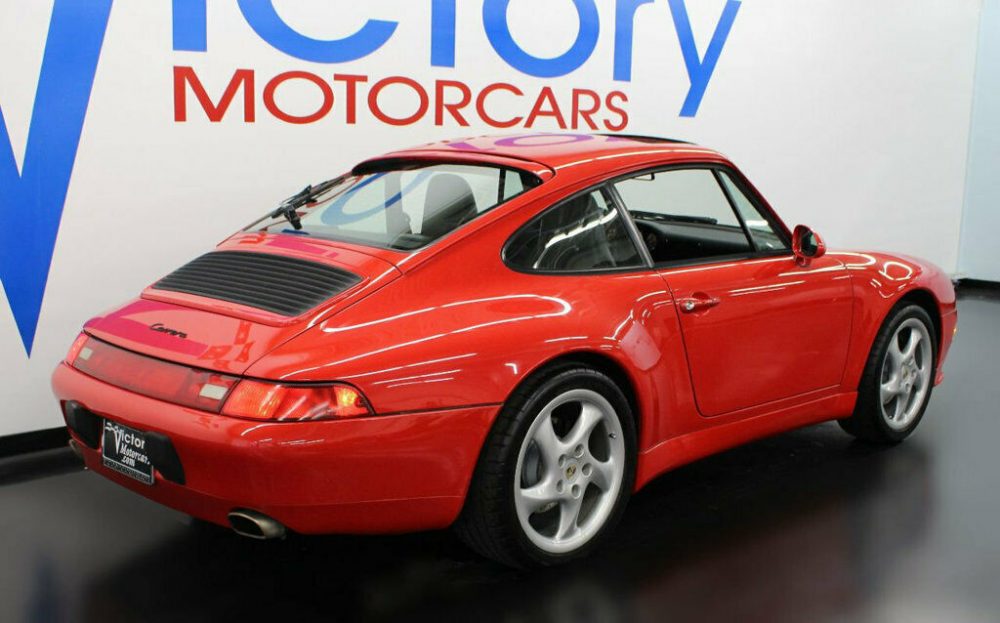 Year: 1996
Model: 911 Carrera 2
VIN: WP0AA2998TS321520
Engine: 3.6 liter flat-6
Transmission: 4-speed automatic
Mileage: 82,424 mi
Location: Houston, Texas
Price: Reserve Auction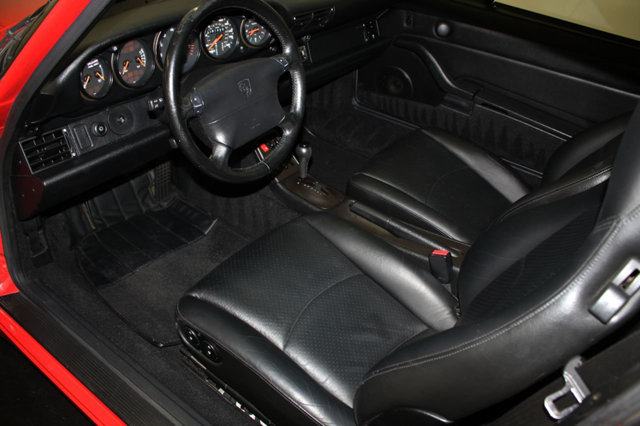 WELCOME TO VICTORYMOTORCARS, THE WORLD'S LEADER IN AIR-COOLED PORSCHE SALES, WHERE AESTHETICS AND GENUINE PORSCHE PERFORMANCE MERGE. YOU ARE VIEWING A FINE PREVIOUSLY OWNED AIR-COOLED PORSCHE 911 FROM OUR VAST INVENTORY OF PORSCHE 911'S WHICH ARE RENOWNED UNIVERSALLY FOR THEIR UNRIVALED COMBINATION OF ACCELERATION, HANDLING, BRAKING, DRIVING EXCITEMENT AND DESIGN EXCELLENCE. LIFE IS MUCH BETTER IN A CLASSIC PORSCHE FROM VICTORYMOTORCARS.

THIS 1996 PORSCHE 911/993 CARRERA COUPE 3.6L 282 HP TIPTRONIC TRANSMISSION IS FINISHED IN GUARDS RED WITH BLACK LEATHER INTERIOR WITH 82,424 MILES. FEEL FREE TO BID AND PURCHASE WITH COMPLETE CONFIDENCE IN THE PORSCHE PRODUCT AND THE DEALER WITH ROCK SOLID PRINCIPLES. OUR 42+ YEARS OF HANDS-ON EXPERIENCE WITH PORSCHE HAS PROVIDED A GREAT DEPTH OF KNOWLEDGE AND EXPERTISE IN THE PORSCHE PRODUCT. OUR PRESENCE SPANS THE GLOBE WITH THE ABILITY TO SELL AND DELIVER WORLDWIDE. WE AIM TO PROVIDE THE VERY BEST PRODUCTS AND SERVICES AVAILABLE. THAT'S A PROMISE!

ALL PORSCHE 911'S HAVE A DISTINGUISHED REAR HORIZONTALLY-OPPOSED SIX-CYLINDER ENGINE THAT CATERS TO ITS RECOGNIZABLE 911 GENIUS DESIGN. THE THOROUGHNESS OF THE ENGINEERING, QUALITY MATERIALS AND PRIDE OF WORKMANSHIP MAKE EACH AND EVERY PORSCHE A PRIZE AND A PLEASURE TO OWN. ALL PORSCHE MODELS INTEGRATE LUXURY, CONVENIENCE, SPORTING, ENTERTAINMENT AND SECURITY EQUIPMENT IN TO ONE UNIQUE PACKAGE. SOME OF THE FEATURES OF THIS 993 ARE:

DRIVE BLOCK
POWER WINDOWS
POWER MIRRORS
DRIVER AND PASSENGER COMFORT SEATS
DRIVER AND PASSENGER AIRBAGS
ON BOARD COMPUTER
AIR CONDITIONING
CLIMATE CONTROL
CRUISE CONTROL
PIONEER AM/FM CD PLAYER
POWER SUNROOF
ELECTRONIC REAR SPOILER
REAR WIPER
HEADLIGHT WASHERS
AERO PACKAGE TRIM
18″ TURBO TWIST ALLOYS WITH PORSCHE CREST
ACTIVE BRAKE DIFFERENTIAL
TIPTRONIC TRANSMISSION
CLEAN CARFAX
MANUALS/BOOKS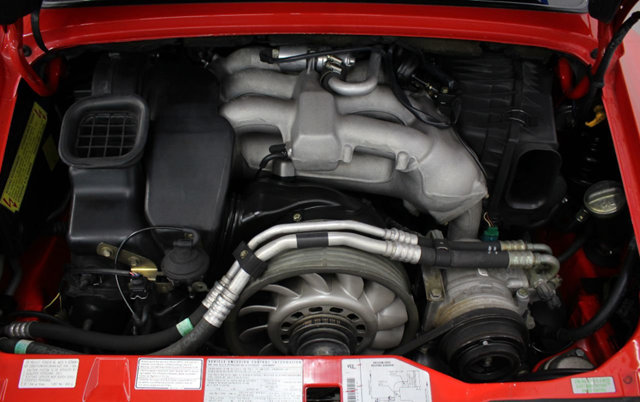 Truth be told, this looks like a really lovely example of a 993. Guards Red with Aero package and 18″ Turbo-twist wheels? Yes, please. Inside, the steering wheel does have some wear, and I assume that is because this car has been well used for a 993 with over 82,000 miles on it. In my eyes, this is not a huge deal. Miles don't bother me for a second as long as the car has good service history and this one looks like it does. One thing to note about the 1995 and newer Tiptronic car is that they feature steering wheel controls and a revised software that can adapt to driver inputs and recognize things like hills and heavy descents. So while not ideal, it is an improvement.
Mirroring my thought on the 964, there is no way anyone can justify a Tiptronic example being valued as much as a manual transmission car. I think that is even truer in the 993s case given we are talking about a true 6-speed vs a slushy 4-speed, and the results in an open market aren't lying. Just last week a 1995 Tiptronic with just under 100,000 miles sold for $35,000 all-in. Does one car set the market? Of course not, but I think it is a valuable data point. If that same car was 6-speed, what would it have sold for? $50,000? Maybe even more. This Guards Red example might be an outlier given how well it is optioned, but if this dealer is asking something like $60,000 then they are nuts. I think this car should be in the $45,000 range and anymore than that you are knocking on the door of 6-speed cars. I'm curious to see if this one sells or not.
– Andrew