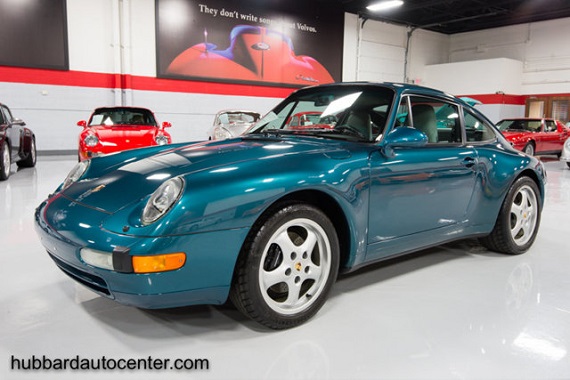 Here we have a 993 poised along the same trajectory as this Venetian Blue 3.2 Carrera, which we featured last month. Both come in very pretty, and rare, exterior colors and sit with very low mileage. Each also comes with a very high price tag. I have a particular affinity for the example here, a Turquoise Metallic 1996 Porsche 911 Carrera Coupe located in Arizona, because it's a very similar color to my first car, of which I have many fond memories (and no it was not a 993). I've come across a lot of 993s with few miles and high price tags, and even seen some bid to very high prices, but this is one of the few I've seen that is a Carrera 2. Will even these base models begin to stretch into six-figure territory?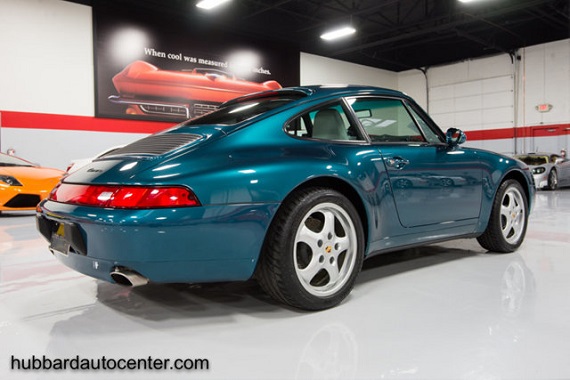 Year: 1996
Model: 911 Carrera
Engine: 3.6 liter flat-6
Transmission: 6-speed manual
Mileage: 3,883 mi
Price: $132,000 Buy It Now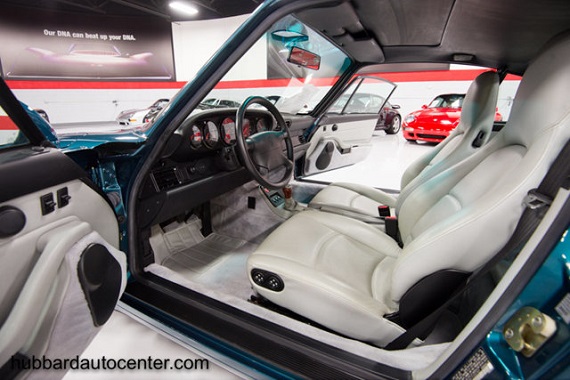 Ultra-rare color on this amazing 1996 911 Carrera. This is one of the rarest 993 cars currently available for sale and with the lowest miles. The previous owner absolutely babied this all original paint car and it's loaded with options like,

Only 3800 miles!
Rare, Turquoise Metallic paint
Grey Interior
Power seat package
Light Rootwood shift lever
17″ Cup Wheels
Rim caps with Porsche crest
Hi-Fi sound package with 10 speakers
Original MSRP
Books
Both keys
Original delivery sheet
Original Brumos test drive sticker in window

Many more high quality photos and video on our website hubbardautocenter.com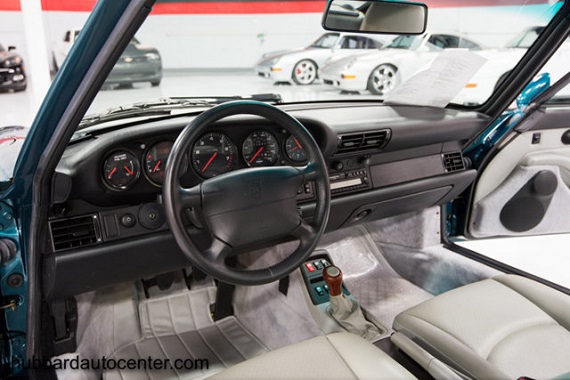 I'm not sure there's a ton to say about this 911. Everything presents how we'd expect and it appears to come with all of the appropriate documentation. It looks great! What I wonder, and the same question applies to the aforementioned 3.2 Carrera, is whether a 911 of this sort is really worth this kind of money? And I don't mean right now, but any time in the near future. It's not a Turbo, nor even a S; there isn't an obscure options package, nor a famous owner. This is really a question of how far color and mileage can take you on the air-cooled market. Since a 911 like this must be viewed purely as an investment, then the driving qualities of the 993 versus previous iterations hardly matter. To be clear, I think it's a lovely 911, and I'm not someone who thinks the air-cooled 911 market is going to completely implode, but I do think we've got to take great care when considering examples that mechanically barely differ from the rest of the pack. If there were ever examples that should be driven, it is the cars like these.
-Rob