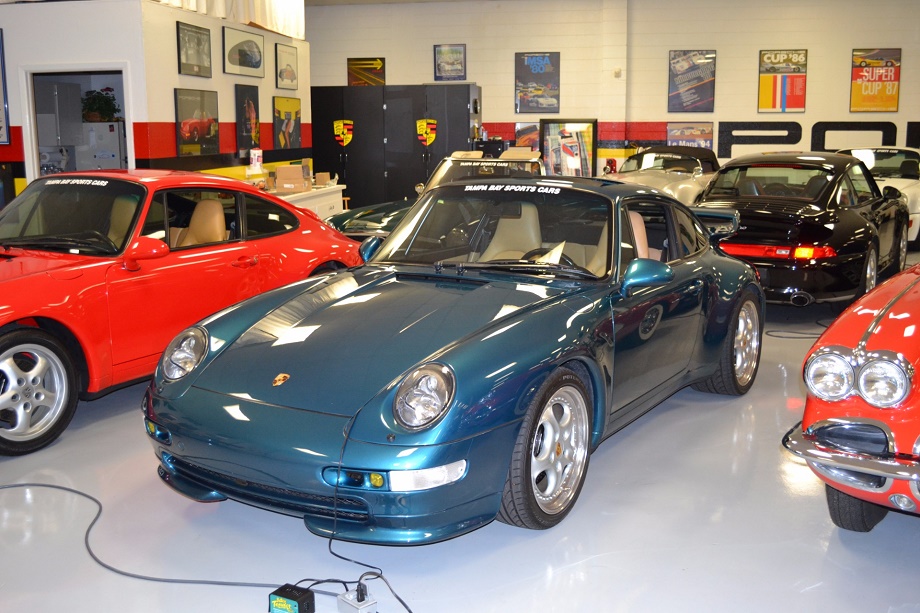 This is a Turquoise Green Metallic 1996 Porsche 911 Carrera Coupe, located in Florida, with Cashmere Beige interior and 50,324 miles on it. It also has the factory Aerokit. The paint code is 25D, which I mention because there are a few colors that went with some version of Turquoise during the '90s and in some cases they can be dramatically different colors while in others very similar. Turquoise Blue (code 3AR/3AS) is a phenomenal non-metallic blue and one of my favorites from the period. It has some of the brightness of Riviera Blue, though in a darker hue. It's great. I believe there also was an earlier version of Turquoise that was non-metallic and much closer to the blue of Turquoise Blue than the color we see here. Similar to this 993 is Turquoise Metallic (code 25C), which is a slight variation of this Turquoise Green. The German helps differentiate the two: Tuerkis Metallic vs Tuerkis Perlcolor. Add in the even more green Wimbledon Green Metallic and then we have nearly the whole spectrum for this one type of greenish blue exterior. Porsche certainly knows how to provide options. All you have to do is figure out which one you like best.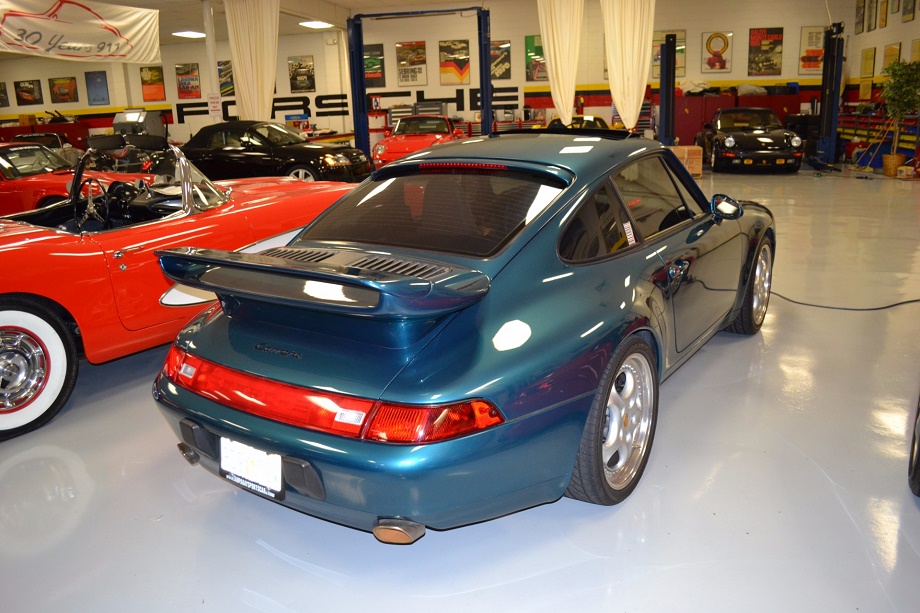 Year: 1996
Model: 911 Carrera
VIN: WP0AA2993TS321487
Engine: 3.6 liter flat-6
Transmission: 4-speed automatic
Mileage: 50,324 mi
Price: $56,000 Buy It Now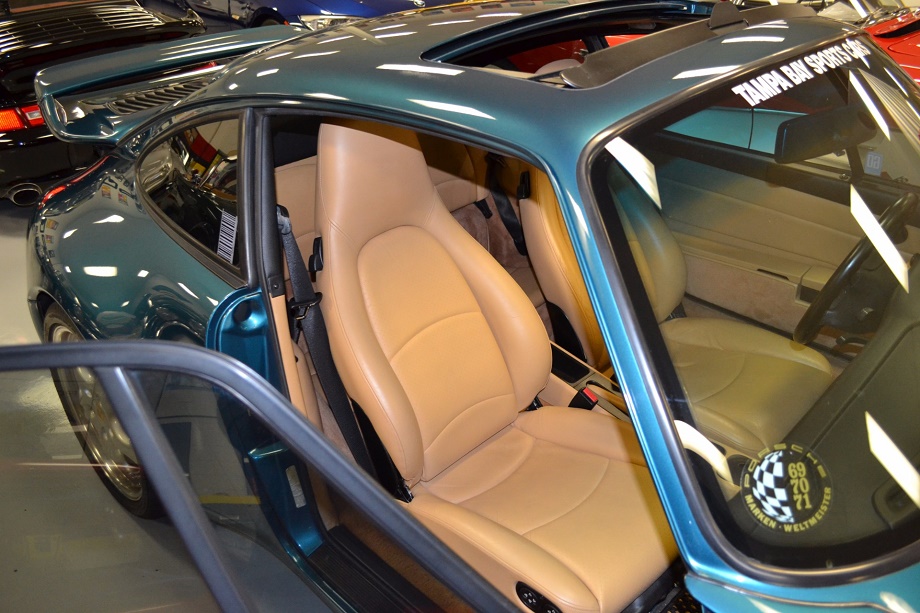 1996 Porsche 993/911 Carrera, Turquoise Metallic over two-tone Cashmere Beige & Black Leather Coupe with Aero-kit. Several upgrades were done to this Carrera including an RS type front-end with Euro Lights, upgraded exhaust that sounds MEAN! Three piece RS Manufactured "Speedline for Porsche Wheels" 8×18 and 10×18. Intake and Turn Signals, Lower front Air Splitters, adjustable spoiler and more! While we attempt to communicate any and all aspects of our vehicles as they sit in our showroom, we strongly encourage every buyer who is unable to view the vehicle in-person to send a representative of your choice to perform a Pre-Purchase inspection prior to purchasing. Everybody's opinion of "perfect" differs and we have found that Pre-Purchase inspections are helpful to all parties involved. The information we provide come from the current owners, previous owners, and our own review. Any statements such as original or matching-numbers should be verified independently during the Pre-Purchase inspection prior to purchasing. Our showroom is open by appointment only. Call 877-870-8823 or email to schedule your appointment. Tampa Bay Sports Cars, 10641 75th Street, Largo FL 33777 Art In Motion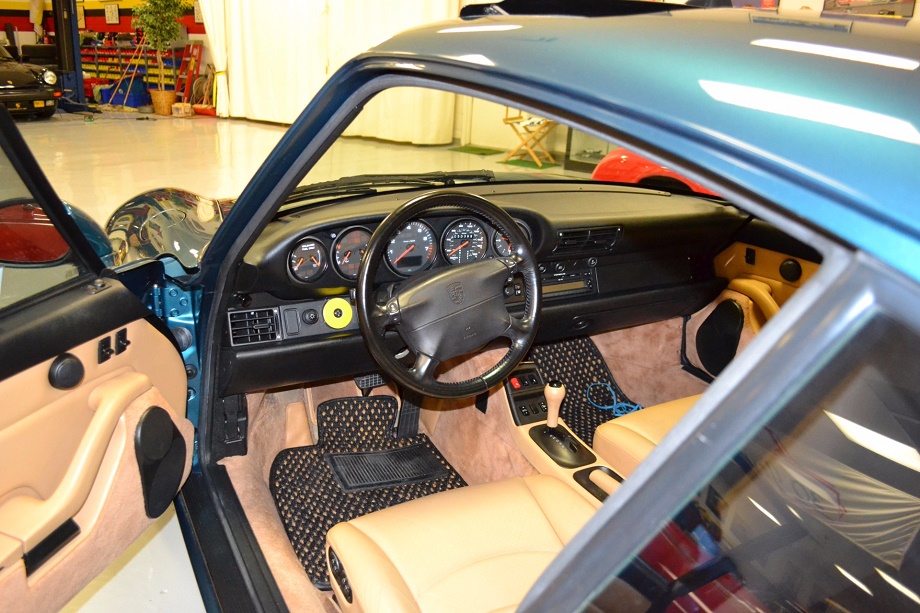 This isn't normally a 911 that I would post. It's an automatic and those typically don't make for the most desirable available cars, especially among the highly-sought-after air-cooled range. However, I like the color and as you can see from the above I wanted to talk about this range of colors. Also, we do have to admit that not everyone has the desire for a manual transmission. Perhaps with PDK becoming much more common in modern 911s there could be a buyer whose initial forays into the breed came about along those lines and who now wants to jump into the air-cooled 911 world. I suppose the one thing we can say as a bonus is that at least the automatic makes it cheaper!
Looking at it another way this actually is kind of an interesting 911 to be equipped with Tiptronic. It has the Aerokit, a beautiful set of Speedline wheels, a few sporty cosmetic additions, and aftermarket exhaust. Generally I don't expect the automatic 911 crowd to bother with such upgrades, but here we are. They are pretty much entirely cosmetic upgrades so it that regard might make sense, but still the owners of this 911 haven't really gone the luxury cruiser route. Maybe that will make it more desirable now? I guess we'll see.
Overall, everything here looks in pretty good shape. The color is nice and the contrast in the interior is nice as well. It looks like available documentation is limited to the last few years, which just reinforces the usual need for a PPI. It it were a manual I imagine many would find this 993 quite desirable, but this still makes for a potentially entertaining option. If this version on the Turquoise spectrum is the sort that appeals to you, then check it out.
-Rob