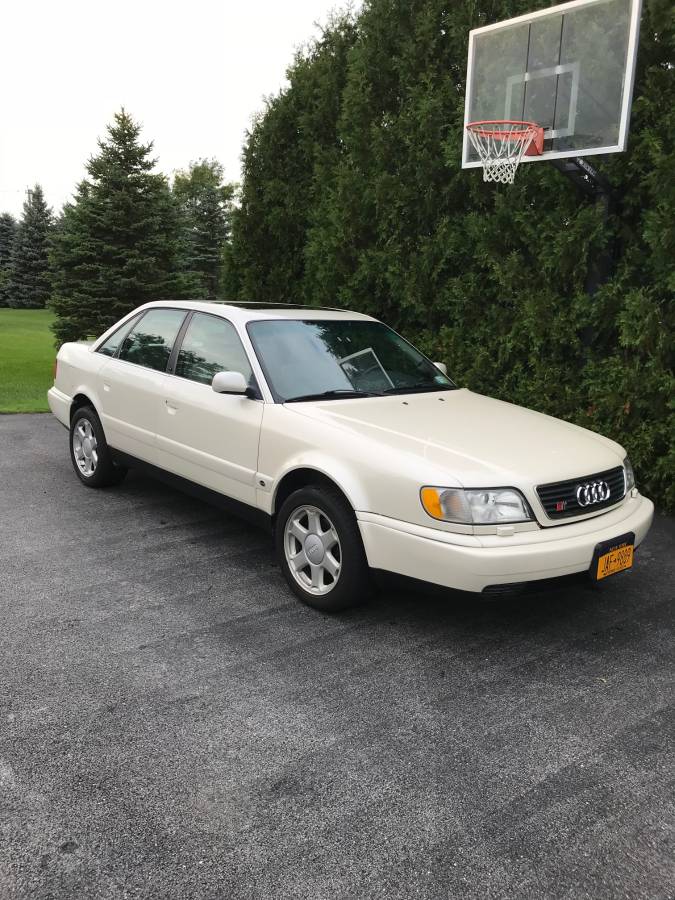 Of course, the ultimate evolution of the Type 43 blueprint emerged in 1995 with the launch of S6. If you want to be technical, it wasn't really – there was a far more potent and special version in the S6 Plus to come for Europeans, and truth told there weren't many changes from the prior S4 to the re-badged S6. Despite this, for U.S. fans of the traditional Audi inline-5 mated to a manual transmission and all four wheels driven, it didn't get much better than the S6 you see here.
The last S6 we looked at seemed to be a pristine example, and bidding was very aggressive – in fact, problematically so. Several times it was bid to $12,200 and though it was a no reserve auction, each time it failed to trade hands. I ran across the listing again on Craigslist, where it was listed for $19,900. Ouch! Worse, there were claims from a reported ex-owner that the car was grossly misrepresented. Today we have what promises to be a better one to pick up, then – and it won't cost you nearly as much: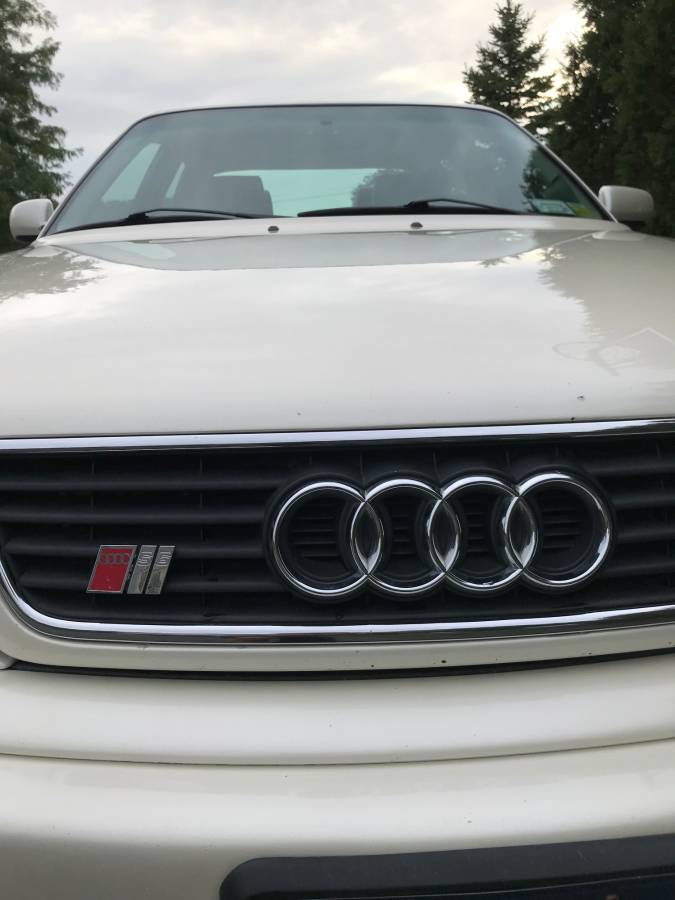 Year: 1995
Model: S6
VIN: WAUKA84A7SN107296
Engine: 2.2 liter turbocharged inline-5
Transmission: 5-speed manual
Mileage: 165,500 mi
Price: $8,500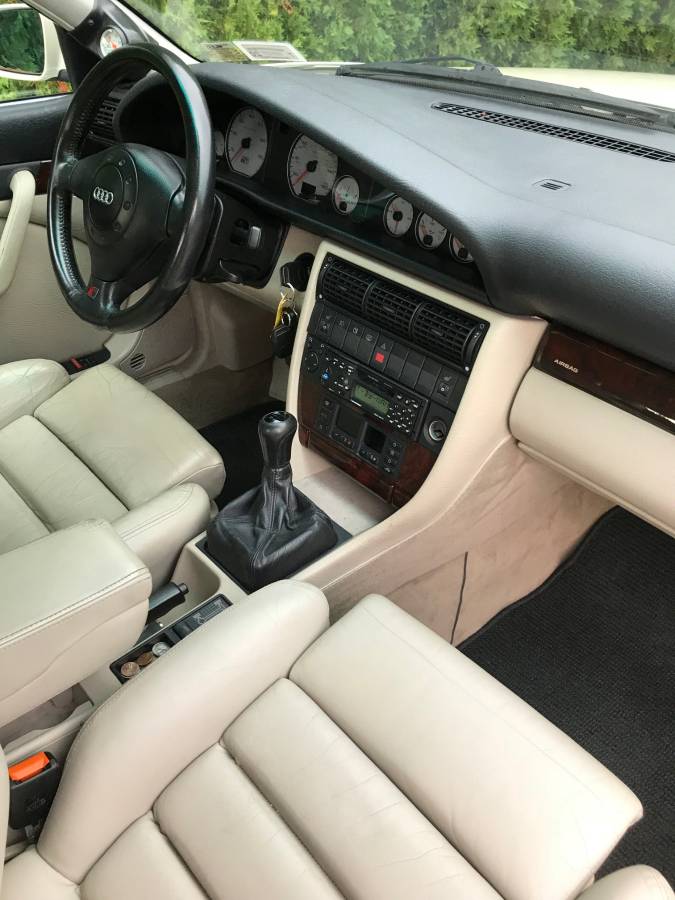 Very Rare 1995 Audi S6 Quattro, Turbocharged 5 cyl., 5-Speed
Reportedly 1 of 930 produced for US market…1 of 36 in Pearl White/Ecru
Very well maintained- 165,500 k – All Service Records Since New !!!
Recent/Notable Maintenance:
Timing belt, water and fuel pump in late 2014
Alternator, battery, front & rear control arms, Bilstein shocks, Michelon Pilot Sports, coolant expansion tank & oil pressure switch in 2015
Carbon fiber airbox cover, HID kit installed and ignition switch in 2017
Replacement transmission with longer first gear, new clutch/pressure plate, steering rack, tie rod ends, front & rear rotors and pads 2018
All maintenance done when needed…extremely well cared for car. Everything is Done
Everything works incl. front And rear heated leather seats, sunroof, all power, A/C etc.
Car drives like a dream !! If you see and drive it – You will buy it !
Included with the sale: original radio, car cover, Set of mounted snow tires on replica Avus wheels, spare parts.
Serious inquiries only
Jim 3one5 40six nine22five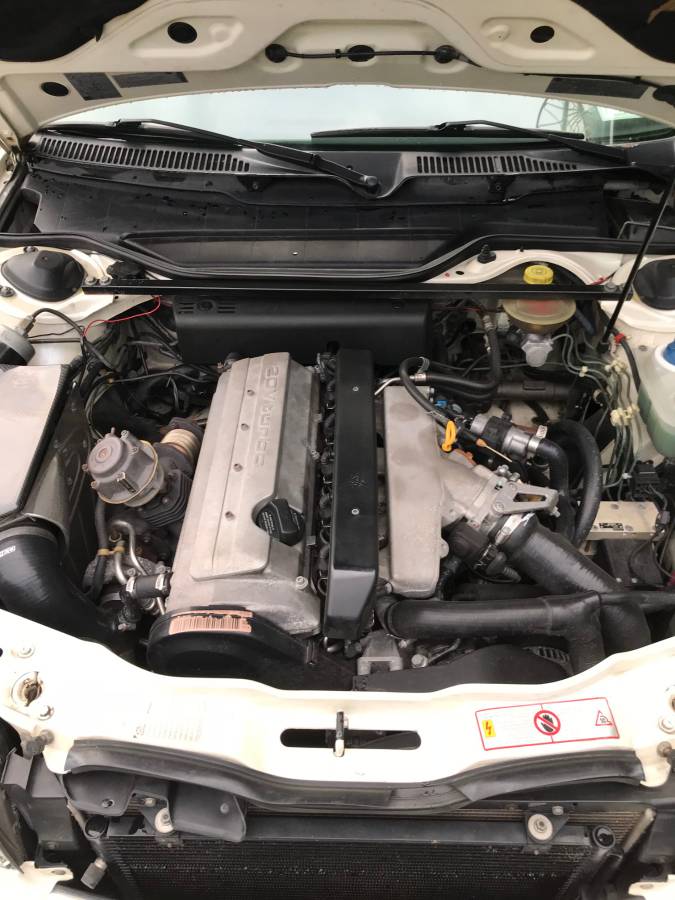 This S6 is far more typical of C4s in terms of color combination and mileage, yet it still presents well and in mostly original configuration. It seems outrageous to think there were only 36 of these cars sold in Pearlescent/Ecru, since so many seem to pop up in that combination. An early S6, it retains the infrared locking and manual differential lock, but it has the later closed headrests – a reminder that many of these had rolling changes. The seller outlines numerous repairs and the claim is that it all works; if you add up the bills, you'd likely end up with a number close to the asking price here. And that's the joy of this example versus the last; an owner versus a flipper, an enthusiast versus a profiteer. It's not that it's horrible to flip a car for a profit – but to intentionally misrepresent one and (seemingly) drive up the asking price with shill bidding? They make this seller's asking price of $8,500 seem all the more reasonable.
Thanks to our reader John for the spot!
-Carter