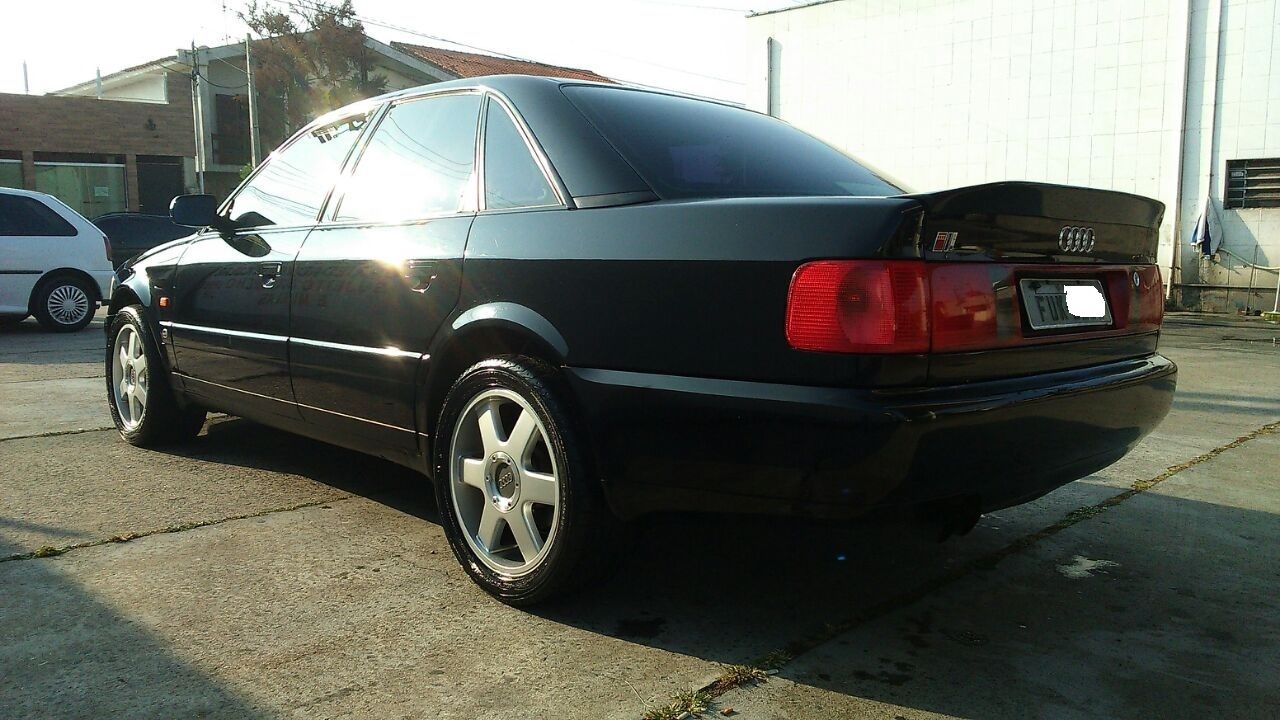 Update 2/12/18: A year after we originally featured it, this ultra-rare S6 Plus is back with 1,000 more miles for $500 less. It's still a steep price for one of these super-S models, but it's pretty hard to find them at all, never mind like this.
Audi's sleeper sedan squared up against some seriously stiff competition in the early 1990s, and to be frank, though it was innovative it came up a bit short in the power department. In turbocharged 20 valve form, the 2.2 liter inline-5 cranked out 227 horsepower and 258 lb.ft of torque. That was impressive by 1980s standards, but in the early 90s you needed to carry a bigger stick. BMW's E34 M5 brought nearly 100 horsepower more to the party at 311 with the revised 3.6 (and yes, it had more torque than the AAN, too), but Mercedes-Benz really crashed the party with the E500, whose M119 held a full 100 horsepower and 100 lb.ft of torque advantage over the Audi. You could be as clever as you wanted, but a 50% power disadvantage was a bridge too far to cross for the legendary 5 pot no matter how many wheels were driven.
The writing was on the wall, and Audi decided to offer an upgraded V8 model alongside the S4 in the rest of the world. Starting in October 1992, you could select the same ABH 276 horsepower 32V 4.2 liter all-aluminum V8 in the S4. The switch to S6 saw the introduction of the revised AEC, which gained 10 horsepower for the 1995 model year and would continue to be the standard V8 in the S6 until production ended. But the big new was the 1996 introduction from Audi's skunkworks quattro GmbH of the Plus model.
The Plus upped the ante quite a bit with the reworked AHK V8. Though it displaced the same 4.2 liters and had the same 32 valves, the breathed on motor had 322 horsepower and 302 lb.ft of torque. Power was matched with upgraded suspension, brakes, wheels and some small "Plus" badge details – this was still the decade of stealthy performance, after all. Few who look at this model would see anything other than a C4 sitting on slightly larger wheels. But for those in the know, this was one of the most potent super sedans (and wagons!) of the 1990s:
Year: 1997
Model: S6 Plus
Engine: 4.2 liter V8
Transmission: 6-speed manual
Mileage: 54,000 mi
Price: $32,500 Buy It Now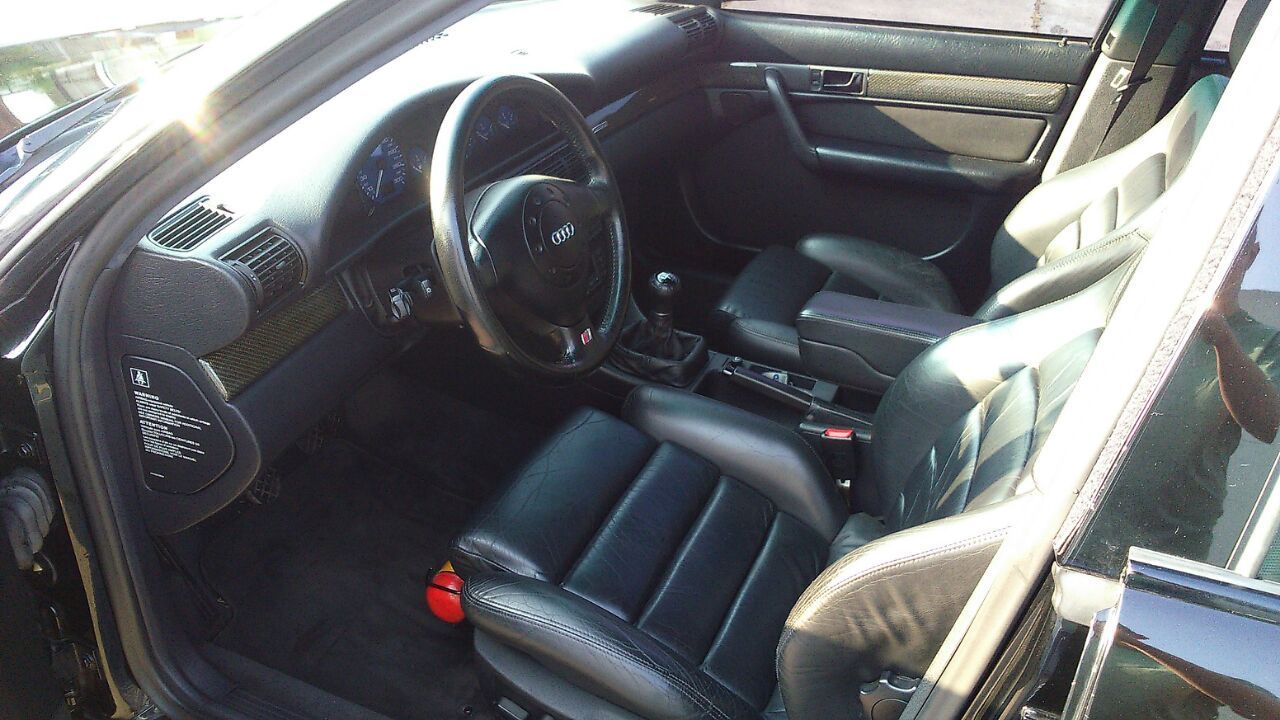 THE VIN IS BORROWED FROM ANOTHER ADD, AS EBAY WOULD NOT TAKE THE CORRECT VIN, BECAUSE THIS CAR HAS NOT BEEN SOLD IN THE US.

THE CAR IS FOR SALE IN BRAZIL FOR USD 33000 (THIRTY THREE TOWSEND DOLLARS).

EXCEPTIONAL CONDITION RARE AUDI S6 PLUS SALOON.

ONLY 97 OF THESE WERE MADE DURING THE 96-97 PRODUCTION YEAR.

IT´S KNOW FOR BEING THE FIRST CAR MADE ENTIRELY BY QUATTRO GMBH, A COUPLE OF YEARS AFTER THEY LAUNCHED THE RS2, WITH THE PORSCHE PARTNERSHIP.

THIS CAR FEATURES A 4.2L V8 (AHK) THAT PRODUCES 326 HORSES, AND 400NM OF TORQUE. IT ALSO FEATURES A VARIABLE INTAKE MANIFOLD AND 6 MANUAL GEARBOX!!!

IT GOES FROM 0 TO 60 IN 5.6 SECONDS AND IS AWD.

ORIGINAL RIMS ARE UNIQUE TO THIS SPECIFIC MODEL AND ORIGINAL TIRES ARE 255/40R17.

THE CAR IS IN EXCELENT SHAPE AND IS ONLY DRIVEN DURING THE WEEKENDS. IT HAS 53K MILES.

FROM WIKIPEDIA:
Audi S6 PLUS
As a swan song to the C4 platform, an even more powerful, and very limited-production Audi S6 PLUS was briefly available to European customers. The S6 PLUS, developed by Audi's wholly owned high performance subsidiary, quattro GmbH, was available for sale during the 1997 model year only (production from June 1996 to October 1997). A total of 952 cars were produced–855 Avant, and 97 saloons.

It was powered by another version of the 32-valve (four valves per cylinder) 4.2-litre V8 engine (parts code prefix: 077, identification code: AHK, later to be seen in the Audi S8 as AKH). Audi's performance division reworked key parts of the internal combustion engine, increasing the motive power to 240 kilowatts (326 PS; 322 bhp). It was only available with a revised six-speed manual transmission (parts code prefix: 01E, identification code: DGU) (gear ratios – 1st: 3.500, 2nd: 1.889, 3rd: 1.320, 4th: 1.034, 5th: 0.857, 6th: 0.730), with a final drive ratio of 4.111.

Further revisions were made to the suspension, brakes and roadwheels. The front brake discs were enlarged to 323 millimetres (12.7 in) in diameter by 30 mm (1.18 in) thick. Standard roadwheels were 8Jx17 "Avus" cast aluminium alloy wheels, with an optional 7Jx16 alloy wheel for use with winter tyres was also available.

With so much power on tap, the S6 Plus saloon could reach 100 kilometres per hour (62.1 mph) from a standstill in 5.6 seconds, with the Avant a tenth of a second slower at 5.7 seconds, making it comparable in terms of acceleration to vehicles like the Porsche 944 Turbo.

Hella xenon high intensity discharge (HID) headlamps (still with the C4s triple bulb design, only low beam) were available as an option.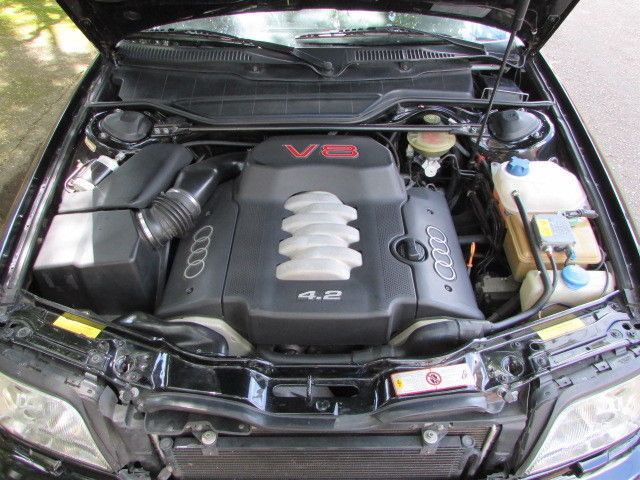 The exterior Plus details are really limited to the wheels and badges, but feel so special nonetheless. This particular car is claimed to be one of 97; I've not seen actual production numbers, but these models were certainly quite limited. Condition appears to be excellent overall; I'm not a fan of the tacked-on rear spoiler which looks a bit like a cheap rounded copy of the V8 quattro DTM unit, but otherwise there isn't much to complain about from the photos that are shown. Mileage is quite low, but little about the particular history of this example is disclosed.
Now, is this a $33,000 car? For most, probably not. The inline-5, while less powerful in stock form, offers significant advantages in tunability and can easily outpace the V8 if properly set up. While the Plus is quite rare and desirable because of that, it's not exactly like you come across a clean S6 every day of the week, either. The secondary problem is that if you want a clean, 6-speed V8 S6, you could build an even faster one by sourcing a S8 motor and 01E and slapping them together. Even factoring in a lot of work, you could replicate this car out of a $2,500 beater S6 for a lot less money than the asking price here.
Despite that, I think there will continue to be a niche market for collector Audis. But I don't think there will be many lining up to pay over $30,000 for a C4 S6 Plus – in sedan form, at the very least, but maybe at all. That's because for about $10,500 you can buy an S6 Plus Avant like the one I found here. Since neither can be easily imported, I'd wager most serious C4 fans would want to save $20,000 plus and get the Plus Avant.
-Carter