After seemingly going a while without seeing one it now appears Turbolook 911s are all coming out of the woodwork. I've posted a couple that I particularly liked, one of which specifically because it was a coupe as those still aren't coming around very often. It is still the case that most of those we see are the earlier, and slightly less desirable, models with the 915 5-speed transmission. There are fewer of the later G50 transmission models with the '89MY naturally leading the way in rarity.
But here we have one of those later models. It's not a Coupe, but still has plenty of appeal in its own right: a paint-to-sample Marine Blue Metallic 1987 Porsche 911 Carrera Targa with the M491 package and 81,713 miles on it.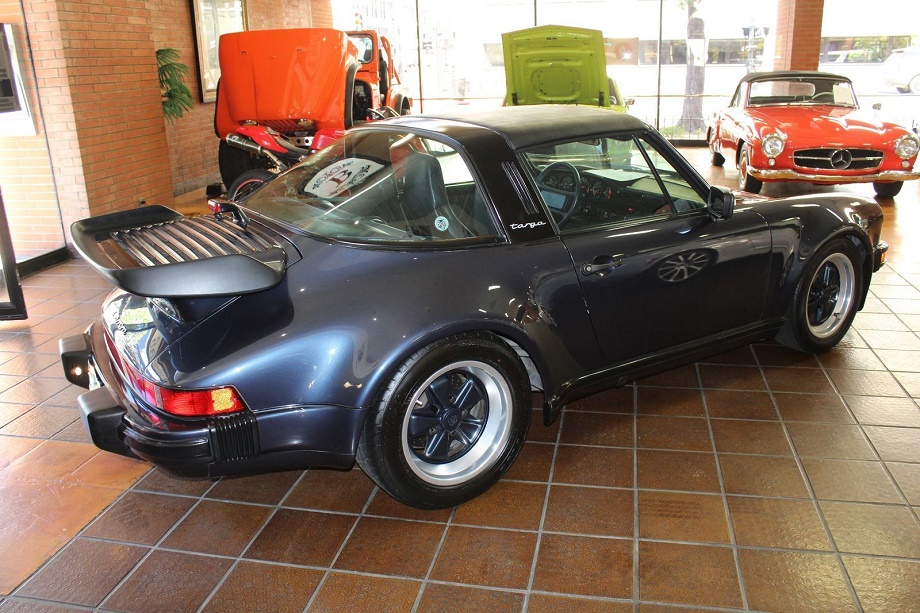 Year: 1987
Model: 911 Carrera Targa
Engine: 3.2 liter flat-6
Transmission: 5-speed manual
Mileage: 81,713 mi
Price: $88,500 Buy It Now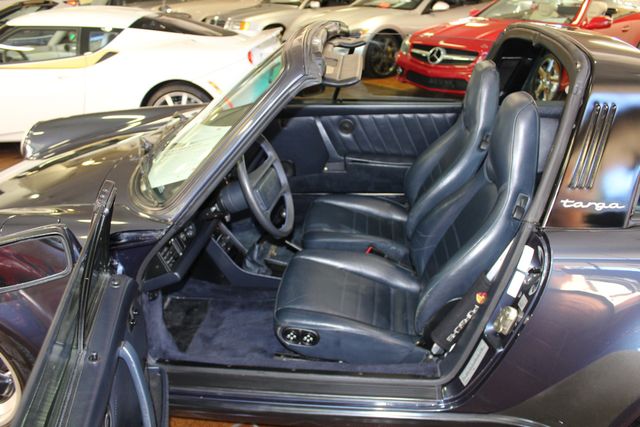 Model Year / Type : !987 911 CARRERA TARGA

Birth Date / production Compleetion: 01/16/1987

Engine Number: 64H04755

TRansmission Number: 74H04476

Exterior Paint Color/Code: Special Color to Match / 99V0

Interior Material Color / Type: Marine Blue – Leather

TURBO LOOK

"Very nice 1987 911 Carrera Targa with the rare m491 "turbo-look" option
package, including the rarer still "paint to sample" option. Porsche
produced 47 1987 m491 Targas, and very few of those done with the Paint to
Sample option with color keyed wheels and matching interior, this vehicle is
an exceedingly rare combination. The m491 option package includes the 930
wider wheel wells, front and rear, front bumper chin, 930 suspension
components and geometry, brakes, tea tray spoiler and other details. The
1987 model year included the very desirable G50 transmission coupled to the
last of Porsche's of air cooled engines, which represented the pinnacle of
their design, the 3.2L flat six. Interior and exterior condition is
excellent. No oil leaks, a/c blows cold. The car has upgraded computer
control chip, stainless exhaust and other items, all of which are easily
reversible to stock. The Targa top has been professionally rebuilt and is in
excellent condition. All rubber seals throughout the car are in fabulous
condition. The car has been driven, stored and maintained with care and
respect."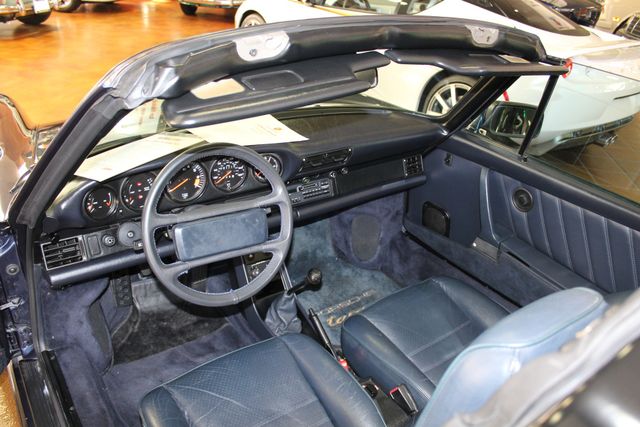 The colors here are all matching – exterior, interior, and wheels – so you've really got to like it to enjoy this 911. Marine Blue isn't a difficult color to like though. The interior shows a little lighter than the exterior, though that simply may be a function of the lighting than the color itself. It looks really good and the various trim pieces associated with the Targa and Turbo help break up the monotony. It definitely is on the darker side so fans of brighter colors may need to look elsewhere.
Interestingly, it seems most of these Turbolooks have been priced very similarly regardless of their various attributes. For this and the '89 Targa I posted previously I think that price makes some sense, though this one is priced higher and shows more miles so I don't know that a higher price is warranted. For the '85 Coupe a price like this simply is too high. But let's keep our eye on this one. It isn't in entirely original condition as a few replacable items now have aftermarket replacements. We also aren't told whether this 911 retains its original paint. That would be a significant differentiator between this one the '89 Targa because even though the '89 was a rare color it had been repainted. Those details you'll want to find out along with all of the usual questions about history and servicing. I do think the price needs to come down a little bit, but if everything checks out then this rare Targa likely won't be around too long.
-Rob