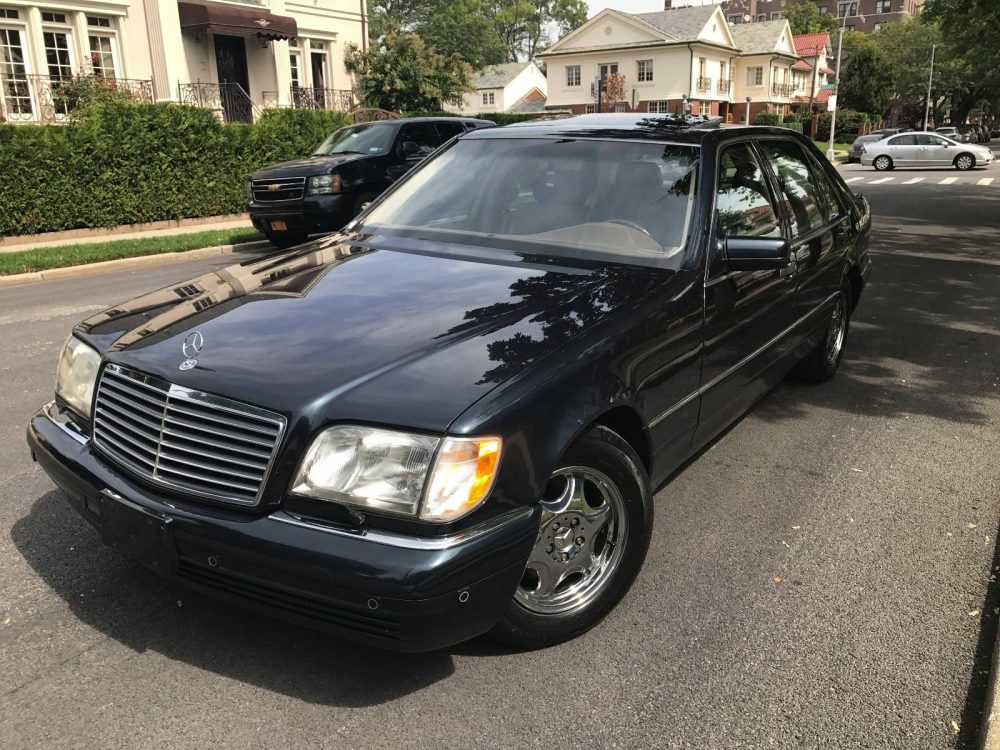 Last week I checked out an extremely well-kept 1996 Mercedes-Benz S600 Coupe that was probably the nicest example currently for sale. It had a price tag to match, but I argued that it was probably worth it over a cheaper example with a bunch of problems that will seem never-ending if you don't stay on top of them. Today, I wanted to check out the brother S600 up for sale in Brooklyn, NY sedan with triple the mileage but surprisingly a higher price. Truth be told, this S600 painted in the rare Green Black Metallic has been up for sale for a while and it probably has to do with the price tag but curiosity got the best of me so I really wanted to take a look at this M120-powered sedan.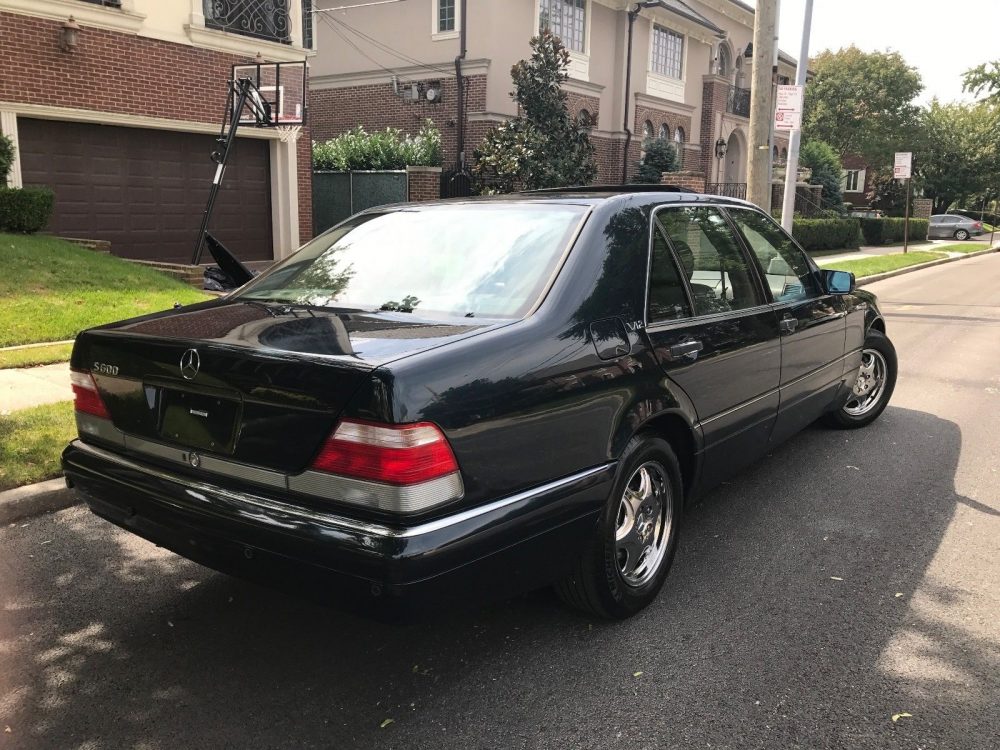 Year: 1997
Model: S600
Engine: 6.0 liter V12
Transmission: 5-speed automatic
Mileage: 89,445 mi
Price: $19,900 Buy It Now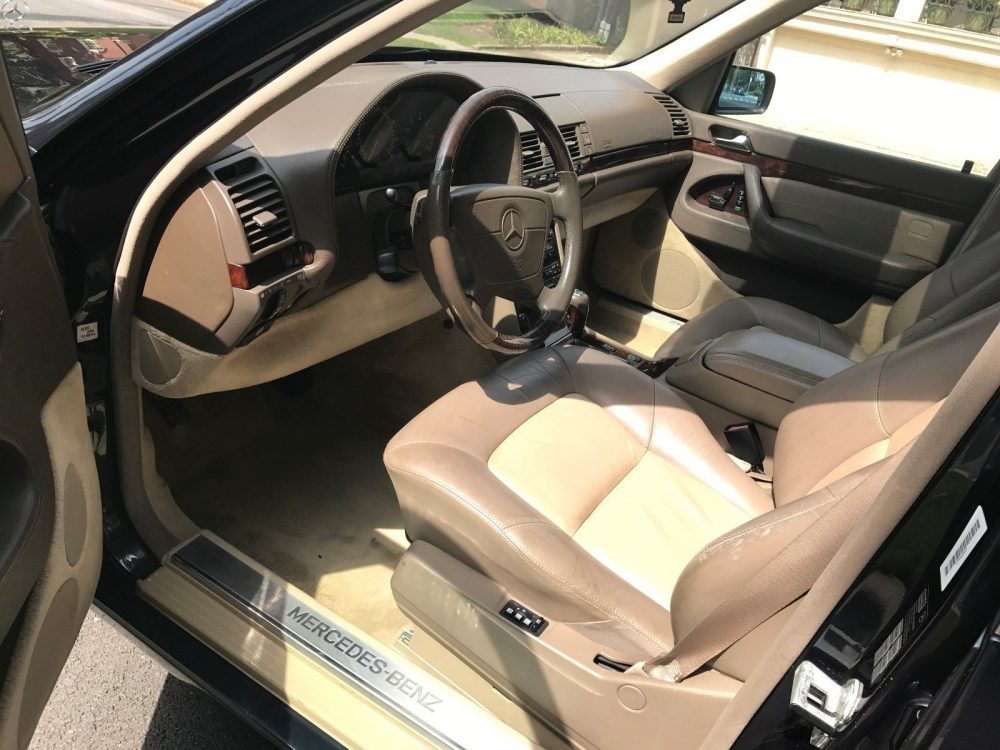 *** EXCEPTIONAL VERY RARE ***

*** Just serviced in Mercedes Benz of Brooklyn ***

*** ONE FAMOUS OWNER ***

*** MINT MINT MINT ***

1997 MERCEDES-BENZ S600 LONG WHEEL BASE

6.0 LITER V12 ENGINE FULLY LOADED

*** ONE OWNER *** CLEAN CARFAX *** NO ACCIDENTS OR DAMAGE ***

*** ALL ORIGINAL ***

*** NOT SELLING THIS CAR AS IS THATS HOW CONFIDANTE I AM IN IT'S CONDITION ***

NONE NICER AND FRONT LINE READY

NEEDS ABSOLUTELY NOTHING

2 Keys all books original floor mats and OEM All weather mats in the car.

*** Complete Complete Complete ***

PARKTRONIC
REAR POWER SUNSHADE
FRONT AND REAR AUTOMATIC A/C
POWER MEMORY NAPPA HEATED FRONT AND REAR SEATS
POWER REAR SEATS
SUEDE HEADLINER
CHROME WHEELS
SUNROOF
POWER ADJUSTABLE WOOD – LEATHER STEERING WHEEL
MERCEDES-BENZ CELLULAR PHONE
CD CHANGER
TOP OF THE W140 CHASSIS
NON SMOKER OWNED
ALWAYS MAINTAINED AND SERVICED AT MERCEDES BENZ DEALERSHIP
ENGINE RUNS VERY STRONG
TRANSMISSION SHIFTS SMOOTH
ORIGINAL SPARE TIRE AND TOOLS
BOOKS, SERVICE RECORDS ETC.
ORIGINAL REMOTE KEY
REAR TRUNK ASSIST VACUUM AND DOORS
NICE MICHELIN TIRES
WILL BE A COLLECTIBLE MERCEDES!

THIS IS A 20 YEAR OLD CAR. ITS IN MINT CONDITION BUT SHOWS VERY MINOR SIGNS OF WEAR. THIS FOR FOR PEOPLE THAT THINK THEY BUYING A BRAND NEW CAR AND TAKE ADVANTAGE OF SOMETIMES UNFAIR ARBITRATION POLICY.

YOU WILL NOT FIND ANOTHER ONE IN THIS CONDITION

PLEASE CONTACT DENIS AT 212-457-1300
I've had this car on my watch list for a while now and I always go back and check it out every now and then when I get crazy thoughts of buying a S600 to use as a daily driver. I think the car presents reasonably well and I don't see anything too out-of-place that would cause alarm. One thing that would drive me absolutely insane is the wood inlay on the steering wheel is cracked repeatedly over both pieces. This happens to almost every one of these wheels so finding a nice used one for a replacement is near impossible and they are no longer available new from Mercedes. If you can live with this flaw, more power to you, but I couldn't stare at that every time I drove the car. The only other little thing I see is some minor wear on the driver's side bolster but other than that, this car looks good. The chrome wheels are take them or leave them and while I wouldn't go out of my way to buy these, they aren't the end of the world for me.
The listing for this car on eBay has this car priced at $19,900 but the price on the dealer's website is $16,500. Kind of a big difference in price there but I guess you have to cover those eBay fees somehow. I personally don't think this car is worth the $16,500 because once you get into that range on a W140, S600 or not, the car better be near perfect and have extremely low miles. That's why I thought last weeks S600 Coupe was worth the high ask because it literally was almost perfect and had extremely low miles for what these cars are usually bought to be used for. Don't get me wrong, I think this is a nice car, but it's probably overpriced by about $5,000-6,000. I think that's the reason that this car has been sitting for months on end and will only continue to sit. Great car, not so great price.
– Andrew