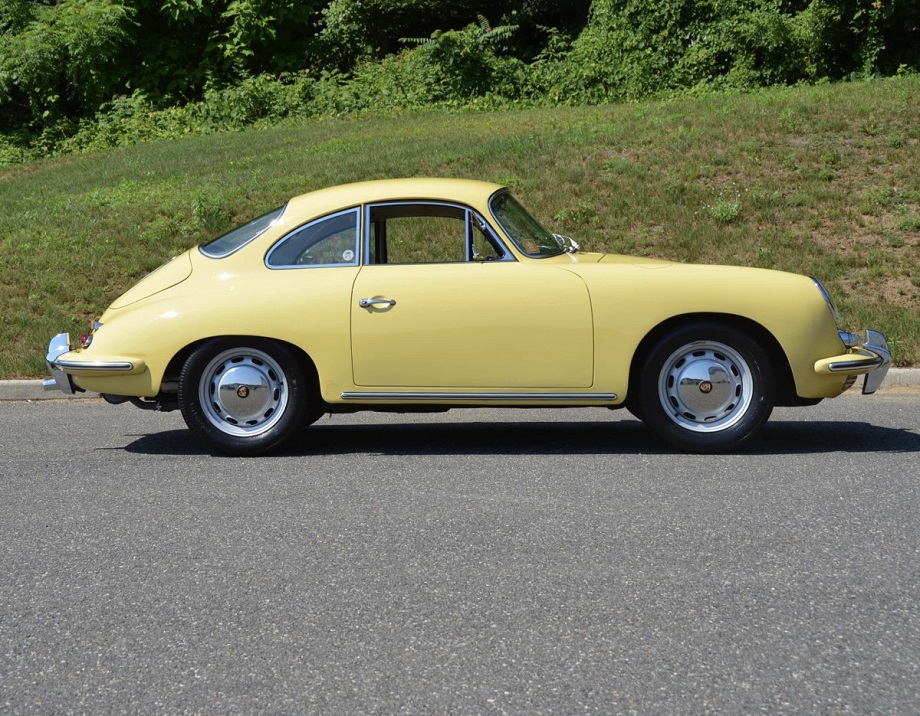 A couple of weeks back I posted a Champagne Yellow 1969 911E that looked reasonably good, but definitely was in need of some work. The exterior color was a bit muted and didn't really hint at the way it can shine. That problem is entirely solved on this 1965 Porsche 356C 1600 SC Coupe, located in New York, with Dark Green leatherette interior and a little over 61K miles on it.
This 356 has been fully restored and provides a clue as to how we could expect that 911E to look (at least on the outside) were it too to undergo a restoration. The paint shows much brighter and deeper, though it's still a softer yellow rather than one of the very bright yellows in the Porsche catalog. The dark green interior makes for a very interesting contrast. Not only would I not normally consider green as an interior color, but I'm not sure I'd ever think to pair it with a yellow exterior. It makes for a lively combination though, which we can really see in the interior where the two colors come together along the dash. It's definitely unusual, but also quite pretty.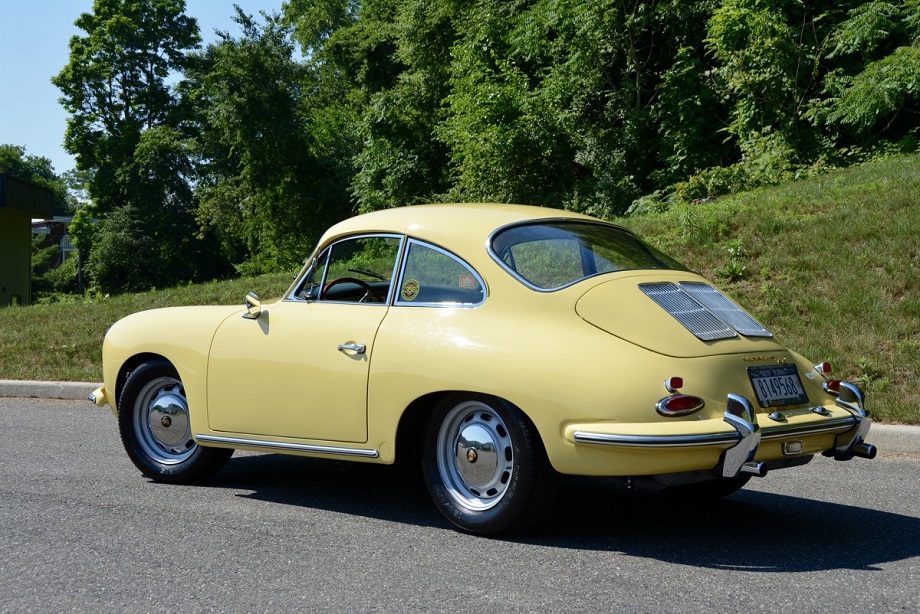 Year: 1965
Model: 356C 1600 SC
Engine: 1.6 liter flat-4
Transmission: 4-speed manual
Mileage: 61,227 mi
Price: Reserve Auction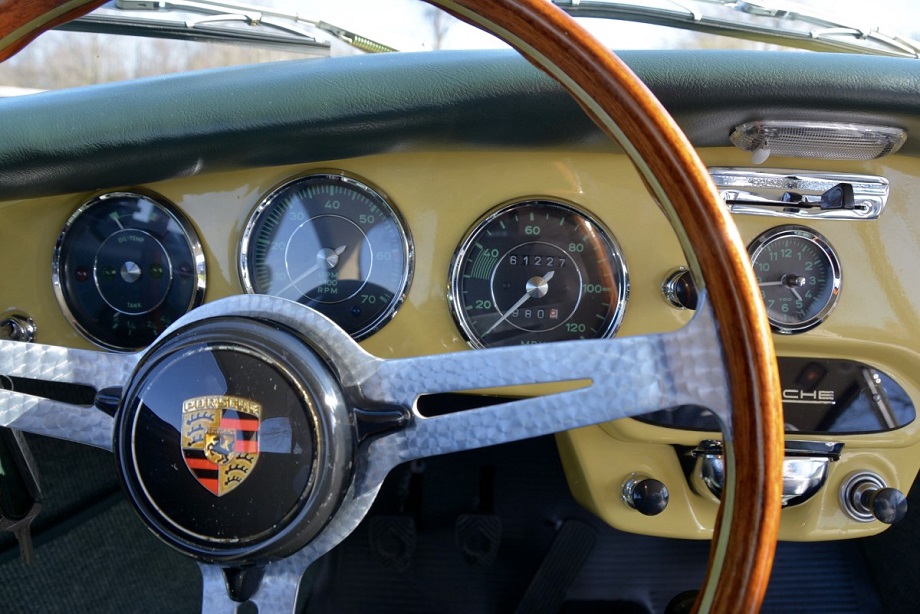 ***Due to the recent activity of fraudulent second chance offers on eBay, we strongly urge you call us at 914-217-4817 to verify any second chance offer.***
For more than a quarter of a century, Hunting Ridge Motors and Mark Starr have built a reputation as one of the country's premier new and pre-owned luxury and exotic automobile dealers. It began in 1980 when Mark began importing Mercedes Benz, Porsche, Ferrari and race cars from all over Europe, and has now expanded to include many other makes such as Land Rover, BMW, and Audi.

A proud and well respected member of the Lotus community, Hunting Ridge Motors has become one of the most respected performance car dealerships in the Northeast. The organization's reputation for providing quality vehicles and top- notch service is the reason why Hunting Ridge Motors continues to be at the forefront of the automotive enthusiast and collectors market.

You deserve only the best should not expect anything less. We promise to provide you with the best buying experience available. Feel free to call one of our sales associates with any questions. We are here to make your automotive dreams come true.

1965 Porsche 356 SC Coupe finished in Champagne Yellow with Green interior. This totally restored, last of the breed 356 drives every bit as good as it looks. No expense was spared in the restoration process. The results are apparent in this incredibly well prepared SC Coupe. Driven just a few hundred miles since the total restoration, it has traveled to events and shows and always draws lots of attention.

The rich and tasteful color combination of Champagne Yellow with Dark Green sets this 356 apart from the rest. The SC model is the last of the 356 cars and benefited from the latest technology at that time utilizing four wheel disc brakes and one of the most powerful flat 4 Cylinder engines available.

This breathtaking example is fully sorted and available for immediate delivery. It is realistically priced. All serious offers will be considered and should be directed to Mark Starr @ 914 217-4817.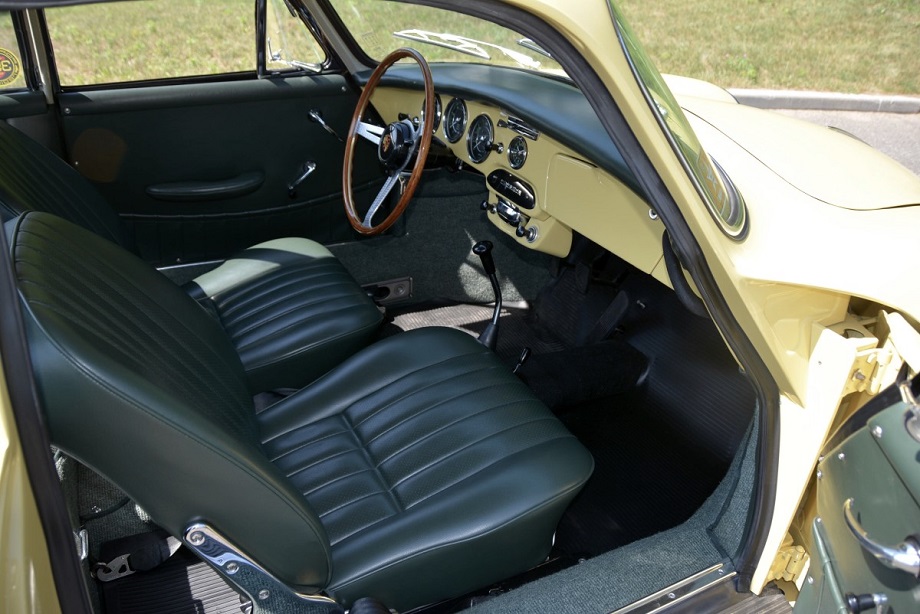 Interestingly, about five years ago Carter featured a Champagne Yellow 1965 912 that had a similar green leatherette interior. I guess it was the popular choice of its time! As a well-restored example this 356 SC shows how we'd hope. The seats are quite crisp, the carpets are clean and looking in good order, the painted dash provides nice pop, the chrome looks good (there's a lot of chrome on a 356), and the green gauge faces look in very good condition. Even the wood wheel looks in excellent shape! If you're looking for an elegant and attractive 356 with all of the upgrades a late-model 356 had to offer then this final-year SC should do the trick. I'll admit the Coupe never is quite as pretty as the 356 Cabriolet; I would love to see this combination on the 356 Cabriolet. But it still looks great and we can hope it's set to provide years of happy ownership.
There are always certain examples of the 356 that will grab and hold my attention. This is one such example. The beauty in its details provides all of the vintage feel you'd expect in such a wonderful automobile. Like many such examples this one is pretty expensive. I'll be interested to see where bidding ends.
-Rob