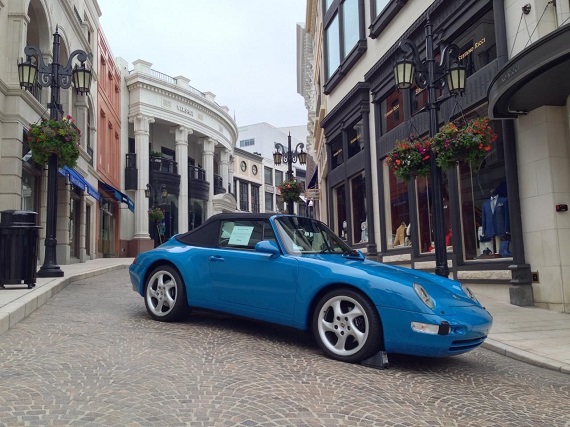 Not everyone likes a flashy car, but I think even those of us who prefer to enjoy our winding roads in less noticeable fashion can still appreciate the vibrancy created by a sports car draped in a pastel color. And perhaps it is precisely that flash that explains why this Blue Turquoise 1997 Porsche 911 Carrera Cabriolet only has 9,471 miles on it. Either way Porsche has consistently made a habit of making its cars available in these sorts of colors and they will always attract a good deal of notice, both on the streets and at cars & coffee as well as on the second-hand market. For second-hand cars the issue as always is just how much is such a color worth and I think this auction attempts to stretch those bounds to test their limits. I love seeing these cars come up for auction: they're bright and interesting and easily stand apart from the myriad others on the market. They bring a splash of joy to the droves of silver, black, and white we come across so regularly.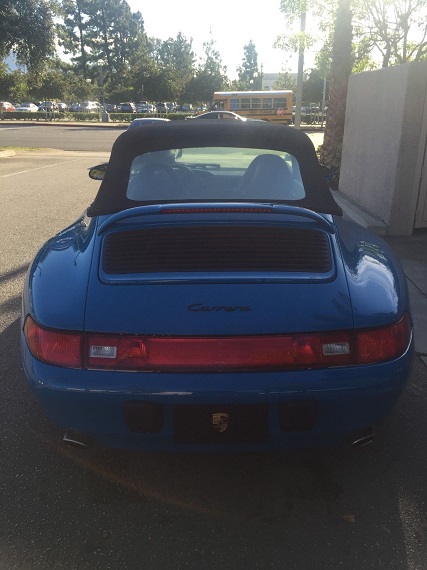 Year: 1997
Model: 911 Carrera Cabriolet
Engine: 3.6 liter flat-6
Transmission: 6-speed manual
Mileage: 9,471 mi
Price: Reserve Auction ($117,500 Buy It Now)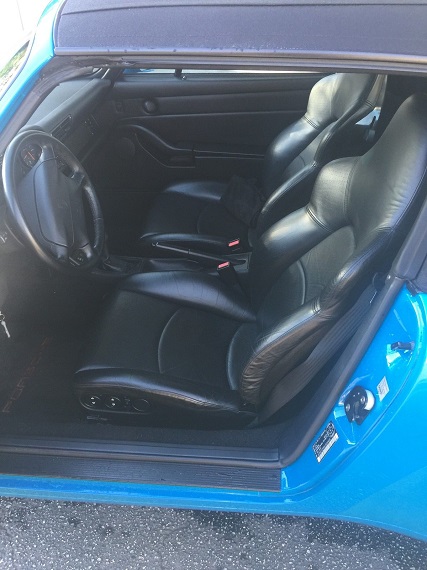 THIS VEHICLE IS AN EXTREMELY LOW MILEAGE ORIGINAL EXAMPLE AND IS ONE THE FINEST 993 SERIES AVAILABLE IN THE WORLD! IT FEATURES 18″ TECHNOLOGY WHEELS, RACING STYLE SPORT SEATS L/R, HI FI SOUND PACKAGE, XENON HEADLIGHTS, AM/FM RADIO WITH CD, HEATED SEATS AND PORSCHE FLOOR MATS-BLACK. CLAD IN IT'S ABSOLUTELY STUNNING AND EXTREMELY RARE BLUE TURQUOISE NON METALLIC PAINT AND SELDOM FOUND HEATED SPORT SEATS, IT IS CERTAINLY ONE OF THE BEST BUILDS TO EVER ROLL OFF THE STUTTGART ASSEMBLY LINE. OFFERED FOR SALE BY ONLY IT'S 2ND OWNER IN IT'S 19 YEAR EXISTENCE, THIS AIR COOLED MASTERPIECE WOULD WE ONE THE CROWN JEWELS OF ANY SERIOUS COLLECTOR'S PORTFOLIO AND IS SURE TO ONLY INCREASE IN VALUE OVER THE MONTHS AND YEARS TO COME!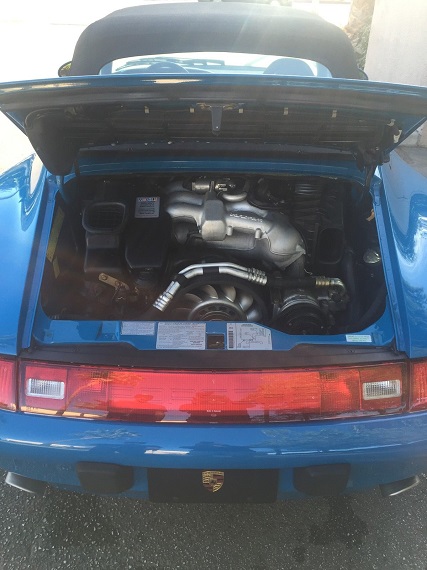 This is a car in need of a photographer and given the asking price we are going to need a more thorough accounting of the car's condition. This 993 does have a lot going for it. Turquoise Blue is a dynamite color and one of those rare pastels that tend to do so well on the air-cooled market. Add to that the extremely low mileage and a few bonuses like sport seats and that it is a Cabriolet and we can begin to see how a standard Carrera 2 can become a six-figure second-hand car. All of those positives aside it doesn't look like the market is much interested at this price as bidding sits a pretty significant distance from this seller's BIN price, even if its current bid of $81,100 still represents pretty strong money for a Carrera Cabriolet. The 993TT is dragging up values of the C2S and C4S, which in turn should drag up the values of the base Carrera, but it does not appear we have quite reached this sort of money. Of course, at this price the 930 is out there and while it is getting increasingly difficult to find one for around $100K we do still come across good ones. Long term I suspect the 930 is the better bet and for this money you'd get one that you can enjoy driving without much concern over those additional miles. You won't get one in a flashy pastel like this 993, but for many that is probably just fine. This Carrera Cabriolet is a head-turner, there is no doubt about that, but perhaps no more so than as a display piece like we see here parked amongst some shops for curious passersby to look in its windows.
-Rob