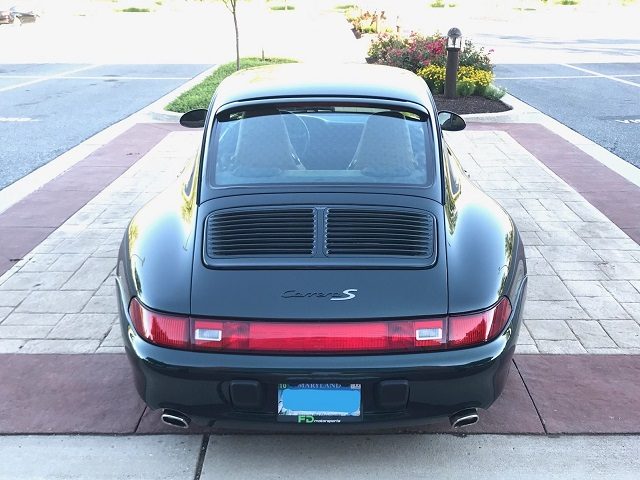 I will fully admit that I was pretty disappointed when I saw that this 1997 Porsche 911 Carrera S was equipped with Tiptronic S rather than a manual transmission. It looked so promising as I made my way through the initial photos, especially once I realized it wasn't black, but rather a very attractive dark metallic green (specifically Forest Green Metallic). The color combination was right, the condition of the paint looked phenomenal, and the interior looked clean and in really nice shape. And then the gear shift lever stuck out like a sore thumb. Oh well. I still think this 911 is worth featuring and investigating further, in part because I don't really see the C2S very often with an automatic (more on that below), but also because there may be buyers specifically on the look out for such a combination. Whether by preference or necessity not everyone wants a manual transmission so here we are and this one really is beautiful.
Year: 1997
Model: 911 Carrera S
Engine: 3.6 liter flat-6
Transmission: 4-speed automatic
Mileage: 60,155 mi
Price: Reserve Auction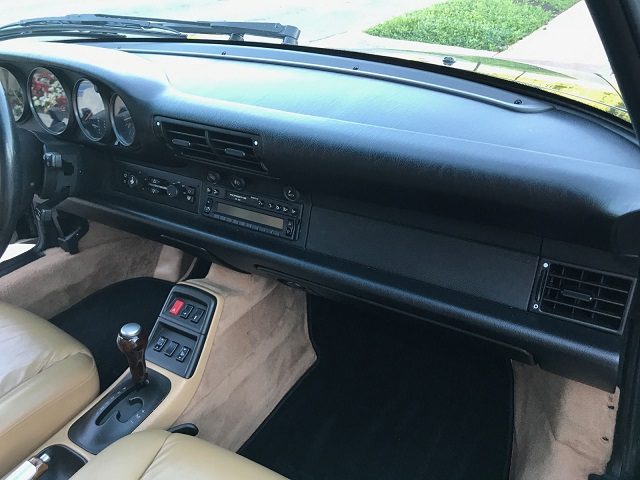 For sale is my beautiful and well-loved 1997 Carrera C2S with Tiptronic S transmission. It's an ultra rare wide-body 993 finished in special-ordered Forest Green over Cashmere interior. It has a clean MD title and clean CarFax. Non-smoker. Always garaged. No accident. The car has 60k documented miles. I am the 4th owner. This C2S shows extremely well. I shudder to even call this a driver. It is a very clean car from the inside out. It was never abused, no rain, and absolutely no salty roads as evidenced by the corrosion/rust free undercarriage.

Link for additional photos:
https://www.dropbox.com/sh/5r6c5n1pdrt4d3s/AADqcq19ccBccbItldwTUdRga?dl=0

Interior
The interior is easily 9/10. The instruments and dash are clean, and no fading or cracking. The tan carpet is excellent with no stains or dirty spots anywhere (Yes, even the driver side carpeting). The optional draped leather seating is soft and in overall excellent shape. The driver's seat has minor outboard bolster wear, not unusual after 60k miles of driving pleasure. Two sets of floor mats come with the car- the original tan mats in very good condition, and new black mats should you prefer some darker contrast. Headliner is clean. All electricals are functional as they should. Driver's door check-strap repaired prior to my ownership- no issues or odd noises. Heat works great and A/C blows cold.

Exterior
The body and paint are in excellent condition. I meticulously performed paint-correction on the car about 1 year ago to address some minor swirling. To this day, the paint still glistens with deep wet clarity you can only achieve with dark paints. I would rate the exterior 8.5 to 9/10. The car has some paint scratches during removal of the old stone guards. This didn't bother me enough to warrant repainting the rear fenders. The windshield has no stone damage/crack. All glass are as new. This is a no accident car. All panels are original to the car. The front bumper, hood, and fenders were resprayed prior to my ownership for rock chips. Paint match is perfect! Expel clear bra protects the front end from any future chipping. Seals and trim pieces are in excellent condition. This car was obviously garaged and covered its entire life. Both headlight glass lenses are in great shape. Fog lamps like new. Tail lamps look as new. Wheels are factory original 17" Cup 2s with 225/45 fronts and 255/40 rears, with 80% tread depth remaining. All wheels are in excellent condition with no curb marks. Brake pads and rotors are in great shape. All 4 calipers recently refinished to correct some clear coat peeling so commonly seen at this age. The worn out original suspension was replaced with Bilstein HD and H&R spring combo. Front lower control arm bushings replaced with red Walrods. The handling is fantastic!

Undercarriage
The undercarriage is very clean and dent-free. All wheel wells have been scrubbed and dressed. Drain tubes in the front tub are present.

Mechanicals
This C2S runs like a champ, and pulls strongly in every gear. I would not hesitate to drive this car anywhere. No CELs. It idles smoothly and revs easily throughout the rpm range. It burns little, if any oil at all. I confirm this using the dipstick to manually monitor oil level. The last leak-down test performed at 58,800 miles: All Cylinder less than 5% (receipt included). Original heat exchangers, catalytic converter, and mufflers are in excellent condition. All maintenance is up to date. Valve covers are dry. Timing chain covers have minor seep, 1-2 drops after a drive then none after.
* *Comes with a binder full of service receipts from the previous owner up to and including my ownership.

Options
L22E Special-ordered Forest Green Metallic
LG Cashmere partial leather interior w/black dash
CO2 ?
XE9 Dark Burr Maple handbrake lever
X66 Dark Burr Maple Tiptronic selector lever
X70 Stainless steel doorsill w/model insignia
159 Motor Sound Package
249 Tiptronic Transmission
329 Porsche CR-210
437 8-way electric seat, left
454 Auto speed control
490 HiFi Sound system
650 Sunroof
659 On Board Computer (OBC)
692 6-disc CD changer
939 Pleated leather rear seats
982 Pleated leather front seats
00501 ?
09981 Vehicle transfer to VRS for installation of Exclusive parts
09991 Porsche Exclusive Manufacture program

Notable Maintenance & Upgrades
-30k mile service incl. plugs and belts
-New front rotors/pads @53k miles
-Replaced steering wheel horn pad @53k miles
-SAI port clean out @54k miles
-New bonnet and engine lid struts @57k miles
-Engine Leak-down Test @58k miles
-Replaced A/C and Oil Cooler series resistors
-60k mile service incl. all filters @59k miles
-New wires, plugs, caps/rotors, P/S fluid flush @59k miles
-ISV cleaned
-New alternator/fan/A/C belts @59k miles
-Bilstein HD and H&R springs installed @59k miles
-Walrod front lower control arm bushings replaced @59k miles
-Alignment 4-wheel
-Full brake flush with ATE Super Gold @59k miles
-Rear bumper support bars refinished
-Brake calipers refinished
-Tiptronic ATF service incl. rear differential fluid flush @59k
-Latest Oil & Filters (Mobil 1 V-twin 20w50 and Porsche filters) in Jan 2016 @59,408 miles

Negatives
-Driver seat bolster wear
-Paint scratches under new rear fender stone guards
-Minor timing cover seepage

This well-sorted 993 comes complete with both keys, all manuals, air compressor, tool kit, jack, spare tire, and service history/receipts. Don't underestimate the value of a well-maintained Porsche. No deferred maintenance $$$. This example is one of the best looking wide-body cars out there. I've disclosed everything I know, but PPIs highly encouraged. You will not be disappointed!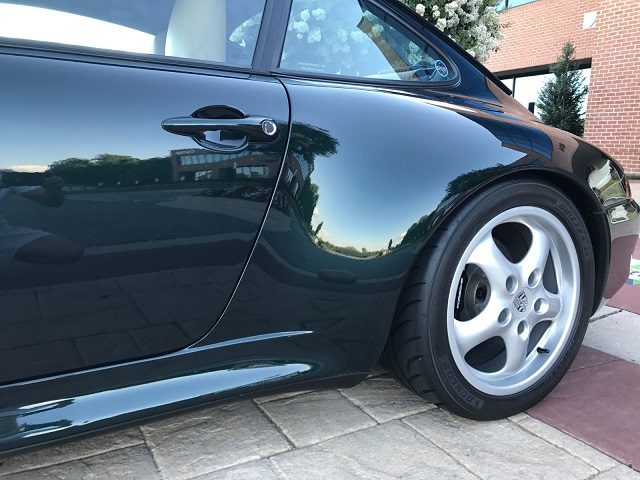 Purely on appearance this appears to be one of the better kept 911s that I've come across. The current owner clearly has put in a good deal of effort to get the paint looking its best and it shows. I'm sure on closer inspection a few flaws will be visible – this is after all a 20-year-old car with 60K miles on it – but it's tough to ask for too much more unless you're looking at an ultra-low-mileage garage queen. That isn't what this C2S is or should be so I'm impressed. The interior shows a little more wear, but still it looks in fine shape too. This 993 also looks to be well maintained and received a decent amount of servicing around 1K miles ago. The seller reports a small amount of oil seepage and like with yesterday's 911 a PPI should sort out our level of concern. For someone in search of one of the best 911 models, but who requires (or desires) Tiptronic this looks like an excellent candidate to pursue further.
My other area of interest here is price. I'll admit I really don't have a good sense of the value of a C2S with Tiptronic S. I almost never see them for sale. I know it's lower than a comparable manual-equipped C2S, but by how much? Funny enough, this isn't the only Tiptronic C2S on the market at the moment. I found at least two others! For a model I so rarely see at all to find three with the more rare automatic transmission is itself strange. So I'm curious about where this auction will go. Were I looking for a 993 this wouldn't be the car for me, but I'm always interested in where the market lies for particular models and this one is no different. Stay tuned!
-Rob