I always like to see 911s in rare colors and given the depth of the Porsche color spectrum I find plenty of opportunities to talk about those colors. I also am fond of saying that sometimes there is a reason a color, or color combination, is rare. Here we have an example that likely will fit that bill, though much more so in the interior than the exterior. First let's just take a look at what we've got: a paint-to-sample Gold 1997 Porsche 911 Turbo, located in Ohio, with two-tone Cashmere and Mocha interior and just 41,000 miles on it.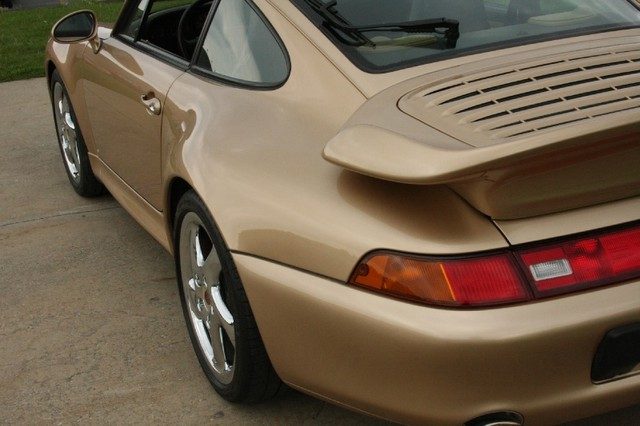 Year: 1997
Model: 911 Turbo
Engine: 3.6 liter twin-turbocharged flat-6
Transmission: 6-speed manual
Mileage: 41,000 mi
Price: $199,990 Buy It Now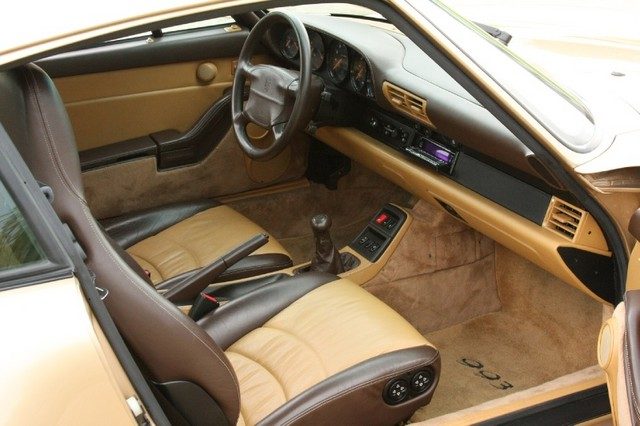 1997 Porsche 911 Turbo
This is a 993 which stands out–Gold on two-tone Cashmere and Mocha. In a sea of Guards Red this is a beacon of sunlight.

Description
41,000 original miles
Extremely nice inside and out
Paint to sample gold metallic
Color to sample two-tone interior
Full leather interior
Factory chrome wheels
All books, manuals, tools
Clean Carfax

Outside, you'll see crisp gold paint which you won't find on the color charts–this is a paint-to-sample car. It's a vibrant gold, with fine metal flake that shimmers outdoors. It flops in the sun from white gold to copper…it has to be seen in person. The chrome factory wheels are excellent, wrapped in Michelin Pilot Sports. Lights and lenses are excellent, and the glass is clean.

Here are the options listed on the underhood sticker:
C02 – US Emissions
XK7 – Shift Knob and Boot in Leather
XMA – Leather Headliner
XN1 – Leather Door Package
XN2 – Leather Door handles
XN3 – Side Air Vents in Leather
XN4 – Center Fresh Air in leather
XN7 – Brake Handle in leather
XN9 – Sun Visors in Leather, Lighted Mirror in Right Sunvisor
XP9 – Leather Door Package (speaker grilles) in leather
XV1 – Defroster Trim in Leather
XV2 – Triangular Trim Near Vents in Leather
XW6 – Leather Door Package (finishers) in leather
XW8 – Leather Door Package (armrests) in color
XW9 – Door Sills in Leather
X27 – Mirror Adjuster and Bezel in Leather
X26 – Steering Wheel All Leather Including Airbag Cover
446 – Concave Hub Caps With Colored Crests
454 – Automatic Speed Control
520 – Passenger Compartment Monitoring (alarm)
586 – Lumbar Support, Left Seat
650 – Electrical Sliding Roof
692 – CD Changer
939 – Supple Leather Seat Covers, Rear
982 – Supple Leather Seat Covers ,Front
XMA – Roof, A&B Pillar in Leather
XX1 – Front Floor Mats Embroidered "Porsche"

Inside, the custom two tone interior is amazing. First, it's very rare–most cars are solid colors. Second, it's beautiful! Check out the pictures of the seats: No marks. The leather, everywhere, is soft, supple and like new. You'll also see the original radio in the dash–this is a no modification car. Again, with full leather, this interior is nearly completely covered in hides, from the door sills (with Porsche logos) to the sun visors to the shift pattern on the shift knob. It's a unique look that was VERY expensive when new.
Under the hood is the incredibly potent twin turbo engine. It runs great, and we've done full fluid changes–it simply didn't need more. Leakdown numbers were less than 5% across all cylinders.

This is the highly unusual 993 Turbo you've been waiting for, in great colors, serviced and ready to go, with a full paper trail.

At the Motor Car Group, we're enthusiasts first. We want you to enjoy your new car from the minute it's delivered and the trailer door drops. Before a car leaves our shop, it's gone through comprehensively, both visually and mechanically. We fill your tires with nitrogen, road test (if the weather permits us here in Cleveland!) and clean it inside and out. We buff the paint using a three-step process immediately before it's taken away so that it gleams when it arrives. Every car we sell, from Sunday drivers through the rarest exotics, is meant to be driven–get out there!

If you have any questions before, during or after the sale, do not hesitate to contact us. It's what we're here for! Call us at (440) 914-0000, write us at sales@motorcargroup.com or stop by and see the new shop at 6441 Davis Industrial Parkway, Solon OH 44139. We're 26 miles from Cleveland Hopkins Airport and we can pick you up when you come to inspect or purchase your car. We welcome any prospective buyers, their buyer's agents or inspectors from Monday through Friday during business hours, as well as evenings and weekends by appointment. We're car people who love what we do, and you'll feel it from the first time you contact us. Give the R&H crew the opportunity to serve you: Our passion and attention to detail set us apart!

Call 440-914-0000 or email sales@motorcargroup.com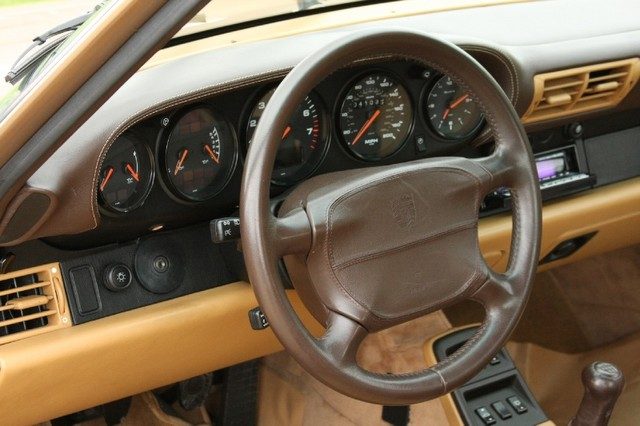 The interior looks sort of like a Reese's peanut butter cup explosion. It's certainly unique and truth be told the exterior makes for probably as good a pairing as possible, but still this is a difficult interior to fall in love with. The exterior metallic Gold resembles shades we've seen on 911s from the late-70s and early-80s and it's attractive on those cars. It's got quite a bit of sparkle to it. I've never come across a color like this on a 993 and the lack of black and chrome trim to provide contrast and accents to the gold doesn't look quite as good to me as on those earlier 911s. It's not too bad though overall and certainly something that will stand apart from the crowd. The interior, for better or worse, absolutely will stand out.
Rare 993 Turbos obviously come with pretty high price tags and this one is no different. It's been pretty well equipped in addition to the rare colors and that serves to raise the asking price even more. No one would confuse this Turbo with one outfitted for track duty as just about every aspect of it skews toward the luxury side, but given Porsche's deft melding of performance and luxury with the 911 Turbo it isn't always surprising when that happens. All in all, I don't think a huge number of buyers will be beating down this seller's door, but this 911 possesses enough unique qualities that it's sure to attract attention.
-Rob