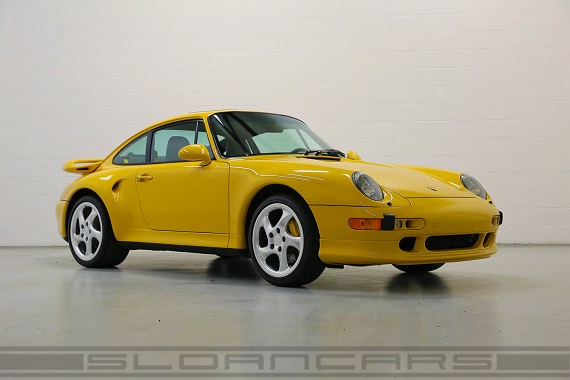 I have spent much of this week focusing on the 993, a 911 that I don't feature quite as often as many other models even though it has very wide appeal and in many cases significant collector interest. For the most part I have been trying to find examples that fit that collector objective most obviously and I will end the week with one of the more special variants produced: the 993 Turbo S. Like any 911 model with a 'S' appended to its name the 993 Turbo S was a more powerful version of the standard Turbo. However, unlike some other S variants it didn't feature a more spartan interior, presumably because Porsche also was producing the 993 GT2 in order to satisfy those seeking both more power and also lighter weight. Other distinguishing features were the rear-fender vents (as we saw with the 964 3.6 Turbo S), redesigned rear wing, and yellow brake calipers in place of the Turbo's standard red calipers. With only 182 produced for the 1997MY the Turbo S is definitely a rare car and the one we see here in the always captivating Speed Yellow with only 5,489 miles is likely one of the lowest mileage and, for me, best looking out there.
Year: 1997
Model: 911 Turbo S
Engine: 3.6 liter twin-turbocharged flat-6
Transmission: 6-speed manual
Mileage: 5,489 mi
Price: Call for Price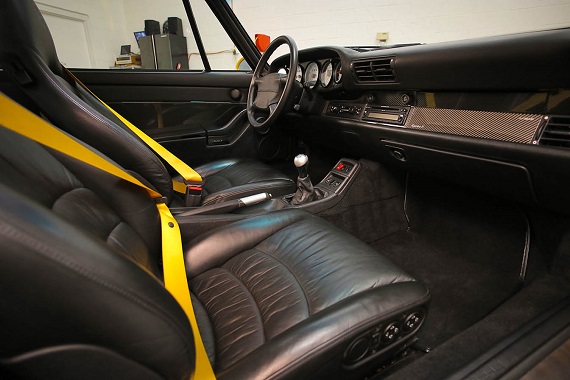 1997 993 Twin Turbo S Speed Yellow/Black 5,489 miles
Speed Yellow
Black leather interior
5,489 miles
One of 182 manufactured in 1997
Fastest air cooled Porsche ever built 0 to 60 in 3.7 seconds
3.6 liter twin turbo rated @ 424 horsepower
6 speed manual transmission
Special ordered full leather steering wheel (no carbon fiber detailing)
Electric sliding sunroof
Rear window wiper
Yellow brake calipers
Supple leather
Yellow seat belts
Dual heated seats
Porsche CD radio
Hi Fi sound package
Nokia Digital Sound Package
Remote six disc CD changer
Automatic speed control
Litronic Xenon head lamps
Factory manuals
Please contact us for pricing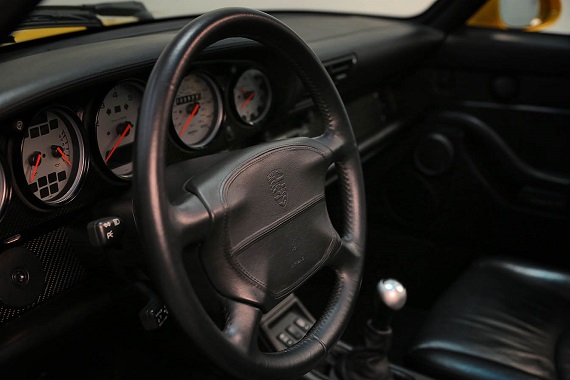 As the last air-cooled 911 Turbo the 993 Turbo S was quite the send-off before Porsche switched to water-cooled engines for the 996. As always with these ultra low-mileage cars we are torn between having a chance to come across examples in nearly new condition and the reality that for all its greatness a car like this has been so rarely driven. That will always be the nature of collector cars though so we might as well appreciate them while we can. Cost? I would guess somewhere in the neighborhood of $300K given the mileage and eye-catching color, but it wouldn't shock me if it were higher (even significantly higher) as demand continues to be insane.
-Rob