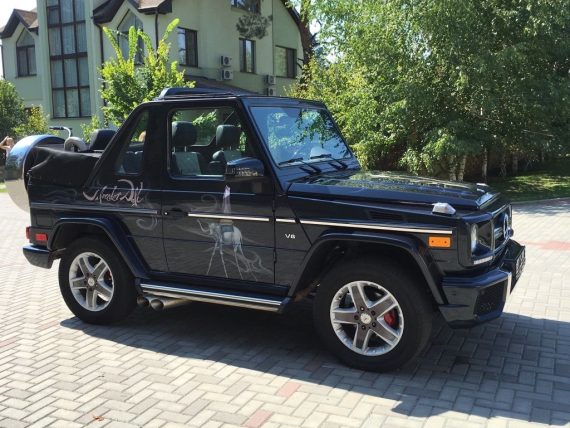 Welcome back to Fail Friday: Where once good cars can hopefully get the help they deserve. Today's vehicle is a result of what happens when people just simply have too much money. It's not the fact that it's the ultra-rare W463 G500 Cabrio, it's the fact that someone decided to turn it into a driving Salvador Dali gallery. I have lots of questions and not a lot of answers so let's try to sum up this surreal G-Wagen located in Germany.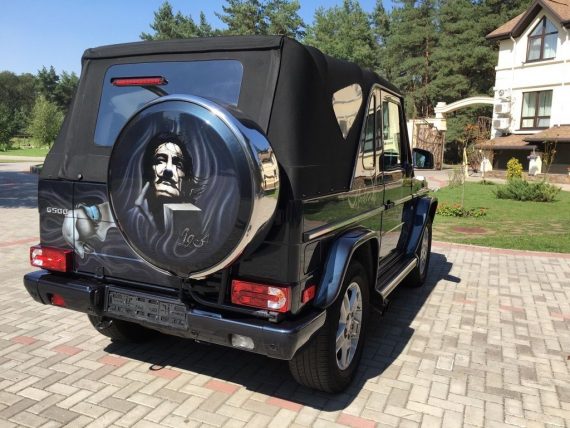 Year:Â 1998
Model: G500 Cabrio
Engine: 5.4 liter V8
Transmission: 5-speed automatic
Mileage: 70,000 mi
Price:Â Auction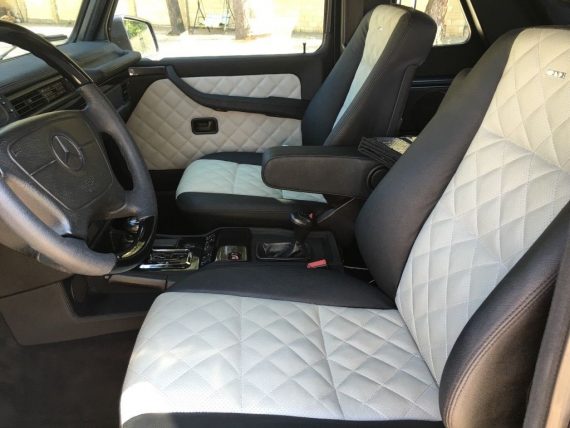 This is one of a kind, custom designed G500 Cabrio, "Salavador Dali" edition. Very detailed brush paintings of famous S. Dali paintings done by Nart Studio. Just upgraded with new full leather diamond stitched leather interior, dashboard, door panels, consoles are complete in leather. New plastic windows in soft top, full G63AMG facelift including dual exsoust. The car is fully serviced, all fluids, filters, spar plugs and filters are changed. Front and rear axels, differentials, transfer case, coolong, oil, brake, transition fluids changed. This car is unique and is in brand new condition. Collector item, spent most of her life in Côte d'Azur and after extensive upgrades is offered for sale now. Please contact for further details. Please note that eBay doesn't recognize European VIN and I put VIN from my other G500.
This truck located in Germany and can be shipped to any location worldwide.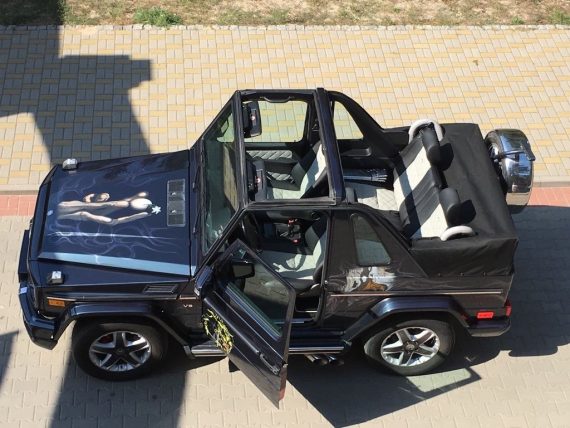 So let's ignore the paint for a minute and just look at the vehicle itself. The W463 Cabrio is one unique SUV as it's the only four-wheel drive vehicle with a powered convertible top. It's not just a thin rag top either. The top is three different layers so when up, the wind noise is kept at a minimum and provides better insulation. Speaking of wind noise, the G Cabrio has a custom windscreen that extends up into the cabin like a SL so as not to have your hair blow around with the top down. On this G500 itself, it's all been updated on both the exterior and interior resembled a newer G63 with bumpers, headlights, taillights, and a custom side exit exhaust. (It should only exit on one side, not both.) Inside, the seats and door cards have redone in white diamond stitching and the entire interior looks spotless for being 18 years old.
Now for the paint. Why? Maybe this is just a upper-class thing? "Oh yes, Thurston just received his Mercedes-Benz G500 Cabriolet with the The Persistence of Memory artwork on it. Quite stunning if I might say so." According to the eBay ad this G500 spent most of it's time in Côte d'Azur (a place I can't even afford to Google), maybe this is what they do there? I'll be sure to never to find out first-hand though. I'm just puzzled on how the idea of doing this arose. The paintings aren't even peculiarity good either. The rear tire cover portrait of Dali looks like him with a Guy Fawkes mask on.
As for price, I have no idea. Nice W463 Cabrios usually hover around the $100,000 mark but the with paint work it's a total wild card. To even remove the "art" is a massive amount of work as the majority of all the trim has to be removed. One last thing is that the ad says the G500 is currently in Germany but the sign in the first photo is written in Cyrillic, and last time we checked Putin's reach wasn't quite that far.
If by some chance you actually are in the market for a drop-top G, our friends over at Europa G-Wagen have a nice inventory of them and can bring you one to the U.S. totally legally without any problem. No Dali necessary.
– Andrew