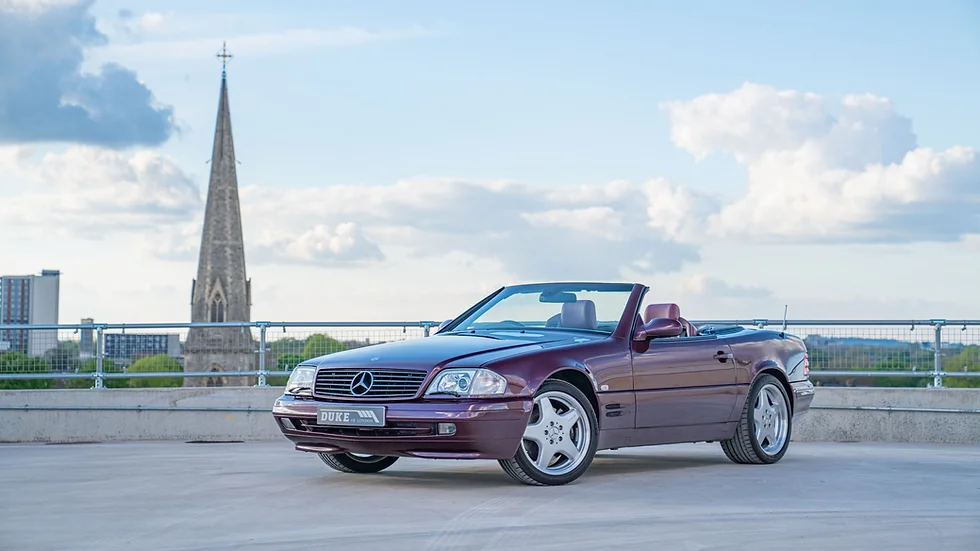 It always surprised me what comes out of the woodwork when looking at unusual color combinations. Most of the time I didn't even think it was possible, but the old adage of anything is possible with enough money sure rings true.
Today, we have a 1999 Mercedes-Benz SL500 up for sale in London finished in Designo Purple over Designo Purple leather. Thats the name. Just Designo Purple.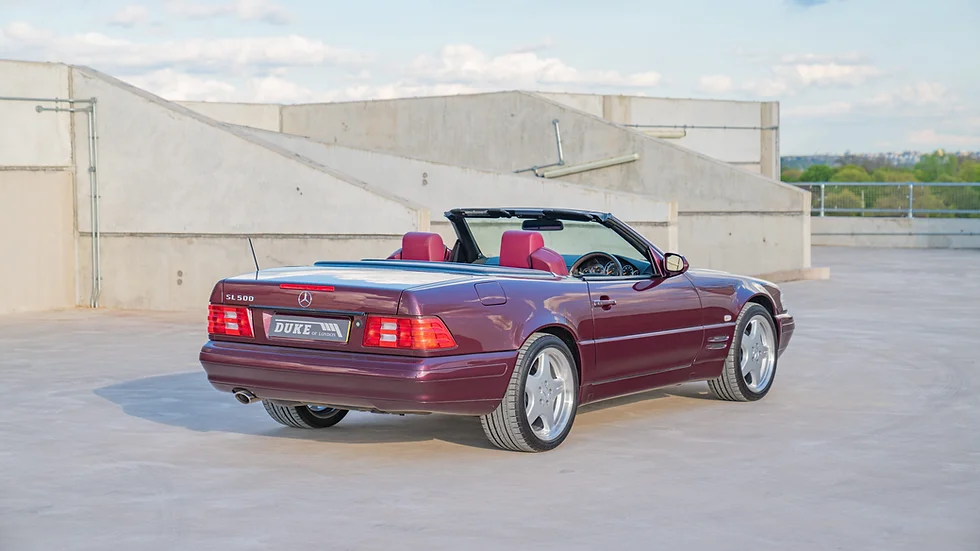 Year: 1999
Model: SL500
VIN: N/A
Engine: 5.0 liter V8
Transmission: 5-speed automatic
Mileage: 22,161 mi
Location: West London, England
Price: £37,950 ($47,715)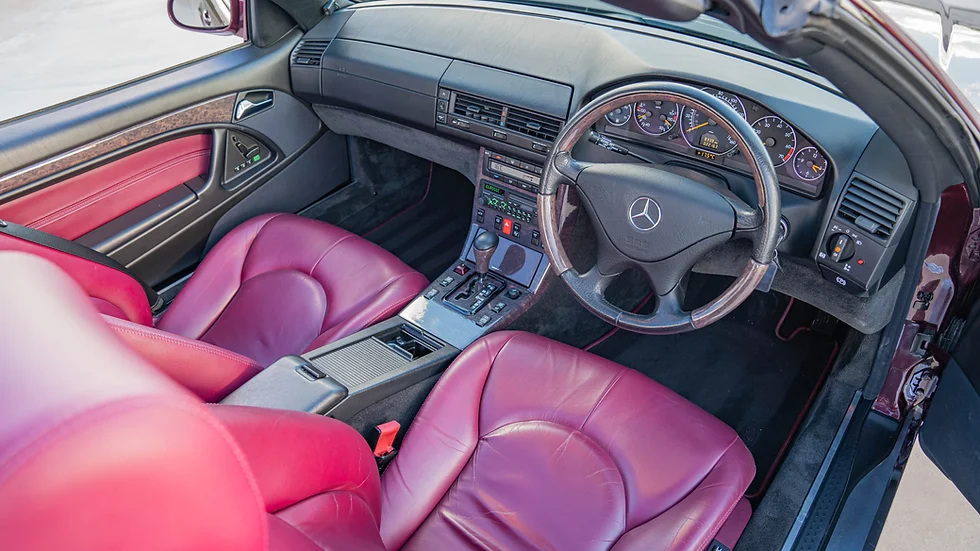 The R129 Mercedes-Benz SL is a car close to our hearts. Many of us here at Duke of London have owned at least one over the years and we are proud to have rehomed dozens over the years. This particular SL500 is without question, and by some margin, the finest R129 we have ever offered at Duke of London. Go and grab yourself a drink, take a seat and prepare to be wowed.

This example is a UK supplied, Right Hand Drive that was delivered new on 6th September 1999 and finished in Designo Purple Paint with Designo Purple leather. I would love to have met the person responsible for ordering this car and choosing its options and shake their hand. The specification on this SL500 is extraordinary and makes it truly one of a kind.

The options specified are as follows:

015O – Designo Purple

015U – Designo Purple Paint

021 – Designo Decorative Trim

022 – Designo Leather

231A – Leather Black

241 – Front Seat LH Electric Adjustable with Memory

242 – Front Seat RH Electric Adjustable with Memory

249 – Automatically Dipping Inside Rear View Mirror

405 – Multi-Contour Seat, Front Right

415 – Glass Panoramic Hard Top Roof

461 – Instrument with miles and English legend

500 – Outside Rear View Mirror LH and RH Folding

501 – Outside Rear View Mirror Left and Right with Programme

565 – Rear Seats Used on SL Models

600 – Headlamps Cleaning Equipment

617 – Lamp Unit: Xenon Headlamps Asymmetrical

740 – Black Soft Top Fabric 9001

750 – MB Audio 30 Radio with VK/RDS

800 – Mode Year Change

819 – CD Changer

833 – Invalid/Great Britain Additional Parts

873 – Seat Heater For Left and Right Front Seats

W07 – Wood Design, Magic Eyes, Designo-Purple

Y94 – Selector Lever in Leather/Designo-Wood Design

Y95 – Steering a wheel in Leather/Designo-Wood Design

What a combination and whilst the car is subtle in its presentation, it is such a unique and special thing for it. Today the car has covered just a mere 22,161 miles. Yes, twenty-two-thousand-one-hundred-and-sixty-one miles. As one would hope/expect from such low mileage, this SL presents beautifully throughout with no corrosion etc. whatsoever. The paint glistens in the light and is excellent condition save for a few very minor stone chips to the front end. The wheels have recently been properly refurbished correctly with diamond cut rims and painted centres.

The interior is in phenomenal condition. The leather is striking and still supple and very comfortable. The Designo wood features are still glossy and not chipped nor cracked. When it came to preparing and detailing the car ahead of photographing it, we made a call to NOT reconnolise the driver's seat leather side bolster. It is currently showing some light creases as you will see from the photos but as the seats have never yet been reconnolised, we thought it should be the decision of its next custodian as to whether or not they would like the bolster to be reconnolised. If they do, this is something we will be happy to do as part of the sale at no extra cost. The original black mohair soft top roof is in excellent condition and operates perfectly. The car's well optioned, removable glass panoramic roof is also in exceptional condition.

Testament to this SL500's incredible condition is the accompanying service history substantiating that the car has been both well looked after and also enthusiast owned with just 3 previous owners (4 in total). Naturally, given the very few miles the car has covered there is no War and Peace size bundle of paperwork as the vehicle has only required service as scheduled and basic maintenance over the years but what has been done throughout its lifetime is well documented. The folder contains all old tax discs, most of the old MOTs and also service invoices. The car is MOT'd until 27/02/24. The car has been MOT'd throughout its life and has never had any advisories bar two for partially worn tyres that have since been changed. Quite remarkably really. The full leather book pack is present and the service book is fully stamped.

The car's service history is as follows:

16/07/01 – Mercedes-Benz Vardy Continental Limited – 4,458 miles

10/08/05 – David Watts Motor Engineers Limited – 7,959 miles

24/08/09 – Millennium Mercedes-Benz – 9,403 miles

24/05/13 – David Watts Motor Engineers Limited – 15,516 miles

03/05/18 – Nair Autos Ltd Mercedes-Benz Specialists – 20,139 miles

08/04/21 – Nair Autos Ltd Mercedes-Benz Specialists – 21,163 miles

01/03/23 – Nair Autos Ltd Mercedes-Benz Specialists – 22,046 miles

In addition to these services, additional recent notable works include:

04/12/17 – New Continental Tyres

03/05/18 – New front brake side and pads, new front ball joint rubbers

08/04/21 – Supply and fit Blaupunkt Bremen SQR46 DAB and Bluetooth radio head unit (original head unit included with car)

01/03/23 – Regas air-conditioning and successfully identify rattle in Hard Top roof and rectify

As you can probably tell by now, this really and truly is a one of a kind R129 that we are not only proud to offer but that we are especially fond of. We are sure this will make a great addition to the most discerning Mercedes admirer, enthusiast or collector's fleet.

As with all of our vehicles, we have a digital folder available on request containing more images, walkaround videos, pictures of the underside and scans of the service history. The car can be viewed by appointment at our West London showroom.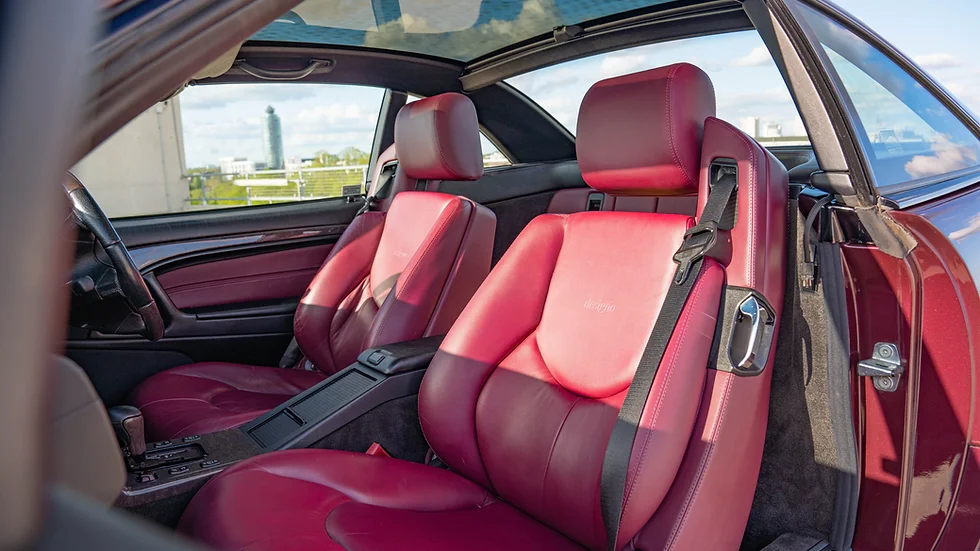 What a wild one here. This surely was spec'd out with a ton of boxes checked, including the very rare panoramic glass hardtop that you can see fitted in some of the photos. Not the mention this one comes in with just 22,000 miles and a fairly solid service history. You know what that means.
A nearly $48,000 asking price here. I know it has 22,000 miles and is in a very rare color, but that is a lot of money for a V8 car. If it was a V12 I could maybe see it, but given what you can buy in the UK market for that, I think it is a tad bit high. Then again, find another one.
– Andrew