Warning!
This post is in our archives. Links in this post may have been updated to point to similar cars available to bid on eBay.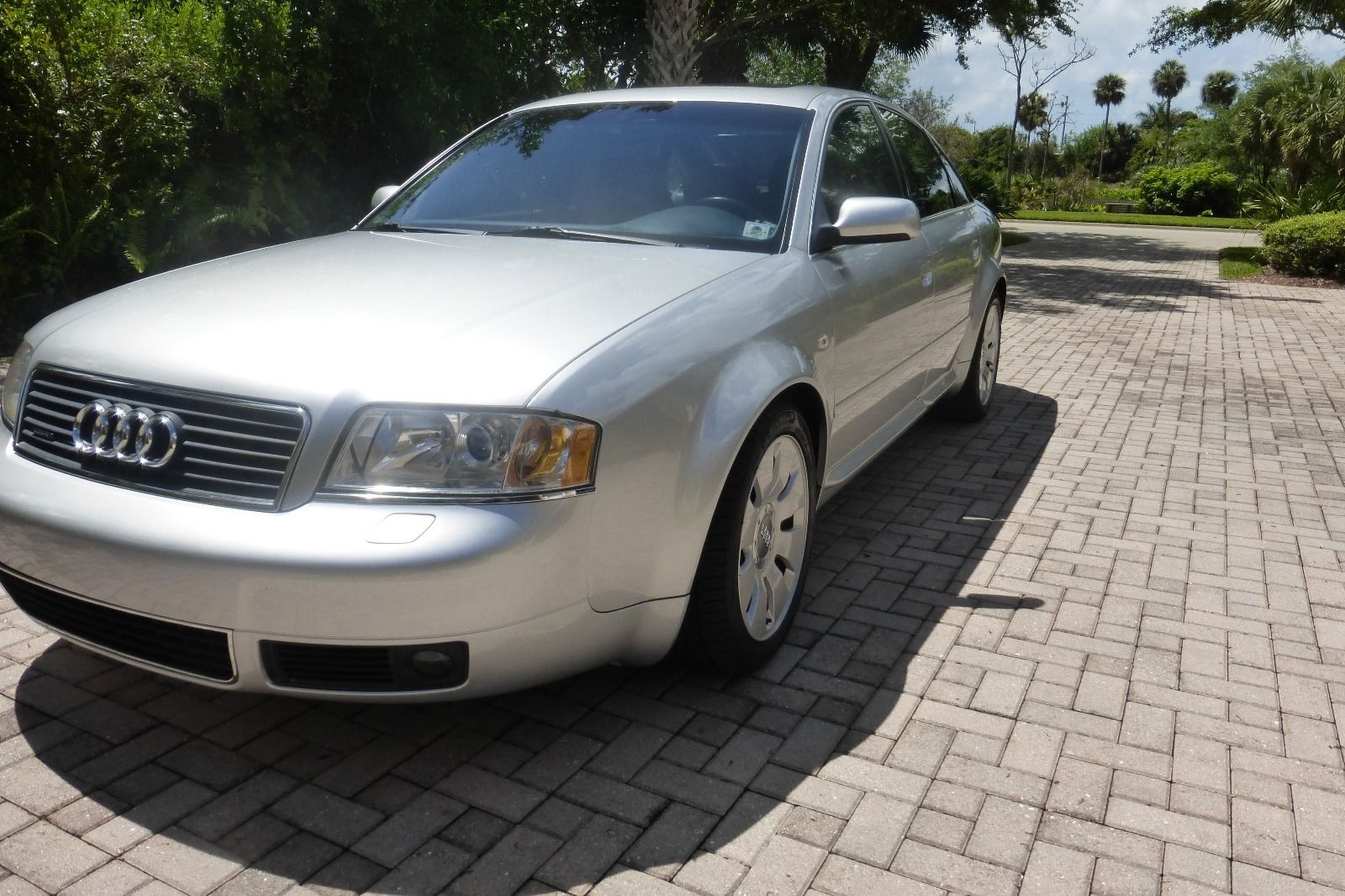 The A6 4.2 quattro falls into an unappreciated middle ground of typically unappreciated Audis. Unappreciated, that is, for everyone outside of the Vier Ringe, because the C5 has gone down as one of the most devoted fanbase Audi models I can remember, perhaps rivaled only by the B5. But while the cheap speed of the B5 attracted the Volkswagen and BMW crowd, the C5 fans seem to be more traditional Audi folk; offbeat, eclectic and fiercely loyal to their particular model.
Perhaps one of the reasons that the 4.2 gets so thoroughly overlooked by the market in general is due to the depth of the C5 lineup. On the performance end, you had the cool S6 Avant and the outrageous twin-turbocharged RS6. On the practicality end, the standard A6 2.8 and 3.0 models provided Mercedes-Benz like quality and adequate stateliness in both sedan and Avant bodylines. Outdoor adventures and tech-geeks loved the Allroad, which could be had with either a twin-turbocharged 6-speed or the subdued and upscale silky smooth 4.2 V8. And finally, for secret performance lovers, the twin-turbo'd V6 could be mated in narrow-body sedan with a 6-speed manual in the A6 2.7T quattro.
Frankly, it was hard for the 4.2 sedan to stand out in this crowd, yet it managed to appear quite special at the same time. This was the defacto S6 sedan, with aluminum front end and engine, along with wide flares and shark-fin door blades. It was longer, too, to accommodate the V8 tucked in the nose, giving a more menacing appearance overall. Special wider track was met with unique Speedline wheels (later replaced by the forged "Fat Fives") and meaty 255-40 section tires as an option. And with 300 horsepower, out of the box the 4.2 was the top trump for the 2000 model year in the C5 lineup and would remain so until the 2002 introduction of the S6.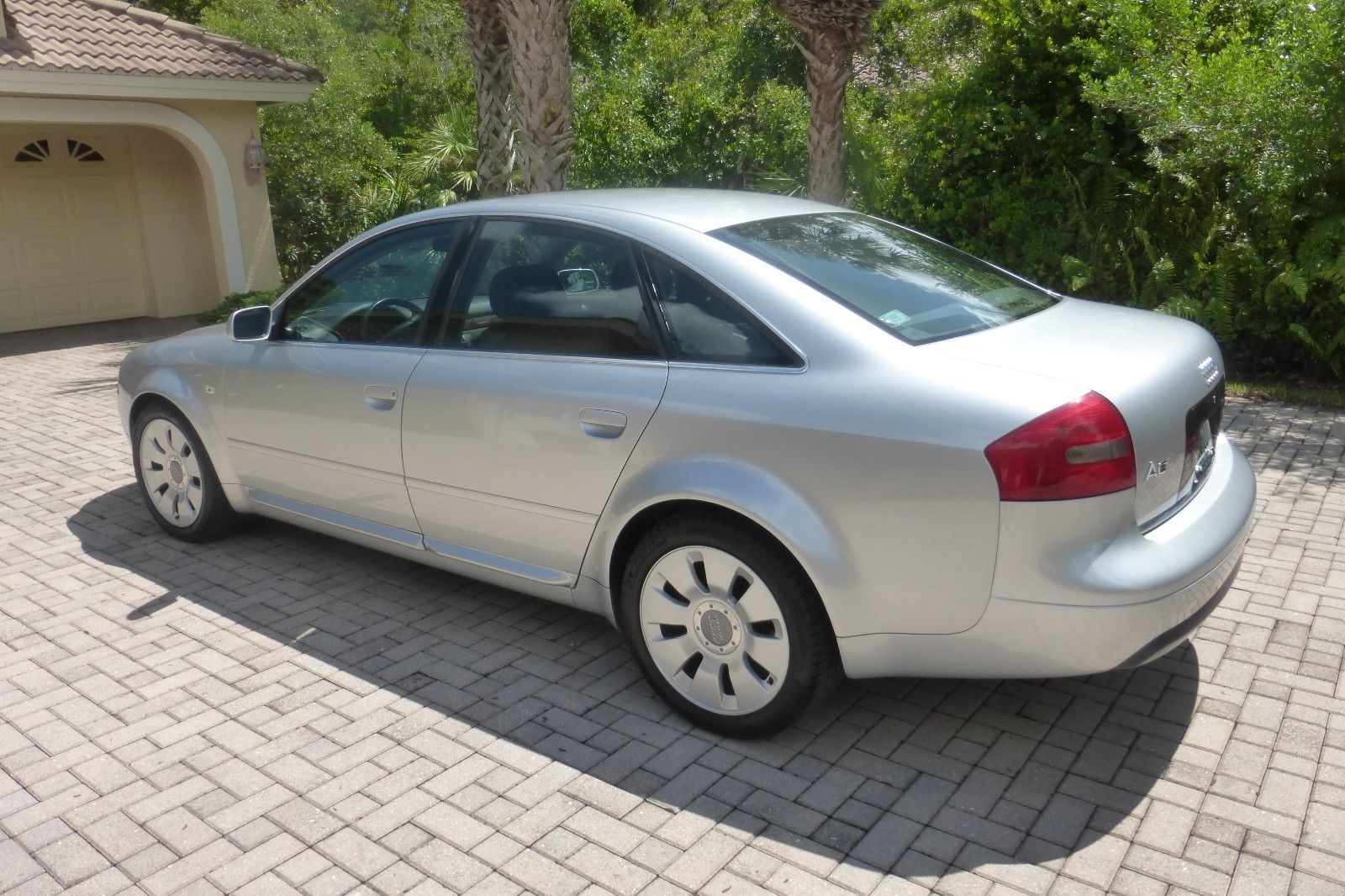 Year: 2000
Model: A6 4.2 quattro
Engine: 4.2 liter V8
Transmission: 5-speed automatic
Mileage: 58,000 mi
Price: $7,100 Buy It Now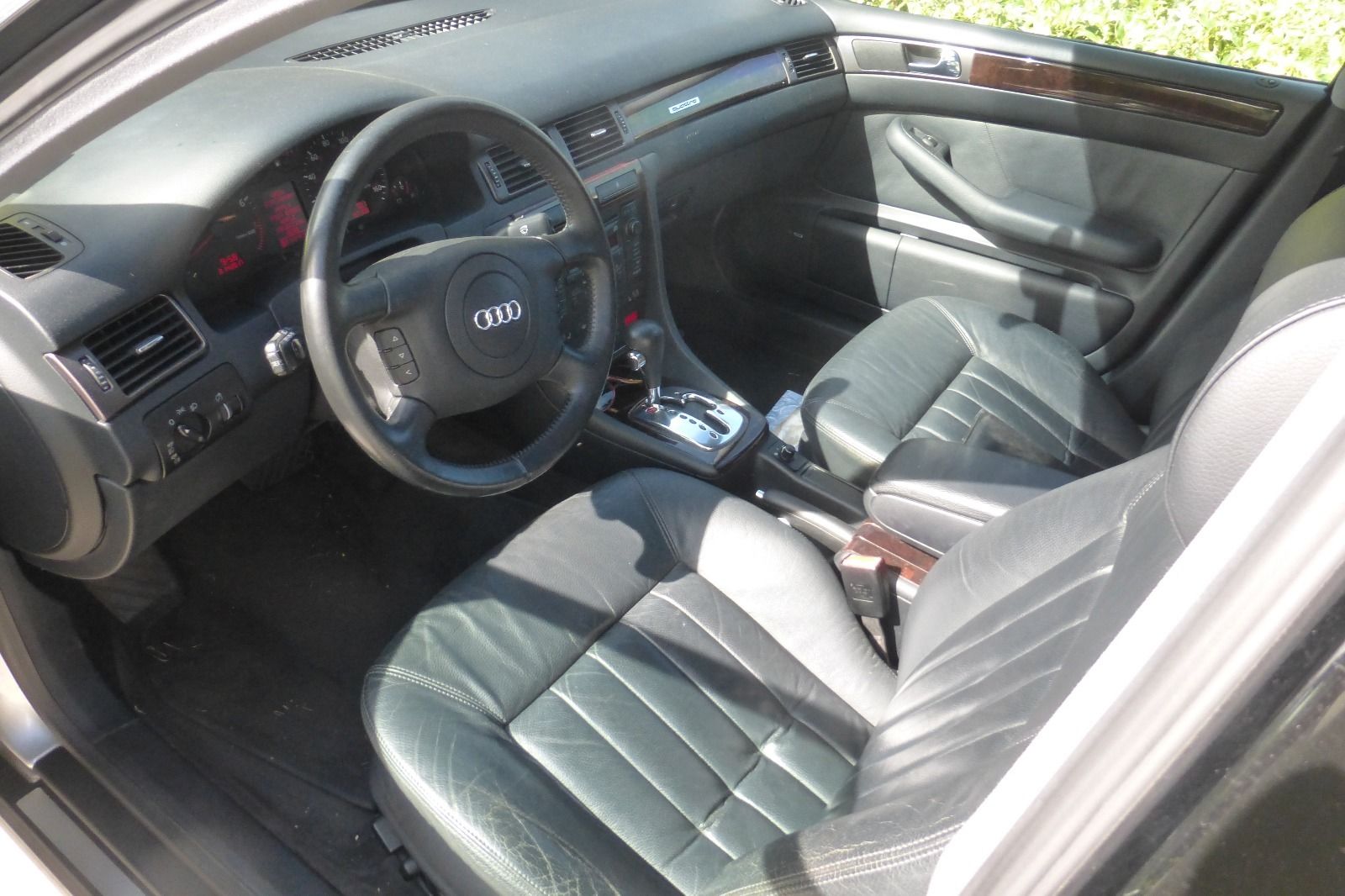 You are looking at a very rare car—a 2000 Audi A6 Quattro with the 4.2 V8 engine. 300 HP/295 ft/lbs torque. 5 speed Tiptronic transmission, factory custom body. Made between 1999 and 2004, these were a very limited production vehicle. Absolutely thrilling to drive, I believe that Audi's HP/Torque statistics err a little on the conservative side because I also have a Porsche 911 and a 2013 Mercedes, all claiming about the same HP and this Audi will outrun both of them.

Unlike the next generation of A6's with the 4.2 engine, the body on this car is different from a standard A6; longer, wider, lower with ground effects trim and flared wheelwells.

Both front seats are power and can be heated. The driver's seat, steering wheel and mirrors have 3 memory settings. Note: the part of this system that can raise the steering wheel is not operating properly at this time—since I'm the only one driving this car, it hasn't been a priority to deal with it.

Warm weather package: rear side window shades, electric back window shade, a solar panel in the sunroof that operates the interior fans to keep the car cool inside.

Up until 2012, this Florida vehicle had two non-smoking owners. Always garage kept and regularly maintained. The outside silver paint gleams and the beautiful interior shows very little wear. Like every Audi I've ever had (8), there are no squeaks or rattles; it drives like a new car. Headlights have been restored.

Recently moved to a house with a one car garage and tired of paying for extra car storage space, so that's why this car is being sold. With my wife's Mercedes SUV, we no longer need another 4 door, 4 passenger car.

Climate Control system works perfectly and this vehicle does not burn or leak a drop of oil. There are no known mechanical issues. Car has two working remote keys, original owner's manual and original window sticker.

Recent work:

Timing belt, water pump, tensioner and serpentine belt replaced at 42k miles, along with battery. Next major service of this type won't come up until 123k.

Oil/filter changes Mobil 1 every 5k miles

Very recent: new Michelin tires, cat converter, front axles, alignment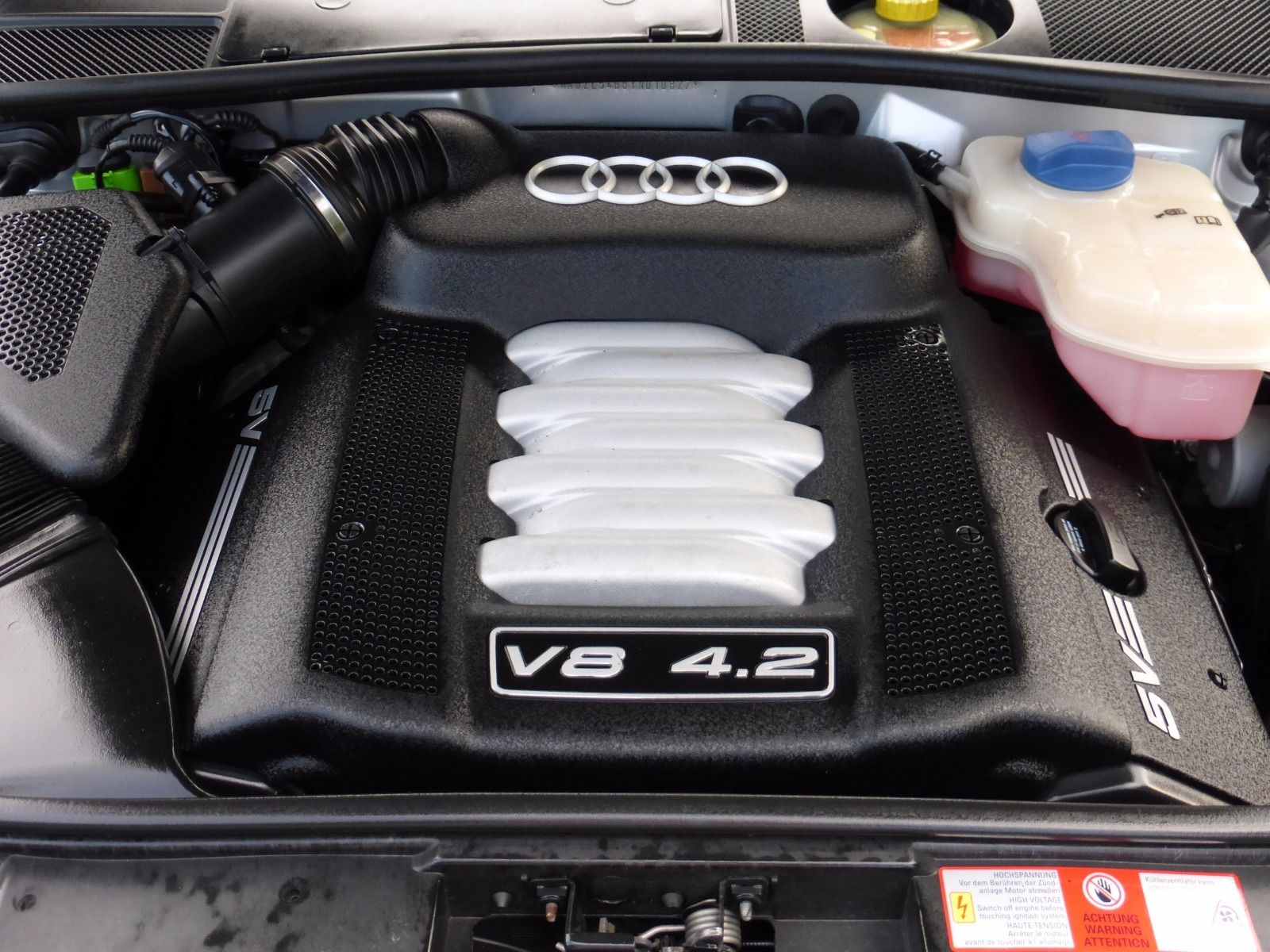 Early 4.2s carried the ART-code V8, while later models have the AWN. The main changes were software updates, exhaust manifolds and pre-cats on the later examples, along with throttle body changes and other minor tweeks – the performance between the two, and to my knowledge reliability, is effectively the same. Those A6 motors (outside of the V8 Allroad) are belt driven, so while you do need to perform the obligatory rubber change out at regular intervals, the dreaded guide issues and expensive carbon cleanings of newer Audi V8s don't apply here. Performance was stout with the 4.2; though it was a few ticks slower than the manual 2.7T A6, on the fly the 4.2 pretty quick and the sub-7 second 0-60 time was nothing to sneeze at for a large sedan at this point in time.
This particular example is one of the nicer ones I've seen in recent years. Low mileage is met by excellent overall condition. It's well equipped, with optional heated seats, the upgraded 17″ Speedline wheels, and the solar roof Warm Weather Package that gave you shades. The expensive timing belt service has been done, and outside of the adjustable steering wheel everything appears to be working. What's not to like?
Well, were I to get one of these cars, I'd probably look for a 2001-up model with the Sport Package. I'm pretty sure the 2000s included the 1BE sport suspension (a glance at the build sticker would reveal this quickly), but the 2001s had not only that option and the forged 5-spoke Fat Fives, but importantly the sport seats were included. The comfort seats have never been my favorite in Audis, and especially in a sedan with a slant towards performance the omission of the heavily bolstered and supportive seats is glaring. Aluminum Silver Metallic is also not the best color on these A6s in my view, as there are several beautiful shades like Nemo Blue and Andorra Red that really stand out. Lastly, there's the price – $7,100.
On the surface, that's not an outrageous amount, and indeed you're getting a lot of car for that money in fantastic shape. But these 4.2s are really most compelling around $5,000 because over that amount, you start to tread into more rarefied and impressive territory. The S8 isn't far away and offers more exclusivity, better looks and better performance. The S6 Avant, similarly, can be found in the same price range. So, too, can budget E55 AMGs and BMW 540i M-Sports be found. If you're shopping C5s you're not likely cross-shopping those two and vice-versa, but I think the point is valid. The 4.2 is an awesome car still stymied by being surrounded by superlative options.
-Carter