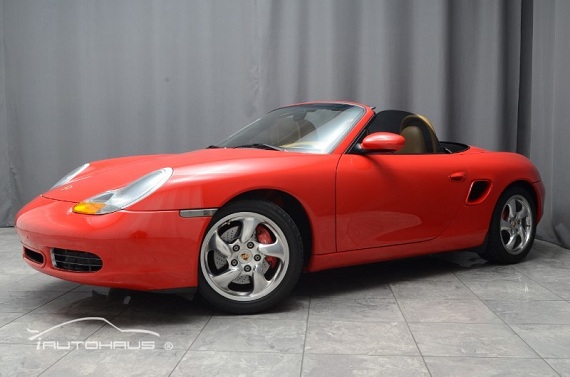 If you're at all like me, you look at a lot of internet car advertisements. One of my favorite subset hobbies is then looking for ridiculous claims within those ads – "Only one ever made", "One of a kind", "Fastest car in the world" – you know the gig. They're always good for a chuckle and make you wonder just what the seller was thinking. Sometimes, though, those ads show a general lack of knowledge about the vehicle in question; for example, listing any BMW as having a "V6" or all older Audis as "quattro" models. So you can imagine my delight when I ran across today's 2000 Boxster S – typical Ebay auction-house seller photos and no extensive description, but there in the title in bold letter all caps was "TURBO". "Ha!", I thought, "Gotcha!" as I scrolled down the page to confirm my suspicion that this seller knew little to nothing in comparison to my vast unassailable automotive knowledge. But halfway though the photos I came across an image of the the rear spoiler deployed with the words "Turbo Kraft" stenciled on. Hmm, still not proof of a turbo, just poor taste. It was a little further down that I was both disappointed to be wrong and excited to see the image of a shiny turbo sitting in the engine bay. So take a look at something you're probably not familiar with – the turbocharged Boxster S: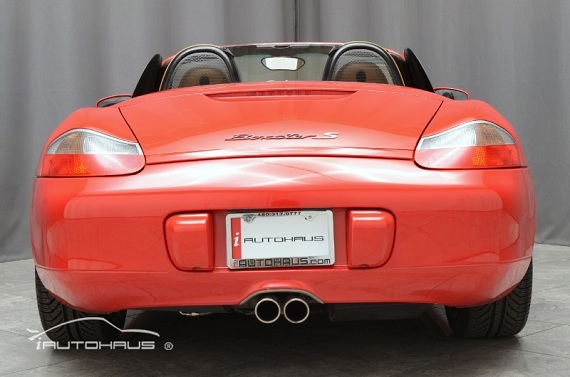 Year: 2000
Model: Boxster S
Engine: 3.2 liter turbocharged flat-6
Transmission: 6-speed manual
Mileage: 35,780 mi
Price: $18,898 Buy It Now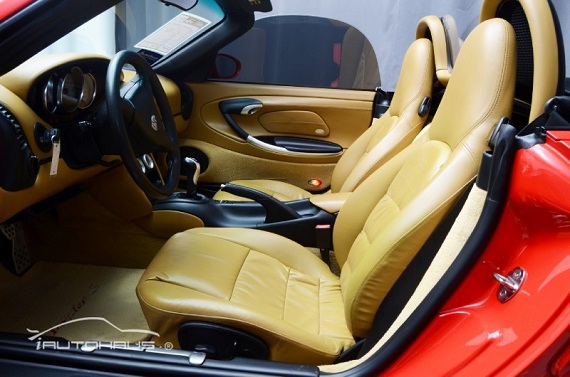 2000 Porsche Boxster S, 6 spd TURBO charged Low Miles WE FINANCE!

Extremely LOW MILES Boxster S, Sport Turbocharged! 3.2 Liter flat six cylinder 300 HP, 6 speed manual, Professionally installed Garrett Turbocharger System, Stainless Steel Exhaust/Muffler/Twin Tips, High Efficiency, Aluminum Inter-Cooler With Ram-Air Ducting, Cruise Control, Power Seat Package, Wind Deflector, Heated Windshield Wipers, Hi-Fi Sound Package with CD Changer, 17″ Chrome Turbo Twist Wheels.. Definitely for the performance-minded driver. Previously sold by iAutohaus and serviced by Porsche Master Technician at our Bosch Authorized Service Center iAutohausRepair. Passed AZ Smog/Emission, Service Records available. Another iAutohaus Perfection!

If you are looking or a truly unique and energetic driving experience, this Porsche Boxster S is for you! Enjoy all this 2000 Porsche has to offer- a most comfortable and inviting interior, rich accents, sporty good-looks and superb handling and performance! You will only look like you spent a fortune, so do not miss out on this great offer! Very well cared for and extra clean inside and out, Carfax Certified. Call today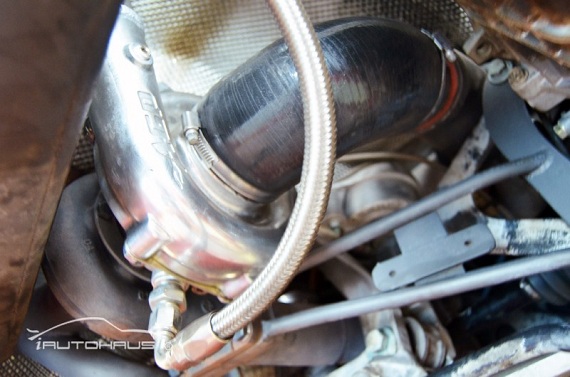 I was a bit glad to see some items in the description that renewed my lack of faith in Ebay sellers; as I mentioned, there is little detail offered about the turbo conversion and a typical lack of any maintenance records or detail in general. Further, there are great items like "Chrome Turbo Twists" which they aren't and "Ram-Air Ducting" that was apparently borrowed from Bandit. But as I often say, you're not buying the seller, you're buying the car. Also, while I'm sure the car actually may have heating windshield wipers, my question is why? Why would you select heated windshield wipers on a Boxster and then throw a turbo in it? Being that it's a Porsche I'm sure that option was $1,100, and to me completely baffling.
The Turbo Kraft kit by itself runs nearly $8,000 uninstalled. Turbo Kraft claims a 42% increase in horsepower over stock and the kit seems complete, including ECU reflash, stainless exhaust and Garrett turbo and intercooler. You'll be pleased to know in those two sentences alone I did more research and provided more detail than the seller. The color combination is popular but looks a touch tired for the lower miles on this car, and the chromed Boxster S alloys look out of place to me. Despite this, the car has lower miles than most of the other Boxster S models listed on Ebay. Accordingly, it is priced at the higher end of the Boxster market but the reality is that this car probably offers much more performance bang for your buck. Does that make it worth more? Probably not; like the Ruf Supercharged Boxster I wrote up recently it's a highly specialized market that you both have to want this particular car and be willing to put up with the increased maintenance. If you do, you'll be rewarded in having the ability to smoke other Boxsters off the line, but for me this car – while neat – doesn't check the right boxes to make me want it. I'd rather save a few bucks and jump into a stock model in a better color combination and save that extra money for maintenance down the road.
-Carter