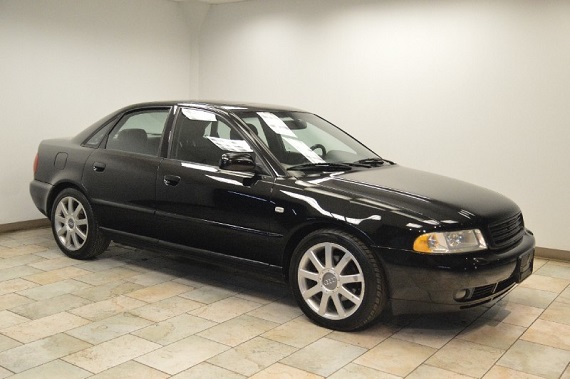 Audi loves to do things outside of the norm, and one of the odd things that they seem to do is to upgrade a car and then immediately discontinue it. Why they do this is beyond my level of comprehension, but it means that if you know what you're looking for you can get a slightly more special version of the car you're after. These half year models, known as the ".5″s, aren't always the same – nor are they always well documented. The first I can think of is the 1987.5 Coupe GT; also dubbed the "Special Build", it featured some serious upgrades including a larger 2.3 liter inline-5, 4-wheel disc brakes and a few trim differences from other GTs. Arguably, they're the most highly sought after GTs with only a few hundred still kicking around. The same goes for the 1995.5 S6; minor trim and some mechanical changes, such as the change from a mechanical locking rear differential to the newer electronic system Audi would use in newer cars. But it didn't end there, as in 2001 Audi upgraded the outgoing B5 A4 to 2001.5 specs. The changes were subtle; the A4 already had a refreshed front and rear lights in 1999, so you had to look underneath to find the reinforced front strut housings and changed ECUs. While the S4 didn't exhibit any exterior differences, though, the A4 Sport package was different. Launched in 1999, the Sport package A4s initially had Ronal made "Swing" 7 spoke wheels that were replaced in 2001 by Speedline-made 7 spoke wheels that had a more square design and a center lug cover. But the 2001.5 models gained the "Celebration Package" as well, featuring 17″ wheels for the first time on the regular A4. It was, for all intents and purposes, the beginning of what would become the "Ultrasport" package on the B6 A4 in 2002. The "Celebration" wheels, as on the A6 2.7T and S8, mimic the RS4 design and became a signature wheel for the early 2000s Audis: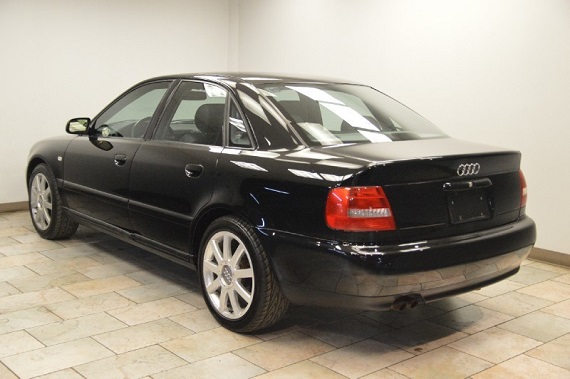 Year: 2001
Model: A4
Engine: 1.8 liter turbocharged inline-4
Transmission: 5-speed manual
Mileage: 90,185 mi
Price: $5,890 Buy It Now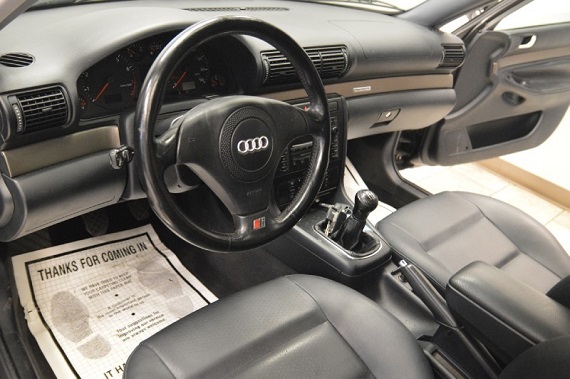 2001 Audi A4 A4 1.8TAWD QUATTRO
2001 AUDI A4 1.8T AWD QUATTRO BLK/BLK 5SPEED SPORT PKG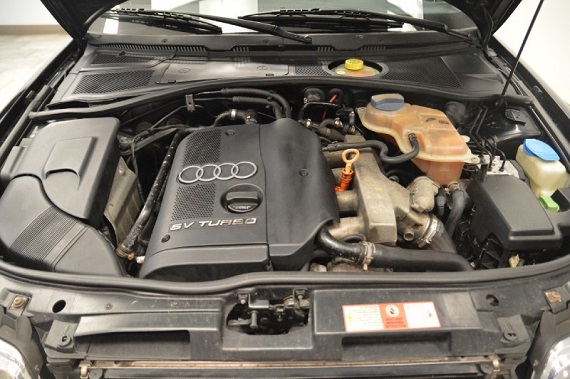 The A4 certainly isn't the most collectable Audi model and there were plenty made, so finding a cheap one today isn't very hard. In fact, pull up your local Craigslist and I'd bet you can find one under $1,000 without much difficulty. They're so common, in fact, that they've been more or less completely overlooked in terms of future classics – but the A4 was a very important car for Audi, as it transformed the company from an also-ran into a mainstream competitor for BMW and Mercedes-Benz. You could argue that wasn't necessarily a good thing if you're a classic Audi fan, but that gain of market share has brought us some very special cars in recent years as a result. I was wondering recently if there were any really clean, original 1996 A4 2.8s left – it's so rare to see them now. The same could be said for original and clean early 1.8Ts. Granted, the early cars are a bit anemic, and Audi steadily upgraded the power trains to keep in line with BMW. By 2001, the U.S. A4 featured the North American-only spec "AWM" 1.8T, which also saw duty in the B5.5 Passat. Rated at 170 horsepower, it was a slight upgrade over the earlier 150 horsepower cars. With almost 3,300 lbs to lug around, no one will accuse the A4 of being fast – but it was reasonably sprightly and fun to drive. Coupled with good looks and turbo tune-ability, it was an instant hit for those looking to modify their cars.
Now, this particular car has very little information about it; miles are lower but at 90,000 miles this car should have had a timing belt change – it's not hugely expensive to do, but it's critical that it was performed. Outside of that, the 4-link suspension often exhibits squeaks as it gets older and replacement is the only option. As these A4s go, the interior looks quite tidy – the seats often exhibit splits as the wear increases, so this one looks nice. It has been modified from stock slightly; the badgeless grill isn't stock obviously, and the rear badges have been removed. But with these A4s, usually first to go is the stock suspension and wheels which remain in place here. The Brilliant Black exterior isn't the most exciting; were I looking for an A4 to hold on to, I'd want Pelican Blue personally, but the black is always popular. At the price of this car, you can get a S4 with a lot more motivation – but also much bigger repair bills. The 1.8T won't thrill you with massive performance, but this is a solid package with the desirable sport package and the rare last of the run 2001.5 updates. Surely, in the future we'll look back and wish there were still clean examples like this kicking around.
-Carter