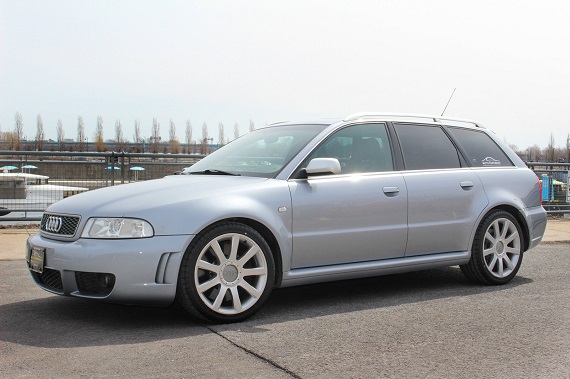 After trying for a few months to shift this RS4 over $40,000 back in the Spring, this awesome original Avus Pearl Audi RS4 is back on the market at a discount. The seller's highest auction bidding reached $26,000 but failed to hit the reserve. Now it's back up for sale at $36,000. For our friends in the Great White North, this car offers a lot of future collectability but for U.S. fans, you'll have to go through some Federalization work to get it here. The good news is that others have already done this, so it is possible to bring this Euro-only wunderwagon stateside. While $36,000 sounds like a lot, the hand-built, exclusive nature of the RS4 coupled with performance that is still not far from cutting edge the best part of two decades later seems like a deal. However, since no one has snapped this one up it would seem to indicate the lack of appreciation for the RS4 at this current time – surprising, since we've seen replica RS-inspired models in the U.S. come close to the asking price. Is it just that it hasn't been brought to the U.S. yet?
The below post originally appeared on our site February 3, 2016: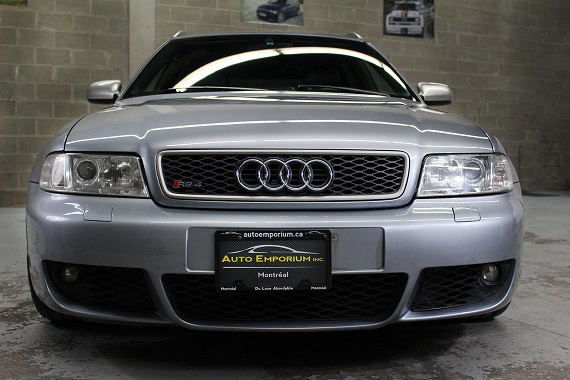 Although Audi had launched the idea of the super wagon with the RS2, by the late 1990s they didn't have anything near as impressive. Sure, the S4 Avant was quick, but with 250 horsepower it was substantially less powerful than the 315 horsepower RS2 and the 322 horsepower S6 Plus. Something needed to be done to live up to the reputation of quattro GmbH, and that something involved Cosworth. Taking the basic twin turbocharged V6 from the B5 S4, Cosworth Technologies thoroughly rebuilt the motor. Now dubbed the ASJ (later AZR), the power went up 50% to 375 horsepower with an equally impressive 325 lb.ft of torque. To match the performance of the motor, quattro GmbH introduced new bodywork that channeled some of the trends set by the RS2; larger vents on the front bumper, wider sills, and larger brakes and wheels. The result was a package that lived up to the "RS" moniker with sub 5-second 0-60 runs, a 160 m.p.h. top speed, but also the brakes and grip to compete with contemporary sports cars. It may not have had the mystique of the RS2 without the name Porsche, but it was a package that was just as desirable then as it is today:
Year: 2001
Model: RS4
Engine: 2.7 liter twin-turbocharged V6
Transmission: 6-speed manual
Mileage: 37,250 mi
Price: $35,900 Buy It Now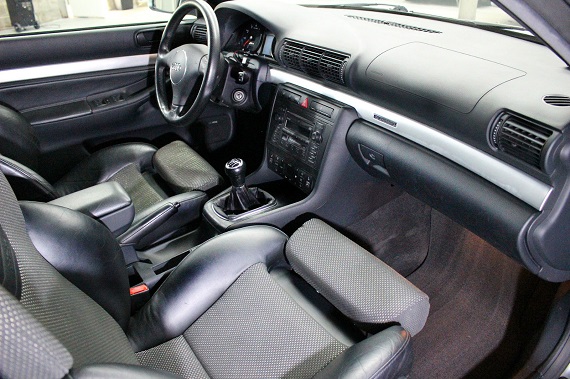 NO RESERVE AUCTION!!!

ACCIDENT FREE AND PERFECTLY CLEAN!

ALL U.S.A. BIDDERS: PRIOR TO BIDDING, PLEASE BE AWARE THAT A REGISTERED IMPORTATION WILL NEED TO BE MADE TO CONFORM THIS VEHICLE TO U.S.A. STANDARDS AFTER IMPORTATION. APPROXIMATE COST IS $10K TO BE PAID BY PURCHASER, IN ADDITION TO BOND PAYMENT AT IMPORTATION.

We Can Handle Easy Importation Into The U.S. We Can Handle All Shipping, Paperwork and Brokerage!

VIN: WUAZZZ8DZ1N901136

Renn Sport – literally translated as "Racing Sport", is Audi's highest trim level, positioned above the "S" model specification of Audi's regular model lineup. Like all Audi "RS" cars, the RS4 pioneers some of Audi's latest advanced technology, and could therefore be described as a "halo vehicle". Furthermore, it is only available with Audi's Torsen-based Quattro permanent four-wheel drive system. Most importantly, this Audi RS4 Avant was not available for sale in North America. It is sure to be a beautiful addition to anyone's collection, investment portfolio or daily driver fleet.

The engine was developed from the 2.7 litre 90° V6 'biturbo' used in the B5 S4. It displaces 2,671 cubic centimetres and has five valves per cylinder. This engine was developed and manufactured in the UK by Cosworth Technology (now known as MAHLE Powertrain). It features enlarged intake and smaller exhaust ports on the two Cosworth cast aluminium alloy cylinder heads, two parallel BorgWarner K04-series turbochargers, two larger side-mounted intercoolers (SMICs), dished piston crowns, stronger connecting rods, larger intake ducting, enlarged exhaust system, and a re-calibrated engine management system. The engine was controlled by a Bosch Motronic ECU. The engine produces 375 bhp at 7,000 rpm and 325 lb.ft. of torque from 2,500 to 6,000 rpm.

Tech Specs:

· Engine Codes: ASJ/AZR

· Engine: 2.7L V6 TwinTurbo DOHC 30V

· 375 Horsepower at 7,000 RPM

· 325 LB. FT. Torque at 2,500-6,000 RPM

· Aluminum Hardened Headers by Cosworth Technology

Brakes were also developed jointly in house by Audi's quattro GmbH. At the front they are radially vented and floating cast iron discs, 360 millimetres (14.2 in) diameter and 32 millimetres (1.26 in) thick, with double-piston floating calipers, and at the rear 312 millimetres (12.3 in) by 22 millimetres (0.87 in) discs with a single-piston floating caliper. The RS4 needs less than 50 metres (160 ft.) to come to a full stop from a speed of 110 kilometres per hour (68 mph).

The standard wheels are 18 inch alloys (8½×18″ "9-spoke"), with 255/35 ZR18 high performance tires.

Mechanically, the Honeycomb grille in the front bumpers serve to cover the intake apertures for the air coolers. Similar enhancements were applied to the body, with the RS4 gaining significantly wider wheel arches with deep, grille laden bumpers and sill extensions, providing a wider track and having the combined effect of making the RS4 unmistakable.

The condition of this extremely low mileage RS4 Avant is showroom worthy, both inside and out. The vehicle has travelled only 58,600 Kilometers, or 36,625 Miles. The Avus Silver Pearl paintwork displays a deep shine with a stunning sparkle under the studio lights. It looks fantastic with extra-wide front and rear wheel arches, unique, ground-hugging front and rear bumpers and side sills, and rear spoiler all contributing to a distinctive aggressive stance on the road. RS4 badges front and rear help hint at its disguised super car underpinnings packed into a usable and daily vehicle. An extra benefit to this gorgeous bodystyle is a large and practical trunk and roof rails that add to the car's practicality.

A new Sachs Clutch, Sachs OEM Dual Mass Flywheel, Carbon Fiber Stage 2 Synchro Rings, Collars, Sleeve and Clutch Slave were just fitted on the vehicle to replace the stock units, which had a reputation as being one of the only weaknesses on the car.

Oils and fluids were just changed. New Summer performance tires were just fitted on the car as well. No maintenance needs to be performed, it is all up to date.

Inside, the car is immaculate, with a subtle Quattro badge on the dash, and RS4 badge on the leather steering wheel. The front Recaro sports seats, clad in black leather and cloth with the RS4 emblem on the backrest, offer supreme comfort, and are assisted by an armrest, pristine black carpets and digital climate control. In-car entertainment is offered by Audio's own Symphony system. All interior panels, plastics and switchgear are in great condition, free of significant wear or cracks, and function properly.

The RS4's engine is famous for its usability in all situations, with a very broad torque curve, giving it effortless pull as a daily machine, with an even higher amount of power that pulls until redline, perfect for track use and high speed driving. This spotless example is in great working order, with a long future lying underneath the telling 'V6 Biturbo' badge.

Key Performance Standard Equipment:

· Roof Rails in Aluminum Trim

· Special RS4 Side Moldings

· Dual Oval Exhausts

· Special RS4 Rear Spoiler

· Electronic Stability Program (ESP)

· Airbags w/Switch for Deactivating Passenger Airbag

· HID Headlights

· Audi Concert Symphony Audio System

· Carbon Fiber Engine Cover

· Permanent 4WD Quattro; Automatically Locking Torsen Centre Differential, Electronic Differential Lock EDS Via Brake Activation for All Driven Wheels

This pristine B5 Audi RS4 Avant that is available for sale gives you the rarest of opportunities; to be one of the only B5 RS4 Avant owners in North America. The narrow angle V6 bi-turbo sound is intoxicating, the chassis is uncompromisingly stable and the handling is sublime. Even a routine drive generates stares from onlookers who pull out their phones to try and snap a quick picture. Whether driving it year round as a daily driver with useable functionality and Quattro All Wheel Drive, a performance track star, or an appreciating investment asset, this car does it all. Not only will you be an exclusive member of Audi's storied and exclusive RS RennSport racing club, you will also be the proud owner of one of the best B5 RS4 Avant examples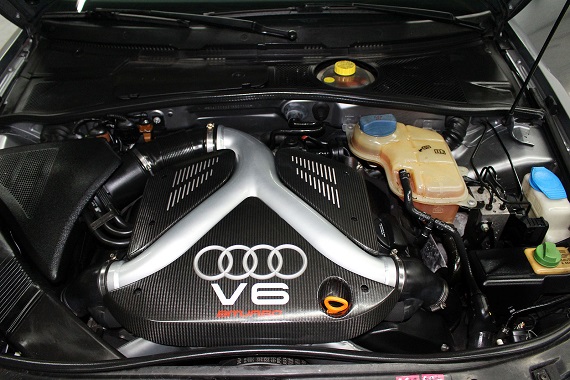 With the recent proliferation of special models from manufacturers in every different configuration possible, it's refreshing to look back to the "take it or leave it" time of these manufacturers. Did you want an RS4? Great, but it only came as a wagon, and it only came as a manual. If you couldn't deal with that, you didn't own one. Condition of this example appears to be as good as any we've seen, though the closeup of the wheels does reveal some wear – surprising, frankly, given the relatively low miles of the car. It is nice to look at how austere and simple the B5 was in design compared to the newer Audi interiors. Sure, the new ones are beautiful designs, but this is functional and simple – a reminder that the design was penned way back in the mid 1990s, and you can see DNA from the Audi 200, 80 and V8 quattro peeking through in there. Pricing on these RS4s has begun to fall though they're still 10 years from legal importation. The last one we looked at was the $77,000 asking price ex-Villeneuve Goodwood Green example but I wonder if this is the same Avus Silver Pearl RS4 I looked at back in July as the color, condition and mileage all seem to match. Asking price then was a much more reasonable $44,000 (in comparison to the 2Bennett car) but condition didn't seem to be quite as good overall as the higher mileage Goodwood car. For U.S. readers, the point is effectively moot due to the cost of importation. And for collectors, the RS2 holds more appeal and is much closer to being legal here for about the same money. However, for someone in Canada, the original RS4 offers a tremendous amount of performance and street credentials for what is really a very reasonable sum in the grand scheme.
Thanks to our reader John for the spot!
-Carter