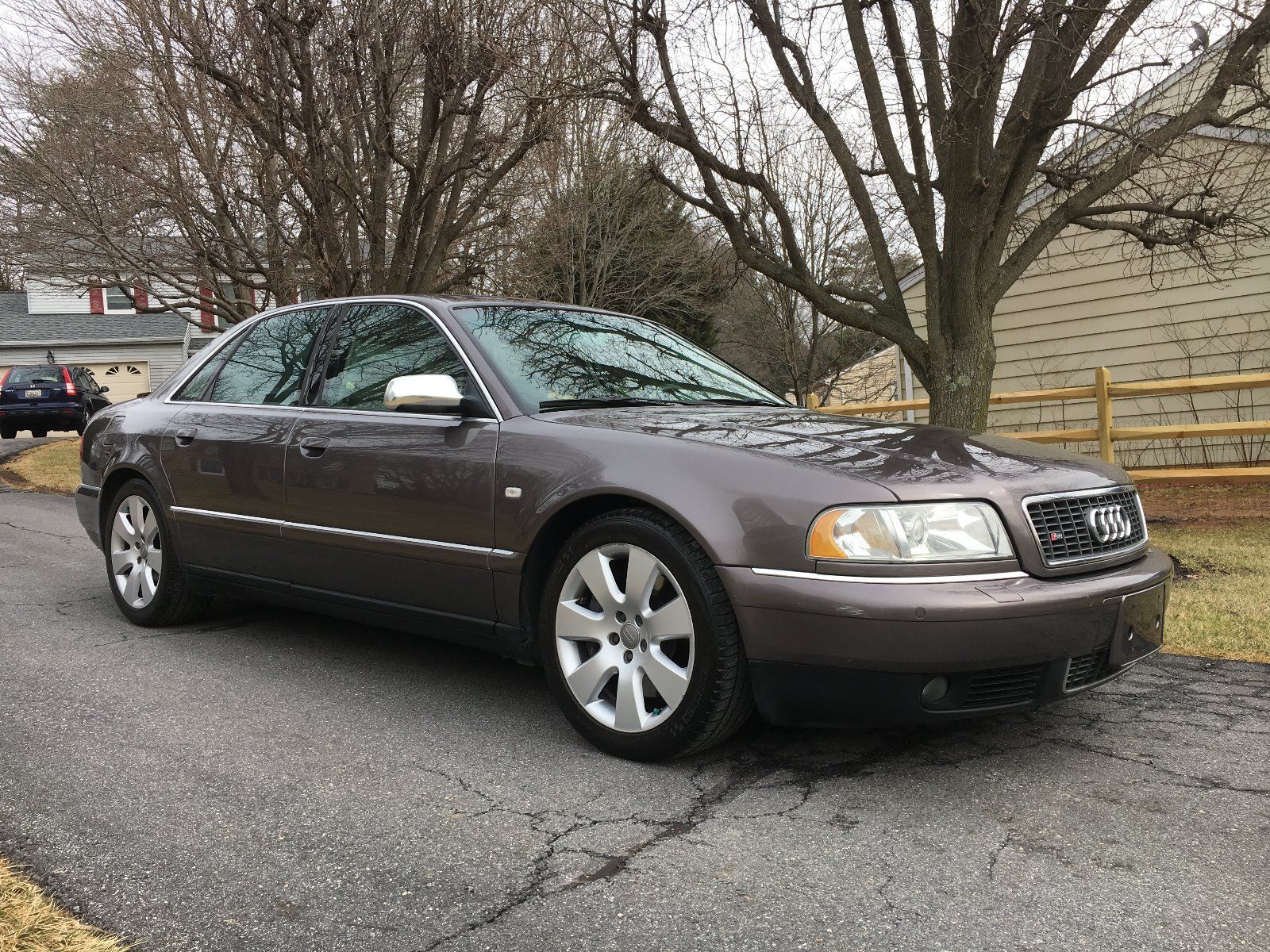 Like more than a few Audi fans, my love affair with the S8 now spans 20 years since it first 'shoved' its way into my imagination via the thriller Ronin. It still seems to have set the bar for the most epic and reasonably realistic car chase movies out there, though Bullitt gets more attention and notoriety. That the S8 then came to the U.S. three years later made the dream more of a potential reality. Unfortunately, the S8 stickered for $78,000; approximately $76,000 more than my typical budget for Audis. It might have been geographically closer, but ownership was still a long way off.
Thanks to depreciation in the luxury market, though, over the past two decades these mega-S models have come tantalizingly closer to a price point that I can afford. But I've owned cheap executive Audis before a few times, and…well, it's seldom a great idea. As the addage goes, 'there's nothing more expensive than a cheap (insert brand name here)', and that certainly can apply to the S8. So while it's very tempting to briefly consider repeatedly look at that $2,000 example on my local Craigslist, the logical side of me says the one to get is one that's been gone through. One, perhaps, just like this Cashmere Gray Metallic example: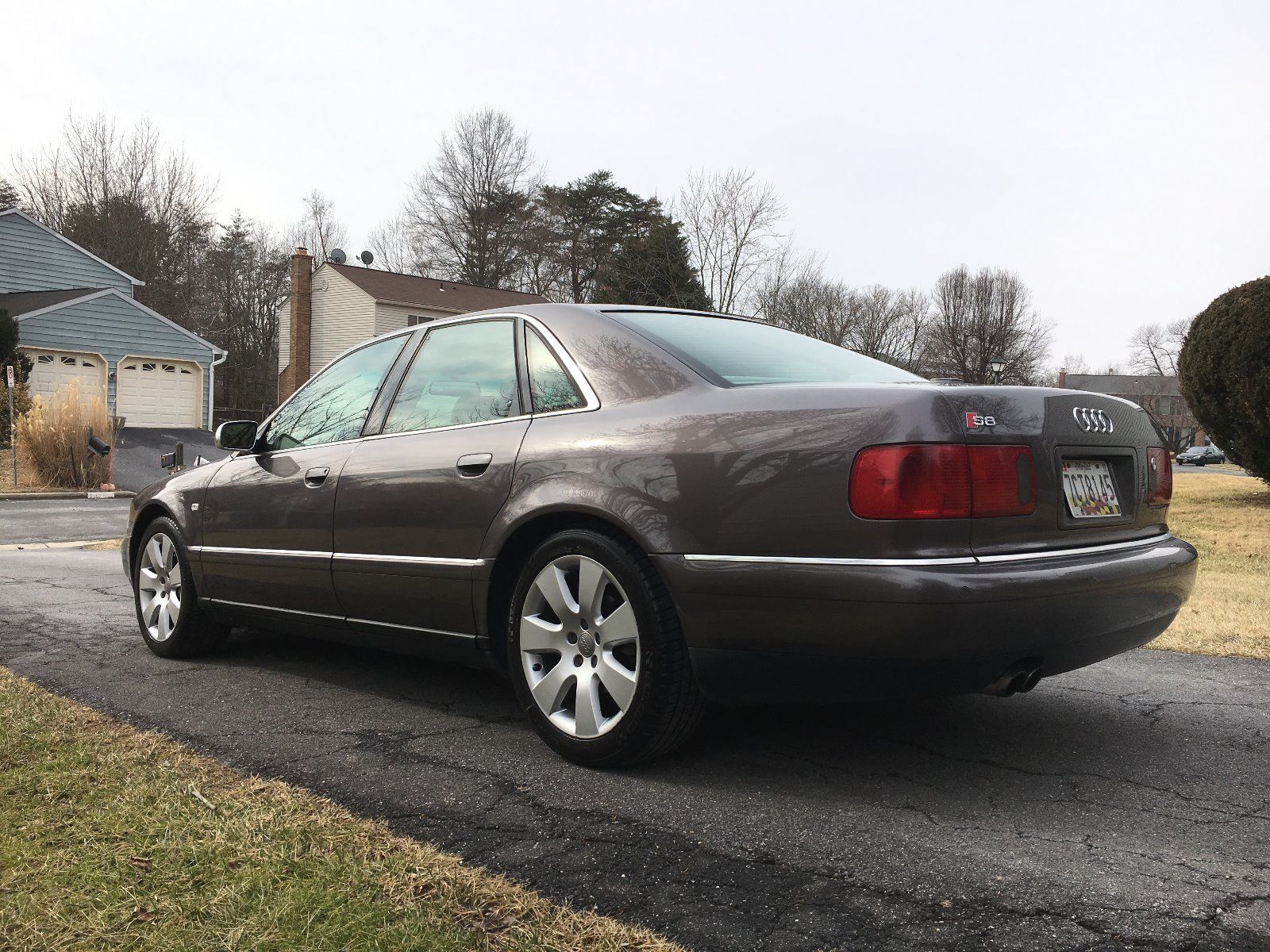 Year: 2001
Model: S8
Engine: 4.2 liter V8
Transmission: 5-speed automatic
Mileage: ~90,000 mi (TMU)
Price: $12,900 Buy It Now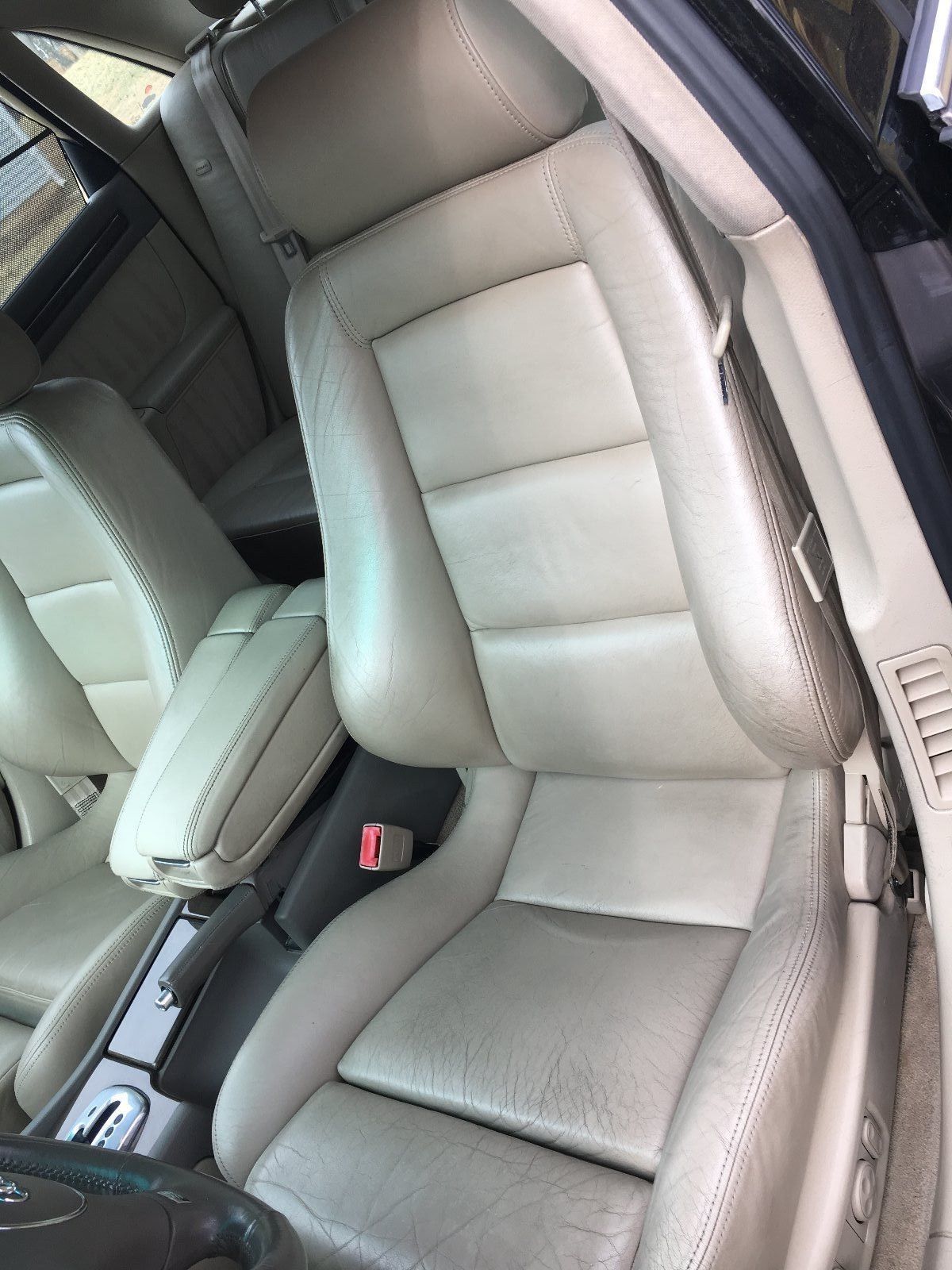 Hi all,

The time has come for me to part ways with my 2001 Audi S8. My collection has outgrown my storage capacity and I have most recently taken a plunge into boating; therefore — this car has got to go especially as it just mostly sits in my garage and barely gets driven. I will also likely be placing my 03 RS6 on the market over the next few months as well for the same reason. My garage currently consists of this S8, 03 RS6, 1987.5 944 Turbo, 1979 Carrera Targa (full pan-off restoration ongoing), 2016 Jetta (daily driver — also for sale), 03 325xi, 04 Cayenne S, 2012 Fiat 500 (also daily driver — ) therefore, I have most definitely been around a good amount of these cars.

About this car:

This is a 2001 S8 with Cashmere Gray Pearl Effect exterior paint and the Recaro ECRU Leather Seats. Fully detailed yesterday. Per the sticker the car has the following packages:
Premium Package

heated rear seats
expandable ski/storage sack
power rear window sunshade
manual rear side window sun shades

Solar Sunroof Package
Guidance Package

Audi Navigation System
Acoustic Parking Assistance – Front and Rear

Base sticker price is $78,305.00 (original window sticker along with all purchase documentation is included in purchase). The vehicle has all the other standard features of the S8 including BOSE sound, ESP, the 360hp V8, 5-speed automatic/tiptronic transmission, quattro AWD, ABS, dual zone climate control, sunroof, wood trim, cruise control, steering wheel with paddle shifters, etc. etc. etc.

I purchased it at the end of 2016 and became the 4th owner. The second and third owner were family and owned it since 2004 (37K miles). The car has every single record since it came off the showroom floor and I hold the title for the vehicle (no loans/liens of any kind). It does, however, has a "branded" title due to the second gauge cluster change out during which the dealership was unable to program the new cluster to the actual mileage. Each of the change outs was done at the dealership with full documentation of incoming mileage and outgoing mileage. Currently the car has 90K original miles as confirmed via all service records, documentation, etc.

I had been looking for a well sorted D2 S8 for 2 year when this one finally came along…

Over the course of it's life the following major work (not including oil changes which have been religiously performed) has been performed on the car (in descending order from MOST RECENT to OLDEST):

Replacement of the rear brake lines and brand new Maryland State Inspection.
Full rebuild of the ZF transmission. Rebuild included the replacement of not only the typical components; however also all of the solenoids and the valve body. The transmission was dyno-tested via Eriksson Industries which everyone regards as flagship ZF transmission rebuilder in the country. This work was just completed in the beginning of January 2018.
Replacement of the rear main seal (crankshaft seal) along with the crankshaft sealing flange. Work also completed in the beginning of January 2018.
Replacement of the timing belt kit inclusive of all rollers, water pump, pulleys, tensioners, cam shaft and crankshaft seals, thermostat, timing chain guides, rear camshaft seals and timing chain tensioner seals, valve cover gaskets, spark plugs, full reseal of the entire oil cooler assembly, etc. Work completed in January of 2017 and has less than 1K miles on it.
Replacement of the control arms inclusive of the lower and upper arms, inner and outer tie rods, steering rack boots, full alignment, etc. Work completed in January of 2017 and also has less than 1K miles on it.
Replacement of the starter with a factory remanufactured unit (2016)
Replacement of the rack and pinion assembly along with an alignment (2015)
Replacement of front brake pads and rotors (2014)
Replacement of tires (2014)
Replacement of the instrument cluster with the immobilizer including reprogram of all keys. Dealership unable to adapt miles in instrument cluster. Vehicle came in with 72,900 miles and exited with 0 miles. This is the cluster currently showing 18,000 miles (2014)
Replacement of rear tail light due to de-lamination (2014)
Replacement of tires (2010)
Replacement of CD player radio assembly (2008)
Completion of applicable recalls (2008)
Replacement of the instrument cluster. Dealership able to adapt miles in instrument cluster. Vehicle came in with 53,119 miles and left with the same amount of miles (2007)
Replacement of the MAF sensor along with air meter (2007)
Replacement of tires (2007)
Replacement of front and rear brake pads and rotors (2006)
Replacement of fuel pump cover seal (2006)
Replacement of the radio (2006)
Replacement of secondary air vacuum hoses (2006)
Replacement of the rear main seal and accompanying hardware/equipment (2006)
Replacement of the tie-rods and complete an alignment (2006)
Replacement of the battery test charging system (2004)
Replacement of the valley pan gasket (manifold gasket) (2004)
Replacement of both O2 sensors (2004)
Replacement of the car battery (2004)
Replacement of the navigation control unit (2004)
Replacement of the fuel tank seal and sending unit cover seal (2003)
Replacement of tires (2003)
Replacement of brake disks and rotors (2003)
Replacement of antenna selection control unit (2003)
Replacement of radio (2002)

There are also countless records for the 5,10,30,30,50,75K services as well as oil changes completed on the car over it's life. All of the books and both keys are included with the sale as well.

As far as the car's condition —- it is not showroom; however it is nicer than 80% of the Audi's out there of this year. The paint shines and does not appear to have had any paint work. I have washed and waxed it in my ownership quite frequently. There are some scratches and scrapes on it along with a few dings – however, not quite noticeable and are most certainly expected considering the age of the car. The interior of the car is very nice as well. No rips on any of the leather/headliner and everything works. The interior is very clean for the car's age as well. The Recaro seats are incredible and the adjustable lumbar support even in the back along with the heated seats and the window shades really gives you a nice feeling.

I purchased this car to keep as I have been looking for one of these for several years. I have over $20K in the car between the vehicle itself, the transmission rebuild (which was close to $5K alone); the entire timing system go-through and the suspension work (which were collectively another $5K). At this point I am trying to recover at least a bit of the money that I have into it. You will not find a single D2 S8 as sorted as this one. Each and every D2 S8 on the market right now will have a blown transmission if it hasn't been rebuilt and this will set you $5K+ back regardless of how you decide to pursue this work.

Disclamer —- the following minor items could use some attention over your ownership:
1. The left turn signal acts up sometimes turning on the high beams upon turn signal initiation (simple fix – needs new turn signal stalk which can be had on e-bay for $70-100 dollars).
2. As the car has sat for a few months during the transmission rebuild the front rotors developed some rust on them. Which I have driven the car a few hundred miles upon transmission rebuild – it appears as the oxidation on the rotors has not fully worn off; therefore it provides for slight pedal bounce (like slightly warped rotors). It may be beneficial to pull them off and just have them turned a bit (they have a ton of meat on them).

Lastly, the car has just passed MD inspection which is very stringent in its requirements. It is simply in excellent shape.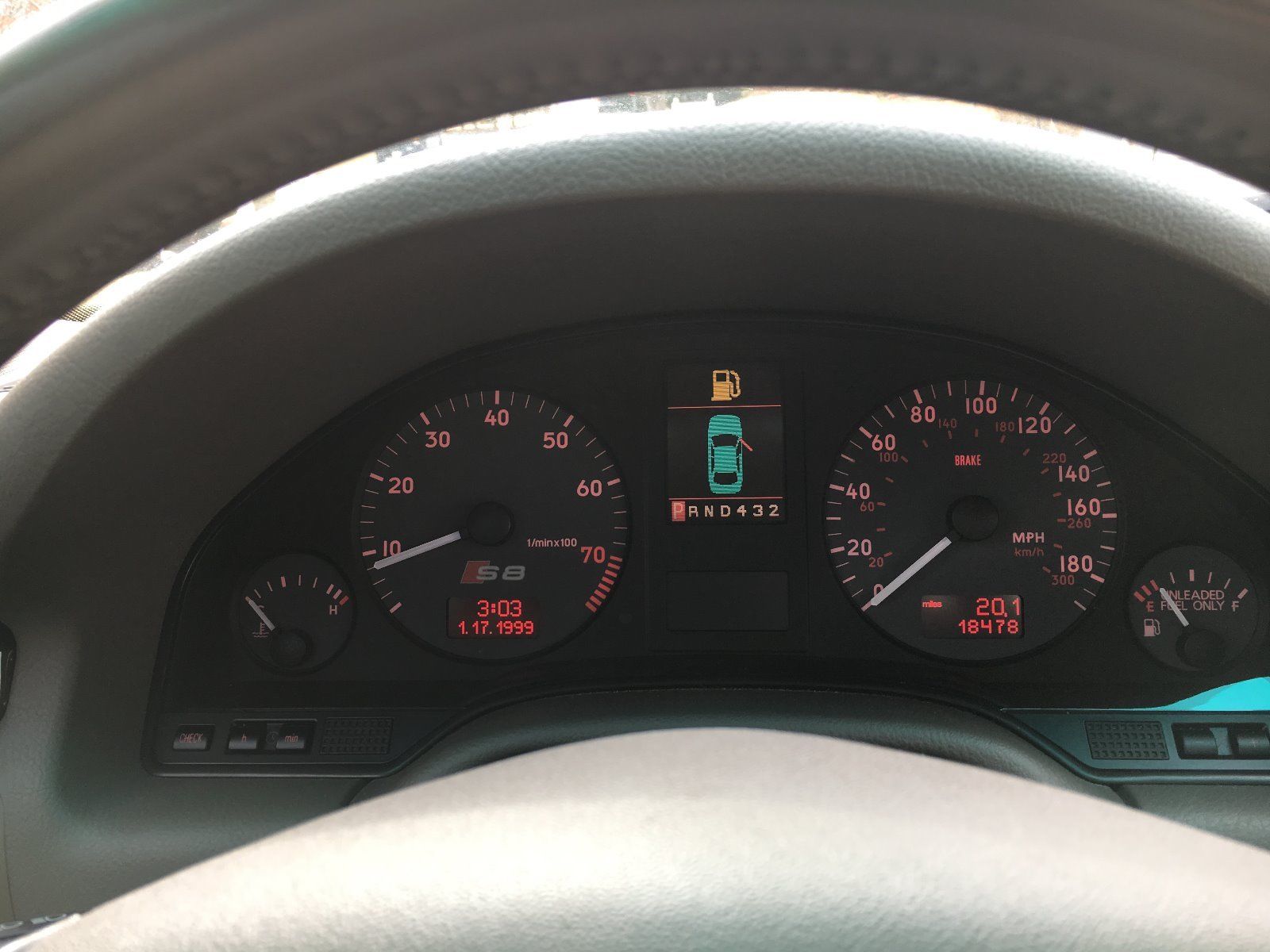 This example has a few things going for it; the Cashmere Gray is a nice and understated color and generally looks to be in good shape. The C6 4.2 S-Line Speedlines are a bit of an odd match, but don't look horribly out of place – though I'll admit were this mine, I'd be on the hunt for the original Avus wheels. It's equipped with sport seats, which outside of predictable wear are only a disappointment in their tan tone. This one was otherwise very loaded, with effectively all options outside of Pearlescent paint – but few of these cars were 'basic', so this one isn't really differentiated by the options or even color combination, while it is more rare to see.
Where this one steps outside of the box is in the disclosed maintenance, which includes basically all of the bid-dollar items that would make that $2,000 S8 a $15,000 S8 in a hurry. Done is a full ZF transmission build, the steering rack, suspension bits, the timing belt and it has recent brake and older replacement tires. The cluster swap seems documented like the rest of the car. Really, the only major item I see outstanding is the ABS module (which can be a big-dollar item if and when it goes) and the seller discloses some minor niggles.
The price you pay for turn-key status basically equals out to what it would cost you to do the work to a lesser example, and as a result it immediately 'feels' high on asking price at nearly $13,000. But back out the ~$10,000 worth of work over the past few years, and this one looks like a solid example with many miles left.
-Carter