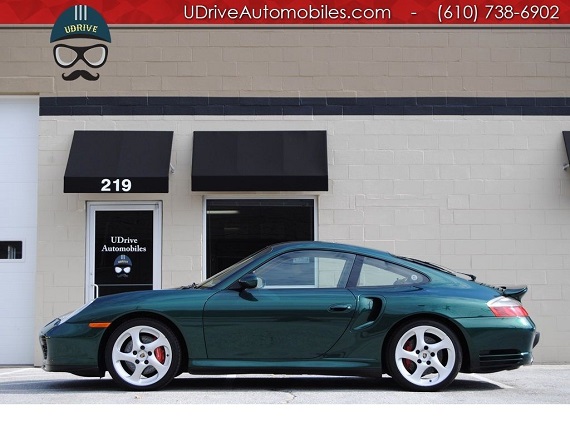 Enough with high-dollar air-cooled Turbos and other rare 911s. They are wonderful machines, but let's dip our toes back in the performance value end of the pool with this Rainforest Green Metallic 2001 Porsche 911 Turbo with Savannah Beige interior and 31,040 miles on it. In all of my time perusing the Porsche classifieds I cannot ever recall coming across a 996, let along a 996TT, in this color – or frankly in most any shade of green. We've remarked before how Green seems to be a persistently underappreciated color. That is especially true of any brighter shade of green; the closer the shade looks to black the more popular it tends to be. Rainforest Green appears to fall into a middle ground. It's brighter than Forest Green and other similar dark examples, but obviously a far cry from some of Porsche's pastel greens such as Viper Green or Lime Green. So we will have to see what sort of appeal this garners, but with its Savannah Beige interior it definitely has a feel of the forest about it. It is extremely earthy. For my tastes the exterior is very nice as I have no aversion to a green exterior. I would prefer one of the darker tan colors for the interior, but as I have said previously I think any of the tan interior choices complements a green exterior particularly well. While this one is not perfect, it would suit me better than many other applications.
Year: 2001
Model: 911 Turbo
Engine: 3.6 liter twin-turbocharged flat-6
Transmission: 6-speed manual
Mileage: 31,040 mi
Price: Reserve Auction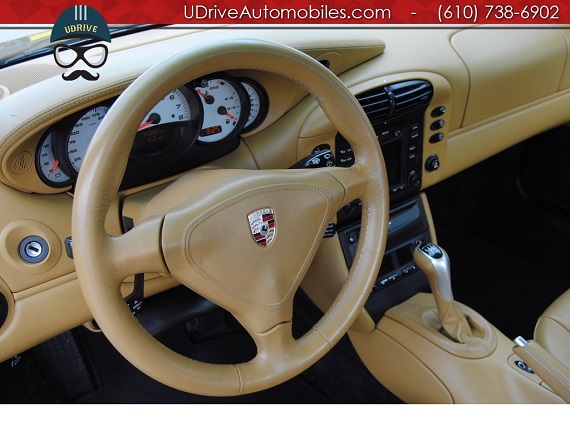 2001 PORSCHE 911 TURBO RAIN FOREST GREEN METALLIC OVER SAVANNA BEIGE FULL LEATHER INTERIOR WITH BLACK CARPETS!!

!!ORIGINAL MSRP $118,815!!

!!ONLY 31,040 MILES!!

!!6 SPEED MANUAL TRANSMISSION…NAVIGATION…FRONT AND REAR SUPPLE LEATHER…PARK ASSIST…METAL DOOR SILL W/MODEL INSIGNIA…CD CHANGER…REAR WINDOW WIPER…DEVIATED CARPET COLOR…ALUMINUM INSTRUMENT DIALS!!

!!ALL FOUR TIRES OFFER TREAD MEASURING 8/32NDS!!

CALL (610) 738-6902

We have supplied many detailed photos to give you an accurate sense of the VERY NICE condition of this ALL WHEEL DRIVE SPORTS CAR.

We photograph our cars outdoors in natural light. Hence, there maybe shadows cast on the vehicle due to the conditions in which the photos were taken. If you are unclear of anything please contact us!

Inside we found a CLEAN and SPORTY cockpit FILLED with FEATURES.

The 6 SPEED MANUAL TRANSMISSION shifts flawlessly and the 3.6L TWIN TURBOCHARGED 6 cylinder engine offers ample power when called upon.

This PORSCHE 911 HAS BEEN reviewed by an independent certified mechanic in accordance with PA state inspection regulations and it passed without issue!

!!PLEASE CONTACT OUR SALES TEAM AT (610) 738-6902 WITH ANY QUESTIONS!!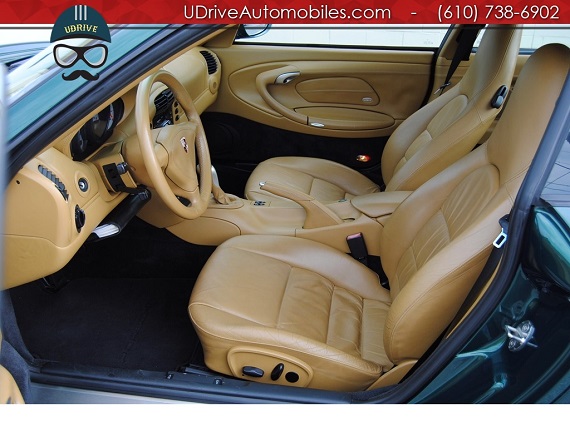 While we may wonder about the appeal of the color palette with this 911, the appeal of a 996TT is very easy to comprehend. It's supercar performance at mid-size sedan prices. Granted, we have (slowly) seen a rise in values for the 996TT as the market for an air-cooled Turbo becomes increasingly cost prohibitive and I think that is a trend we are going to see continue. We may still be a long way off from any kind of collector potential with these cars – outside of the GT3, GT3 RS, and GT2 – but prices are still such that the performance you get for the cost is nearly unmatched. For fans of the 996 design these make even more sense and this particular 996TT in a color we so rarely come across on a modern Porsche should make for both an interesting and captivating driver. All that's left is to see if this auction can meet its reserve and where it might sell, but given the color and reasonable mileage I would expect a price in the mid- to upper-$40K. That's higher than what we used to see with such machines, but still a stellar performance value.
-Rob